Though he's not technically a lock to hit the open market due to a $15MM mutual option ($2MM buyout), Adam LaRoche is a near certainty to be a free agent due to the rarity of such options being picked up by both sides of the agreement. The soon-to-be 35-year-old first baseman should represent one of the few steady power bats on the free agent market.
Strengths/Pros
Power is on the decline league-wide, but LaRoche remains a steady source of home runs from the left side of the dish. He's averaged 26 homers per season over the past three years (the same number he totaled in 2014), and excluding a 2011 season that was ruined by injuries (more on that below), he's averaged 25 homers per season dating back to 2005. He's cleared the 30-homer plateau twice — most recently in 2012 when he went deep 33 times.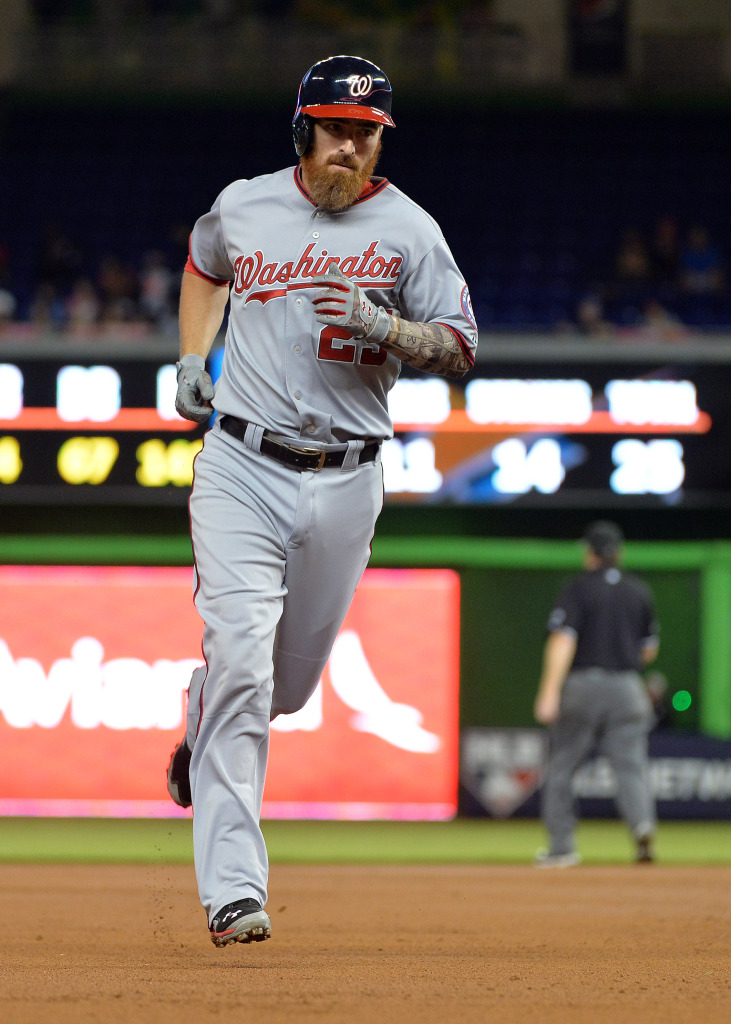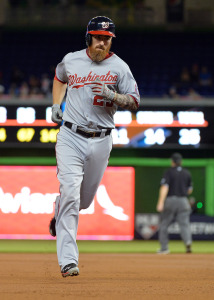 Early in his career, LaRoche walked at a decent clip, but he's taken that ability to new heights since joining the Nationals in 2011. His walk rate in a Nats uniform has been a hefty 12.3 percent, and this past season it ballooned to 14 percent — far and away the best mark he's posted in a full season.
Correspondingly, LaRoche's strikeout rate dipped to 18.4 percent — the second-lowest total of his career and the best mark he's posted since 2005 when he whiffed just 17.3 percent of the time. His 14 percent walk rate this year is almost double the 7.8 percent mark he posted in '05, however, so it seems fair to say that LaRoche has matured as a hitter. LaRoche chased out-of-zone pitches at just a 25 percent clip this year, which is well below the league average of 31.3 percent. It's not surprising, then, to see that he averaged 4.04 pitches per plate appearances, which ranked 30th among qualified hitters and tied him with Chase Headley for tops among free agent hitters (Victor Martinez was a close second at 4.03).
LaRoche has a good defensive reputation, and he hasn't had a negative mark in Defensive Runs Saved since 2009. Ultimate Zone Rating pegs him slightly below average over the past two seasons. Scouts around the league will have their own opinions, of course, but it seems unlikely that any would place his defense as a significant negative.
Weaknesses/Cons
I did a midseason assessment of LaRoche's free agent stock back in June and noted that while he's typically shown a platoon split, he had held his own against southpaws with a low average but a .381 on-base percentage. That trend regressed significantly, as LaRoche finished the season with just a .204/.284/.336 line against southpaws. He drew 15 walks in 155 plate appearances against same–handed pitching, but he also whiffed at a 27.7 percent clip against lefties, compared to just 15 percent against righties. There may be some teams that simply don't want to give LaRoche everyday at-bats given the increased struggles he's shown against lefties over the past two seasons. (He hit .198/.254/.313 against lefties last year.)
As I referenced previously LaRoche has been durable but he does come with a history of some shoulder issues. He missed about a month of his rookie season due to a separated AC joint in his left shoulder, and he underwent surgery to repair a torn labrum and rotator cuff in that same shoulder in 2011. I'd imagine that he and agent Mike Milchin of Relativity Sports will simply point to the fact that LaRoche hit 33 homers the following season and has averaged 149 games over the following three campaigns as proof that it needn't be a concern, but it may be something that teams want to look at more closely before agreeing to a multi-year deal. He missed a couple of weeks this season with a strained quad, as well, but that appears to be an isolated incident.
It shouldn't come as a surprise that a 35-year-old first baseman doesn't exactly have a gleaming baserunning reputation. Fangraphs pegged him at 5.5 runs below average on the basepaths this season. Among free agents, that figure was sandwiched between the marks posted by Billy Butler and Michael Morse, which should give an indication of what to expect from LaRoche's running. Additionally, age will be a consideration, as this next contract will carry LaRoche into his late 30s.
Personal
In his free time, LaRoche is an avid bow hunter and outdoorsman. LaRoche is one of several famous baseball names featured on the Outdoor Channel's show Buck Commander (along with Chipper Jones and Ryan Langerhans, among others). He's also a devout Christian and teamed with Denard Span and Ian Desmond to host Faith Day following one of the team's games at Nationals Park this season, as Dan Steinberg of the Washington Post wrote back in August.
LaRoche was diagnosed with ADD in high school and has dealt with the disorder throughout his career. He's been taking Ritalin to combat the issue since 2006, which has at times caused him to struggle to maintain his weight, according to this 2013 piece from Adam Kilgore of the Washington Post.
Baseball runs in the LaRoche family veins, as his father, Dave, was a two-time All-Star and enjoyed a 14-year Major League career. Adam's brother, Andy LaRoche, also played in the Majors. The two were teammates with the Pirates in 2008-09. Adam is married with two children, per his bio on the Buck Commander web site.
Market
Milchin can make a very legitimate case for LaRoche as the best first baseman on the free agent market. Morse is younger but comes with durability concerns, Cuddyer has those same durability concerns (and may wish to play an outfield corner), and Corey Hart had a disastrous season. Butler and Martinez are better suited to serve as designated hitters than full-time first basemen, and the same can be said for Kendrys Morales.
LaRoche's preference is to finish his career in D.C., but that seems unlikely. Ryan Zimmerman's chronic shoulder woes have created a persistent throwing problem that will require shifting him to first base or the outfield (an outfield that is currently occupied by Bryce Harper, Denard Span and Jayson Werth). It's possible the team could deal Span, move Harper to center and put Zimmerman in left, freeing first base for LaRoche's return. But the more likely outcome seems to me to be that LaRoche will walk, Zimmerman will slide over to first and the Nats will pursue a second baseman or third baseman, with Anthony Rendon occupying the other spot.
Looking around the league, there are a few teams with clear needs at first base. The Brewers' Lyle Overbay/Mark Reynolds platoon was a flop, and there's no clear-cut in-house alternative. LaRoche could receive some interest from his former club, the Pirates, as they look to improve upon Ike Davis and Gaby Sanchez. The Marlins are known to be looking for a bat and could upgrade over Garrett Jones. The Mariners could make some sense, but Logan Morrison did have a strong finish, and their lineup already leans left pretty heavily. I can see the Padres showing interest as well, and I'll list the Blue Jays as a dark-horse candidate with the caveat that they'd first have to trade Adam Lind to a more cost-conscious club (e.g. the Pirates).
The other thing to consider with LaRoche is whether or not he will receive a qualifying offer. Like nearly any veteran player coming off a strong season, LaRoche will want the security of a multi-year deal. However, he also has stated a strong preference to remain with the Nats, and his return could present somewhat of a defensive logjam for the team. Because of their roster construction and his desire to stay, I can see the Nats being a bit hesitant to risk a QO. My expectation is that they'll buy out his mutual option, but there are scenarios in which he could end up with a QO.
Expected Contract
LaRoche struggled to find a suitable deal in his last go-around with free agency despite the fact that he was fresh off a 33-homer season. Part of that, of course, was due to the draft pick attached to his name. He also had steeper competition, with Mike Napoli and Nick Swisher representing younger options coming off very strong seasons.
This time around, LaRoche could be free of draft pick compensation and is arguably the best first baseman on the market. I think something like his previous two-year, $24MM contract with a mutual option is the floor for LaRoche this winter. There's some case to be made for a three-year deal, which I would imagine to be the target for LaRoche's camp, but that case would be much stronger had his numbers not dipped in 2013. My prediction is that LaRoche will land in that Napoli range and sign a two-year, $30MM contract.
Photo courtesy of USA Today Sports Images.