Consistency hasn't exactly been Adam LaRoche's calling card over the past several years, but he's timing one of his better seasons well, as he faces the strong likelihood of hitting the open market this offseason. LaRoche's two-year deal with the Nationals contains a $15MM mutual option ($2MM buyout), but teams and players almost never agree to exercise both ends of a mutual option.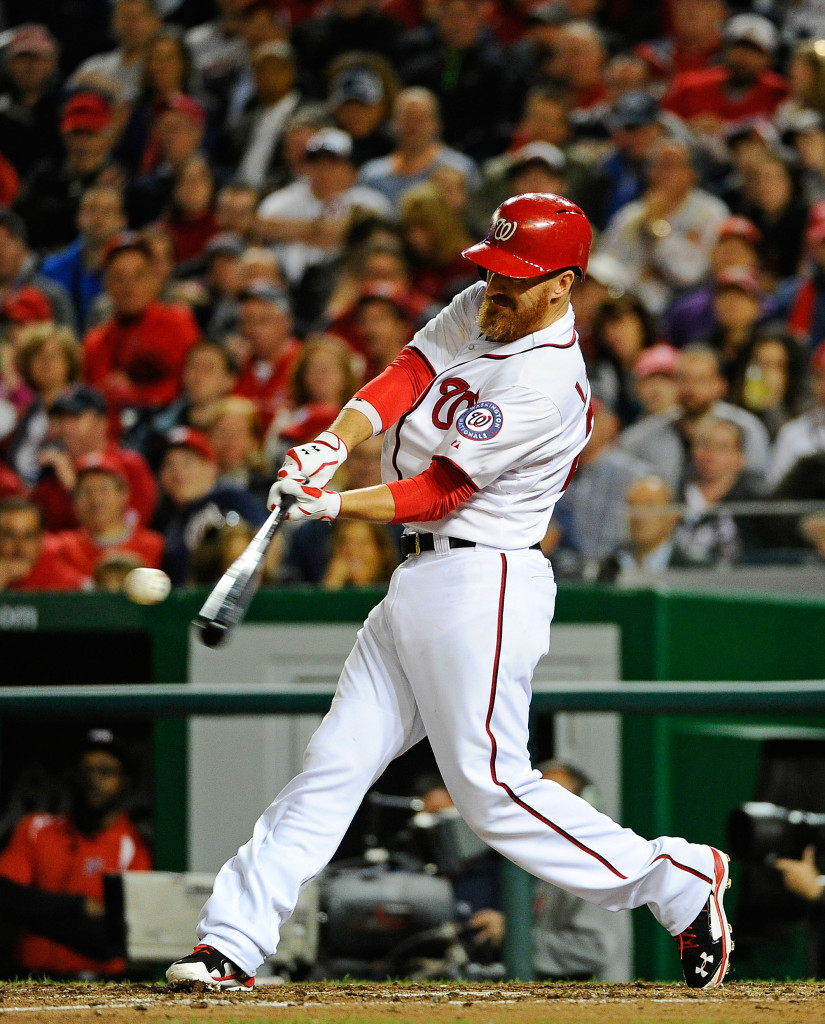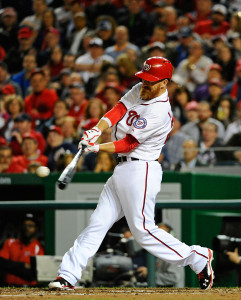 Typically, if a team exercises their half of the option, it's because the player has had a strong season, leading the player to reject in search of more money on the open market. If the player exercises his half, it's typically due to injury or poor performance, causing the team to reject. In LaRoche's case, team dynamics come into play as well; Washington likely needs to open up first base for Ryan Zimmerman, whose persistent shoulder problems no longer allow him to handle third base.
As such, LaRoche seems likely to hit the open market, and he's quietly on pace to do so as one of the most productive bats on the upcoming class. LaRoche is hitting .306/.417/.513 with eight homers, nine doubles and a 33-to-31 K/BB ratio in 192 plate appearances this season. Both his 16.1 percent walk rate and 17.2 percent strikeout rate are career-bests. He did miss 15 games with a quad injury earlier this year, though for now that looks to be behind him.
Ultimate Zone Rating has dinged him for his defense thus far, but Defensive Runs Saved feels that he's on his way to his fifth straight season of plus defensive value. LaRoche has long had some problems with left-handed pitching, but he's holding his own to this point with a .381 OBP against southpaws, and platoon problems certainly don't bar some players from being paid.
LaRoche is set to turn 35 in November, but if he maintains the pace he's currently on, it's not hard to envision him landing another two-year deal, perhaps with some type of vesting option. His main competition will be Michael Morse, but aside from that, he'll be competing against Corey Hart and Michael Cuddyer — both of whom have had significant injuries in 2014 already (and Cuddyer is a year older).
Billy Butler, too, could hit the open market if his option is declined by the Royals, but he's in the midst of a poor season and likely couldn't top LaRoche based on performance. Given the dearth of left-handed pop on next year's free agent market — Kendrys Morales and Victor Martinez are the top alternatives, but both are more designated hitters than first basemen — LaRoche is in a good position despite his age.
It seems likely that his performance will be worthy of receiving a qualifying offer — believed to be in the $15MM range next offseason — but the need to open first for Zimmerman likely will prevent the Nats from extending one. LaRoche could look at a qualifying offer as merely receiving a $2MM raise for next season (he'd pocket the $2MM buyout of his option and still earn $15MM or so), which makes it a risk that Washington seems unlikely to take.
The knocks on LaRoche are well-known; his career OPS versus lefties is 114 points lower than his mark against right-handed pitching, age isn't on his side and he hasn't turned in a consecutive pair of well above-average offensive seasons since 2009-10 (122 OPS+ each year). Some teams likely will have the perception that a two-year deal will pay him for one strong season and one so-so campaign, and I'd imagine a number of clubs will be more interested on a one-year deal.
Nonetheless, LaRoche and agent Mike Milchin of Relativity Baseball appear to be in solid position as they look to lock down what could be the last significant contract of a solid offensive career. Morales recently received the pro-rated version of a $12MM salary after sitting out the first two months of the season, and Justin Morneau received a two-year, $12.5MM deal coming off a vastly inferior season to the one LaRoche is putting together.
Even if LaRoche simply finishes the season by hitting at his career pace — .266/.340/.475  — he'd finish with one of the best OPS+ marks of his career. In that instance, a two-year deal worth $10MM+ annually seems very attainable. The fact that he is facing very limited competition both at his position (first base) and in terms of his best skill (left-handed power) only strengthens LaRoche's free agent outlook.
Photo courtesy of USA Today Sports Images.