Colby Rasmus entered the year as one of the more intriguing pending free agents. Coming off of a big 2013 campaign, he rated eighth among all expected free agents in MLBTR's first Free Agent Power Rankings installment back in March.
While his upside remains tantalizing, however, the Excel Sports Management client has yet to establish himself as a consistent presence. And the 2014 season magnified some of his weaknesses, serving as a poor platform for free agency.
Strengths/Pros
Power from a capable center fielder is a rare commodity, and Rasmus is certainly the only free agent-to-be who offers that package. Despite seeing only 376 plate appearances in 2014, Rasmus managed to swat 18 long balls and post an excellent .223 ISO (slightly better than players like Justin Upton, Matt Kemp, and Miguel Cabrera). That is rare air, indeed, for an up-the-middle outfielder: in terms of ISO, only Mike Trout and Andrew McCutchen posted higher marks among center fielders.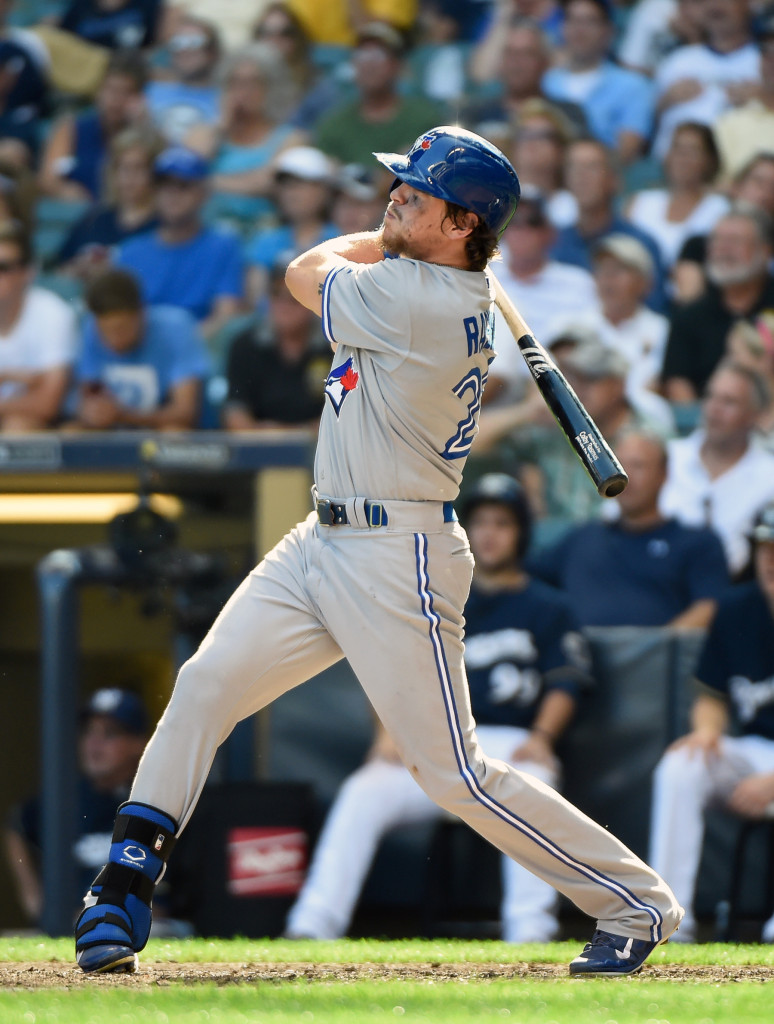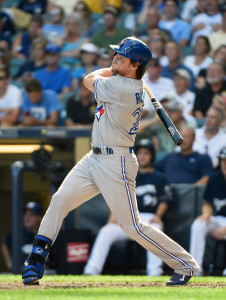 If there were any doubts whether Rasmus could remain a consistent source of power, he answered them. Indeed, Rasmus's 2014 campaign landed right alongside his two excellent overall seasons of 2010 and 2013 in terms of ISO. Likewise, his line drive rate (23.3%) and home run to flyball ratio (19.4%) reached new career highs, while his infield fly ball ratio declined for the fourth consecutive year.
Generally, then, when Rasmus makes contact, it has been good contact. (More on that below.) To an extent, his variations in batting average and on-base numbers over the years can be attributed to BABIP. Last year, for instance, he hit .276 and reached base at a .338 clip on the back of a .356 BABIP. When his average on balls in play dropped to .294 this year, his average fell to .225 and his OBP dropped to .287.
As Rasmus noted in a fascinating interview with Scott MacArthur of TSN.ca, he believes that he sent a lot of hard-hit balls into newly-aggressive shifts, accounting for some of the decline. Shi Davidi of Sportsnet.ca explored that idea, and other possible explanations for Rasmus's enigmatic bat, in a late-season piece. As Davidi notes, Rasmus suffered significant BABIP drops on both line drives and ground balls. Another oft-noted change was the departure of Jays hitting coach Chad Mottola, with whom Rasmus thrived. Though Rasmus has good things to say about replacement Kevin Seitzer, he has not seemed to mesh in working to counteract the league's adjustments.
Despite struggling in some other ways at the plate, Rasmus still managed to produce at a better than league average clip this year (103 wRC+) thanks to his pop. He has been a consistently solid baserunner, though he is not much of a threat to steal. And while his defensive ratings have had their ups and downs, the total package is appealing. At his best, Rasmus has logged two seasons as one of the better center fielders in baseball: 2010 (4.0 fWAR, 3.6 rWAR) and 2013 (4.8 fWAR, 4.6 rWAR). And even in the rough campaigns of late — 2012 (1.0 fWAR, 1.8 rWAR over 625 plate appearances) and 2014 (0.6 fWAR, 0.9 rWAR over 376 plate appearances) – he has been at least serviceable, if not the kind of player that first-division club would hope to field.
Of course, it is critical to bear in mind that Rasmus only just turned 28 in August. That is an unusually young age to reach free agency, and could be enough to keep hopes alive for a return to the fairly impressive ceiling that he has shown in the past. Needless to say, youth, athleticism, and power are excellent attributes in any free agent.
Another key factor is that Rasmus is all but certain not to come with draft compensation attached. Teams will be much more inclined to take a chance on his talent without the need to sacrifice future assets.
Weaknesses/Cons
Defensively, advanced metrics were less kind to Rasmus this year than in the past. One year after being credited with saving his team 11 runs by Defensive Runs Saved, Rasmus checked in at a negative 7 tally in 2014. And his UZR/150 figures likewise reversed course, going from +15.2 to -15.3.
This is not the first time that those measures viewed Rasmus as a hindrance in the field, though he has tended to bounce up and down over the years and remains an average to slightly above average contributor over his career. Rasmus has explained that he was also slowed by cumulative injuries – he mentioned his hips and hamstrings – that could have had an impact.
Most worryingly, perhaps, are the changes in Rasmus's strikeout figures. He has set career highs in each of the last two years, moving from a 29.5% strikeout ratio last year to a 33.0% clip this time around. Of course, he did succeed at that level last year, and posted his third-highest career K rate in his excellent 2010 season. As Drew Fairservice of Fangraphs wrote in exploring the "enigma" of Rasmus, he has a fairly unusual skillset with few obvious comps. Though B.J. Upton and Chris Young offer warning signs, Fairservice notes some routes to upside scenarios, even if they are arguably less likely.
Also up for debate is whether Rasmus would be better served in a platoon situation. As a left-handed bat, he generally has performed better against righties. For his career, Rasmus owns a 112 wRC+ against righties, which drops to a score of 77 against same-handed pitchers. In spite of his struggles in 2014, he actually reduced his splits to a more manageable 14-point gap.
It is also worth pointing out that Rasmus has a not-unblemished injury history. In fairness, most of the issues are not much more than typical bumps and bruises, but he has missed time over recent years with wrist, oblique, and hamstring injuries. This could, of course, be spun in either of two ways: on the one hand, some have suggested that Rasmus is injury-prone; on the other, he could be said to play the game hard and his nicks could explain some of his inconsistency.
Then, there is the fact that Rasmus sat a good bit at the tail end of 2014. Though that was obviously a reflection of a complicated situation — involving his performance, that of the Blue Jays, and the presence of younger players who had a future with the organization — it certainly did not help. If nothing else, the benching held down his stats, prevented him from showing much late in the year, and may not have sent the best signal to prospective new employers.
Personal
Rasmus grew up in Alabama and still lives there in the offseason. He is married with one child. Rasmus grew up in a very baseball-focused family, and appeared in the 1999 Little League World Series along with brother Cory, who now pitches for the Angels, on a team coached by his father.
In the above-linked interview, Rasmus intimated that he has struggled at points in his career with maintaining his love for the game. Saying that he is by nature relaxed but hard-working, Rasmus says that over-aggressive coaching has at times had the opposite of the intended effect on him. On the whole, Rasmus leaves the impression that his production on the field and enjoyment of the game tend to go hand-in-hand, and that he hopes to find an environment in which both can thrive.
Market
Rasmus is in a unique position in the market. On the one hand, he occupies the always-enviable status of being the best player available at his position, center field. In fact, it's not even close: players like Emilio Bonifacio, Grady Sizemore, and Chris Young fall next in the pecking order.
In spite of that, it is questionable whether a club with expectations to contend would pursue the up-and-down Rasmus as an everyday option. As MLBTR's Tim Dierkes has suggested (via Twitter), teams like the Tigers and Braves are in need of added production up the middle. But they might prefer to explore a trade market that could include options such as Drew Stubbs, Dexter Fowler, Jon Jay or Peter Bourjos, and perhaps Desmond Jennings. That figures to be the real competition for Rasmus.
On the other hand, there are still plenty of landing spots that might make sense. Dierkes also suggested the Cubs, and the Twins are also unsettled in center. Though Rasmus has little experience in the corners — less than 100 big league innings, in fact, all coming in his rookie year — a host of other teams might like the idea of deploying him there. It is possible to imagine interest from the Mets, Reds, Rays, White Sox, Royals, Giants, Padres, Pirates, Rangers, and Athletics. Depending on what shakes out with their current options, the Orioles, Astros, and Phillies are certainly plausible bidders as well. (Of course, unlike the center field market, there are more viable alternatives to contend with as well.)
All said, Rasmus should have a fairly broad market given his upside and defensive flexibility. Things will really open up if, as I suspect, he prioritizes fit with the clubhouse and coaching staff over contract particulars and position (if, in other words, he is amenable to taking a corner job).
Expected Contract
Ultimately, Rasmus is one of the most difficult free agents to pick a price tag for. His upside – given his age, center field capability, and power – is perhaps unmatched among this year's crop of outfielders. Indeed, it was not long ago that it seemed likely, as MLB.com's Gregor Chisholm wrote in late 2013, that Rasmus would top the B.J. Upton contract (five years, $75MM) when he hit the market. Yet it is not plausible now, with another year of information in the books. to put him in that range.
There would appear to be two approaches that Rasmus – and interested teams – could take. First is the traditional pillow contract. In that case, Rasmus would surely look to prioritize fit, hoping to find both regular playing time and a situation that would lead to a good platform season. Position player comps are somewhat wanting: Young signed for one year and $7.25MM last year in a somewhat similar situation, though that deal emerged out of a much more crowded outfield market, and Young was both somewhat older and coming off of a rougher offensive year. And Kevin Youkilis went for $12MM over one year, though he had a significantly longer track record of consistent production but was a much older player. With market inflation and a lack of competition, I believe Rasmus would be able to reach eight figures on a one-year deal.
On the other hand, the following year's market includes increased competition in the form of players like Fowler and Austin Jackson. And it is not hard to imagine a team that believes in Rasmus looking to take advantage of his depressed value to lock in an attractive contract, much as the Twins did last year with Phil Hughes. For a club that can tolerate his strikeout tendencies, and believes in him as an at least average defender up the middle, a three-year offer cannot be ruled out, especially given Rasmus's age. (Remember, the Red Sox just committed $72MM to unproven 27-year-old Rusney Castillo.) Clubs could be tempted to take the risk for a chance at his upside since he is a reasonably flexible roster piece, given his left-handed bat and center field capabilities.
It is hard to gauge just how high the price could go in that scenario, but it should be noted that Rasmus can wait to re-enter the market at a young 29 and has already earned something like $17MM in his career. Given that, it is somewhat difficult to imagine him seriously considering a deal that falls shy of a $10MM AAV over a term of three years. (And it might well take more to convince him to go that route; remember, he can look to rebuild his value and hit the market again at a still-youthful 29. Two years seems undesirable from Rasmus's perspective, though he could field such offers.) One other factor to bear in mind is that Rasmus should be able to take his time seeing how interest develops in a multi-year scenario, fairly confident that a solid one-year option will be around at the end of the day.
Ultimately, I believe Rasmus will prioritize finding the right fit over maxing his earnings, whether on a one-year or multi-year deal. I do find a make-good contract to be the likelier outcome, and think that Rasmus will be able to reach $12MM on a one-year deal. But I would not be surprised if he ultimately scores a three-year pact.