Last year, the Pirates gave Edinson Volquez a one-year, $5MM deal and he wound up making that look like a smart investment.  This year, we should see more interest in the right-hander, resulting in a more lucrative deal coming his way.
Strengths/Pros  
Volquez did a good job of rebuilding his value in a contract year. The 31-year-old pitched to a 3.04 ERA — his best figure ever, topping even his breakout 2008 campaign.  Volquez also turned in a career-low walk rate of 3.3 BB/9, which was his first sub-4.0 effort.  His 192 2/3 innings of work was his second-best career total, topped only by his 196 innings in the aforementioned 2008 season.  Volquez threw his fastball at 93.1 mph in 2014, right in line with his career average of 93.4 mph and the 93.6 mph at which he was clocked in '08.  Plenty has changed about Volquez the last six years, but he has aged well in those departments.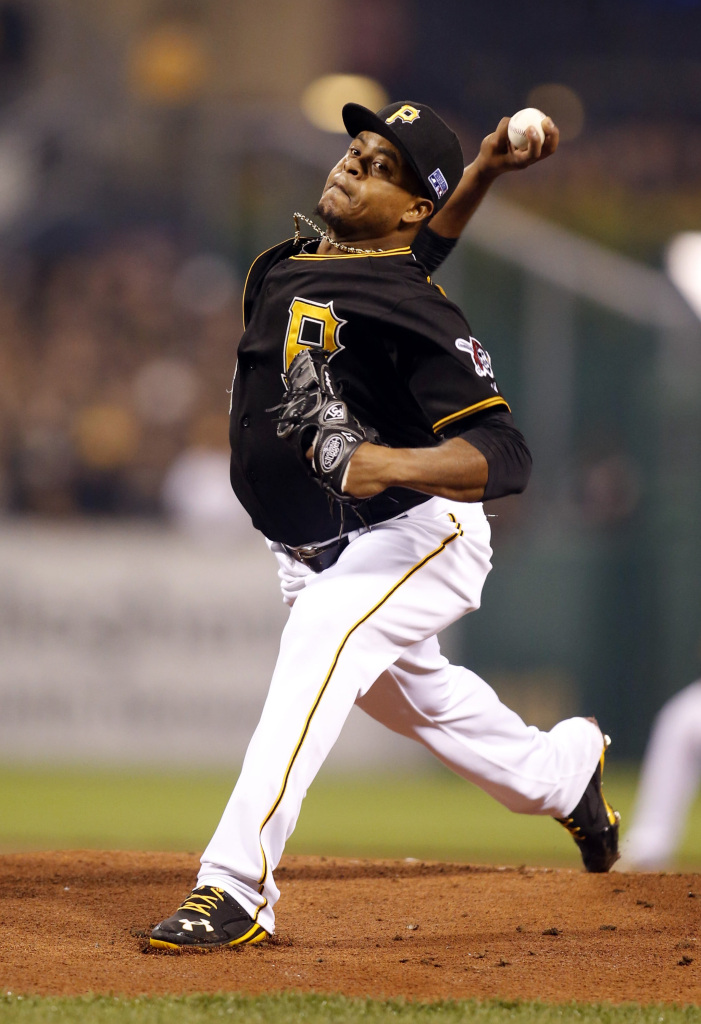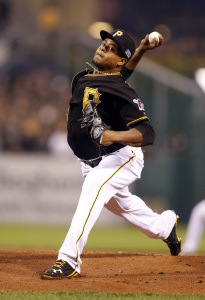 Throughout his career, Volquez has been able to induce ground balls more often than your average hurler.  His career ground ball percentage of 48.5% is strong and his 50.4% rate in 2014, against a league average of 44.8%, was even better.  As a result, Volquez isn't terribly home run-prone.  He has a career 0.94 HR/9 rate with a sharper 0.79 HR/9 showing this past season.
Volquez threw his fastball at an average of 93.1 mph this year, right in line with his career average of 93.4. That compares favorably to some of the other free agent starters on his tier, including A.J. Burnett (91.7 mph in 2014), Dan Haren (87.6), Aaron Harang (88.8), and Ryan Vogelsong (90.4)
Weaknesses/Cons  
On the surface, Volquez's ERA indicates that he enjoyed a career renaissance in Pittsburgh this season, perhaps thanks to the tutelage of well-respected pitching coach Ray Searage and the quality pitch framing of catchers Russell Martin and Chris Stewart.  A deeper look shows that while Searage's sage advice may have given Volquez a boost, his all-around performance was largely the same as the past few years.
Volquez's walk rate did drop in 2014, but his 6.5 K/9 was a noticeable step back from his previous career average of 8.4 K/9, all but negating the drop in free passes.  His xFIP of 4.20 shows that his ERA was probably lower than it should have been and also indicates that he was largely the same pitcher we knew before but with better fortune.  In each of the previous three seasons, Volquez has posted xFIPs of 4.08, 4.20, and 4.07 while turning in ERAs of 5.71, 4.14, and 5.71.   The veteran's .263 BABIP tells a similar story and leads one to believe that the Pirates' defense helped out quite a bit.  You wouldn't know it from his ERA, but the advanced stats say that Volquez performed about as well this season as he did in 2013, when he was DFA'd by the Padres near the end of the year.
Personal  
Volquez was born in Barahona, Dominican Republic.  Early in his career, you might recall him being billed as "Edison Volquez".  As Amy K. Nelson of ESPN.com detailed in a 2008 profile, he later discovered that his birth certificate had his name as "Edinson" and asked the Rangers to update his spelling on all of their material.
Volquez earned the nickname of "Pedrito" or "Little Pedro" in the Dominican Republic for his pitching prowess which reminded many of Pedro Martinez, Nelson wrote.  "He's in love with Pedro," said former teammate Francisco Cordero. "He sees Pedro like he's a god."
Many counted Volquez out after his tumultuous 2013 season, but the Pirates saw a tremendous opportunity in the veteran starter. Prior to the Pirates' Wild Card game against the Giants this year, manager Clint Hurdle was quick to praise Volquez for his work ethic, as Bill Brink of the Pittsburgh Post-Gazette writes.
"He's a visual learner, number one," Hurdle said. "He's really good when you can tape him and show him. He would grasp on that way. He spent endless hours on reviewing delivery dynamics from every place he's been."
Market  
In late September, Volquez stated his desire to re-sign with the Pirates, crediting Bucs coaches with making him a better pitcher.  At the same time, he made it known that he doesn't want to sign another one-year deal.
"You always want to sign for more than one year," he said, according to Rob Biertempfel of the Pittsburgh Tribune-Review. "Especially now that I'm 31 years old, I'd like to sign with someone for two or three years and stay a little bit longer."
If Volquez finds a lucrative two- or three-year deal on the open market, it'd be tough to imagine the Pirates matching it given their financial limitations and stated desire to try and retain catcher Russell Martin.
MLBTR's own Brad Johnson recently speculated that a return to the Rangers could be a possibility for Volquez as they could be in the market for veterans to supplement the back end of their rotation.  Jeff Todd, meanwhile, brought up the Marlins as a possibility since Miami probably won't spend on the top-shelf pitchers.  I would add the Astros, Rockies, Phillies, and D'Backs as clubs that could see Volquez as an affordable addition who can turn in 180-190 innings of work.
Expected Contract
Volquez is one of several mid-level starters available this winter, but his turnaround this year (whether legitimate, perceived, or a mix of both) could make him a preferred option over some of the alternatives.  Volquez won't be rated on the same tier as the likes of Hiroki Kuroda and Jason Hammel, but he compares favorably to other available back-end starters like Aaron Harang and Ryan Vogelsong, in part due to his age.  I recently predicted that Harang would net a two-year, $14MM deal this offseason and I expect Volquez to top that without much trouble.
Volquez is gunning for a multi-year deal and I think he'll be able to find it, even if it's not in Pittsburgh.  I predict that Volquez will land a two-year, $18MM deal this offseason.
Photo courtesy USA Today Sports Images.