Deciding how to frame Jed Lowrie's entry to the free agent market depends heavily upon one's perspective: did his failure to match his excellent 2013 campaign constitute a disappointment, or was 2014 another solid year as a regular that cements Lowrie's status as an everyday player? After all, the CAA client had never made more than 387 plate appearances in a season until last year, yet now steps onto the market as one of the best available shortstops.
Pros/Strengths
Lowrie had a strong 2013 season, posting a .290/.344/.446 slash with 15 home runs. And he did it while playing shortstop, making him a well-above-average everyday player. Though Lowrie did not have an extensive history before that, his full-season result seemed to confirm what his earlier numbers had suggested. Over the 2008-2012 campaigns, Lowrie never even made 400 trips to the plate over a single season, but averaged a roughly league-average OPS of .743 while providing solid defense at short, second, and third. He also swatted 16 long balls over just 387 plate appearances in 2012 before succumbing to an ankle injury.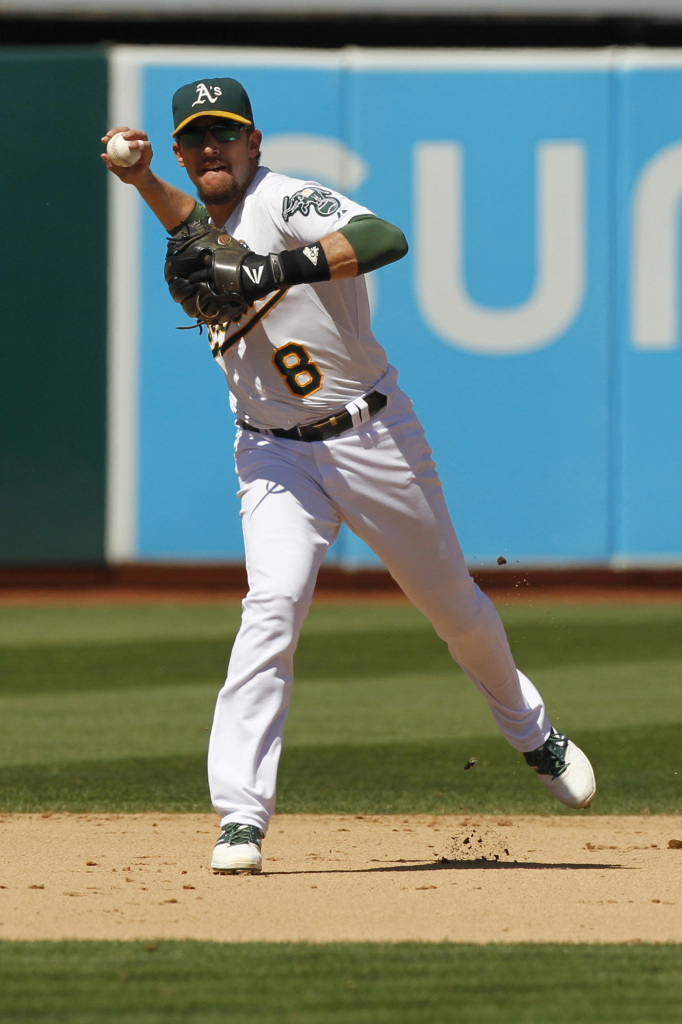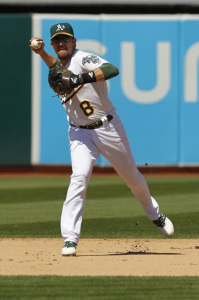 In a sense, then, 2014 was an affirmation. Injury-free except for a freak bruised finger that cost him 16 games, Lowrie showed that he could be a viable everyday shortstop for a first-division club. Even with a significant power drop-off, Lowrie was worth 1.9 fWAR, though Baseball-Reference had him at one less win in value based on its differing defensive calculations.
And last year's power outage ultimately looks like an outlier: Lowrie had never before posted an ISO of less than .142 in a season (minimum 300 plate appearances) until his .106 mark last year. Indeed, even with that season in the books, Lowrie owns a lifetime .150 ISO and seems a good bet to return to that level of power production. His 3.2% HR/FB rate, after all, landed at half his career average and seems more likely to go up than down.
A return to form at the plate more generally seems a fair probability. Lowrie suffered a bit from a .281 BABIP, though he has never posted high numbers. His walk rate (9.0%) and strikeout rate (14.0%) compare favorably to his career marks. And he upped his line-drive rate for the fifth-straight season while hitting groundballs at his career rate.
On the defensive side of the equation, Lowrie saw improved marks from defensive metrics. By measure of UZR, in fact, Lowrie was just above average for the position last year. Though Lowrie is not a base stealer, and did not rate well in the department in 2014, he has generally been about average on the paths.
It is worth noting as well that Lowrie brings a switch-hitting presence to the middle of the infield. Interestingly, despite career splits that favored his work against lefties, Lowrie flipped those splits last year, continuing to put up roughly league-average work against right-handed pitching. If he can recapture his former excellence when batting from the right side, particularly in the power department, Lowrie looks like a great add.
While a qualifying offer is at least theoretically possible, it seems highly unlikely that the A's would be willing to risk $15.3MM in salary space.
Cons/Weaknesses
Of course, the above account ignores some real issues. Lowrie's first full season of regular action came in his age-29 year, and he simply did not match it last season. For a player known largely for his bat, Lowrie was below-average at the plate.
As for the power numbers, there are reasons to believe that his fall-off was not simply an aberration. After all, Lowrie had put up double-digit home run tallies in just one year as a professional prior to this 2012-13 breakout: a 13-home run campaign in the upper minors back in 2007. And his batted ball distance on fly balls and line drives is down to a career-low 252.5 feet (via Baseball Heat Maps; compare to career marks within this post).
Then, there is the question of defense. While it is true that Lowrie saw improvements by measure of defensive metrics, Defensive Runs Saved still placed him at a troubling -10 mark on the year. As he moves toward his decline phase, it is fair to wonder how much longer he will stick at short.
Likewise, Lowrie moved in the wrong direction last year in terms of baserunning. Never a threat to take a bag, Lowrie nevertheless generally maintained average marks in terms of overall value on the basepaths. But he cost the A's 3.4 runs last year, by measure of Fangraphs.
While Lowrie has now been healthy for two straight years, we are not far off from a time when he dealt with significant injuries on a regular basis. Nerve damage has accompanied several injuries, including ankle, shoulder, and wrist ailments.
Personal
Lowrie finished his bachelor studies at Stanford after leaving early to begin his professional career, according to this profile from Ann Killion of the San Francisco Chronicle. He also met his future wife during his time in college, and the family welcomed its first child last December.
Between her time working in international politics and his own moves across the country from team to team, the Lowries are familiar with changing residences, so geographical ties may not mean much in his situation. Looking ahead to free agency before the season, Lowrie said it would not change his approach to the game while also acknowledging its importance. "Every player wants to test the free-agent market," he said. "What you ultimately strive for is to have people come to you and say, 'We want you to work for us.' It's exciting."
Market
With J.J. Hardy locked up, the middle infield market is filled with question marks. Hanley Ramirez obviously promises the highest upside, but he has his warts and could be viewed by many clubs as a third baseman at this point (or in short order). Asdrubal Cabrera was once seen as a premier talent, but has not been inspiring at the plate or in the field. And Stephen Drew fell off of a cliff in terms of offensive production last year.
Viewing the sum of Lowrie's work over the last two years, when he has served as the A's regular shortstop, paints an image of a solid option in this year's market. A generally above-average hitter with power upside and a switch-hitting bat, a serviceable glove, and experience around the infield, Lowrie has plenty of appeal – even if he is far from a sure thing.
Looking around baseball, there are plenty of clubs that might have interest in Lowrie, though some may prefer a shorter commitment. In addition to the Athletics, clubs like the Yankees, Blue Jays, Red Sox, Tigers, Astros, Mets, Nationals, Marlins, Reds, and Dodgers could all conceivably consider employing Lowrie in some kind of capacity.
Expected Contract
Lowrie has earned just over $10MM in his playing career, far from a pittance but also perhaps a low enough number that maxing out a guarantee seems appealing. Given his preferable market placement, I think he will easily find enough interest to score a significant two-year deal and could well reach three.
While MLBTR's Zach Links predicts that Cabrera will find three years and $27MM as a younger option, Lowrie seems to offer a slightly more appealing overall package at this point. Ultimately, I predict that Lowrie will be able to land a three-year $30MM contract.
Photo courtesy of USA Today Sports Images.