Asdrubal Cabrera might not be the player that some envisioned he would be four years ago, but he still holds a ton of value as he gets ready to explore the open market.  Save for Hanley Ramirez, Cabrera arguably stands as the winter's most attractive free agent shortstop option.
Strengths/Pros
At just 28 years old (29 in November), Cabrera has youth on his side, especially when surveying the rest of the available talent pool.  Cabrera also boasts four consecutive years of mostly good health with an average of 144 games per season over that span.  Of course, that 2011 season was more than just the start of Cabrera's good fortune in the health department, it was his true coming out party.  That season, Cabrera slashed .273/.332/.460 for the Tribe, earning his first All-Star selection and his first Silver Slugger trophy.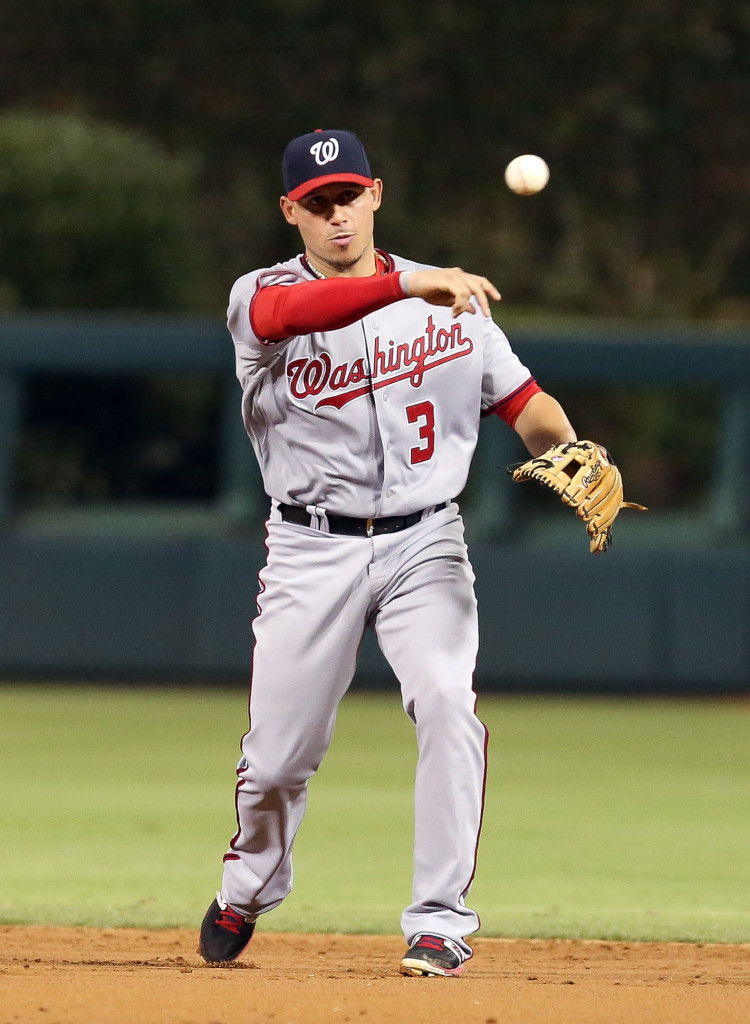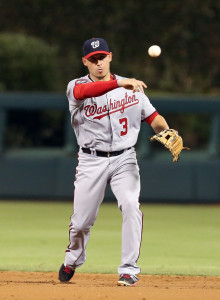 In 2012, Cabrera earned a second All-Star nomination thanks in part to another strong showing at the plate (.270/.338/.423).  The following two years didn't bring the same kind of accolades and praise, but Cabrera continued to produce.  Cabrera's breakout year was his best to date, but the last three years have shown that he can deliver ~15 homers (he had 16, 14, and 14 the last three years) with some speed on the basepaths.
Cabrera also offers more than just shortstop experience, he also has 1773 2/3 innings of career experience at second base.  He mainly plied his craft at shortstop from 2010-2014, but he returned to second this season upon joining the Nationals, so some of the rust from the change should be gone.  His ability to play either middle infield position should help increase his market and will also provide his next team with a bit of flexibility.  This also isn't a strong second base market on the whole, so his versatility is a positive.
Weaknesses/Cons
Defensively, Cabrera leaves much to be desired.  For his career, Cabrera has a -10.6 UZR/150 rating at shortstop, putting him well below your average defender.  His most recent campaigns haven't helped either as he posted -16.8 and -10.5 marks in each of the last two seasons.  His body of work at second base is better, according to UZR/150, but still far from great.  He has a lifetime -2.5 UZR/150 at second and turned in a -5.3 rating in 432 innings for the Nats.  Looking for a second opinion?  Defensive runs saved has Cabrera as a -10 defender at second base in 2014 and -7 at shortstop.  The career total is more favorable for second base (2), but even less so at shortstop (-22).
At the plate, it's impossible to overlook the drop off that Cabrera has experienced over the last two seasons.  In the All-Star years, he slashed a combined .272/.335/.443 with a 118 OPS+, well above the league average.  In the last two seasons, he has produced a .241/.303/.394 batting line with a slightly below-average OPS+ of 96.  Cabrera's 2014 walk (7.7%) and strikeout percentages (17.1%) are in line with his career averages, which is to say they're alright, but not great.
Personal
Cabrera and his wife, Lismar, have two children and this winter they'll welcome another member of the Cabrera clan into the world.
Of course, Cabrera spent his entire big league career in Cleveland before the midseason trade that sent him to the nation's capital.  While he didn't stomp his feet over being dealt to the Nationals, he was upset to leave what had become a second home for him, telling reporters it was "like [he] grew up" in Cleveland.  That feeling was reciprocated in the front office.
"It's another tough day for a number of us personally because of how much Asdrubal meant to our team and our organization," General Manager Chris Antonetti said, according to The Associated Press. "He's a guy who has impacted two postseasons for us. We'll obviously miss Asdrubal a great deal."
In his downtime, Cabrera enjoys being on his farm in Florida where he tends to his horses every morning.  Back in Venezuela, he's a fan of taking his boat out on the water with family and friends.
Market
Even though he prefers the shortstop position and his second half in Washington didn't produce his finest work, Cabrera has said that he would welcome a return to the Nationals.
"It depends. A team like this team, a good team that want me to play second, I would love to stay here. I just want to win. I've got eight seasons already. I want to be in the World Series one day," Cabrera said, according to MASNsports.com's Dan Kolko.
That desire to win could, theoretically, lead to a discount for the incumbent Nats.  Recently, Mark Zuckerman of Nats Insider expertly summed up the Nationals' dilemma at second base.  If they want to prioritize offense at the position, then Cabrera is the better choice to make than giving the defensively strong Danny Espinosa an opportunity to take back the job.  Our own Jeff Todd suggests that a platoon between Cabrera and Espinosa, who can hit against lefties and serve as a strong defensive replacement, would make sense.  The Nats can also use that duo to fill the void if Ian Desmond leaves in free agency next winter.  However, it's not a given that the Nats will be willing to get in the ballpark of what other clubs will offer Cabrera.
If the two sides can't get on the same page for a reunion, there should be plenty of interest from teams in need of middle infield help.  The competition at second base is thin, though Cuban defectors Jose Fernandez and Hector Olivera have added some depth there.  At shortstop, Cabrera will have to vie with Stephen Drew and Jed Lowrie.  As noted in Jeff's recent poll asking the MLBTR commentariat to choose the best option from the trio, Ramirez could be seen more as a third base option than shortstop and the year's best potential option, J.J. Hardy, is already spoken for.
Teams like the Padres, Reds, and Mets could be interested in signing an impact shortstop, though none of them look the part of a Las Vegas championship favorite for 2015.  The A's and the Blue Jays could both be in the market for a second baseman.  The Yankees, meanwhile, are on the lookout for a shortstop and, depending on how things play out, could have a need at second as well.  Martin Prado is currently penciled in to fill that role, but if he's needed elsewhere, the Bombers could look into someone like Cabrera for second.
Expected Contract
The dearth of quality free agent middle infielders is something of a double-edged sword for Cabrera.  On one hand, he has less competition.  On the other, as evidenced by the lack of intriguing available options, a lot of teams are already set, particularly at second base.  There are also a few teams with surpluses in that area like the Rangers, Cubs, and Diamondbacks, which could draw attention away from the free agent market.
Ultimately, while he enjoys playing shortstop more, his best bet at winning and cashing in could come as a second baseman.  The Nationals should at least have some interest in working out a new deal, even though they didn't get a redux of Cabrera's best work.  The Yankees, if they shift Prado, can be expected to show interest as well.  Because of his age and his ability to play both middle infield positions, I predict that Cabrera will land a three-year, $27MM deal.
Photo courtesy USA Today Sports Images.