The Blue Jays have officially struck a deal to acquire third baseman Josh Donaldson from the Athletics. Heading back to Oakland are infielder Brett Lawrie, righty Kendall Graveman, shortstop Franklin Barreto, and lefty Sean Nolin.
This deal's franchise-changing implications are evident on its face. Donaldson, 28, and Lawrie, 24, have each been viewed as cornerstone third basemen for their respective clubs.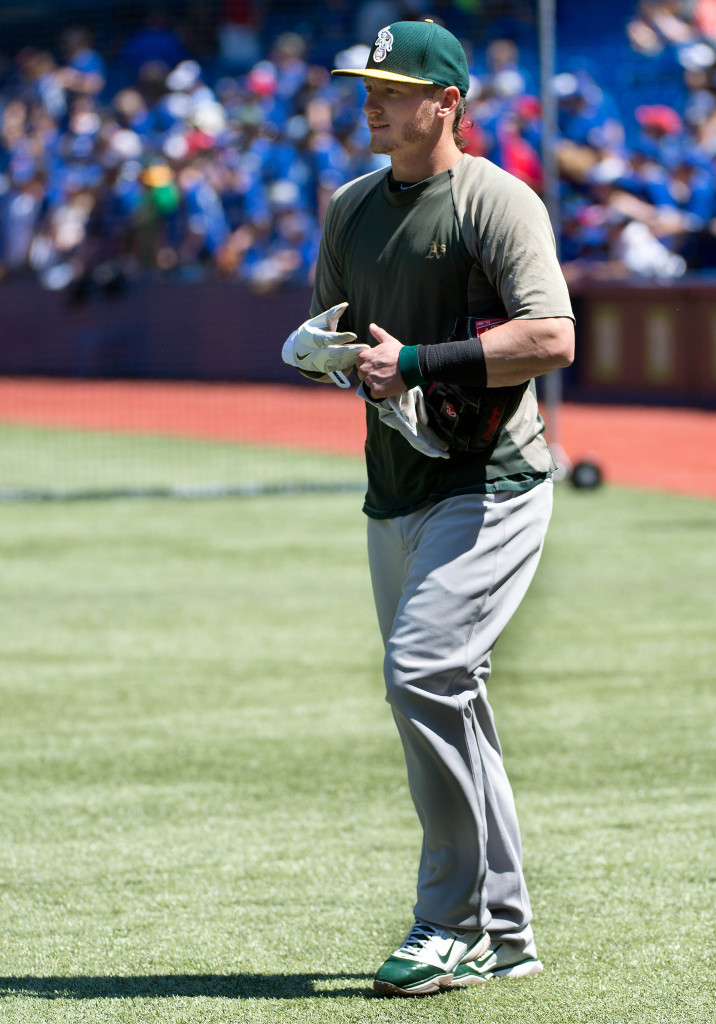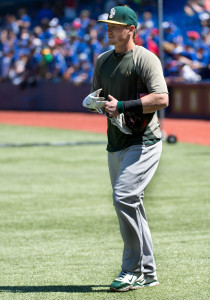 Donaldson is, of course, the best piece moving in this swap and one of the more valuable commodities in all of baseball. A late bloomer, he had emerged as one of the game's very best position players over the last two seasons. Collectively, he has slashed .277/.363/.477 with 53 home runs and 13 stolen bases over 1,262 plate appearances since the start of 2013. With stellar defense included, Donaldson has racked up 15.4 rWAR and 14.1 fWAR in that span.
Projected by Matt Swartz/MLBTR to earn $4.5MM in his Super Two season of arbitration eligibility, Donaldson was just starting off on a track to become rather pricey. But he comes with four seasons of control, and will unquestionably be paid less than his anticipated worth on the diamond.
Though significantly younger, Lawrie comes with one less year of control. He is, however, projected to take home just $1.8MM this season and will therefore also have a much lower starting point for his next two seasons of earnings. That element of the deal should not be ignored, as Lawrie will almost certainly be significantly cheaper than Donaldson over the next three campaigns.
On the other hand, he has yet to match Donaldson's output in spite of his own, oft-noted ability. Over his first three-plus seasons in the bigs, Lawrie owns a .265/.323/.426 slash (good for a 104 OPS+) and has generally drawn solid-to-outstanding reviews on his defensive work. Injuries have limited his time on the field over each of the last two seasons, but Lawrie has generally performed at a well-above-average clip when healthy.
The other pieces involved are, of course, responsible for making up the gap in value between Donaldson and Lawrie. Barreto could be the hidden gem in the package, with Ben Badler of Baseball America noting on Twitter that the 18-year-old was the top July 2 prospect of two years prior and is probably at top-100 level prospect at this point. He came into the year as Toronto's fifth-rated prospect, per Baseball America, and his .865 OPS with six home runs and 29 steals in just 328 low A plate appearances did nothing but improve upon that standing. Per BA, Barreto has several plus tools (hit, speed, arm) with decent power projection and room to improve on his footwork at the shortstop position.
Meanwhile, the 24-year-old Nolin, a lefty, placed tenth on that BA listing. He has been deemed ready enough to warrant one MLB appearance in each of the last two seasons, though he has spent most of his time in the upper minors. In 105 Triple-A innings thus far, Nolin has posted a 3.17 ERA with 7.5 K/9 against 3.9 BB/9. BA credits him with a "true four-pitch mix" and calls him a fairly polished number four starter type.
Graveman, 23, sprinted through the Blue Jays' system after going in the eighth round of the 2013 draft. He threw 172 innings across five levels of the organization the the last year alone, largely dominating at every level of the minors as a starter before earning a chance to make a handful of big league relief appearances. In total, he made 27 minor league starts, just seven of which came above the High-A level, carrying a cumulative 1.83 ERA with 6.2 K/9 against 1.7 BB/9.
It would not be surprising at all to see other moves in the works for both clubs after this swap. The Jays have clearly signaled their intention to challenge for the AL East crown, and remain in the market for outfield and bullpen help.
Oakland, meanwhile, is in the midst of something of a general roster churn, but is probably not merely looking to the future after promising $30MM to Billy Butler. With the team's most recent rotation additions, it is possible to imagine the team dangling one of its expiring contracts (Jeff Samardzija, Scott Kazmir) as it looks to fill out its largely open middle infield mix. Lawrie, of course, has spent some time at second in his career and creates some flexibility in that regard.
Ken Rosenthal of FOX Sports reported the deal (Twitter links), with Jeff Passan of Yahoo Sports tweeting Nolin's inclusion. Susan Slusser of the San Francisco Chronicle reported earlier in the evening that a significant trade was in the works.
Photo courtesy of USA Today Sports Images.