Pablo Sandoval has a case as the best free agent hitter this offseason, and demand is strong.  The third baseman reached free agency at age 28, putting an exclamation point on his year with another huge postseason.
Strengths/Pros
Sandoval is a career .294 hitter who has hit .315 or better in multiple full seasons.  Known for his incredible hand-eye coordination, he makes contact about 87% of the time.  His consistency in this area has been uncanny, as he's never dipped below 86.5% or risen above 86.9% in any of his six full seasons.  What's more, Sandoval has no clear weakness, as Jeff Sullivan of FanGraphs explained.  He can hit pitches in and out of the strike zone, he can hit all types of pitches, and he can hit with two strikes.  In 2008, Sandoval told Lee Jenkins of Sports Illustrated, "I like every pitch, no matter where it is."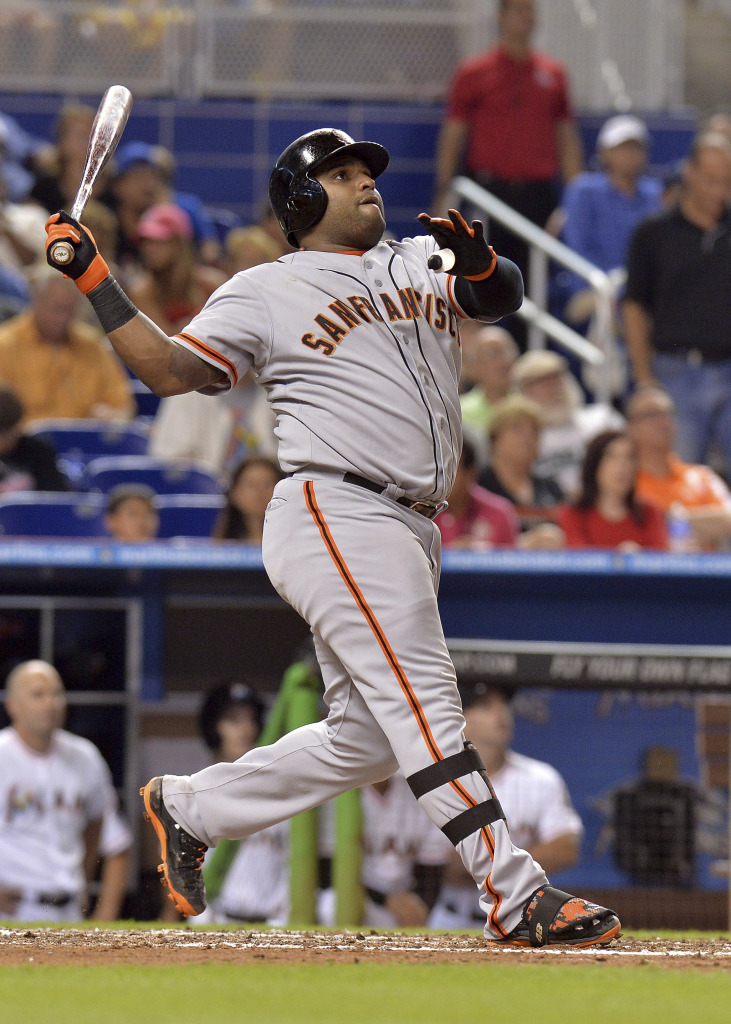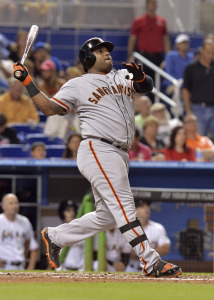 Sandoval's weighted runs created plus (wRC+) of 114 from 2013-14 ranked ninth among third basemen.  This stat is park and league-adjusted, giving Sandoval some credit for playing in a pitchers' park.
Sandoval's postseason heroics in 2012 and 2014 are legendary.  He won the World Series MVP in 2012, hitting .500 with three home runs as part of an excellent postseason overall.  This year, he raked to the tune of .366/.423/.465 in the postseason.  Just 28 years old, Sandoval has already collected three rings with the Giants.
Though he's a big guy, Sandoval plays a solid third base.  His ultimate zone rating and defensive runs saved marks were both above average this year.
We've mentioned that Sandoval is just 28 years old.  Such youth is a rarity for a free agent, and it's a function of Sandoval reaching the Majors at age 21 and not signing an extension that gave up free agent years.  The unique cases of Cuban free agents aside, Sandoval is the youngest prominent free agent hitter along with Colby Rasmus, who was born on the same day.
Weaknesses/Cons
For all his postseason success, Sandoval's regular season was his worst with the bat since 2010.  His 6.1% walk rate was a career-worst for a full season, and it resulted in an unspectacular .324 on-base percentage.  And while Sandoval flashed 25 home run pop early in his career, he's averaged about 15 per 600 plate appearances over the last three seasons.  He's slugged just .416 over the last two campaigns, 67th among qualified hitters.  This year in the regular season, Sandoval was roughly the hitter Trevor Plouffe, Daniel Murphy, or Brett Gardner was.  Those are above average hitters, but not middle of the order cornerstones.
Sandoval's baserunning has always been a detriment, bringing his overall value down.   He has totaled 7.9 wins above replacement over the last three seasons, 81st in baseball among position players.  He's in a virtual tie with guys like Jon Jay and Jed Lowrie, who might be described as useful but are certainly not considered stars or among the best as their respective positions.  By measure of WAR, Sandoval ranked 14th among third basemen this year, seven spots below fellow free agent third baseman Chase Headley.
Sandoval is listed at 5-foot-11 and 245 pounds, making him one of the game's heaviest regular position players.  He's been at least 30 pounds heavier than that at different points.  Using pounds per inch, Daniel Meyer of Beyond the Box Score noted, "Deep into the history of the past 143 years of recorded baseball history no player of Sandoval's proportions has played more than a season's worth of games at third base," making Sandoval a trailblazer in what he's done already.  His weight raises questions about how well he'll age, his future durability, and when he might have to move off the hot corner.  Talk about Sandoval's weight and conditioning have followed him throughout his career, as chronicled by Jorge L. Ortiz of USA Today in February this year.
Since he received and turned down a one-year, $15.3MM qualifying offer from the Giants, signing Sandoval will require draft pick forfeiture.
Personal
Sandoval was born in Puerto Cabello, Venezuela.  He was born left-handed but learned to throw with his right hand at the age of nine so he could play catcher.  Switch-hitting followed his switch-throwing a few years later.   The Giants signed him in 2003 at age 16, as a catch-and-throw specialist behind the plate.
Sandoval is an exuberant player who usually has a smile on his face and is beloved by fans.  He is nicknamed Kung Fu Panda, a name bestowed on him by teammate Barry Zito in 2008 when Sandoval scored a run by jumping over the catcher's tag.  The nickname took off, with thousands of Giants fans making Panda gear ubiquitous.
Sandoval has two daughters and resides in Venezuela in the offseason.
Market
So far in free agency, Sandoval has been pursued heavily by the Giants and is in Boston today for a meeting with the Red Sox.  The Padres, Blue Jays, and White Sox have also been connected, and agent Gustavo Vasquez met with most or all of the teams at last week's GM Meetings.  Just to expand the field as far as possible, teams such as the Yankees, Tigers, Astros, Angels, and Marlins don't have third base entirely locked down even if they haven't been linked to Sandoval recently.  Sandoval has been a member of the Giants for his entire career, and after past championships the Giants retained their players.  Prior to the season, the Giants reportedly tried to start the conversation with a three-year, $40MM offer with Sandoval seeking five years and $100MM+.
With Aramis Ramirez having re-signed with the Brewers, Sandoval's third base competition consists of Headley and perhaps Hanley Ramirez.  Headley holds the advantage of not being eligible for a qualifying offer.  Plus, his defense-oriented profile won't cost nearly as much.  The trade market at third base is light, with perhaps Luis Valbuena, David Freese, Casey McGehee, Pedro Alvarez, and Plouffe in the mix.
Expected Contract
Perhaps because of the postseason, his age, or the promise Sandoval showed in years like 2009, this is a player who is valued by the market well beyond his regular season statistics.
Vasquez has come right out and said his client is focused on the length of his deal and that six years would be reasonable given his age (Henry Schulman of the San Francisco Chronicle reporting).  Most agents don't speak about that publicly, and most also seek one year more than they might privately expect the player to receive.  I think in this case, Vasquez really does expect six years, and Sandoval will receive such an offer in the end.  It is difficult to picture seven years unless that seventh year comes very cheaply.
Expectations seem to be for an average annual value of $18-20MM for Sandoval.  I'm going with a six-year, $114MM deal.
Photo courtesy of USA Today Sports Images.