The Phillies announced this morning that they've recalled top prospect Maikel Franco from Triple-A Lehigh Valley, giving the power-hitting third baseman a second crack at the Majors after struggling in a late-season debut in 2014. Franco, 22, rated as Baseball America's No. 56 prospect this offseason, also ranking 55th on MLB.com's Top 100 and 96th on the Top 101 of Baseball Prospectus.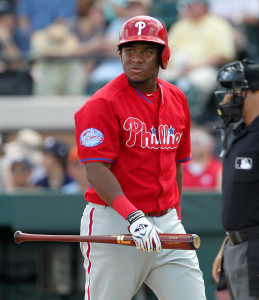 The Phillies seem intent on giving Franco a shot to become their everyday third baseman, as Cody Asche has already been sent down to Triple-A to work on transitioning to the outfield. That move, as well as Franco's hefty .355/.384/.539 batting line in 33 Triple-A games helped pave the way for what seems to be a more serious look than the one he received in 2014. Last September, Franco split time Asche at third and with Ryan Howard at first, ultimately hitting just .179/.190/.214 in 16 contests.
Perhaps most interesting about Franco's promotion, however, is the service time implication that comes along with it. The Cubs' handling of Kris Bryant in Spring Training this season spurred a good deal of controversy, but the Phillies have effectively taken the same route with Franco. Last September, Franco accrued 27 days of Major League service time in his September cup of coffee. That service time means that he'd have needed just 145 days of service this season to reach the 172 days necessary to be credited with a full year of service time. The Phillies have, likely not in coincidental fashion, promoted Franco at a time when there are only 144 days of the regular season remaining. That means that he, like Bryant, will fall one day shy of a full year of service. Because of that, the earliest that Franco could be eligible for free agency would be following the 2021 season.
GM Ruben Amaro Jr. and the Phillies, of course, aren't acknowledge that reasoning — no team would openly do so. In a similar manner to the way in which the Cubs' front office sidestepped the service time factor, Amaro said of today's promotion: "This was a baseball decision based on Maikel's development and performance. We believe he is ready for the next step."
That the Phillies waited to ensure they could delay Franco's free agency is telling about their hopes for this promotion, however. Clearly, the Phillies believe that Franco is capable of holding down third base long-term; they've moved Asche to another position and, if they weren't serious about this promotion being a long-term move, the service time considerations likely wouldn't have factored so heavily into their thinking.
It'll be interesting to see if Franco's case generates anywhere near the level of drama that Bryant's case did in late March/early April. That level of controversy admittedly seems unlikely, but Franco's case nonetheless serves as another example that this type of service time manipulation is a relatively common practice when it comes to the game's most highly regarded prospects. Looking at the view through the Phillies' lens, one can hardly blame the team for being willing to give up 40 games of Franco in a rebuilding season in order to control him for an additional year (2021) when they hope to be in a better spot to contend.
Photo courtesy of USA Today Sports Images.