With an offense that is again struggling to score runs in Seattle and a logjam of corner outfield types in Arizona, the Diamondbacks and Mariners have agreed to a rare, significant early-June trade that will send Mark Trumbo from Arizona to Seattle, the teams announced. Left-hander Vidal Nuno is also heading to the Mariners, who will send catcher Welington Castillo, right-hander Dominic Leone and prospects Gabby Guerrero and Jack Reinheimer to the D-Backs.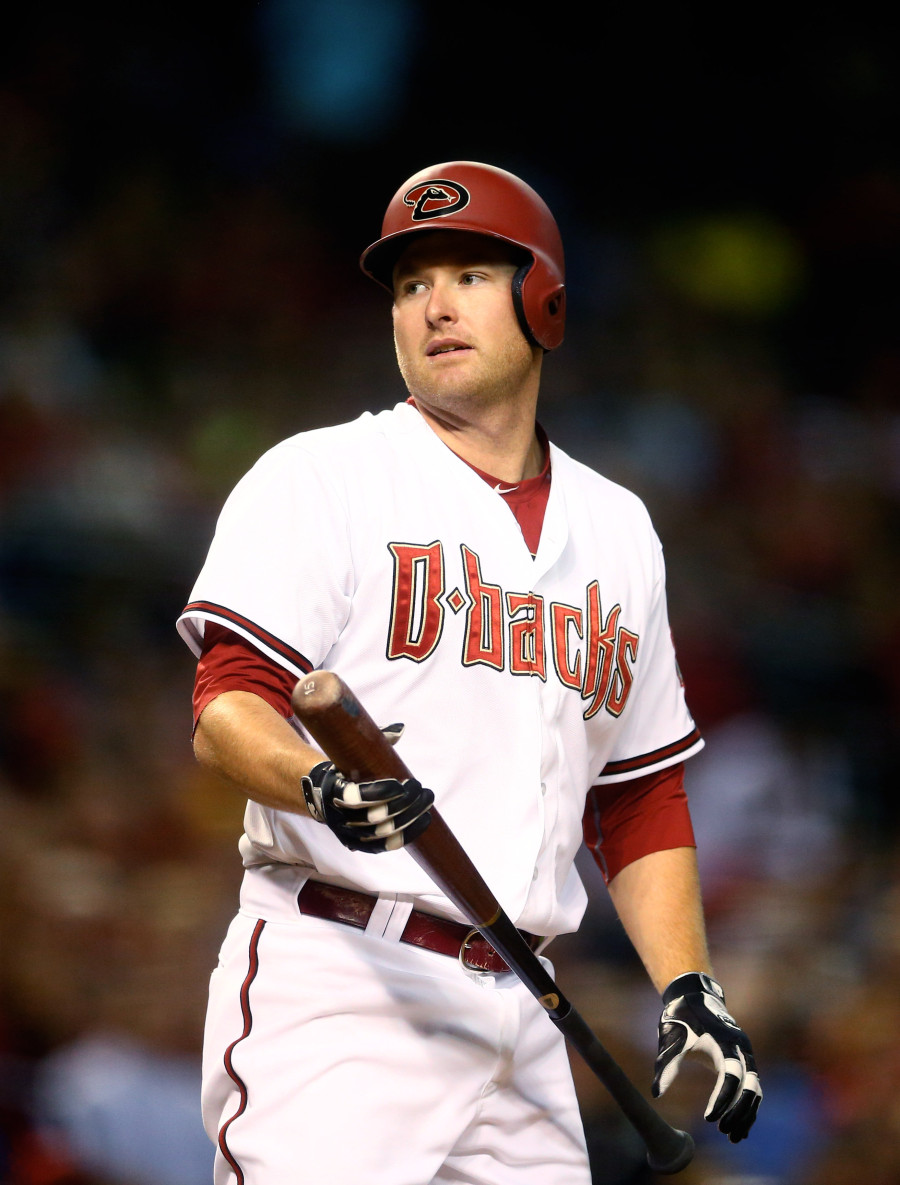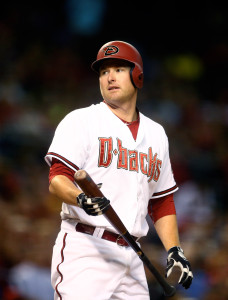 From the Mariners' perspective, Trumbo will add significant power to a lineup that has struggled to score runs, as they rank 28th in the Majors with 191 runs. However, Seattle has thrived as a collective unit against left-handed pitching, which is where Trumbo does most of his damage. The 29-year-old is a lifetime .263/.311/.528 hitter against southpaws but owns a more pedestrian .242/.293/.444 line against same-handed pitching. Despite questionable OBP skills and his so-so numbers against right-handed pitching, Trumbo does figure to make the Mariners' offense more formidable, though it may come at the cost of some defensive value. The acquisition of Trumbo also forces the team to either displace Logan Morrison at first base or utilize one of Trumbo or Nelson Cruz in the corner outfield, where both are regarded as defensive liabilities. Trumbo, who is earning $6.9MM in 2015 and is under team control through 2016 via the arbitration process.
Looking at the trade from Arizona's perspective, it's not difficult to see why the team felt the need to move Trumbo. The signing of Yasmany Tomas this offseason gave them a pair of slow-footed corner outfielders whose most appealing asset was right-handed pop. The D-Backs have been playing Tomas at third base while highly regarded prospect Jake Lamb is on the disabled list, but Lamb is nearing a return, and Tomas' defensive work in the infield has not been particularly strong. With this move, Tomas can shift to right field in Trumbo's place, joining A.J. Pollock and a combination of Ender Inciarte and David Peralta in the outfield. The move also saves the D-Backs some significant money; Trumbo is owed $4.68MM for the remainder of the 2015 season, compared to Castillo's $1.43MM, making for a total savings of about $3.25MM.
Nuno has been told that he will be joining the Mariners' rotation, the lefty himself told reporters, including MLB.com's Steve Gilbert (Twitter link). The 27-year-old has struggled throughout his brief MLB career as a starter, but he's pitched quite well in a long relief capacity for Arizona this season, posting a 1.88 ERA with a 19-to-5 K/BB ratio in 14 1/3 innings. Of course, that small sample consists of just three appearances, and Nuno's larger body of work is relatively suspect. He's tallied 196 innings at the Major League level between the Yankees and Diamondbacks, posting a 4.13 ERA with 7.2 K/9, 2.6 BB/9 and a 38.1 percent ground-ball rate.
As a fly-ball pitcher, his first stint in an expansive, pitcher-friendly environment figures to benefit Nuno, but his peripheral profile doesn't exactly indicate that he's been the recipient of much poor luck. Metrics such as FIP (4.36), xFIP (4.15) and SIERA (3.97) all feel that Nuno's ERA are more or less reflective of his talent level. The Mariners will hope that he can produce improved results in a more favorable setting, however, and if not, he seems like he could at least be a useful bullpen piece. Nuno has stifled opposing lefties to this point in his career, yielding just .191/.271/.317 batting line in 190 plate appearances. The Mariners will be able to control him through the 2019 season.
Castillo is the most established player headed back to Arizona in the trade, and he will pair with Jarrod Saltalamacchia behind the dish to form the D-Backs' new catching tandem. That's a far more established duo than Tuffy Gosewisch and Jordan Pacheco, who have handled the bulk of Arizona's catching duties this season. Arizona GM Dave Stewart stated on multiple occasions this offseason that he had no intent of adding a catcher, and he held to his word through Opening Day, but he's since seen Gosewisch go down for the year due to a torn ACL, while a back injury has ended veteran Gerald Laird's season. Rule 5 pickup Oscar Hernandez is on the shelf as well, creating an even larger dearth of catching options for the Diamondbacks.
Arizona values prospect Peter O'Brien's bat quite a bit, but scouts have long questioned whether or not he can handle catching from a defensive standpoint. Late in Spring Training, those questions became even more pronounced when O'Brien developed an issue throwing the ball back to the mound. He's seen more time in the corner outfield this season at Triple-A than he has behind the plate.
Therefore, Castillo and Saltalamacchia give the Diamondbacks a more experienced tandem without forcing them to try O'Brien at catcher before he is ready (if he ever is). Castillo is a career .250/.316/.392 hitter that posted a combined 105 OPS+ from 2012-13 before taking a step back in 2014. All told, his bat has been about five percent below the league average over the course of his career, which is solid offensive output from a catcher. Castillo has also caught an above-average 30 percent of attempted base stealers in his career, though like Saltalamacchia, he does not grade out well in terms of pitch-framing metrics. Castillo is under team control through the 2017 season.
In Leone, the Diamondbacks will acquire a 23-year-old reliever who was dominant in his 2014 rookie campaign but has struggled to repeat that success. Leone emerged from out of nowhere in 2014 to post a 2.17 ERA with 9.5 K/9, 3.4 BB/9 and a 54.7 percent ground-ball rate in 66 1/3 innings for the Mariners. Both FIP and xFIP pegged him at 3.07, while SIERA was more bullish at 2.81. Entering the 2015 season, Leone looked like a potential long-term bullpen cog. However, he's seen his control erode dramatically, issuing nine walks in 11 1/3 innings against just seven strikeouts. The 94.6 mph he averaged on his heater in 2014 has dropped to 93.3 mph, leading to further cause for concern. His ERA to this point is a sky-high 6.35, while ERA estimators peg him for a mark in the 5.40 to 5.80 range. Put simply, Leone is a reclamation project for the Diamondbacks, but if he can return to anything close to his 2014 output, he'd be one of the most effective pieces in Arizona's relief corps, if not the most effective piece.
Guerrero, 21, is the best prospect in the deal, despite a rough year at Double-A so far (.215/.262/.305). The nephew of famed slugger Vladimir Guerrero, Gabby has ranked among the Mariners' Top 15 prospects in each of the past three offseasons, topping out at seventh this past winter. In their most recent scouting report, BA noted that Guerrero has plus-plus raw power, a plus-plus arm in right field (sound familiar?) and plus range as well, but he's overly aggressive at the plate and swings too hard too often. Guerrero has baseball in his genes and is a high-risk, high-reward type of prospect; BA and other outlets such as MLB.com (where he ranks fifth among Mariners prospects) and Fangraphs (eighth) all feel that he could ultimately be an everyday right fielder, but the likelihood isn't great without adjustments to his approach.
The 22-year-old Reinheimer reached Double-A for the first time this season and has slashed .277/.323/.351 thus far. Ranked as Seattle's No. 17 prospect by BA, he also ranks 19th per Fangraphs and 14th per MLB.com. Jonathan Mayo and Jim Callis at MLB.com call Reinheimer a singles hitter at the moment, noting that he has above-average speed and the range/arm to handle shortstop defensively. Kiley McDaniel of Fangraphs agrees for the most part and comps him to Mariners shortstop Chris Taylor, noting that there's very little power and a utility player might be the ultimate outcome.
Ken Rosenthal of FOX Sports first reported that Trumbo and Nuno had been traded to Seattle in exchange for Castillo, Leone and two prospects (Twitter links). 
Photo courtesy of USA Today Sports Images.