David Stearns took the Brewers' GM job in September and acted decisively to continue the organization's rebuilding plan. The team won't be very good in 2016, but its future suddenly looks bright.
Major League Signings
Notable Minor League Signings
Trades And Claims
Extensions
Notable Losses
Needs Addressed
This time last year, the Brewers were in a holding pattern. Their core was getting older and more expensive, and they were coming off an 82-80 2014 season and a second-half collapse. But their decent collection of veteran talent (Carlos Gomez, Jonathan Lucroy, Ryan Braun, and so on) and weak farm system meant that initiating a rebuilding process right away might have been more painful than just hoping for the team to be competitive in the short term and waiting to rebuild.
Their 2014-15 offseason was, accordingly, a tepid one. They traded Yovani Gallardo and Marco Estrada, but actually returned a veteran (Adam Lind) rather than young talent in the Estrada trade and generally didn't make any dynamic moves to change the direction of their franchise.
That changed quickly when the 2015 season began and the Brewers found themselves in a 5-18 hole by May 1. The terrible start perhaps provided the organization with clarity it needed, and the team quickly replaced manager Ron Roenicke with Craig Counsell and began shipping out veterans (including Gomez, Mike Fiers, Gerardo Parra, Aramis Ramirez, Jonathan Broxton and Neal Cotts). They also hired the youthful David Stearns (who recently appeared on the MLBTR Podcast) to be their new GM, with Doug Melvin moving into an advisory role.
Stearns had already been part of one aggressive rebuilding project as assistant GM of the Astros, and at least at this early point, it looks like he at least has the fortitude to lead one in Milwaukee. His first offseason was a busy one, as he continued dealing veterans and adding to an increasingly impressive base of young talent while reshaping the organization to fit his vision.
It's hard to tell what the Brewers' Opening Day roster might look like. Holdovers Lucroy, Braun and Scooter Gennett will occupy familiar spots, but the rest of the lineup is in flux. First base will likely be occupied, at least in part, by Chris Carter, the only big-league free agent the Brewers signed this winter. Carter has tremendous raw power but strikes out constantly and is a defensive liability. He's also 29 and doesn't seem likely to age well. He should, however, bat closer to .220 or .230 than the .199 he hit last year. If he can get his average any higher than that, he might be a tempting trade-deadline acquisition for a contender. The Brewers could also take him to arbitration and keep him through 2018 if he's successful. Given Carter's power and the Brewers' ability to control him beyond 2016, $2.5MM seems like a very reasonable price to have paid, particularly with the Orioles paying more than twice as much for Pedro Alvarez, who is in many ways a similar player.
Carter replaces Adam Lind and (to a lesser extent) Jason Rogers, who both headed elsewhere in trades. For one year of Lind, the Brewers got a trio of very young arms in Carlos Herrera, Daniel Missaki and Freddy Peralta. None of them have yet turned 20, but all have posted impressive peripheral numbers in the very low minors. None are yet highly rated, but it wouldn't be a shock to see one of them emerge as a serious prospect within a year or two. For Rogers, they got Keon Broxton (a young outfielder who lacks offensive upside but has blazing speed, strong defensive ability and a fresh service-time clock) and Trey Supak, a 2014 second-round pick who will join Herrera, Missaki and Peralta among the Brewers' growing group of interesting lottery-ticket arms.
2015 shortstop Jean Segura is also gone after a clever trade to the Diamondbacks. For their willingness to eat $5.5MM of the remaining contract of veteran infielder Aaron Hill (who Counsell says will get the first shot at the Brewers' open third base job), the Brewers arguably got not only the best current big-leaguer in the deal (Chase Anderson, a fourth starter type who should help Milwaukee's rotation get through the team's rebuilding period) but also the highest-upside player (infielder Isan Diaz, who's far from the Majors but hit brilliantly for both average and power last year as a 19-year-old in the Pioneer League). Segura, meanwhile, has not developed since his 2013 breakout, and his 93 strikeouts and 13 walks in 2015 suggest he has plenty of improving to do if he's going to be an asset. The Brewers also gave up starting pitcher Tyler Wagner, who posted a good ERA last season at Double-A Biloxi but was somewhat old for the level and was not particularly impressive, either in terms of his stuff or his results, in a brief trial in the big leagues. Wagner's ability to get ground balls could lead to a career as a back-of-the-rotation type in the Majors, and Segura is young and could perhaps turn his career around, but it doesn't look like the Brewers gave up much.
Stearns also made two other trades involving potential utility infielders. First, he sent pitcher and 2014 third-round pick Cy Sneed to Houston for Jonathan Villar. Sneed hasn't yet pitched at Double-A, although his numbers were promising in his first pro season. Villar, meanwhile, has never really hit much (his .284 average in a small sample in the big leagues in 2015 notwithstanding). He runs the bases well and can play multiple positions, though, and he has five years of service time remaining before free agency. The deal was Stearns' only trade of a minor-leaguer for a big-leaguer this offseason and appears to run counter to much of what the Brewers tried to achieve this offseason, although that isn't necessarily a big deal — Sneed is less than two years younger than Villar and isn't a top prospect.
Stearns then shipped 2B/SS Luis Sardinas to Seattle. Sardinas had been in the Brewers organization for less than a year and is still just 22, but his recent track record (and especially his .282/.319/.359 line last season at hitter-friendly Triple-A Colorado Springs) raises questions about whether he'll hit even as well as Villar currently does. In return, the Brewers received Ramon Flores, a young left-handed hitter with some on-base ability and offensive upside who could become a fourth outfielder. He could get that chance as soon as this year, since he's out of options and is fully recovered from an ankle injury he suffered last August.
Questions Remaining
There are many, which isn't surprising, given that the Brewers don't figure to contend this year. Villar seems likely to win the shortstop job, but he could move to second once top prospect Orlando Arcia is promoted. That could bump default second baseman Gennett, who's coming off a disappointing 2015 season, to the bench. At third, it's hard to believe the Brewers will remain satisfied with Hill if he continues to perform as he has the last two seasons. If he falters, minor-league signee Will Middlebrooks or trade acquisition Garin Cecchini could take over; those players have been disappointing in recent years as well, but at least they're younger. (Since none of those options look particularly inspiring, it might have been interesting to see the Brewers sign free agent third baseman David Freese, who could help out at the position and potentially return a prospect at the deadline.)
Left field and right field appear set with Braun and Domingo Santana, but what will happen in center is unclear. Brett Phillips, who was part of the Carlos Gomez trade package along with Santana, could be the long-term answer at the position. He has limited experience in the high minors (and is currently dealing with an oblique strain), however, so he's unlikely to start the season in the bigs. That leaves a variety of potential center field options to start the season, including Kirk Nieuwenhuis, Broxton and perhaps Shane Peterson or Flores. One of the more interesting possibilities is Rymer Liriano, a former top prospect the Brewers acquired in a minor deal in January after the Padres designated him for assignment. Liriano hasn't performed to expectations since he missed the 2013 season due to an elbow injury, but he's still just 24, appears to have a bit of offensive ability and hit fairly well last year, albeit in a hitter-friendly environment at Triple-A El Paso. Getting Liriano for minor-league reliever Trevor Seidenberger could prove to be a small coup for the Brewers.
The Brewers' rotation, in contrast, is relatively set, with Jimmy Nelson, Wily Peralta, Taylor Jungmann, Matt Garza and Anderson. (Zach Davies, one of last year's trade acquisitions, did enough down the stretch to warrant consideration for a rotation spot, but could end up at Triple-A unless the Brewers clear space by, say, unloading a portion of Garza's contract in a deal.) There will be competition in the bullpen, though, including at the closer spot. In November, the Brewers sent veteran fireman Francisco Rodriguez to Detroit for infielder Javier Betancourt and a player to be named, later revealed to be journeyman catcher Manny Pina. Betancourt is a tough player to evaluate — he didn't hit much in 2015, but some of that is likely due to the fact that he was barely 20 and playing against older competition in the Florida State League. He could eventually become an everyday second baseman, but he doesn't figure to contribute this season.
In K-Rod's absence, Jeremy Jeffress and Will Smith will battle for the closer spot. There will be competition for bullpen spots elsewhere, but Michael Blazek and Corey Knebel appear likely to win jobs after having solid 2015 seasons.
In the meantime, the Brewers have only a handful of veterans left who might be tradable. Chief among them is Lucroy, whose terrific contract (which contains a cheap 2017 option) and strong track record make him a significant asset despite a disappointing and injury-shortened 2015 season. It's still possible the Brewers could deal him before they break camp, and the timing of such a deal might make sense. Lucroy is now catching in Spring Training games, so any interested teams can confirm he's healthy, and some teams might be slightly reluctant to trade for a starting catcher once a season has begun. (Lucroy has a limited no-trade clause that allows him to block deals to eight teams, although given his recent comments about preferring to play for a winning team, that might not be an obstacle.)
Braun could eventually be dealt, too, although the Brewers might have to pay some of the $95MM remaining on his contract. Now might not be right time to trade him, since had back surgery in October, but if he gets off to a good start this season, it wouldn't be surprising to see him on the market this summer. Relievers like Jeffress, Tyler Thornburg and especially Smith could also attract interest, and Peralta could be a possibility as well if he pitches well for a few months.
Deal Of Note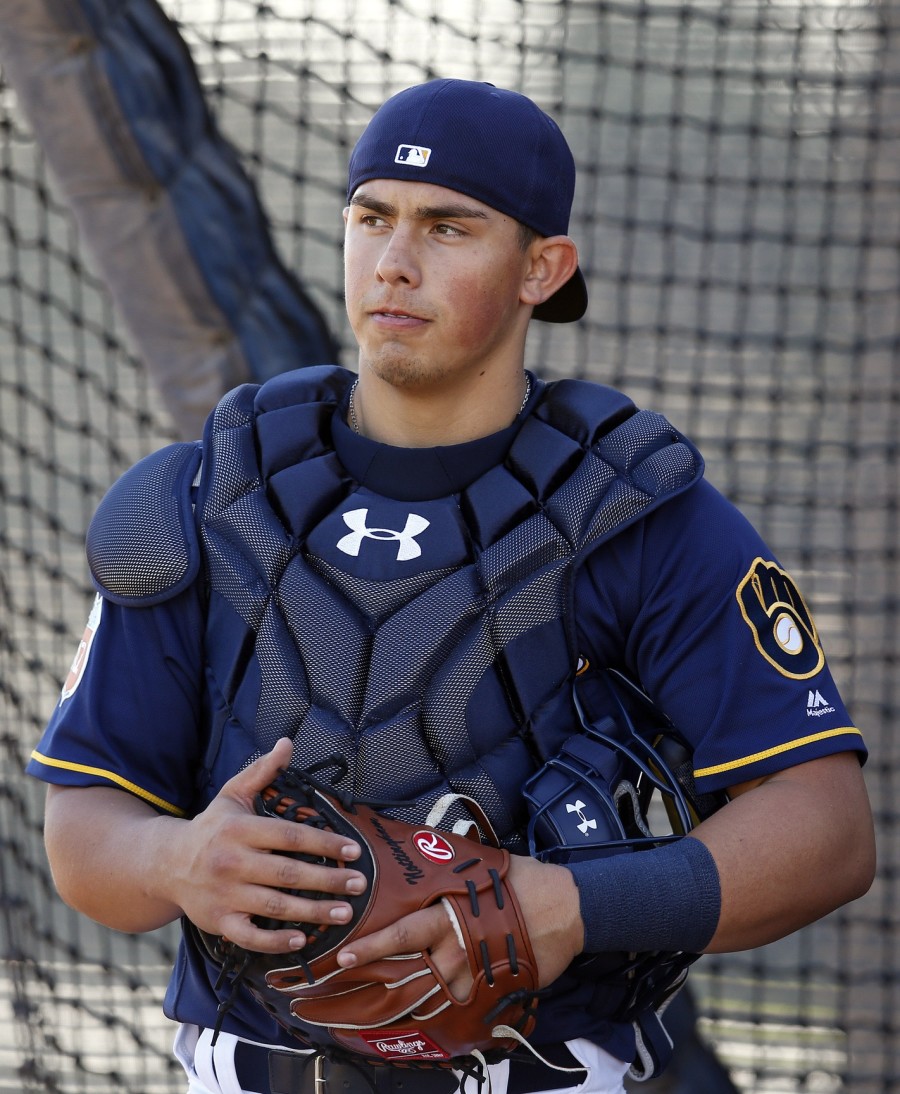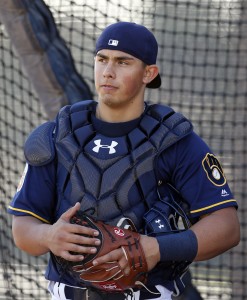 The offseason trade that netted the Brewers their most significant return was the deal that sent Khris Davis to Oakland for Jacob Nottingham and Bubba Derby. Davis has four years of control remaining and has significant raw power, belting 49 home runs in the past two seasons. He is, however, 28, and has obvious weaknesses, including generally weak on-base percentages and limited defensive value. It's possible his increased walk total in only his second full season in the league last year indicates a promising future, but given his age, it's more likely that the Brewers traded him somewhere near the peak of his value.
In return, they received Bubba Derby — a righty sixth-round pick from the 2015 draft who carved up short-season ball in his pro debut — and catcher Jacob Nottingham (pictured). Nottingham (who had already been traded once, going from Houston to Oakland in the Scott Kazmir deal) is currently the more valuable of the two pieces. He broke out in 2015 at Classes A and A+, posting a .316/.372/.505 line as a 20-year-old. If he can stick at catcher, his offensive ability could make him very valuable, although reports on his defense are mixed. Even if he has to move to another position, he has the chance to contribute, perhaps even as a first baseman if he can continue developing the power that helped him hit 17 home runs this season.
Overview
When Stearns arrived, the Brewers' rebuild was already in progress, and he's spent the offseason continuing what Melvin had already started. More than that, though, Stearns began to reconfigure the organization to suit his preferences. That was clear in his acquisition of former Astros players like Carter, Nottingham, Villar and minor-league signees Alex Presley and Jake Elmore, as well as Stearns' plentiful waiver claims and Rule 5 selections this winter.
Time will tell how many of these acquisitions turn out to be important ones, but it's clear that Stearns improved a farm system that was already getting better. In 2014, Baseball America ranked the Brewers' farm system the second worst of any organization. This year, the Brewers ranked ninth best. That improvement is primarily due to prospects like Arcia, Phillips and Trent Clark, all of whom were acquired under Melvin.
Then again, most of Milwaukee's best trade assets (like Gomez, who Melvin dealt to get a package that included Phillips) had already been dealt by the time Stearns arrived. Much of the talent Stearns had available to trade this offseason didn't appear likely to return top-100-type prospects, so Stearns instead sought potential role players with a bit of upside (like Anderson, Liriano, Flores and Broxton) and interesting players from the low minors (like Diaz, Derby, Herrera, Misaki, Peralta and Supak). That approach wasn't glamorous, but it seems likely to yield a couple competent complementary players in the short term, and in the long term, it wouldn't be surprising if one or two of the very young players the Brewers acquired emerged as top prospects.
In the meantime, the Brewers will attempt to piece together which of their new players might be parts of their next competitive team. Given the talent they have on the way — with Arcia, Phillips, and righty Jorge Lopez all sticking in the big leagues this year or next and a raft of interesting players below them — they could become fun to watch reasonably quickly, even if it takes a few years for them to become competitive in a tough NL Central division.
Let's turn it over to MLBTR readers with a poll (link to poll for mobile app users)…

Photo courtesy of USA Today Sports Images.