MLBTR continues its Draft Prospect Q&A series in order to give our readers a look at some of the top names on the board in this year's draft. MLBTR will be chatting with some of the draft's most well-regarded prospects as they prepare for the 2016 draft on June 9-11; we've already spoken with prep outfielder Blake Rutherford, Mercer's Kyle Lewis, Oklahoma's Alec Hansen and Louisville's Corey Ray.
Center fielder Buddy Reed is one of the more intriguing names in this year's draft. The 6'4", 207-pound University of Florida junior ranks as one of the top all-around players in college thanks to his speed and defensive ability, but the big question is how teams look at the switch-hitter's bat.
Reed grew up just outside of Baltimore, where he was a well-regarded hockey player. He went to boarding school nearly seven hours from home at St. George's School in Middletown, R.I. – a tiny school with a vast array of recognizable alums (the Bush family, the Vanderbilts, as well as many politicians and journalists). Reed went there on a hockey scholarship, where his coach was former Washington Capitals center Ryan Mulhern.
Reed, a 35th-round selection of the Texas Rangers in the 2013 draft, figures to be selected considerably higher this time around. Last week, Baseball America listed him No. 21 on its Top 100 Draft Prospects chart, and he's currently 16th on the Top 100 at MLB.com. He leads Florida in runs scored (41) and stolen bases (22-for-24), including a straight steal of home April 22 against Georgia.
Reed and his No. 1-ranked Gators squad have a big SEC showdown series this weekend against No. 7 Vanderbilt. He talked with MLBTR earlier this week:
Chuck Wasserstrom: Hi Buddy, thanks for taking the time to talk with me. I'll start out by saying there haven't been a whole lot of Buddy Reed stories out there, but it looks like you have a pretty fascinating background. I'm going to start off with a couple baseball questions, then get into your story. There are some talented college outfielders out there right now. What makes you different?
Buddy Reed: "I haven't been playing baseball as long or as seriously as other people in the SEC and other conferences around the country."
I want to hear about Buddy Reed the player. Describe your game for me. I don't want a scouting report that I can read on the internet. I want to hear you tell me about your game.
"I would describe myself as a streaky guy. I'm a tall guy who can bunt. I can get on base. I can steal second, third, and even home. I'm a threat on the base paths. I'm a threat from the outfield with my arm and my speed; I can track down a lot of balls. And I can hit."
[Full interview after the page break]
I'm finding your background very intriguing. But first I'd like to know, how did you wind up "Buddy" when your given name is Michael?
"It started when I was first born. My mom always called me Buddy. From there, she just kept it – and it stuck."
You landed in Gainesville after attending St. George's School, a boarding school about seven hours from where you grew up. How did you wind up at a boarding school in the northeast?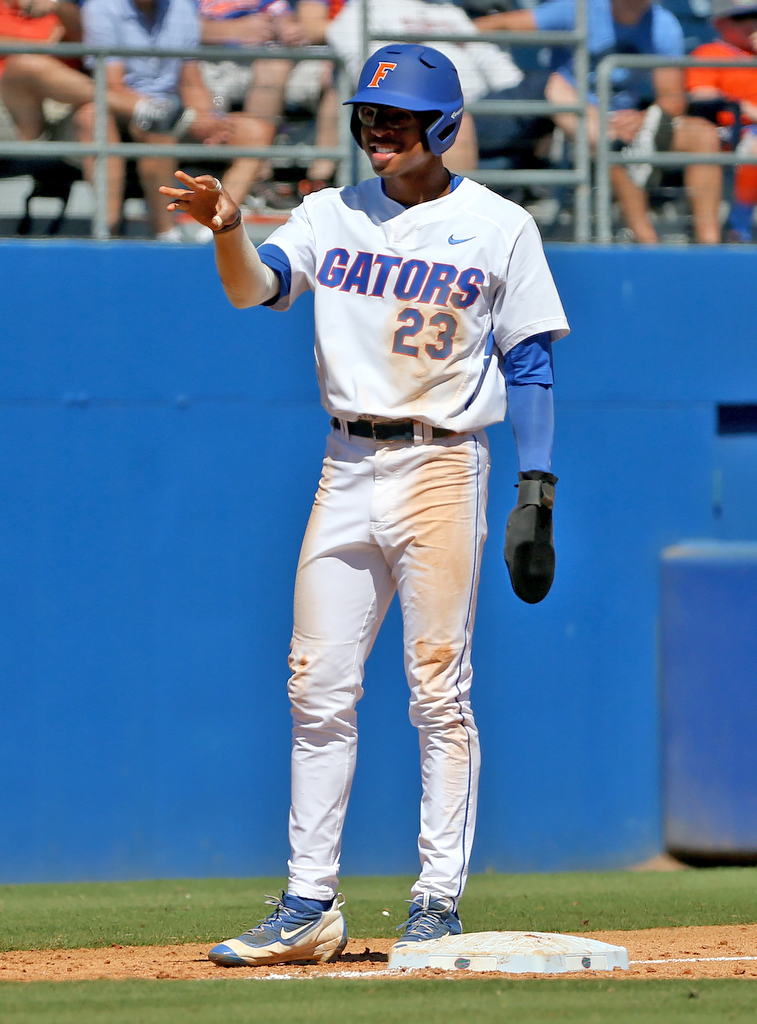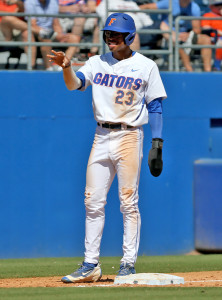 "I got a scholarship for hockey. It was a small school – ninth grade through 12th grade, about 350-380 kids. We had (the Atlantic Ocean) across the street. It's a prep school, so you get a lot of people who go on to Ivy League schools from there. Sports are starting to come along, but it's really not a sports school. It's more of an academic-based school, but sports are getting up to date. And it's fun – it gives you that college experience and you're away from home. You have to do everything on your own. The biggest thing is you create relationships with the people you meet. I've got friends from all over the country and the world since I went there. So it was pretty cool."
There are some pretty strong alums from St. George's, but not much from the athletic side. What would it be like if people said, "He came from our school?"
"That would be pretty cool. I haven't been back there in a while, but I think that would be pretty cool. My hockey coach (Ryan Mulhern) played for the Washington Capitals. He went to St. George's then went to Brown University before playing for the Capitals. That would be cool to be remembered as one of those guys who went to that school and made a name for himself in a pro sport – and to have had the athletic and academic support.
What position did you play in hockey?
"I played right wing, left wing, and center."
So you played on the offensive side.
"Yes I was."
You also played soccer. Offense there, too?
"Same there. I was an attacker."
Growing up … hockey fan first, or a fan of all sports?
"I'm actually a fan of all sports. Growing up, I played hockey mostly – and soccer. I still watch hockey all the time. Whenever I get a chance to skate, I skate. I watch soccer – English Premier League, MLS. I play FIFA a lot. I'm a fan of the sports that I played. And I'm a fan of basketball, football – and baseball, obviously."
You said you try to skate when you can. Do you get a chance to do that in Gainesville?
"No, usually when I'm home."
Is it true at St. George's that you went to school six days a week?
"Yes, six days – Monday through Saturday."
The school's official street address is listed as being on Purgatory Road. How tough was it there?
"It was different. Not everyone has to go to class six days a week. It wasn't bad. We lived on campus. You would see the same people every day. It was a change, actually, from boarding school to college and getting that Saturday off. But it was fun. They got as much as they could out of us. You had to learn a lot more, I guess. Saturday, you just woke up and said, 'OK, I have to go to class.' You still had the night off. The schedule worked out, because we had athletic competitions on Wednesdays and Saturdays – so they wanted us active in class on Saturday."
I read about a famous Geronimo sloop that's connected to St. George's.
"The boat that goes from our school to the Bahamas."
Did you get to do one of those voyages?
"No, I didn't get to do it because I was playing a sport all three seasons. That was usually for people who didn't play a sport – or for those who don't play all three."
You went there for hockey, but when did the shift begin toward baseball as a potential college scholarship sport for you?
"After my sophomore year, I played summer baseball and did one of those Perfect Game showcase things. I guess I decided I wanted to play soccer, hockey and baseball to see which one worked out for college."
Did you have any hockey scholarship offers?
"I had a couple schools. The one that had the most interest was Providence."
What about on the baseball side? Who was looking at you in addition to Florida?
"After I committed to Florida, there were other schools that wanted me like Texas and Texas Tech. But Florida stayed on top of me, and a lot of schools stopped talking to me. But I still got some late calls from some northern schools."
When the Rangers drafted you in 2013, did you give them any serious consideration – or had you already decided you were going to college?
"I did a little bit, because I didn't really know what the whole baseball draft process was like. I was so unsure what to expect so I gave it some consideration, but then I told my parents that I thought I'd develop more as a player and academically if I went to Florida for three or four years – and then hopefully get drafted higher after that."
How much culture shock was it going from a school of under 400 students to one with nearly 50,000 students?
"It was pretty different. I didn't know what to expect. The people that I met and the people that I've gotten to know really well have given me the opportunity that I probably wouldn't have gotten if I had gone to a smaller school. It's not just baseball; it's building relationships with people in my mode here – communications. Baseball will only last so long for me. There's a lot more to it after. It's pretty cool meeting a lot of new people and seeing what the college experience has to offer."
Tell me a little bit about your switch-hitting. Everything I've heard is that your swing mirrors itself pretty much the same from both sides of the plate.
"I'd say so. It depends on how I set up. It's still a work in progress. For now, I'm just 'See the ball, hit the ball.' I try to keep it as simple as possible. If changes need to be made, I'll make adjustments."
Are you one of those players who looks in the mirror to visualize how you look from the other side?
"Yeah, definitely. And watching videos from my previous at-bats after practice."
Is it true that your mom taught you to switch-hit?
"Yes, she did when I was growing up. I don't remember how old I was, but she put up a tee and told me to hit from one side – and when I got tired, just hit from the other side. So I kept doing that."
Quick question, since you've done both this year: Walk-off homer or straight steal of home?
"Oh jeez, that's tough … I think the steal of home was pretty cool."
What was going through your head in the game against Georgia when you got the sign?
"I was given the sign. The pitcher was pretty slow to the plate, and he was pitching from the windup. I knew I had to be aggressive. The pitcher started his motion and I got a big jump – and I slid in pretty easily. That was pretty big."
What's bigger for you – a highlight offensive play or a highlight defensive play?
"I'd say a defensive play. That's more of a highlight, just because I like the things that hold off runs being scored."
Any significance in your wearing No. 23?
"You know, everybody wants to be like Mike. Freshman year, it was available. Twenty-three – everyone likes it."
Have you allowed yourself to think about what you're going to do on the day of the draft?
"No, I'm not focusing on that at all. I'm focusing on winning – and doing whatever I can for the team to win. We're all here supporting each other. Whether it's my last go-around or not, I just want to win, and I want to have fun doing it. That's what it really comes down to … having fun and being a good teammate … on-and-off the field … caring about the guys that I've met here. The draft isn't a big concern; that will take care of itself. I just want to win a national championship."
How close-knit is your team?
"We're really close. Chemistry was one of the biggest things we put a lot of emphasis on going into this season. This is one of the closest teams I've ever been on. We hang out with each other all the time. We always have each other's backs. We're like brothers. It's cool to see it, because I'm an only child. So it's like I have 30 other brothers when I want to see them. We care for each other. We want to get the most out of each other. And that's pretty cool."
– – –
Chuck Wasserstrom spent 25 years in the Chicago Cubs' front office – 16 in Media Relations and nine in Baseball Operations. Now a freelance writer, his behind-the-scenes stories of his time in a big league front office can be found on www.chuckblogerstrom.com.
Photo courtesy of UAA Communications.