MLBTR continues its Draft Prospect Q&A series in order to give our readers a look at some of the top names on the board in this year's draft. MLBTR will be chatting with some of the draft's most well-regarded prospects as they prepare for the 2016 draft on June 9-11; we've already spoken with Oklahoma's Alec Hansen and Louisville's Corey Ray.
Centerfielder Kyle Lewis is doing everything he can to put himself and Mercer University on the baseball map. The 6'4", 210-pound junior has scouts flocking to Macon, GA, to watch the Southern Conference star play – and was named to the Golden Spikes Midseason Watch List this week.
Undrafted out of high school, the Snellville, GA, product burst onto the scene during the summer of 2014 by earning Great Lakes League Player of the Year honors. Last year, he nearly won the Southern Conference Triple Crown (batting .367 with 17 homers and 56 RBI) before putting together a stellar summer in the Cape Cod League.
Lewis entered the 2016 season ranking as the No. 8 overall prospect for the draft according to both MLB.com and Baseball America. Last week, ESPN.com's Keith Law listed him as the seventh-best prospect for the draft, calling him "an athletic centerfielder with real power in his wrists. That's a rarity in the draft for a position player who projects to stay up the middle."
Lewis began this week ranking in the national Top 5 in homers, total bases, RBI, slugging percentage, walks, on-base percentage, runs scored and batting average. He took some time out of his busy schedule to talk with MLBTR:
Chuck Wasserstrom: Let's start out by talking about Mercer – which isn't exactly a baseball hotbed. You have the chance to become the first 1st-round pick in school history. Is that important to you?
Kyle Lewis: "Yes it is. It would be something exciting to say that I came from a small school and accomplish that type of thing. I take a lot of pride in being able to represent my school and be one of the faces for the school. So that would be something definitely exciting for me."
Can you tell me a little bit about your baseball background? You went undrafted out of high school. Is it safe to say you played other sports growing up?
"I played baseball, but I played a lot more basketball. That was kind of my big thing – playing basketball coming up. I played baseball as well during the season, but I never played any summer baseball or anything like that until going into my senior year of high school. That year, I played my first year of full travel baseball – and I was able to have some success in that. So going into my senior year, I started picking up training and things like that in order to start working on my skills and be able to pursue a college scholarship and potentially get drafted."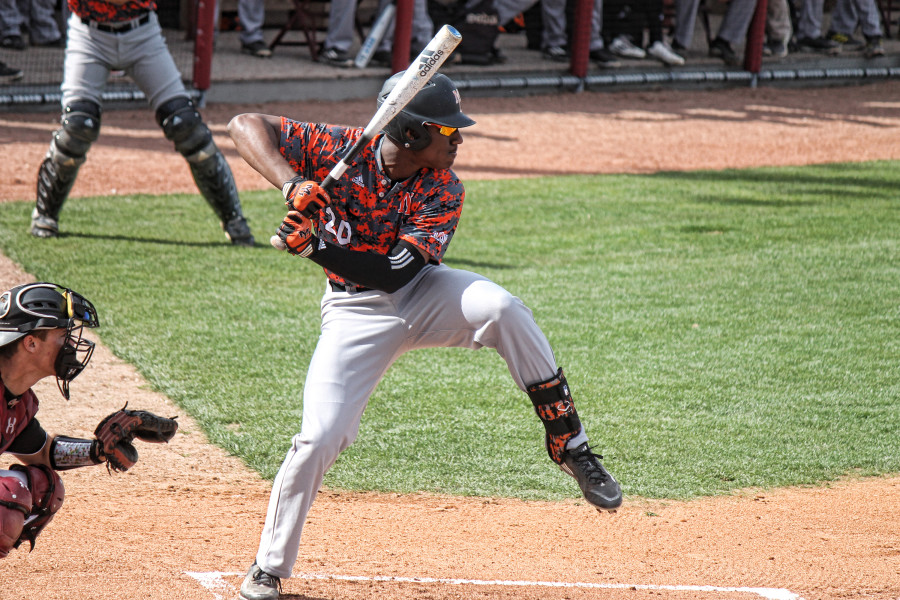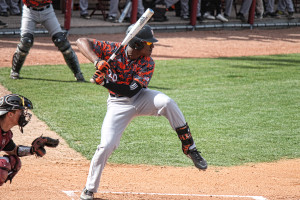 What types of things were you doing during the summer instead of playing travel baseball?
"I played basketball in the summer time. So I had to make a choice which one I wanted to play in college. After talking to some people around the baseball world, they told me if I was to practice more year-round and hone in on my skills, that I'd be able to be a pretty good player. That's when I decided to commit to it."
You had decisions to make in high school between pursuing paths in either basketball or baseball. How serious were you about going the basketball route in college?
"We had received interest calls in basketball. The Naval Academy was one of the bigger ones who wanted me to play for them. I did some workouts for mid-major schools. But after the season I went ahead and told my basketball coach to cancel those. At that point, I wanted to concentrate on baseball."
So now you've decided you were going to play baseball in college. What other schools were showing you interest?
"Furman … Georgia State … Kennesaw State … Savannah State … and the University of Miami came on kind of late."
It sounds like mostly schools closer to home.
"It was just a lot of local schools. By the time I got on the scene, most schools were already working on their next class and were done with my class. So it was tough to get interest from the major schools unless I would pursue a walk-on spot. But I wanted the scholarship, so I settled for the mid-major."
Nothing wrong with that. You had your opportunity and ran with it.
"I tried to go where I'd be able to play and be able to get on the field and be a priority guy. That's the biggest thing as far as picking a college. Where are you going to be able to learn and be able to pick up on stuff? Where are you going to be able to play? And I felt like Mercer presented a good opportunity for that as well as being able to potentially make regionals and play on a national stage."
Your freshman year, you went through the typical first-year growing pains. Then things kind of exploded for you last year – and you never looked back. What happened?
"Going into my freshman year, I had to learn to sit on the bench and watch. I never had to do that before. A lot of that stuff was a mental challenge for me. I had to figure out how to learn and how to observe games from the sideline. I had to figure out what to do when my number was called. I got a lot of pinch-hit opportunities and a lot of pinch-running opportunities. Towards the end of the year, I started to figure it out – and I was able to start the last ten games. Going into that summer, I had a lot of momentum – and I was able to carry that momentum into the summer. I played in the Great Lakes League after my freshman year, and I was able to do really well up there. And I got called up to the Cape Cod League to play in the playoffs. That just gave me the confidence that I needed going into my sophomore year – when you saw the explosion."
I'd have to think that sitting and watching as a freshman helped you learn the game, although I'm guessing you hated it at the time.
"(Laughing) Yeah, yeah, yeah. I definitely hated it. But from talking to people and talking to my family, they just said I should just see what guys ahead of you are doing that you're not doing. Or what are they doing as far as preparation and extra work and things like that. And I was fortunate to watch a lineup full of seniors, so I was able to look up to guys who were 23 years old and had been through it. And they had made it to regionals. I was able to pick up on their tendencies and see what they do, and I was able to apply it to my own game."
Growing up in Georgia, were you a big Braves fan?
"Yes I was – back when they had Andruw Jones and Chipper Jones."
Those were your guys?
"Those were definitely my guys."
Anybody growing up that you tried to model yourself after?
"The biggest person in high school that I watched was Adam Jones. I started watching him my junior year … just sit there watching YouTube videos of him. Then I'd try to embody myself after that as much as I could. I like the way he plays. I like the way he carries himself."
Is he someone you want to be compared to?
"I think it's kind of comparable as far as an athletic centerfielder with a smooth swing. I wouldn't say that I try to be exactly like him, because I want to be my own person. But I can say that would be a nice comparison to have."
I've also seen you called a right-handed version of Jason Heyward.
"I can see that. I like to take pride in my defense as well, and I think it's overlooked sometimes. But I definitely take pride in my defense."
[Continue reading after the break for more.]
Photo courtesy of Mercer University.
I know it's hard to project, but where do you see yourself a few years down the line both position-wise and in the batting order?
"I see myself in centerfield and batting 3-4-5 in the order – maybe 2, if needed. But definitely somewhere in the middle of the order. I see myself as a game changer."
I want to go back to your sophomore year, when things started clicking. What changed for you, other than now having some experience?
"For me, it was all becoming a student of the game. I started to understand how to influence counts. Understand when to look for certain pitches. Before that, I was just up there swinging and trying to let my athleticism work. Being able to expect what pitches were coming on certain counts, and what pitchers were trying to do to you based on your last couple at-bats. And being able to make adjustments pitch-to-pitch."
Then you went to Cape Cod, you were now using a wood bat, and the momentum continued. Baseballs must have been looking like grapefruits to you – and nothing changed. Does that sound about right?
"Yeah. Wood bats are bats. You swing them the same way. I was fortunate to get some good quality wood from some of my teammates, which helped. I don't try to think that there's a difference between a wood and a metal bat. You just have to swing it and find the barrel."
I know the draft is a couple months away – and you've never been through the draft process before – but is it hard not to think about the draft?
"I think it's something you definitely think about. It's not a secret or anything. It's something you discuss. Every game, I just try to get locked into the moment and locked into the task at hand – which is to try to do as good as I can each day. At the end of the day, nothing is solidified. Nothing is set in stone. So I'm going out there every day and perform to the best of my abilities and try to help my team win games. If we win games, we get to play longer. That's how I try and look at it. But it's definitely something I think about – but you can't let it overwhelm you."
You sound really grounded, and you're definitely driven. Was there a point where you decided 'I want to be a high-round draft pick?"
"Absolutely. Once I went up to the Great Lakes League and got the Player of the Year there, I started to feel like I could really be something special. At that point, I really started to believe in myself. I really started to hone in on figuring out what the best guys are doing from a work standpoint. I started to look up what major league players were doing in their (batting practice) routines. I needed to start to embody that and pick up on that type of stuff. At that point, that's where I started to see my work ethic go up."
Confidence is good, isn't it!
"Yes it is. Confidence is a big thing."
If you are indeed a first-round draft pick, how exciting is it going to be to receive that phone call?
"I honestly can't even imagine the feeling. But if I'm fortunate enough for that to happen, my family will be right there with me. And everybody who has been there from the beginning will be there. We'll all be there celebrating … You always want to be a first-round pick. That's definitely the dream. You never know how things go, but that's definitely what I'm shooting for."
– – –
Photo courtesy of Mercer Athletics.
Chuck Wasserstrom spent 25 years in the Chicago Cubs' front office – 16 in Media Relations and nine in Baseball Operations. Now a freelance writer, his behind-the-scenes stories of his time in a big league front office can be found on www.chuckblogerstrom.com.