MLBTR continues its Draft Prospect Q&A series in order to give our readers a look at some of the top names on the board in this year's draft. MLBTR will be chatting with some of the draft's most well-regarded prospects as they prepare for the 2016 draft on June 9-11; we've already spoken with Florida outfielder Buddy Reed, prep outfielder Blake Rutherford, Mercer's Kyle Lewis, Oklahoma's Alec Hansen and Louisville's Corey Ray.
University of Miami catcher Zack Collins has been down this path before. Three years ago, he was projected to be selected as high as the second round of the MLB draft – but he wasn't picked until the 27th round due to signability questions. This time around, he figures to hear his name around the middle of the first round.
The 6'3", 230-pound Collins is a left-handed power hitter with a very patient approach at the plate. Heading into the final week of regular-season play, he ranks among the Division I national leaders in walks (59) and on-base percentage (.560) as part of his .387/.560/.655 slash line.
Last week, Baseball America listed him No. 16 on its Top 100 Draft Prospects chart, and he's currently 20th on the Top 100 at MLB.com. ESPN.com's Keith Law recently wrote, "I've heard he's in the mix for at least two teams in the Top 10, including Oakland."
Collins talked with MLBTR earlier this week:
Chuck Wasserstrom: Hi Zack. Thanks for talking to me today. I want to start out with a couple draft-related questions. Coming out of high school, you could have been a high-round pick, but you weren't because of signability – and the Cincinnati Reds selected you in the 27th round. Was there any scenario where you would have turned pro instead of going to college?
Zack Collins: "It was a number thing. My family and I set a number, and it wasn't matched. So I had no problem going to college. It was my dream school, and I think I made the right decision."
It still must be pretty cool to be 18 years old and know that Cincinnati just drafted you. Was it tough to say, "Thanks – but no thanks?"
"At that point, it was the 27th round – and they were offering nowhere near the number that I set. I was really excited and honored to be drafted by them – and to just be drafted at all – but it honestly wasn't very tough to say 'No.' "
You grew up less than 30 minutes from the University of Miami campus. Really, how tough of a recruiting process was it for them to lure you there?
"I always wanted to go there. I don't think there was any other school that I had in mind. I don't know. I went to all the camps and they liked me. One of the first offers they made to me … I said 'Yes.' It was pretty easy."
There have been some pretty big-time bats that have gone through that program – like Pat Burrell, Ryan Braun and Yonder Alonso. How does it feel to have your name mentioned in the same sentence as them?
"It's honoring, but it's kind of tough to put my name in with them. They've done a lot more than I have so far. But, honestly, it feels great to be mentioned in those categories. Hopefully, I can keep it up just like them."
[Interview continued after the page break]
Tell me about your whole college experience. How you have evolved as a player and as a person?
"The college experience has been great. Just hanging around with all the guys all the time – and being in that locker room. It's been great. I think I've matured a lot. Looking back at the high school days, I don't know if I was ready for the pros yet. I think it's a good thing that I went to college. I've just matured and got a lot better at baseball, and got three years in college."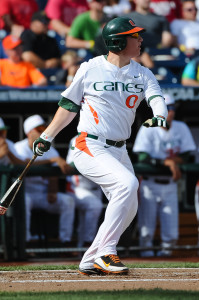 I like to ask people for their own assessments. In your own words, what would you say is the scouting report on Zack Collins?
"I think I'm just a guy who goes out there and works hard every day to be as good as I can. I'm a team player; I'll do whatever helps out the team. Obviously, I'm an offensive catcher, but I'm working on my defense a lot lately. I think I've gotten a lot better defensively, and I'm just trying to prove to guys I can catch at the next level."
You're human. You've heard the scouting reports. First round bat, don't know where he'll play defensively. What can you do to dispel that?
"I think I'm actually doing that this year. I've worked a lot on my blocking and receiving and throwing and footwork – all that kind of stuff. We actually have a new catching coach down here in Miami (Norberto Lopez), and he's helped me a ton. I think I've answered that question this year."
I like hearing that. You sound very confident about your defense. And everyone knows about your power numbers. But you're very patient as a batter; you're among the Division I leaders in walks and on-base percentage. What does that mean to you?
"It means a lot. I'm just trying to be a team player. I'm not going to go up there and try to hit a home run every time. Sometimes, it gets a little bit frustrating to walk three or four times in a game, but I'll take it if that's going to help the team win. I'll take my walks and go on to the next game."
There are stories that I recently read about your parents signing you up to play in an organized T-ball league when you were three years old. It sounds like baseball has always been in your blood. Has baseball always been your No. 1 sport?
"No, I've always played baseball. Baseball has been the main sport. My dad grew up as a football player and he tried me out in football a couple times, and I think he wanted me to play football, but I don't think that was the sport for me. He's the type that is just … whatever you're going to play, just be as good as you can at it – and that was baseball."
What is your fondest memory of growing up "all things baseball?"
"I'd have to say it's probably winning a Gold Medal (Collins was a member of the USA Baseball 16U National Team in 2011) or a national championship in summer ball. I think winning the Gold Medal was the best. You're playing for your country, and we beat Cuba in the Gold Medal game in Mexico."
Other than USA Baseball, how many summer league programs have you played for?
"I grew up in summer ball probably with one team – it was an elite squad throughout my high school career. I've always played with the same kids growing up. A lot of them have moved on to big colleges or even the pros. I haven't played with many teams; it's been the elite squad, Team USA, and recently in the Cape."
Since you're playing all the time, do you get much of a chance to sit down and watch Major League Baseball?
"Not lately. We've been playing so much, and I've been working out so much, that you don't really have the time. I see a lot of highlights and I like to watch certain players, but not really."
When you need to get away from baseball, what do you like to do? What are your hobbies?
"I like to have fun with my dad. We actually do a lot of cool stuff together. We collect remote-control planes. A lot of people don't know about it. Those are pretty fun to see those things fly. We're into a bunch of stuff."
I just read a story about you last night – that you have remote-control planes and cars and trucks.
"I used to be into jet skis and four-wheelers and all that kind of stuff. But once baseball got serious and I knew I had a chance to move on to the next level and make it a career, I got away from that stuff and stayed off the machines – and held the remote control in my hand and not get hurt."
And you said that's a "Dad and Me" sort of thing, right?
"Yeah, for sure. He's pretty much my best friend. We spend a lot of time together."
I also saw in that same story that you like to watch Nickelodeon.
"Yeah (laughter). My roommate for three years has been Willie Abreu. He likes Nickelodeon, and we're both kids at heart. We don't watch the little kid stuff, but we watch SpongeBob."
I didn't know if it was cartoons or Nick at Nite. I figured it wouldn't hurt to ask.
"You know, we like Friends and all that kind of stuff."
You seem comfortable doing interviews. How much of this stuff is exciting and how much is really a distraction?
"It's not a distraction. It's very exciting. Honestly, it's humbling to talk to all these different people and have them want to talk to me. It's just great knowing how many relationships you can build through the game. Just going through the process has been fun."
I know Miami has been playing very well. Have you allowed yourself to think about what you're going to do on the day of the draft?
"No. I'm trying to think about our next game. Every game is a big game for us right now. I'm trying to get my first (championship) there. Just taking it day-by-day."
I'm not asking you to compare yourself to him, because you're your own person, but it sounds like you've heard a lot of the same things people were saying about Kyle Schwarber. Big-time left-handed power – but he'll have to move out from behind the plate. When I say that, do you want to hear that?
"It's always good to be compared to a guy like that. Obviously, I love catching. I've worked on it for a long time now. But again, just like he did, whatever the team needs for me to do – or whatever the team thinks I would be best at – is what I'm going to do."
To wrap this up, I do want to ask about the high school you graduated from – American Heritage School. There have been a bunch of guys drafted from American Heritage over the last 10-15 years (22 since 2001, according to Baseball-Reference.com). What kind of a baseball factory is it?
"It's a powerhouse – not only in baseball, but in basketball and football, too. And even softball. That school has a ton of state championships, and they're also well known for academics. I think it's just a powerhouse school down here, to where everyone pretty much wants to go to it. It's a really nice school. Good academics … good athletics. You couldn't really ask for anything more. They don't accept you unless you have the grades, too."
So it sounds like you've had a pretty great experience the last few years between high school and college.
"Yes, for sure."
– – –
Chuck Wasserstrom spent 25 years in the Chicago Cubs' front office – 16 in Media Relations and nine in Baseball Operations. Now a freelance writer, his behind-the-scenes stories of his time in a big league front office can be found on www.chuckblogerstrom.com.
Photo courtesy of USA Today Sports Images.