The Cubs will promote highly-touted outfield prospect Albert Almora for today's game unless fellow outfielder Jorge Soler is able to fend off a trip to the disabled list, according to a report from Tommy Birch of the Des Moines Register (Twitter links). Almora will be on hand and ready, and expectations are that Soler's hamstring will force him to the DL, per Jon Heyman of MLB Network (via Twitter).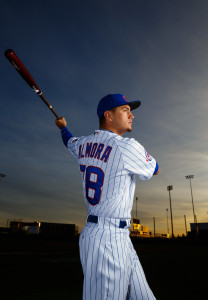 As I explained in a recent look at twenty top prospects whose possible call-ups could come with trade deadline implications, Almora represents the latest young wild card for Chicago. He's barely 22, and just made it to Triple-A for the first time, but those types of considerations haven't deterred the Cubs in the past.
There was never any wondering as to Almora's pedigree; he was the sixth overall pick in the 2012 draft and has been a consensus top-100 prospect for four years running. The only questions, really, were of opportunity and the team's developmental assessment. Soler's injury created an opening, and it appears that the Cubs believe Almora is advanced enough for a first attempt at the majors.
Indeed, Almora has made strides despite a fairly aggressive promotion to the highest level of the minors. He held his own at Double-A last year, but has boosted his production across the board thus far in 2016. Over 226 plate appearances, Almora owns a .318/.335/.444 slash with three home runs. He also has ten stolen bases in a dozen attempts, representing a notable step forward in that department.
The offensive improvement is certainly promising for Chicago, as Almora's glove has never been in doubt. He's regarded as a polished fielder with a good arm who is capable of playing a quality center field despite the lack of blazing speed.
Almora will certainly give the Cubs a different type of weapon than they had in Soler. Whether or not he can carve out a roster spot for the rest of the season remains to be seen, and will obviously be dependent both upon his performance and the status of the club's other options. Regardless, he'll only be able to accumulate 118 days of service, meaning he likely wouldn't profile as a Super Two even if he never returns to the minors.
Photo courtesy of USA Today Sports Images.