UPDATE: There no formal agreement between the two sides in place as of yet, Murray tweets, retracting his initial report.
10:19am: The White Sox have agreed to terms with first-round pick Zack Collins, per Baseball Essential's Robert Murray (links to Twitter). The University of Miami catcher was selected with the 10th overall pick, which came with a slot value of $3,380,600. SB Nation's Chris Cotillo tweets that Collins signed for slot value.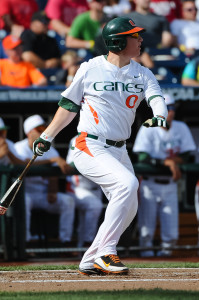 Collins entered the draft ranked 14th on the Top 200 prospects list from Jonathan Mayo and Jim Callis of MLB.com, ranked 16th by Baseball America and ranked 18th by ESPN's Keith Law. Mayo and Callis note that Collins was a top 100 draft prospect back in 2013 but slid to the Reds in the 27th round due to his strong commitment to Miami. All three scouting reports agree that Collins is a bat-first catcher that may not be able to stay behind the plate, as Law notes that a move to first base or DH is likely. The other two give him more of a chance to remain at catcher, noting that he's improved his throwing. BA writes that he'll never be an above-average backstop but has a chance to stay there thanks to the improved throwing.
Collins addressed those perceived defensive shortcomings in an interview with MLBTR contributor Chuck Wasserstrom earlier this spring, telling Wasserstrom: "Obviously, I'm an offensive catcher, but I'm working on my defense a lot lately. I think I've gotten a lot better defensively … I've worked a lot on my blocking and receiving and throwing and footwork – all that kind of stuff. We actually have a new catching coach down here in Miami (Norberto Lopez), and he's helped me a ton." Collins also talked about his extremely patient approach at the plate and the importance of recognizing that it's best for the team to take a walk when he's not presented with pitches to hit as opposed expanding the zone to try to put a ball in the seats.
In his junior season at Miami, Collins batted an impressive .358/.534/.631 with 13 homers and nine doubles in 176 at-bats. He drew 69 walks against just 48 strikeouts as well, and that display of power and a discerning eye at the plate led MLB.com to peg him as a potential 20-homer bat on a year-to-year basis. Collins is the first player from this year's first round to reportedly agree to terms with a club, and we at MLBTR will be continually updating our list of first-round and list of compensation/competitive balance round A picks with numbers as the players begin to sign. The White Sox had a draft pool of $9.354MM, so with Collins signing for slot value, they have $5.973MM remaining to spend on their other selections before exceeding their pool (and $6.441MM to spend before incurring the loss of future draft picks for exceeding said pool by more than five percent).
Photo courtesy of USA Today Sports Images.