Since Major League Baseball instituted the qualifying offer system in 2012, the cost to extend one to a free agent has gradually risen from $13.3MM on a single-year contract to $15.8MM. That number figures to increase again this year, which is all the more reason for teams to be vigilant when distributing them. Last year was the first time a player accepted the offer – three did, actually – which prevented their teams from watching them depart in free agency in favor of a first-round compensatory pick.
Looking ahead to the upcoming offseason, potential free agents like Yoenis Cespedes, Jose Bautista and Kenley Jansen, among others, are slam dunks to receive qualifying offers if they reach November without being traded and without new contracts (Cespedes would have to opt out of his current deal, which he seems likely to do). That premier group of shoo-ins could be joined by a slew of players who have been surprise standouts so far this year. Those players are…
Mark Trumbo, 1B/RF/DH, Orioles: Six months ago, the Mariners dealt Trumbo to Baltimore for backup catcher Steve Clevenger in what amounted to a salary dump. Trumbo established himself as a notable home run threat during the first five years of his major league career, hitting 131 balls over the fence from 2011-15, but that's about all he did well. In addition to proving himself a defensive liability, Trumbo struck out too much, walked too little and got on base at a paltry .301 clip. The Mariners, already Trumbo's third team, decided it made more sense to get rid of his salary (which ended up at $9.15MM after a January arbitration hearing) than deal with his shortcomings.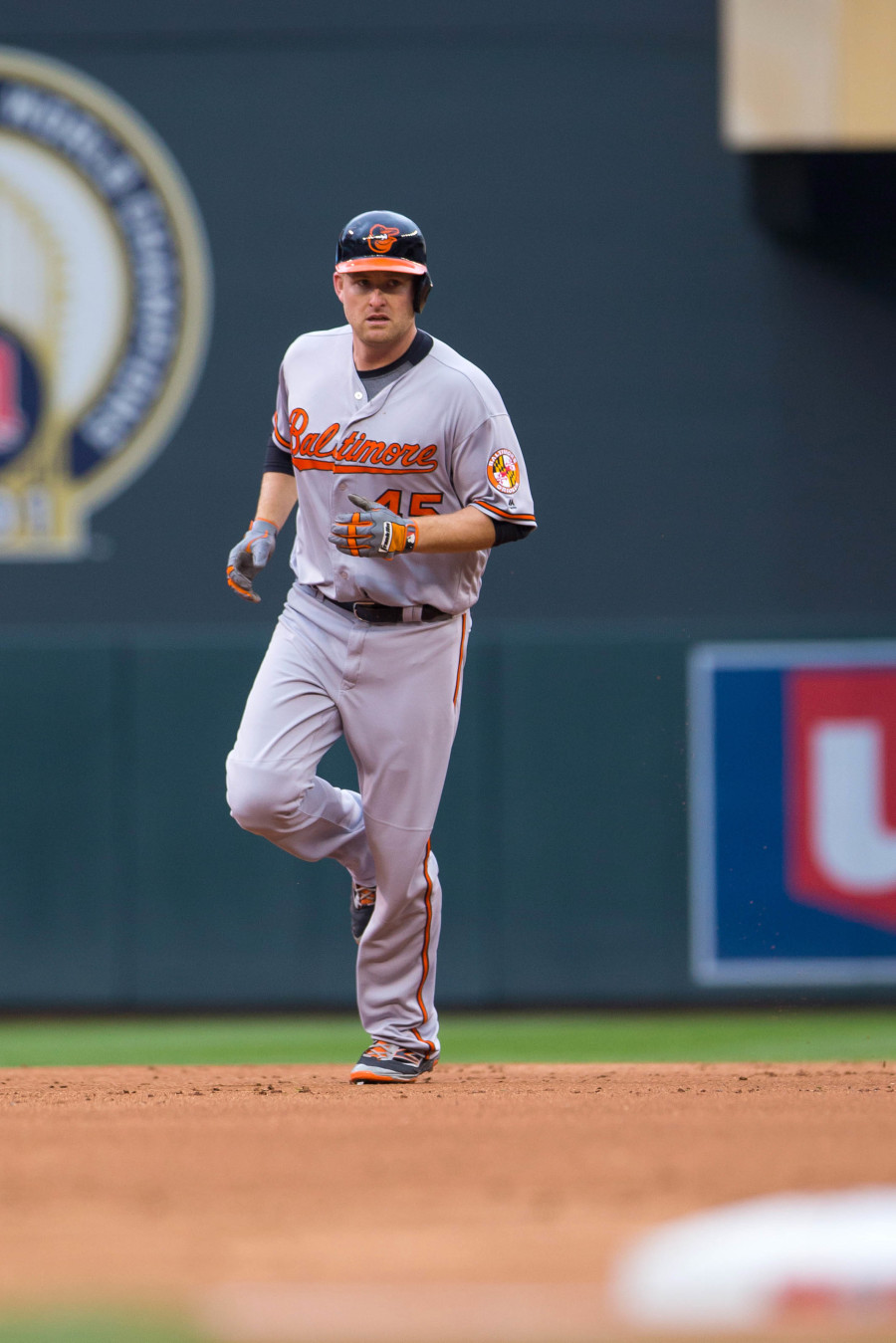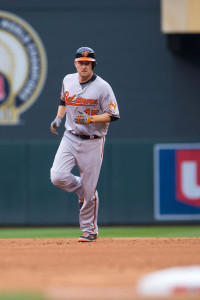 The Baltimore version of Trumbo brings the same flaws to the table as he did in previous stops, but now he's doing his best to offset his imperfections by producing like an elite hitter. The 30-year-old has already totaled a major league-leading 20 homers, and he ranks fourth in ISO (.316, 99 points higher than his career mark) and is tied for fifth in wRC+ (155) through 251 plate appearances.
Trumbo – who has slashed .296/.347/.609 – has helped himself by chasing fewer bad pitches than ever, having swung at a career-best 32.7 percent of offerings outside the strike zone, and has elevated the ball and hit it both hard and far when he has swung. Trumbo's 43.1 fly ball percentage and 37.5 ground-ball rate are both personal bests, and Statcast (link via Baseball Savant) indicates that the ball is coming off Trumbo's bat at a mean of 95.3 miles per hour – good for fourth in the league – and traveling an average of 250 feet. At that distance, he's tied with teammate Chris Davis, among others, for seventh in the league. Further, as pointed out earlier this week by FanGraphs' Jeff Sullivan, Trumbo's stellar production at the plate goes all the way back to last July – nearly a calendar year. All things considered, the Orioles have a prodigious slugger who's on a collision course with a qualifying offer.
Rich Hill, SP, Athletics: Hill went on the disabled list Thursday with a strained right groin, which is a troubling development for someone who has a long injury history and hasn't exceeded 100 innings in a major league season since 2007. Nevertheless, the 36-year-old was among the top starters in baseball over the season's initial two months. Eleven starts and 64 innings into 2016, the curveball specialist owns the league's ninth-best ERA (2.25) and 10th-best K/9 (10.41), and Hill has amassed those numbers while inducing plenty of grounders (48.1 percent rate) and generating soft contact (87 mph exit velocity). Both Hill's early season brilliance and the A's struggles make him an ideal candidate to move prior to the Aug. 1 trade deadline. If the A's do sell Hill, he won't be eligible to receive a qualifying offer in the offseason from his new team. In the event Oakland keeps Hill and he doesn't turn into a pumpkin before the end of the season, he'll be a strong bet to land a qualifying offer. Given Hill's journeyman status, including a stint in the independent Atlantic League last summer, his story is already rather improbable. If he goes from Long Island Duck in July 2014 to major league qualifying offer recipient in November 2016, it would add yet another unexpected chapter to the book.
Michael Saunders, LF, Blue Jays: When it comes to Toronto's pending free agents, almost all of the attention has understandably gone to Bautista and Edwin Encarnacion. Saunders' start to the year has also made him worth paying attention to, though, as he has rebounded from an injury-ravaged 2015 to upstage his more accomplished teammates. Through his first 222 trips to the plate, Saunders leads all Jays regulars – including reigning AL MVP Josh Donaldson – in average (.294), OBP (.374) and slugging percentage (.528), and he's third on the team in both ISO (.234) and fWAR (1.5). On a leaguewide scale, Saunders' 145 wRC+ places him in a tie with former NL MVP Ryan Braun and slightly ahead of other world-class talents like Paul Goldschmidt, Anthony Rizzo, Miguel Cabrera and Bryce Harper. It's possible Saunders' success is largely driven by a .376 BABIP and he'll eventually revert to being merely the decent cog he was during his most productive seasons with the Mariners from 2012-14. For now, he's following in the footsteps of Bautista and Encarnacion as the Jays' latest out-of-nowhere offensive star. That puts Saunders on pace to once again mimic those two in receiving a qualifying offer.
Wilson Ramos, C, Nationals: Ramos, whom the Nationals considered replacing during the offseason, has gone from injury-prone mediocrity to early season superstar. With a sparkling .345/.392/.594 line through 181 PAs, Ramos has been the preeminent hitting catcher in the majors this season by a wide margin. Ramos has strengthened his triple slash by belting eight home runs while striking out just 11.6 percent of the time. The 28-year-old's swing rate on pitches outside the zone is at 31.3 percent, which is 4.1 percent better than his career average, and he has posted personal bests in contact rate (90.5 percent) and swing-and-miss rate (7.9 percent). Ramos won't sustain an inflated BABIP (.360) that's 72 points higher than his career mark, but there are reasons to believe his offensive breakout is mostly real. Defensively, Ramos doesn't rank as a particularly effective pitch framer, though he has thrown out six of 17 would-be base stealers. That puts Ramos on course to exceed the league-average caught stealing rate for the fourth straight season. Given the dearth of quality catchers slated for free agency, it's hard to envision the Nats not qualifying Ramos if he continues faring well – let alone performing like one of the most valuable backstops in the majors.
Steve Pearce, 1B/2B/OF, Rays: Pearce escaped anonymity in 2014 to log the league's sixth-best wRC+ (161) and a 4.9 fWAR in just 383 PAs with the Orioles, but his follow-up campaign was a dud. As a result, the 33-year-old had to settle for a one-year pact with the division-rival Rays in January. The 2014 Pearce is now back in full force, as the first baseman/second baseman has recorded an identical 161 wRC+ on the strength of a .321/.403/.537 line and eight homers in 154 PAs. Pearce has also drawn nearly as many walks (18) as strikeouts (22) while improving his swing rate on pitches outside the zone and swinging and missing at under 10 percent of general offerings. The Rays have one of the majors' lowest payrolls and might not want to risk allocating in the neighborhood of $16MM to Pearce next season via the qualifying offer, but they'll have a difficult time not extending him a QO if he keeps this up.
Brandon Moss, 1B/LF, Cardinals: During a three-year stretch in Oakland from 2012-14, Moss batted an outstanding .254/.340/.504 with 76 homers and a combined 6.9 fWAR in 1,381 PAs. After undergoing October 2014 hip surgery, Moss was subpar as a member of both the Indians and Cardinals last year, which made him into something of an afterthought. Now, in his first full season in St. Louis, the 32-year-old is turning back the clock a bit with a .247/.335/.568 line, 13 HRs and the majors' third-ranked ISO (.322) in 167 PAs. With the chance to decline the soon-to-be 37-year-old Matt Holliday's $17MM club option at season's end, the Redbirds could qualify Moss in hopes of keeping the power-hitting first baseman/left fielder around in 2017 as a ready-made replacement.
Jeremy Hellickson, SP, Phillies: After years of compiling below-average strikeout totals in stints with the Rays and Diamondbacks, Hellickson is finally revisiting his days as an elite prospect in that regard – both his 9.04 K/9 and 4.06 K/BB ratio rank in the league's top 25 among qualified starters. Hellickson's resurgence is thanks largely to his changeup, which has been the fourth-most valuable pitch of its kind this year, and a top 30 curveball (per FanGraphs). As is the case with Hill, Hellickson looks like a prime summer trade candidate, but if Philly keeps the 29-year-old around for the stretch run and he continues showing strong skills and preventing runs at a respectable clip (3.80 ERA), he could get a qualifying offer in an unremarkable class of free agent starters.
Photo courtesy of USA Today Sports Images.