Entering the 2016 season, some questioned whether the Cardinals should tender slugger Brandon Moss a contract. Despite having given up a solid pitching prospect (Rob Kaminsky) to acquire him at the trade deadline, St. Louis received only average offensive production from Moss down the stretch in 2015. And he was set for a big salary in his final season of arb eligibility.
The Cards continued to show faith in Moss, though, ultimately tendering him and agreeing on a $8.25MM payday. And perhaps it was never a close call. After all, the team was willing to part with Kaminsky in that deal even though Moss had put up a meager .217/.288/.407 batting line with the Indians over the first half of 2015.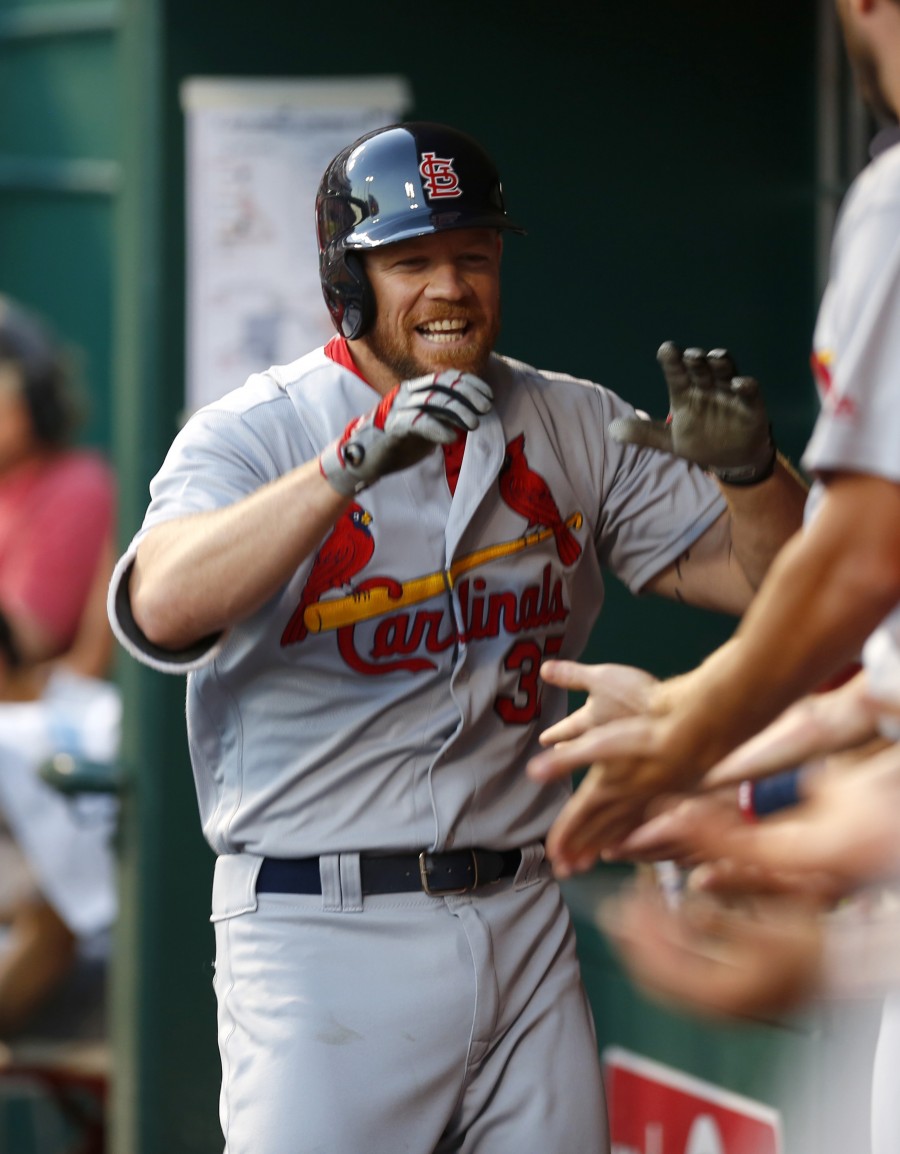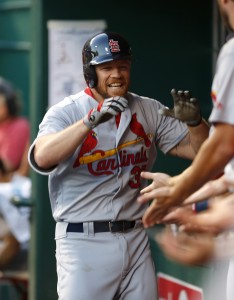 As Moss puts the finishing touches on a strong 2016 season, St. Louis faces another question on him, but it's at quite a different price point. Now, it's an open question whether the team will make him a $16.7MM qualifying offer. If it does, Moss will at least need to consider accepting, given that he'll be entering his age-33 season and would otherwise stand to enter the market with draft compensation attached.
Regardless, the fact that the QO could even potentially come into play is testament to Moss's quality efforts. Over his 384 plate appearances in 2016, he owns a .247/.323/.532 batting line with 25 long balls. While he did miss a bit of action with an ankle injury, that isn't likely to be a long-term issue, and he has kept hitting since his return.
So, what explains the lull? Is this season an outlier or was last? Ever since his 2012 breakout, Moss has walked in between 8.7% and 11.6% of his plate appearances while striking out between 25% and 30% of the time. His isolated power dipped in 2014 and fell further in 2015, moving in sync with his homer-per-flyball rate. But Moss posted a hard-hit ball rate in the 40% range last season. And now that the HR/FB has moved back to a lofty 21.7%, he is again doing damage.
There's certainly some risk in this sort of profile. Interestingly, Moss's best overall offensive campaigns have come when his swinging-strike rate was at its highest. For a player who already has a ton of whiffs in his game, and doesn't add value through his legs or his glove, teams will rightly question what kind of investment to make.
Platoon splits, too, raise some questions. As you might have guessed, Moss has feasted on righties this year but has been merely average when facing same-handed pitching. That represents a return to the somewhat freer-swinging version of Moss from 2012-13, when he was most productive overall. In the intervening two seasons, Moss actually carried reverse platoon splits, showing less power but better on-base ability against southpaws. All said, it's an interesting and varied profile, but clubs will likely expect to spell Moss at least occasionally when lefties take the mound.
One other notable aspect of Moss's likely upcoming free agent case is his glovework. I noted already that he doesn't really add value on defense, but he has actually received slightly positive lifetime UZR and DRS ratings in the corner outfield. Those metrics don't love him at first base, but perhaps the glove will help keep his market more open than one might expect. While Moss isn't any kind of stolen base threat, moreover, he has traditionally rated as a roughly league-average overall performer on the basepaths.
In the aggregate, even in his best years, Moss has been more of a 2 to 2.5 WAR player. Clearly, there are some limits to his game that may not make him a simple plug-and-play everyday regular. But with the right roster around him, Moss could be a highly valuable piece, bringing strong big-time left-handed pop and more competency in the field and on the bases than one might have expected.
Finding comps for a contract is a tricky business for a player like Moss. The qualifying offer question could loom large, as some teams may simply not be interested in punting a pick to sign him. And it's not easy to assess whether most organizations will view Moss more as an oft-used platoon player or a plausible everyday presence in the lineup.
From where I sit, though, Moss isn't particularly likely to get a QO. That ought to help maintain a reasonable spread of demand for the veteran, which could significantly impact how his market develops. A two-year arrangement could make some sense, and Moss might reasonably hope to land on the higher side of a set of price points that range from $12MM (Chris Young) all the way up to $32MM (Mike Napoli). Three years have been there for near-regular, non-QO outfielders like Gerardo Parra ($27.5MM) and Denard Span ($31MM), with Nick Markakis representing of a next tier with his deal (four years, $44MM). Pop typically pays more than other skills, but it seems a bit of a stretch to imagine Moss reaching the levels of Nelson Cruz (four years, $58MM), even though the Mariners slugger was slightly older and came with draft compensation.
Odds are that Moss will be looking more at two or three year offers than viable four-year scenarios. That may not represent a banner entry onto the free agent market for a player who has popped 24 bombs per year for the last five seasons, but Moss was a late-emergent talent and is already looking to sell seasons in his mid-thirties. Still, he has obviously pushed his earning power back northward with a quality campaign that makes his 2015 dud look like a bit of an outlier.
Photo courtesy of USA Today Sports Images.