MLBTR is publishing Offseason Outlooks for all 30 teams.  Click here for the other entries in this series.
After a fourth straight losing season, the White Sox have not revealed their organizational strategy.  Do they finally commit to a roster tear-down?  Or will the team spend another winter attempting to add the right veteran pieces to complement its talented core?
Guaranteed Contracts
Contract Options
Arbitration Eligible Players (service time in parentheses; link to MLBTR projections)
Free Agents
Chicago White Sox Depth Chart; Chicago White Sox Payroll Information
In early October, Robin Ventura announced he was stepping down as White Sox manager after five seasons.  Ventura's contract was up anyway, and it's not clear whether the Sox had any intention of offering him a new contract.  The team almost immediately promoted bench coach Rick Renteria to manage the club, on a term that has not yet been reported.  GM Rick Hahn chose not to interview other candidates, as Renteria was atop the team's "living document" of potential future managers.  Renteria had a difficult experience with the Cubs, managing them in a 2014 rebuilding season, doing well enough to warrant a second year, and then getting fired when Joe Maddon became available.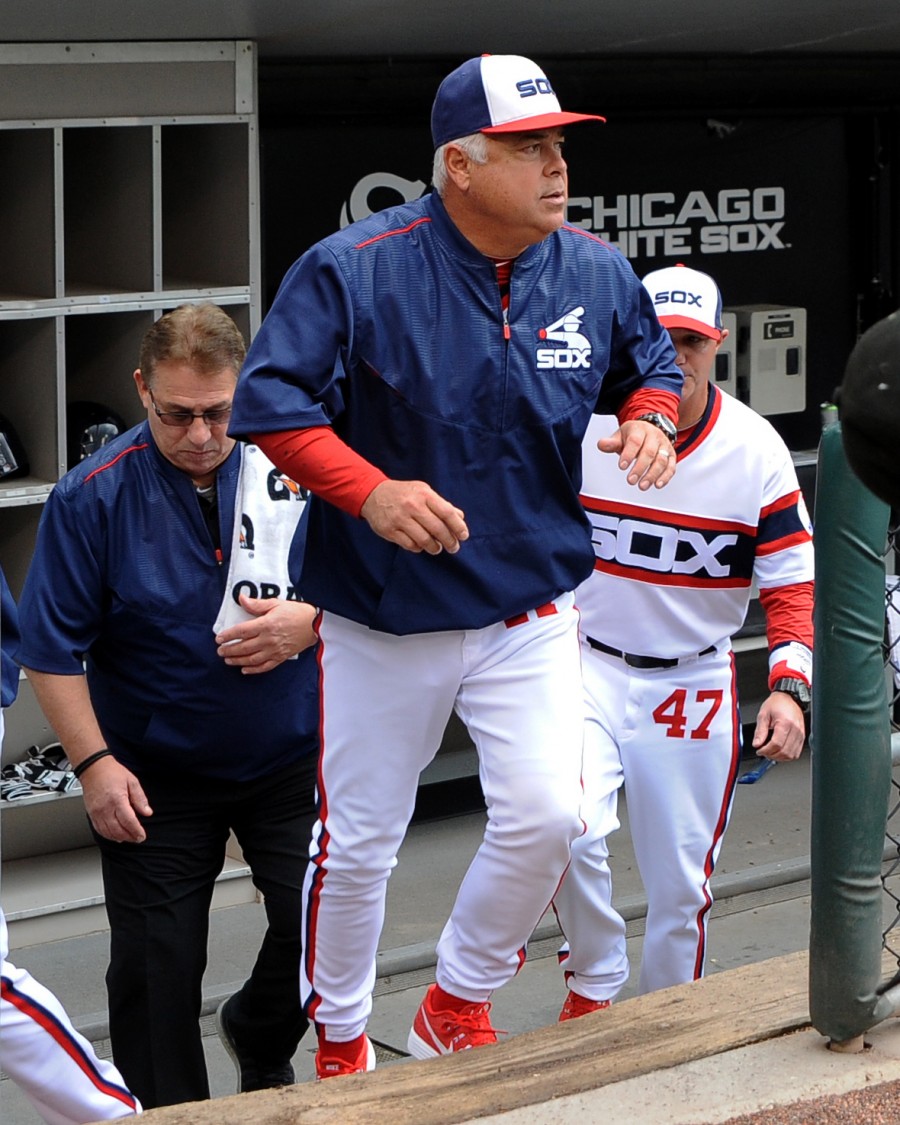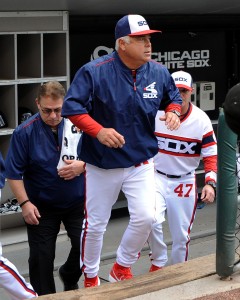 I don't know if the hiring of a less experienced manager like Renteria is an indication that he will preside over a 2017 rebuild for the White Sox, as Hahn has chosen not to tip his hand on the team's offseason direction.  Hahn did posit in August that "by the time we make our first or second transaction, publicly it will be fairly clear as to our direction."  As White Sox fans await this odd reveal, I'll tackle this post from each direction.
In a rebuild scenario, the team could move a host of players that clearly won't be part of the next good White Sox team: Todd Frazier, Melky Cabrera, Miguel Gonzalez, David Robertson, Brett Lawrie, Avisail Garcia, and James Shields.  Frazier, 31 in February, is coming off a career-best 40 home runs and a career-worst .225 batting average.  MLBTR projects a $13.5MM salary for 2017, after which he'll reach free agency.  The White Sox could get something useful in return, but only a handful of contenders are seeking third basemen, and the free agent market features Justin Turner and Luis Valbuena.  Cabrera is also an above-average hitter, but his value is limited by his poor defense and $15MM salary.  Robertson struggled with his control and blew seven saves on the season, but his two year, $25MM commitment would appeal to teams not willing to pay full freight for Aroldis Chapman, Kenley Jansen, or Mark Melancon.  Gonzalez bounced back as a solid back-end starter, which is hard to come by in the 2016-17 free agent market.  Lawrie, Garcia, and Shields have little to no trade value, but moving Cabrera and Robertson would clear $40MM in commitments, and trading Frazier and Gonzalez would free up $16MM+ that would have been spent on their arbitration salaries.  It seems likely that Avisail Garcia's time with the White Sox will come to an end soon, as the 25-year-old has shown few signs of being a useful Major Leaguer after 409 career games, 356 of which came with the White Sox.
Trading players like Frazier, Cabrera, Robertson, and Gonzalez might return a handful of decent prospects and free up payroll space but would do little to change the long-term trajectory of the White Sox.  To truly reboot the franchise and try something different, Hahn and executive vice president Kenny Williams will have to entertain trades for any or all of Chris Sale, Jose Quintana, and Jose Abreu.  Sale and Quintana are immensely valuable assets.  Sale is among the ten best starters in baseball, and Quintana has to be in the top 20.  Both lefties will enter the 2017 season at just 28 years of age, with clean bills of health.  Both have extremely team-friendly contracts.  On the open market, Sale would be worth over $100MM for 2017-19 alone.  Instead, he'll be paid $40.5MM at most.  Quintana will be paid at most $40.35MM over the next four seasons, which would also be valued over $100MM.  To top it off, there is no one remotely similar to Sale or Quintana in this year's free agent market.
Nearly every team in baseball would have interest in Sale and Quintana.  Teams with a strong need for starting pitching this winter, like the Marlins, Braves, Astros, and Angels, would obviously be interested.  Others, who may add on the "only if it's an ace" condition, like the Cubs, Dodgers, Red Sox, and Yankees, would be in as well. According to an August report from Bruce Levine of CBS Chicago, the Red Sox were unwilling to part with center fielder Jackie Bradley Jr. for one of the White Sox aces at the trade deadline.  That gives you an idea of a potential headliner, though – an established, five-win under-30 player who is under control for four more years.  Other centerpiece examples could include Starling Marte, George Springer, or Christian Yelich.  The White Sox could also try for less-established, but extremely valuable young players like Yoan Moncada, Lucas Giolito, or Andrew Benintendi.  The question is whether Hahn would enter the offseason hellbent on trading one or both of his aces to kick off a true rebuild, or if he'd set a price and only make the trade if that price is met.  The latter approach makes more sense, since both pitchers will still be very valuable at the July trade deadline as well as next offseason (and beyond).
In the event of a rebuild, the White Sox must also consider trading first baseman Jose Abreu, who might earn $40-45MM through arbitration over the next three seasons.  While Abreu's power has slipped since his rookie season, he'll turn 30 in January and has a good $20MM of surplus value in comparison to market prices for power hitters.  Teams such as the Red Sox, Orioles, Rangers, Rockies, Astros, Yankees, and Blue Jays are a few possible matches.  Right fielder Adam Eaton would have immense trade value, with five years of potential control remaining.  However, I see Eaton as a potential source of stability, someone who can anchor the roster even if the front office starts shipping out other top players.
We haven't even mentioned Carlos Rodon, Tim Anderson, and Nate Jones yet.  Plainly, the White Sox have too many good or great players to sell most of them off in a rebuild.  Owner Jerry Reinsdorf is 80 years old.  Shouldn't this team be going for it?  Let's look at what that might require.
The White Sox have had Opening Day payrolls in the $115-120MM range in three of the past four seasons.  They peaked at about $128MM in 2011, so that might be the ceiling.  The Sox have about $74MM committed to eight players under contract for 2017.  Add another $19MM for Frazier, Gonzalez, Jennings, Petricka, and Putnam, and we're at $93MM for 13 players.
First and foremost on the agenda should be a catcher.  The White Sox pretty much have to go outside the organization for a backstop.  They could sign one of Matt Wieters or Jason Castro in free agency, or trade for the Yankees' Brian McCann.  Signing Castro to a two-year deal in the $15MM range would be a measured way to fill the void.
At second base, the White Sox must decide whether they would like to bring the perennially disappointing or injured Lawrie back for $5MM or so through arbitration.  I'd vote no, because payroll will be tight and they can plug in Tyler Saladino for a much cheaper solution while possibly getting similar production.  It seems likely that Lawrie can bring back some kind of spare part in trade prior to the non-tender deadline.  Free agent options at second base include Neil Walker, Chase Utley, and Sean Rodriguez, if the White Sox want to go that route.
Center field is one of the more obvious areas of upgrade for the White Sox.  Adam Eaton had an excellent season as the team's primary right fielder and should probably stay there.  Dexter Fowler, a player to whom the Sox made an offer last winter, is a free agent again and remains a strong fit.  One big concern is that Fowler will come with a qualifying offer attached, meaning the Sox would have to surrender the #12 pick in the 2017 draft if they sign him.  Unless Fowler comes at a serious discount from our projected lucrative four-year contract, he's not an ideal addition.  Ian Desmond comes with a similar concern.  Instead, the White Sox could roll the dice on Carlos Gomez, who struggled mightily for parts of the last two seasons but showed promise in about a month's worth of time with the Rangers at the end of the season.  Gomez could sign a one-year deal for around $13MM in an attempt to rebuild value in Chicago, assuming they're willing to tangle with agent Scott Boras.  The relationship between Boras and the White Sox has had contentious moments dating back to the 90s.  While it has softened in recent years, I don't know if they would be able to get together on a free agent deal for players like Gomez, Wieters, or Kendrys Morales.
To balance out the lineup, the White Sox could use a left-handed designated hitter.  Call it the Justin Morneau/Adam LaRoche role.  This could be filled by a switch-hitter as well, with free agents such as Carlos Beltran and Kendrys Morales fitting the bill.  If the goal is more to find a bat that can hit right-handed pitching well, then certainly Edwin Encarnacion is worth considering.  However, a contract for Encarnacion would annihilate Abreu's franchise record of $68MM and bust the payroll.  Even the $12-14MM types like Beltran and Morales could be excessive for this bat-only role.  Free agents who have been solid against righties over the past three years and would come with palatable price tags include Adam Lind, Luis Valbuena, Pedro Alvarez, Chris Coghlan, and Brandon Moss.  None of those acquisitions would excite White Sox fans, but a high-priced designated hitter is a poor allocation of limited payroll space.  One could argue that the White Sox are already paying good money for a pair of DH-types who are dragging down the defense, in Melky Cabrera and Jose Abreu.  Another possibility would be to pencil Cabrera in for most of the DH at-bats, plugging the hole in left field with a defensively superior addition like trade candidate Brett Gardner.
So far we've added three players (or player types) to fill position player holes, and it would require about $27MM in salary for 2017.  This conservative offseason approach already requires $120MM for 16 players.  Accounting for minimum salary players, it's difficult to see room for more significant additions.  Payroll will be tight, making the $10MM owed to James Shields in 2017 all the more painful.  Attempting to dump some of Cabrera's salary is worth considering.  Given his subpar left field defense, he's not providing good value to the White Sox on a $15MM salary.   Still, he was an above average hitter in two of the last three seasons, so the Sox might be able to find a team to take $8MM or so of the commitment.  The problem is that the savings might have to be reallocated to a new left fielder.  Eric Thames, coming off three huge years in Korea, could be a cheap roll of the dice for a team that would need some things to break their way to reach the playoffs.
I think the White Sox would find a taker for the majority of the $25MM owed to Robertson over the next two years, though his loss would create a hole in the bullpen.  Robertson just had minor knee surgery, while Putnam had elbow surgery in August and Petricka had hip surgery in June.  A good case can be made for adding to this bullpen rather than subtracting from it.  A late-inning lefty would be a good fit, with Brett Cecil, Travis Wood, Boone Logan, Mike Dunn, and Jerry Blevins looking like the better free agents.
The White Sox look very strong in the first four rotation spots, with Sale, Quintana, Rodon, and Gonzalez.  Shields, 35 in December, was brutal in 22 starts for the White Sox after being acquired in December, and his contract presents a real problem.  If not for the $22MM the Sox owe Shields over the next two years, he'd be a release candidate.  The contract might force the club to give him a look as their fifth starter heading into 2017, though cutting Shields now might be better for the team's record.  It seems unlikely that the White Sox could bite the bullet and release Shields and also pour additional money into the rotation opening.
Most of the proposed roster solutions here have come from free agency.  In reality, Hahn will certainly look at the trade market.  The White Sox remain light on prospects, and would have to consider trading top names like Carson Fulmer, Zack Collins, Spencer Adams, or Zack Burdi to bring in Major League talent.  Trading from this group seems like digging a deeper long-term hole.
Whichever path Reinsdorf, Williams, and Hahn choose, I don't expect a major organizational shift from the White Sox this offseason.  I can't picture a $150MM+ payroll and a free agent megadeal or two, nor do I expect the team to clean house by trading Sale, Quintana, Abreu, and others.  This front office has taken the middle road before; perhaps there is enough talent on the roster to try it one last time.
Photo courtesy of USA Today Sports Images.