MLBTR is publishing Offseason Outlooks for all 30 teams. Click here for the other entries in this series.
The Nationals coasted to the NL East crown in 2016 but came up short in October. Washington's still-loaded roster is primed to compete yet again, but it nevertheless promises to be an interesting winter in D.C.
Guaranteed Contracts
Arbitration Eligible Players (service time in parentheses; projections via MLB Trade Rumors)
Options
Free Agents
Washington Nationals Depth Chart; Washington Nationals Payroll Information
The Nationals answered what would have been one major offseason question early in the 2016 campaign, locking up righty Stephen Strasburg to a significant extension. While it came with a big price tag, the deal looked wise for most of the year — right up until Strasburg went down with what was diagnosed as a strained flexor mass. He's expected to be ready for camp next year, but the injury raises yet more questions about the supremely talented, oft-injured starter.
Still, the Nats are in good shape in the rotation, which could feature the same five arms that opened 2016. Strasburg and Max Scherzer form a potent one-two punch, and Tanner Roark has established himself as another quality starter. Though his 2.83 ERA was not supported by ERA estimators, he has carved out a unique niche as a contact-manager with his five-pitch mix. Gio Gonzalez has been something of the opposite — a strikeout pitcher who generally underperforms his peripherals — though he's still a good bet to provide innings. There's enough upside in Gonzalez's left arm to make his option an easy pick-up, particularly given his clean health history. And then there's Joe Ross, who was putting up outstanding numbers for a fifth starter before going down with shoulder issues. If he can return to health, he's another sure bet to take a spot on the staff.
That's not to say there isn't any potential for change. Washington GM Mike Rizzo will surely have his eye on quality outside options after the team again washed out in the NLDS following a third division title in five years. And the organization's younger right-handed starting talent not only could pressure the five arms noted above, but might also represent intriguing trade fodder. Top prospect Lucas Giolito showed poorly in his limited time in the majors but remains a highly valuable asset. Some are just as impressed by fellow young fireballer Reynaldo Lopez, who was trusted with a postseason roster spot. A.J. Cole remains a factor after making eight MLB starts in which he showed some swing-and-miss potential but didn't generate stellar results. And Erick Fedde reached Double-A, making him a plausible second-half contributor with top-100 prospect billing. There's another near-MLB arm in the system who's probably ready for the majors: Austin Voth, who finished with a 3.15 ERA over 157 Triple-A frames last year.
With open-market starting pitching nearly non-existent, and controllable starters as valuable as ever, the Nationals could take any number of different directions to utilize that mass of talent. Gonzalez, for instance, could be shipped out for a solid, not-so-cheap veteran at another position of need. (The Yankees are one team that would surely have interest and, as noted below, could have players who'd match.) Or one or more of the upper-level pitchers might be moved to add a quality regular position player. Rizzo has engineered a wide variety of quality trades over the years and will surely put his creativity and scouting instincts to the test again this winter.
Despite the impressive array of starting options,  the team again finds itself with at least one notable pitching role in flux. The front office will need to address the ninth inning, hopefully providing manager Dusty Baker with a sure hand to lock up late-game leads, with mid-season acquisition Mark Melancon heading to the open market. He's certainly a plausible target, as are top free agent relievers Aroldis Chapman and Kenley Jansen, though it's far from certain that Washington will spend big to address the opening. Lower-priced free agents such as Koji Uehara, Greg Holland, Santiago Casilla, Sergio Romo, Joaquin Benoit, or Brad Ziegler could be brought in, though perhaps the Nationals will be more inclined to trust those veterans with set-up roles. The trade market holds some promise, too, with pen pieces such as Wade Davis, Francisco Rodriguez, David Robertson, and Sean Doolittle conceivably of interest.
Otherwise, Shawn Kelley and Blake Treinen look to be the two top set-up men from the right side, with Sammy Solis providing a power left-handed option if he can stay healthy. Youngster Koda Glover will compete for a job out of camp, and the team surely still has hopes for the live-armed Trevor Gott despite a generally disappointing 2016. Oliver Perez provides another southpaw, though it's possible the team could still look to add another after parting with Felipe Rivero in the Melancon deal. It's also possible that the Nats could filter some of their young rotation options into the bullpen. With Yusmeiro Petit fading badly in the second half, his option no longer seems likely to be exercised, perhaps opening a spot for Cole in a swingman capacity. And while the Nats would surely prefer to see Lopez succeed in the rotation, he could provide another power setup arm in a relief capacity. There's probably not a need, strictly speaking, to add greater depth, but it wouldn't at all be surprising to see Washington go after some of the veterans listed above, pursue a reunion with Matt Belisle, and/or bring in a few veterans on minor-league deals for a camp tryout.
On the position-player side, there are two everyday openings that could be filled with outside additions. The first is pretty straightforward: after suffering a late-season ACL tear that ended an excellent campaign, Wilson Ramos is heading to free agency. It's not clear whether the team is giving serious consideration to making him a qualifying offer, but that's a risky proposition. Taking a $17.2MM payday for what might be a half-season of play would be awfully enticing for the 29-year-old, even if he's still holding out hope for a much lengthier contract.
Regardless, there's a need here. The switch-hitting Jose Lobaton is useful but limited to a backup role. Athletic youngster Pedro Severino showed very well in his limited MLB action and can handle things defensively, but he has never hit much in the minors. For a team with obvious World Series aspirations, an addition has to be a strong consideration. Outside of Ramos, the open market's best options are Matt Wieters and Jason Castro. They'll surely be considered, but the many less-heralded free agent receivers probably won't hold a ton of appeal given the presence of Lobaton and Severino. The trade market doesn't seem terribly promising, but Brian McCann could make for an interesting fit, and Derek Norris might conceivably be a candidate to bounce back with his original professional organization. Otherwise, the options are slim: Welington Castillo could be had, perhaps, but the D-Backs may not be willing to part with him absent an overpay. And Miguel Montero — with whom Rizzo is familiar from their time in Arizona — could be shopped by the Cubs, though he's expensive and didn't impress at the plate in his age-32 season. With catching in high demand leaguewide, Rizzo will be put to the test in addressing this area.
The second major need features more options, but also less clarity of direction. Trea Turner emerged as a force upon his call-up in 2016, making him a definitive everyday option for the team. But it's not clear where he'll play: center field, which he learned on the fly, or his native shortstop. The Nats have internal alternatives at both positions, though the bet here is that the club looks to upgrade in one area while using Turner in the other. We'll take each in turn.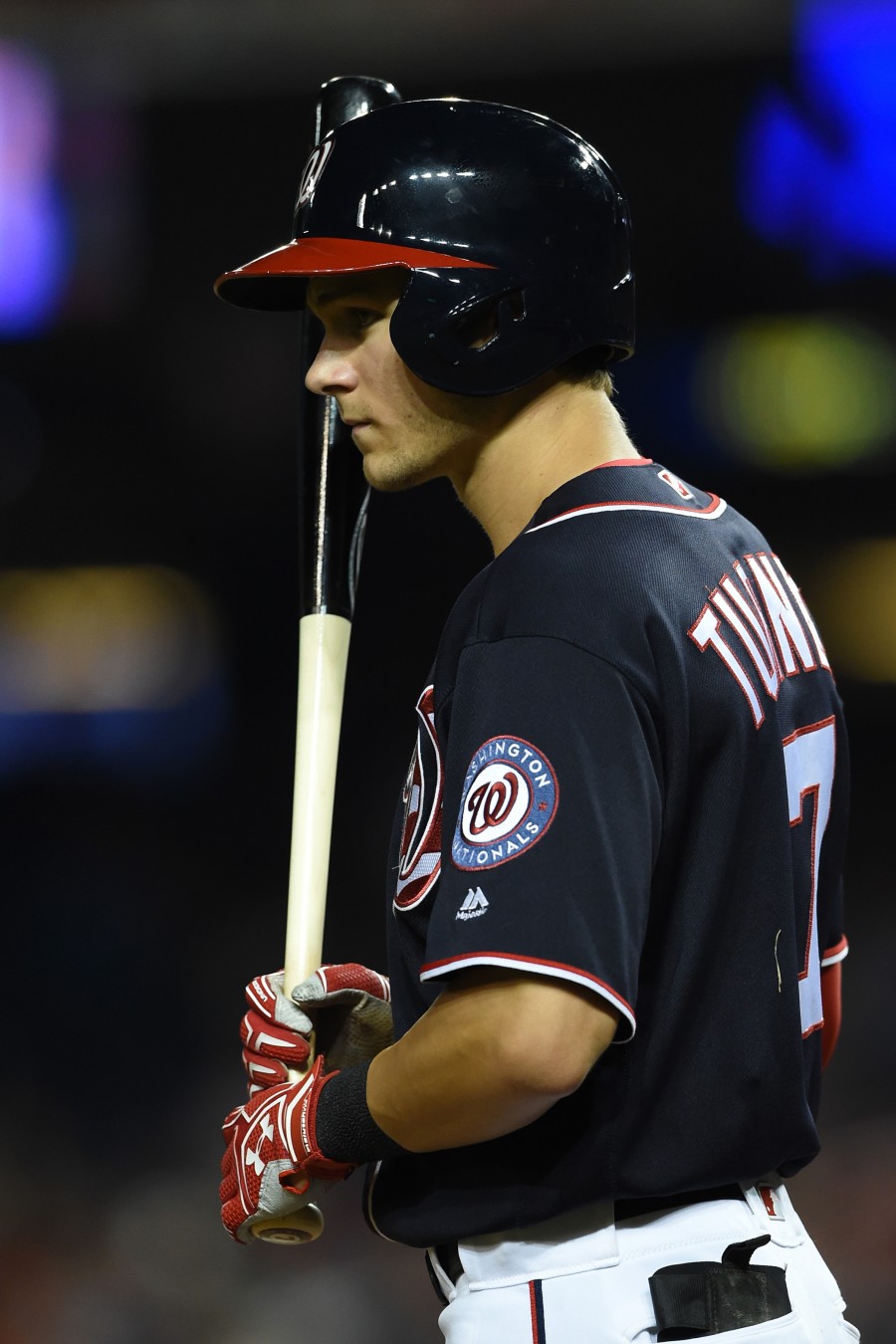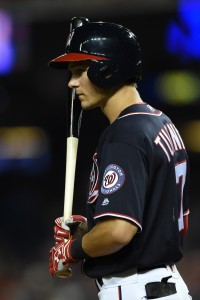 In the outfield, Bryce Harper will try to resume his presumed march to greatness while veteran Jayson Werth will play out the final year in D.C. There are plenty of options to play between them. Washington could platoon toolsy but strikeout-prone Michael Taylor with either of two lefties — Ben Revere and post-hype prospect Brian Goodwin, but that would mean multiple rolls of the dice. Odds are the team will non-tender Revere, who won't come cheap and was dreadful in 2016. And Taylor and Goodwin seem more likely to compete for a reserve role — presumably, spelling Werth with some frequency — or continue to try to refine their talent at Triple-A.
Looking elsewhere, though Turner's presence atop the order reduces the need for a true table-setter, switch-hitter Dexter Fowler's high-OBP bat would certainly slot in nicely. Other free agent possibilities include former Nats shortstop-turned Rangers center fielder Ian Desmond and Carlos Gomez. The trade market, too, has some intriguing possibilities. Rizzo has pursued younger veterans with two or three years of control before — e.g., Denard Span, Doug Fister — and that type of asset could line up nicely with the promotional timeline of skyrocketing center field prospect Victor Robles (who'd also be a heck of a trade chip). Charlie Blackmon of the Rockies fits that bill with two seasons of arb control remaining and is perhaps the best reasonably achievable trade target. The Nats reputedly had interest in him this summer. A.J. Pollock would be another two-year piece, though it's not clear that Arizona will sell low after his injury-plagued campaign. With the Marlins reportedly considering dangling their three years of control over Marcell Ozuna in a bid to add pitching, there's a possible match on paper. Indeed, the Nats reportedly pitched a deal to the Fish last year involving Gonzalez (though they were apparently trying to get Christian Yelich). Such an intra-division swap still feels like a bit of a stretch, and it's perhaps even harder to see something coming together with the Braves for Ender Inciarte, who is another piece of the potential center field trade puzzle this winter. A readier match could be found with the pitching-needy Yankees, who might be interested in a swap involving Gonzalez and Brett Gardner (who has two guaranteed seasons plus an option remaining). If — big if — the Royals decided to market Lorenzo Cain, he'd presumably also be of interest.
There's one other possible route to consider in the outfield. The Nationals put significant money on the table last winter for Yoenis Cespedes, who ultimately chose an opportunity to opt out after a year with the Mets over Washington's heavily-deferred, five-year offer. Cespedes would give the team another premium bat, though either he or (perhaps more likely) Harper would need to spend part of the year in center to make that happen. It's a bit of a strained fit, but it makes more sense when one considers that the Nats will be looking to replace Werth this time next fall. With Taylor and Goodwin available, the team could field Harper and Cespedes in the corners when Werth sits.
The other general strategy would be to keep Turner in center for at least another year or two, which would open the question of what to do at short. Taking that approach wouldn't necessarily mandate a major acquisition, either, as Danny Espinosa has a final year of arbitration control after playing every day at short in 2016. But while the switch hitter provided 24 long balls, quality glovework, and excellent baserunning, his lack of contact (and resulting .209/.306/.378 batting line) make him a less-than-ideal choice. The Nationals would surely prefer to utilize him as a utility infielder.
Thing is, there's a lot less out there at the shortstop position than there is in center. While the Nats could bring back Stephen Drew, pair Espinosa with young infielder Wilmer Difo, or sign another platoon partner, the free agent market doesn't include any regulars. (Well, unless you really want to make things interesting and consider Desmond there.) Barring an exceedingly crafty trade for a high-quality young shortstop, there's also not much of interest in the trade market. The clear target for teams hoping to improve at the position is Zack Cozart of the Reds, who has one more year of reasonably-priced control. Though he faded at the plate and ended the year with an injury, Cozart is a supremely talented gloveman with pop. It isn't inconceivable that the Nats would look at the Cardinals' Jhonny Peralta, too, though he's 34 and struggled through an injury-ravaged 2016 season.
Regardless of how those issues are worked out, the Nats figure to rely upon familiar faces elsewhere in the infielder. Daniel Murphy and Anthony Rendon are stellar options at second and third. There are plenty of questions about longtime franchise face Ryan Zimmerman, but he's set to remain the regular at first base. If his batting line doesn't improve — and the team hopes it will, after a year in which good contact didn't fall very frequently — and/or he is again limited by injury, then it will be useful to have alternatives.
That brings us to the bench mix, which will likely see some change as the team watches productive reserves like Drew and Chris Heisey return to the open market. Espinosa and/or Difo are likely candidates, as are the younger outfielders noted above. But the Nats may have some room to add impact with a market that's chock full of platoon sluggers. The team has traditionally carried a power left-handed bat, a role filled most recently by Clint Robinson. He could be retained, but struggled mightily last year and isn't really capable of playing the corner outfield. Particularly if the Nats don't make a big move in center field, the team could make a play for free agent Brandon Moss, who might take 400 or more plate appearances while functioning as a complement to and insurance for Werth in left and Zimmerman at first. That sort of addition wouldn't be particularly cheap and isn't strictly necessary, of course: Murphy could also shift over if a need arises at first base, with Espinosa and Difo on hand for middle-infield protection.
In the final analysis, the Nationals have most of the pieces in place to believe they're positioned for a repeat run at the NL East crown. It's easy to imagine a relatively straightforward winter mostly spent shoring things up in a few areas. But holding off the Mets, and finally advancing in the postseason, may require more. The payroll already projects to include $139MM in commitments as things stand, but this is a team that opened the 2015 season with a payroll north of $160MM. If it's willing to do so again, there's still some room to add impact pieces. With intriguing roster flexibility provided by a deep reserve of pitching and the presence of Turner, Rizzo and co. may yet have some surprises up their sleeves.
Photo courtesy of USA Today Sports Images.