Here are the top stories from our week of coverage at MLBTR.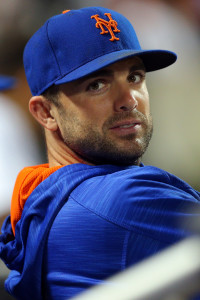 David Wright diagnosed with shoulder impingement. While health limitations can hardly be seen as a surprise for the veteran, who has missed the better part of the past two seasons with significant back and neck problems, it was disappointing to learn that he'd need to overcome yet another malady to make it back to the majors. As things stand, Wright has no timetable to return; he'll need to rehab his shoulder before he's even able to try throwing again, and then build from there to return to the field. If there's a silver lining, perhaps it lies in the fact that Wright can continue to swing the bat in the meantime.
Nationals sign Joe Blanton. Speculation has long centered on the back of the Nats' pen, which features some quality arms but lacks an established closer. Rather than striking a significant trade to address the need, however, the Nats added the veteran Blanton at a nice value of $4MM (a large chunk of which is slightly deferred). While he's not expected to compete for the 9th-inning job, Blanton deepens the unit and adds flexibility. Best known as a starter who stumbled later in his career, Blanton has turned into quite a high-quality late-inning reliever over the past two years. There are some questions of the sustainability of his results, but he did post a stellar 14.3% swinging-strike rate last year. With the move, the Nats seem less likely than ever to deal for a closer.
Jung Ho Kang sentenced for DUI. The Pirates infielder has yet to report for camp, but the path was cleared — partially — when he received a suspended sentence for his third DUI arrest in his native South Korea. That seems a favorable outcome from Kang's perspective, and also the team's, though surely both will need to put in a significant effort to prevent a repeat of such misdeeds in the future. The team says it'll do just that, but first Kang needs to secure a work visa to make his way back into the United States.
League, union announce rule changes. While the new rules won't go as far as the league hoped, we will see a bit of disruption of tradition landing at the major league level. Managers will now be able to order intentional walks from the dugout, freeing pitchers from the requirement of throwing four balls. There are also provisions tightening up the replay timelines. Broader pace-of-play initiatives may need to wait, but commissioner Rob Manfred says he's open to considering measures that go beyond the on-field product, potentially including the shortening of commercial breaks.
White Sox to release Brett Lawrie. It's not a terribly impactful move, standing alone, but Chicago's decision to cut ties with Lawrie has some interesting dimensions. The talented infielder, who has never quite performed to expectations, was a key piece of the confusing trade that sent superstar Josh Donaldson from the A's to the Blue Jays; though Oakland still has some pieces from that deal, as well as the one that sent Lawrie to Chicago, it doesn't fare well in retrospect. Then, there's the relation of the move to the Chicago rebuilding effort. As GM Rich Hahn seemingly suggests, the move on Lawrie — after agreeing to arb terms with him previously — reflects a confluence of the team's interest in seeing younger players and its inability to find a fair deal for third baseman Todd Frazier. Finally, it'll be interesting to see where Lawrie lands; he only just turned 27 and is clearly capable of playing at least a reserve role in the majors.
Photo courtesy of USA Today Sports Images.