Chuck Wasserstrom spent 25 years in the Chicago Cubs' front office – 16 in Media Relations and nine in Baseball Operations. Now a freelance writer, his behind-the-scenes stories of his time in a big league front office can be found on www.chuckblogerstrom.com. Chuck has previously contributed to MLBTR's Draft Prospect Q&A series and spearheaded MLBTR's College Series, in which he spoke to numbers general managers and assistant general managers around the game about their time in college and their paths to a Major League front office.
It's early on a Wednesday morning in February, and Tim Wilken is well into the amateur scouting season.
In most parts of the country, high school and college baseball teams are still a couple weeks away from getting on the field. But at this point in the year, Wilken has already been to Puerto Rico for a showcase and to Fort Myers, Fla., for a junior college tournament – as well as multiple scouting missions to the Dominican Republic.
This is the 39th consecutive year that Wilken – a special assistant to the general manager with the Arizona Diamondbacks – has been involved in baseball's amateur draft. In his current role, he works closely with Arizona scouting director Deric Ladnier and anticipates seeing anywhere from 150-190 players for the upcoming draft. Prior to joining the Diamondbacks, he spent 10 years with the Cubs, three with the Rays and 25 with the Blue Jays.
Major League teams started putting together their 2017 draft coverage last summer, sending scouts to watch high school showcases, high school tournaments, the Cape Cod League, Team USA, and other events. As the summer turned to autumn, there was plenty of collegiate fall ball – along with a fair share of pro scouting days. Throw in some pretty significant junior college tournaments in January, and it's easy to see that the draft is a year-round process.
Wilken began his Blue Jays career in 1979 as an area scout and was named national crosschecker in 1989. He was promoted to scouting director in 1995, and – during his first year in charge of the Blue Jays' draft – the club picked seven players who would reach the majors, including Billy Koch and Casey Blake. It was a precursor of things to come.
"The first draft was a wild one," Wilken recalled. "I'd been involved in six drafts before as the national guy and had a pretty strong hand in those drafts. But when it's your turn to make the call, it's a little bit different."
The first draft was a launching point. But Wilken's second draft really stamped him as a scouting director to keep an eye on. Looking back at it 20 years later, Toronto had the best draft class of 1997 – a draft class worth praising.
The truth: "Only" four players selected by the Blue Jays in that year's draft went on to reach the majors. Four others – who were picked by the club but returned to school – eventually reached the big leagues after being chosen in later drafts by other clubs.
The reality: "Only" is a poor word to use. Having four players from one draft reach the majors is a solid accomplishment.
The facts: Those four players – Vernon Wells, Michael Young, Orlando Hudson and Mark Hendrickson – each saw action in at least 10 major league seasons. Wells, Young and Hudson had multiple All-Star game appearances and received big league hardware (eight combined Gold Glove Awards, a Silver Slugger for Wells, a batting title and an All-Star Game MVP for Young). Hendrickson, a 6-foot-9 left-hander, pitched for five teams over 10 years – after seeing action as a power forward with four NBA teams.
When you add it all up, those four players appeared in a combined 50 seasons of major league action.
"When evaluating drafts, that has to say something for that particular draft and that particular team," Wilken said. "You're always grading scouting departments on performance, but when you get four guys giving you that much time in the big leagues – that should count for something. You might have a year where you put 10 guys in the big leagues, but that might be 21 total years of service. You're paying for quality, not just for getting guys there."
– – –
The Blue Jays' scouting staff was facing obstacles as the 1997 draft approached. The Labatt Brewing Company – the majority owner of the Blue Jays since their inception in 1976 – had just completed the process of selling the team, and finances were not as available to Wilken as they had been during previous drafts.
The Blue Jays – winners of back-to-back World Series in 1992-1993 – had struggled over the few years following those championships while an ownership transition was taking place. A 74-88 campaign in 1996 gave Toronto the fifth overall selection in the ensuing draft. Meanwhile, in an attempt to become relevant again at the big league level, the team made an off-season splash – signing right-hander Roger Clemens. As a result, Toronto gave up its second-round pick as compensation for the free-agent signing.
"Our budget for the draft was compromised; a lot of people thought the Blue Jays were still operating on a big budget, which we weren't," Wilken said. "We weren't necessarily looking for a deal in the first round because we were picking in the five-hole, but at the same time we weren't super-equipped to take on a monster sign if one of those style players had fallen to No. 5. We had to stay as close as we could to the budget."
Those "monster sign-style" players – Rice pitcher Matt Anderson, Florida State outfielder J.D. Drew and UCLA third baseman Troy Glaus – were taken 1-2-3 as expected by Detroit, Philadelphia and Anaheim. If any of the first three had dropped, Wilken would not have been prepared to deviate from the plan.
"I don't think we could have come up with the money – because those three were going to get a fair amount more than we could afford," Wilken explained.
As the draft got closer and closer, Wilken's plan was to select a two-sport prep star out of Bowie High School in Arlington, Texas, by the name of Vernon Wells.
There had been a lot of talk that Wells and another player who would later be selected 26th overall (outfielder Darnell McDonald, by Baltimore), would be heading to the University of Texas to play football. The more Wilken and the Blue Jays' scouting department saw Wells play, the more they knew he was their type of guy. In the eyes of the draft prognosticators, though, Wells was not thought to be a Top 20 pick.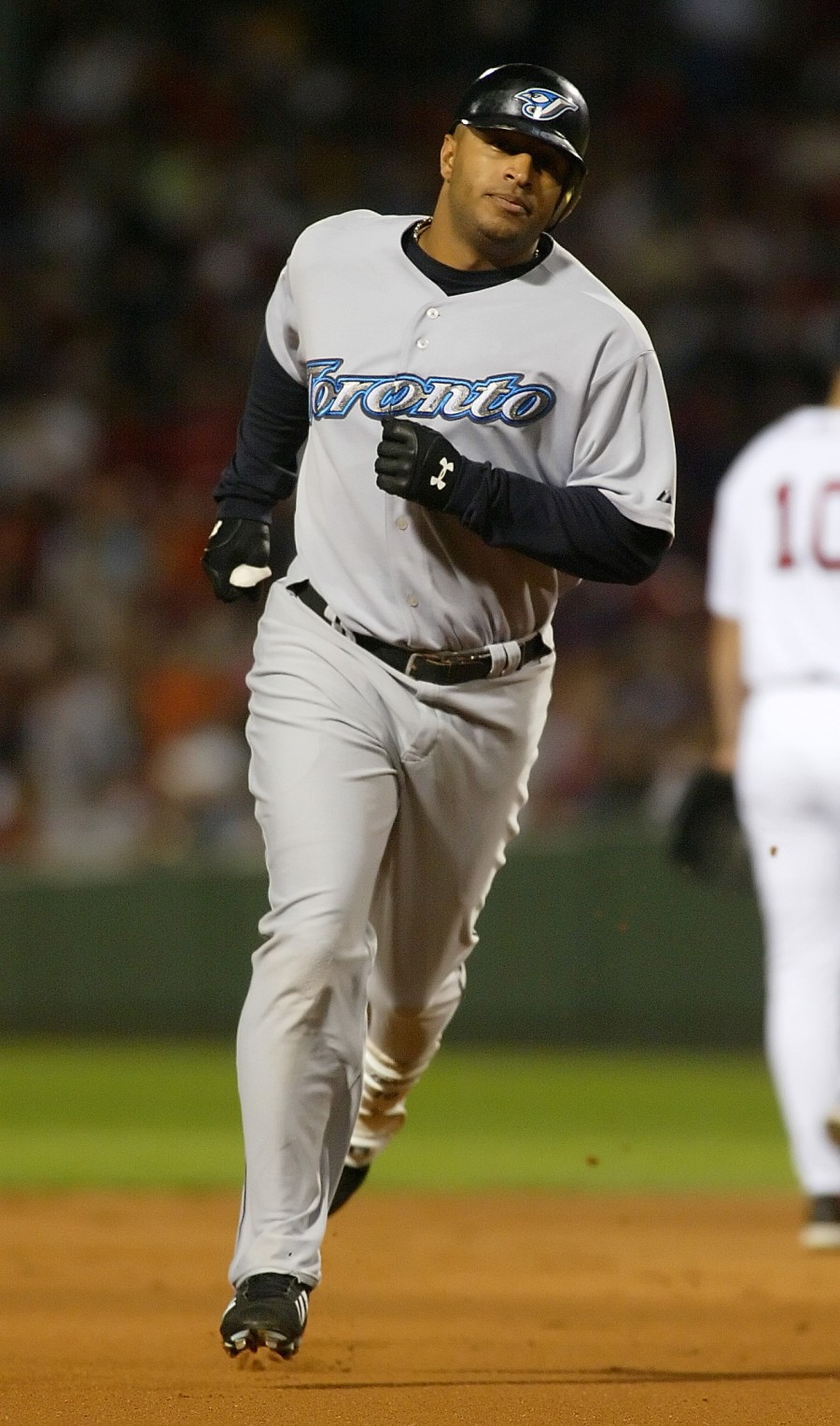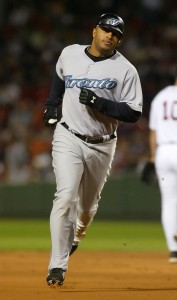 "We thought Vernon would be the right move for us. He was a true center fielder," Wilken said. "He was just a natural player, and he was way ahead of himself mentally. (Toronto general manager) Gord Ash left the night before the draft and flew down to Dallas – and negotiated with Vernon and our area scout, Jim Hughes. After talking to him, Gord knew that there would be an excellent chance that we would sign him the next morning."
Once the first three picks went as expected, only one team could prevent Wilken from selecting Wells: San Francisco.
"We didn't know what the Giants were going to do," he said. "I think we all knew who the first three picks would be, but no one knew what was going to happen at No. 4. The Giants were very tight-lipped, so we didn't really know if we'd have our man."
San Francisco selected Seton Hall pitcher Jason Grilli, and Wilken had his man.
"We took Vernon, and we paid him exactly what the slot was bonus-wise," he said. "We thought Vernon was a true center fielder – and that he'd have a chance to hit. We thought he was mentally mature beyond his days, and that proved out – because he got to the big leagues at 20 years of age. We were honed in to him pretty good. There weren't too many guys we would have taken over him – and definitely not the first three. Probably the only other guy you could argue that could have gone in that spot was Lance Berkman. We couldn't have taken J.D. Drew at No. 5 with the money we had available.
"After we selected Vernon, I remember a writer saying that the Blue Jays had run away from their values and what they had done in years past – which had been taking the athlete-type guy. I thought that was a slap in the face to Vernon – since he was a pretty good athlete. As time went on, he showed that he was definitely a guy that should have been taken there."
Wells, who made his big league debut in August 1999, developed into a three-time American League All-Star, a three-time Gold Glove Award winner and a 2003 Silver Slugger Award winner. He played in over 1,700 major league games for the Blue Jays (1999-2010), Angels (2011-2012) and Yankees (2013), batting .270/.319/.459 with 270 homers and 958 RBI.
– – –
Somehow, Michael Young lasted until the fifth round of the draft. Somehow, despite being a kid out of Division I, it took Young four minor league seasons just to reach the Double-A level. Somehow, a late-season, two at-bat cup of coffee after a 2000 trade to the Texas Rangers' organization proved to be the jolt that Young's career needed.
The best way to sum up the somehows: Young was your classic late bloomer.
"It's kind of funny … there wasn't monster play on him," Wilken said. "Michael was originally a center fielder and went to Bishop Amat High School in the L.A. area. He got a scholarship to go to UCSB (University of California-Santa Barbara), where he was learning how to play shortstop. He had this mentality – almost like a football player – in the sense that he'd run right through ground balls … he had a big motor. A lot of professional instructors will tell you that it's easier to tone down a player than it is to perk him up, and he fit that mode that you want to see. He was a good baseball player. His tools did not actually punch you in the face, except that he had a tremendous arm. And I mean … tremendous. Probably a '7' from short – and he threw better from center field."
Wilken was referring to the 2-8 scouting scale, with an '8' being Hall-of-Fame equivalent, '7' being All-Star, and so on.
"I remember the first time I watched Michael play," he said. "UCSB was playing against Westmont College – which was an NAIA school. Even back in 1997, you didn't see a lot of Division I schools playing NAIA teams. He had the cycle by the fourth inning – and they won something like 26-2. In the fifth inning, he made an out, and all the players on the bench started booing him.
"Chris Buckley, one of my assistants, was with me. So was Billy Moore, who was one of our better area guys; he had gotten guys like Reed Johnson, Jay Gibbons and Chris Woodward for us in the late rounds of previous drafts. I remember Buckley leaning over and saying, 'Geez Billy. If you don't get this guy, I don't think you'll ever get a higher pick.'
"I would say if you were to ask the other 29 clubs what kind of power grades they had on Michael … at that time, it didn't look like that swing path was going to play. I don't know if anyone had '50' power on him. But look at some of the years he had in the big leagues – with close to 70 extra-base hits. It shows you what kind of player he made himself. He learned how to close the hole in his swing.
"One thing that helped us was that UCSB was a little bit off the beaten path travel-wise. He wasn't the easiest guy to see – especially when they played at home. Knowing he was making a position switch also helped us; I don't think 'raw' is the right word for it, but not many can come into the infield from center field – which he did. We just kept watching him play, and we nonchalantly took Michael in the fifth round. You know the story from there."
Young – who was traded to the Rangers as part of a July 2000 trade for Esteban Loaiza – didn't become a big league regular until he was nearly 25 years old. He made an A.L. All-Star team for the first time at 27 – and went on to appear in seven Midsummer Classics, winning All-Star Game MVP honors in 2006. He won the A.L. batting title in 2005, a Gold Glove at shortstop in 2008 and went to two World Series. In 1,970 games for the Rangers (2000-2012), Phillies (2013) and Dodgers (2013), he hit .300/.346/.441 with 185 homers and 1,030 RBI.
– – –
In Wilken's first draft as Toronto's scouting director in 1996, he used a 33rd-round pick to select a skinny high school kid by the name of Orlando Hudson. The Darlington (S.C.) High infielder opted to go the junior college route, spending one year at Spartanburg (S.C.) Methodist College.
Over that 1996-1997 school year, Hudson got a little bigger and a little stronger. When the baseball draft rolled around, Wilken once again chose Hudson – this time in the 43rd round.
"It shows you how smart I was, taking him in the 33rd round one year and in the 43rd the next year – and then he goes on to play 11 years in the majors," Wilken joked. "We had a scout by the name of Mike Russell who originally drafted him his high school year, then a guy named Steve Williams joined us – and he continued the relationship with Orlando.
"Orlando was going to go to the University of South Carolina. Draft-and-follows don't usually work out, but he had gotten a little bit bigger and a little bit stronger. We were able to put together the right combination of school and bonus. We had lost Ted Lilly a couple years earlier because we hadn't gone a little bit further, and I said I wasn't losing another player whose baseball ability we believed in."
Wilken thought that if Hudson continued to get stronger, the contact would play up – which it did. The second baseman made two All-Star teams and won four Gold Gloves, seeing big league action with six teams from 2002-2012. In 1,345 games, he hit .273/.341/.412 – and the one-time skinny guy even homered 93 times.
"Orlando was a wonderfully animated guy who knew how to play the game. He was a ball yard rat," Wilken said. "He always had good hands and a good-enough arm. He was a baseball player, but his strength hadn't come in yet. At that point, he was a below-average runner – and that's why he got to be where he was in the draft. As he got bigger and stronger, he started running better – and he was a good baserunner.
"He was just acutely aware baseball-wise – which is what separated him later on as he got stronger. It's the same thing that happened with Chris Woodward a couple years earlier; he also was thin and underdeveloped at the time, but he was a really good baseball player with good hand/eye coordination. On top of that, Orlando was a switch-hitter. The foundation and the basis were there."
– – –
During his time in Toronto, Wilken was an important cog in the drafting of a solid core of players that included Wells, Young, Hudson, Casey Blake, Chris Carpenter, Carlos Delgado, Ryan Freel, Jay Gibbons, Shawn Green, Roy Halladay, Reed Johnson, Steve Karsay, Jimmy Key, Alex Rios, Shannon Stewart and Craig Wilson. But it was the draft class of '97 that really put him on the map.
"Looking back, you can smile and say we did a pretty good job – but we were also fortunate at the same time, too," Wilken said. "Vernon Wells, in the eyes of a lot of prognosticators, was considered a way-too-high pick at the time. Michael Young made himself better and became a pretty darn good player. If anyone truly believed Orlando Hudson would become as good of a baseball player as he did, then shame on us – especially me – for letting the guy get to the 43rd round. That's kind of the purist in me."
Throw in Mark Hendrickson's 10 seasons on a big league mound, and "those four put 50 years in," Wilken said. "We had great area scouts that made it all possible. I can sit back and smile and say, 'Hey, our department did pretty good that year.' It's rewarding mentally to see what did happen."
Photo courtesy of USA Today Sports Images.