This is the latest entry in MLBTR's Offseason In Review series.
For the second straight winter, the biggest offseason question the Mets faced centered on whether they'd re-sign outfielder Yoenis Cespedes. And for the second straight winter, the Mets managed to prevent Cespedes from departing in free agency. As a result, he'll once again serve as the centerpiece of New York's lineup as the club tries to log three consecutive playoff berths for the first time in franchise history.
Major League Signings
Trades And Claims
Notable Minor League Signings
Extensions
Notable Losses
Mets Roster; Mets Payroll Information
Needs Addressed
Aside from Cespedes, whom we'll address on a more in-depth level later, the Mets brought back three of their other free agents in second baseman Neil Walker and relievers Jerry Blevins and Fernando Salas. General manager Sandy Alderson didn't do anything else of significance, meaning the Mets are essentially relying on the same roster they did last year. Considering the Mets fought through a rash of injuries to win 87 games and earn a wild-card spot in 2016, Alderson's continuity-based approach could prove beneficial.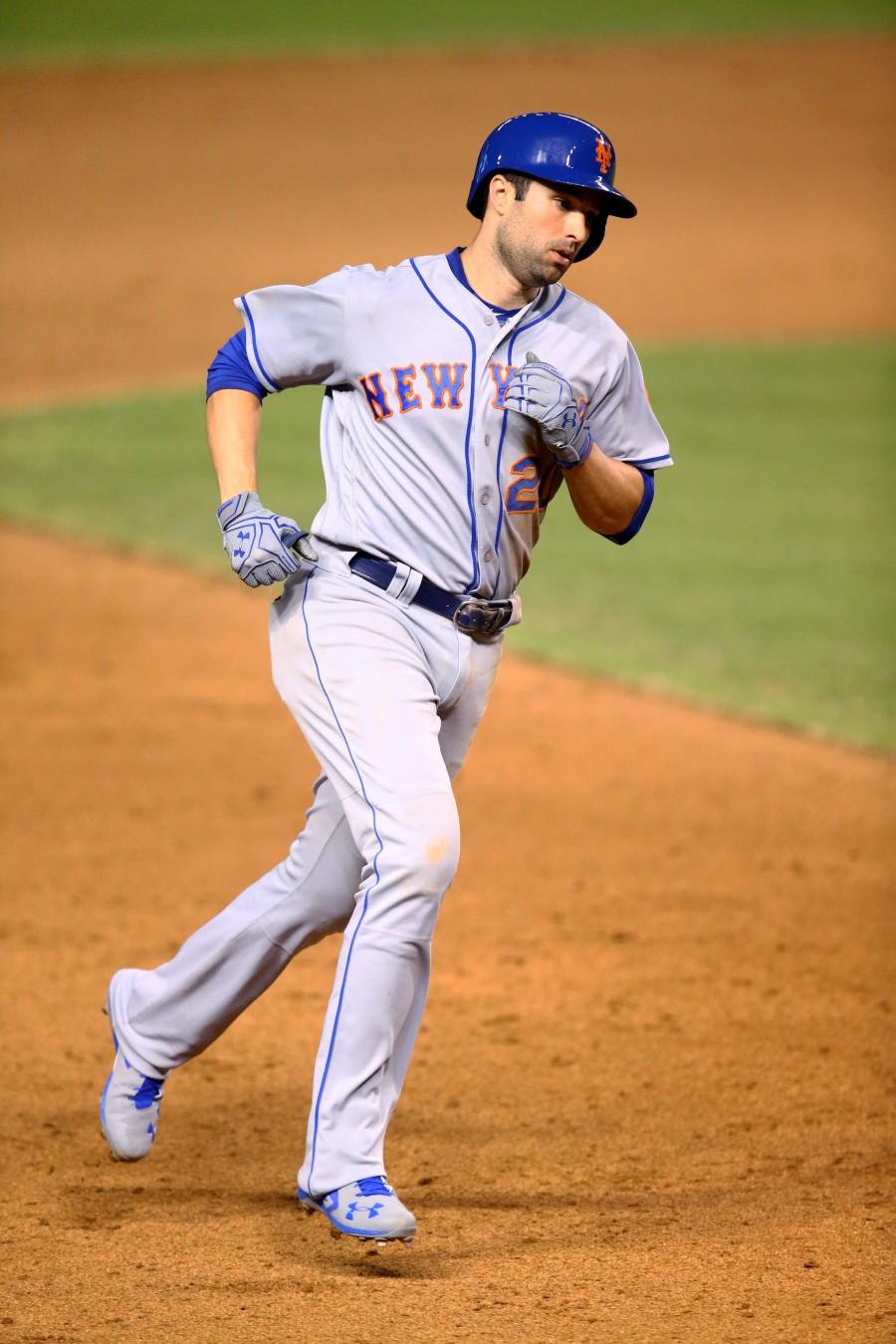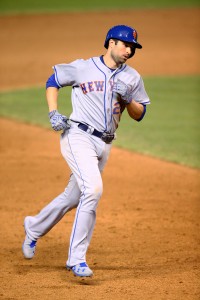 One of the keys to the Mets' success last season was Walker, whom they acquired from Pittsburgh in December 2015 for left-hander Jon Niese. That trade has already gone down as a heist for Alderson, as the perennially productive Walker had yet another quality season. Niese, whom the Mets later reacquired from the Bucs for reliever Antonio Bastardo, scuffled with both teams last year. That made it an easy decision for New York to decline Niese's $10MM option for 2017 in November.
Walker, meanwhile, slashed .282/.347/.476 with a career-high-tying 23 home runs in 458 plate appearances and registered a personal-best 9.3 Ultimate Zone Rating as a defender. Consequently, the belief was he'd test free agency during the winter. While MLBTR projected Walker would garner a three-year, $36MM deal on the market, he ultimately eschewed an opportunity to shop his services around the majors in favor of the Mets' $17.2MM qualifying offer.
It's possible Walker, 31, was leery of leaving a high guarantee on the table because of the season-ending back surgery he had last September. Regardless, it seems that issue is behind him. The Mets, after all, nearly awarded Walker an extension in the three-year, $40MM neighborhood last month before talks hit a snag over his 2017 salary. So, although Walker's long-term future is uncertain, the switch-hitter is in place to function as a linchpin in the Mets' lineup for at least another year.
Both Blevins and Salas are back for the short term, too, albeit at much lower salaries than Walker. The bigger prize of the two is likely the 33-year-old Blevins, who was quietly great last season. Blevins pitched to a 2.79 ERA with 11.14 K/9 against 3.21 BB/9 in 42 innings and 79 appearances, during which he dominated left- and right-handed hitters alike. Relative to both his 2016 performance and the larger guarantees awarded to fellow lefty setup men like Brett Cecil (four years, $30MM), Mike Dunn (three years, $19MM) and Marc Rzepczynski (two years, $11MM) in free agency, Blevins' contract looks quite fair for the Mets. Each of Cecil, Dunn and Rzepczynski signed fairly early in the offseason, but Blevins had to wait until February. It's now possible he'll work as the Mets' primary bullpen southpaw through 2018, as his agreement includes a reasonably priced club option ($7MM) for its second and final year.
Salas also went without a contract until February, when he accepted a modest $3MM after a near-flawless showing down the stretch with the Mets last season. The team acquired Salas from the Angels on the final day of August, and he then proceeded to allow just four earned runs in 17 1/3 innings and rack up 19 strikeouts without issuing a walk. The 31-year-old was far less effective over the first five months of the season as a member of the Angels, with whom he posted a 4.47 ERA, 7.2 K/9 and 3.0 BB/9 in 56 1/3 frames. Last year was a microcosm of the inconsistent Salas' career, which makes it a gamble (an affordable one, granted) that the Mets are looking to rely on him in a prominent late-game role this season. While the Mets' best reliever, closer Jeurys Familia, likely serves a season-opening suspension resulting from an October domestic violence incident, they'll turn to Addison Reed, Salas, Hansel Robles and Blevins as their top end-of-game pitchers.
Click to continue…
Questions Remaining
For a team with such a high ceiling, questions abound. Injuries are a significant concern, especially with respect to third baseman David Wright. The longtime franchise icon appeared in a meager 75 games over the past two seasons as he battled spinal stenosis and a herniated disk in his neck, and he's now unable to throw because of a shoulder impingement. If Wright is again unavailable for most or all of this year, it won't necessarily spell doom. After all, the Mets did get by fine without him in both 2015 and '16, though past third base contributors like Daniel Murphy, Juan Uribe and Kelly Johnson are no longer on their roster. And it would be rather optimistic to expect current hot corner options Jose Reyes and T.J. Rivera to replicate their success from last season.
Reyes, who rejoined the Mets last summer after the Rockies released him in the wake of a domestic violence suspension and a subpar 2015, slashed an above-average .267/.326/.443 in 279 plate appearances with New York. The 33-year-old's highest ISO (.176) since 2008 largely drove that success, so it's understandable that projection systems like ZIPS (.267/.326/.391) and Steamer (.256/.308/.375) aren't bullish on him as the 2017 campaign nears. Rivera was outstanding, too, as he hit .333/.345/.476 in the first 113 trips to the plate of his career. The 28-year-old only walked three times, though, and given that he's not exactly a burner, he won't sustain his .360 batting average on balls in play going forward.
Fortunately for the Mets, they do have another utility infielder capable of manning third in Wilmer Flores, but they might need him at first base if starter Lucas Duda is unable to stay healthy. A back injury basically made the powerful Duda a non-factor last season, and he dealt with further troubles early in camp. Duda has since returned and raked in spring action, however.
As is the case with Duda, pitchers Noah Syndergaard, Jacob deGrom, Steven Matz and Zack Wheeler have all looked good this spring after fighting through various injuries last season. The best of the four (and arguably the premier right-hander in baseball), Syndergaard, had the least problematic ailment – a bone spur in his elbow that didn't require surgery. DeGrom (shoulder) and Matz (a "massive" bone spur) did undergo procedures on the heels of injury-truncated campaigns, on the other hand, and Wheeler hasn't pitched in the majors since 2014 on account of 2015 Tommy John surgery. There's more worry over Matt Harvey than any of them, as the (former?) ace endured an uncharacteristically mediocre 2016 that concluded with July thoracic outlet syndrome surgery on his right shoulder. Harvey hasn't fared well statistically in his return this spring, which would be a lot less alarming if not for the fact that his velocity, normally in the mid-90s, is down at least a couple miles per hour.
It's clearly still too soon to panic in Harvey's case, but it's worth noting that the Mets lost their most durable starter, the revered Bartolo Colon, to the NL East rival Braves in free agency. Colon spent the previous three seasons as a member of the Mets, with whom he delivered no fewer than 191 2/3 innings in each campaign and combined for a decent 3.90 ERA. With his sturdiness and respectable production now out of the picture, and Wheeler perhaps poised to begin the year in extended spring training or the Mets' bullpen, they'll need Syndergaard, deGrom, Matz and Harvey to hold up physically. They also have the relatively unproven Robert Gsellman, who shrugged off a 5.73 ERA and 5.20 FIP in 48 2/3 Triple-A innings last season to put up a 2.42 ERA and 2.63 FIP in his first 44 2/3 major league frames. There are reasons to believe the hard-throwing Gsellman is for real, as FanGraphs' Dave Cameron explained last month, but the track record is limited. While Seth Lugo teamed with Gsellman to unexpectedly pitch the Mets to the playoffs last season, he might begin this year in their bullpen if each of Syndergaard, deGrom, Matz, Harvey and Gsellman get through the spring healthy.
As mentioned earlier, the most notable relief-related questions regarding the Mets center on Familia's suspension length and Salas' ability to sustain his performance from last year. The club is also hoping lefty Josh Smoker emerges in the wake of a 15 1/3-inning debut in which he yielded eight earned runs despite a whopping 25 strikeouts. Elsewhere in the 'pen, a bounce-back year from another southpaw, Josh Edgin, could be in the cards after Tommy John surgery cost him all but 10 1/3 innings last season. His place in the Mets' bullpen isn't a sure thing, though, as they're also considering Sean Gilmartin, Tom Gorzelanny and Paul Sewald. Gilmartin and Gorzelanny have been mixed bags in the big leagues, while the soon-to-be 27-year-old Sewald hasn't yet cracked the majors.
Most of the concerns regarding the Mets' pitchers focus on health, but the main catcher to whom they'll throw, Travis d'Arnaud, comes with both durability and performance questions. D'Arnaud has battled one injury after another dating back to his days as a well-regarded prospect, including a shoulder strain last season that likely contributed to his disappointing .247/.307/.323 line in 276 PAs. He was far better the previous year (.268/.340/.485), but even that was over just 67 games and 268 trips to the plate. It might be foolhardy to count on d'Arnaud, then, yet the Mets didn't prioritize upgrading over him during the winter. They'll instead rely on d'Arnaud, Rene Rivera and Kevin Plawecki, who combined to offer some of the majors' worst offensive production from behind the plate last season. To their credit, all three provide defensive value as adept pitch framers.
Speaking of defensive value, it could be hard to come by at multiple outfield spots, where the Mets will start Curtis Granderson in center and Jay Bruce in right. Granderson, who primarily played right over the previous three years, hasn't seen extensive action in center since 2012. Then a member of the Yankees, Granderson was a liability in the grass (minus-seven DRS, minus-18.1 UZR in 1,364 innings), and he's now 36 years old. Defensive metrics have regularly been down on Bruce, which was again the case last year (minus-11 DRS, minus-8.9 UZR). Moreover, it seems if things had broken to the Mets' liking over the winter, he'd be in another uniform.
Facing the possibility of Cespedes' departure, the Mets exercised Bruce's $13MM club option and were then unable to find a trade to their liking for the latter after the former re-signed. As a result, they kept Bruce, who joined the team in a trade with the Reds last July and then hit poorly down the stretch (.219/.294/.391 in 187 PAs). Bruce does have eight 20-home run seasons under his belt, including 33 last year, so it's possible he'll rebound to help the Mets' offense. If not, he won't offer the club any value, and it'll then turn to currently blocked youngster Michael Conforto. With Cespedes, Granderson, Bruce and Duda on the roster, there's no way for Conforto to get consistent at-bats, so the 24-year-old might head back to Triple-A and wait for an injury or an underwhelming showing from someone ahead of him on the Mets' depth chart. In the meantime, the Mets figure to mitigate some of the problems Granderson and/or Bruce could cause in the field by using the defensively brilliant Juan Lagares as a late-game replacement.
Deal Of Note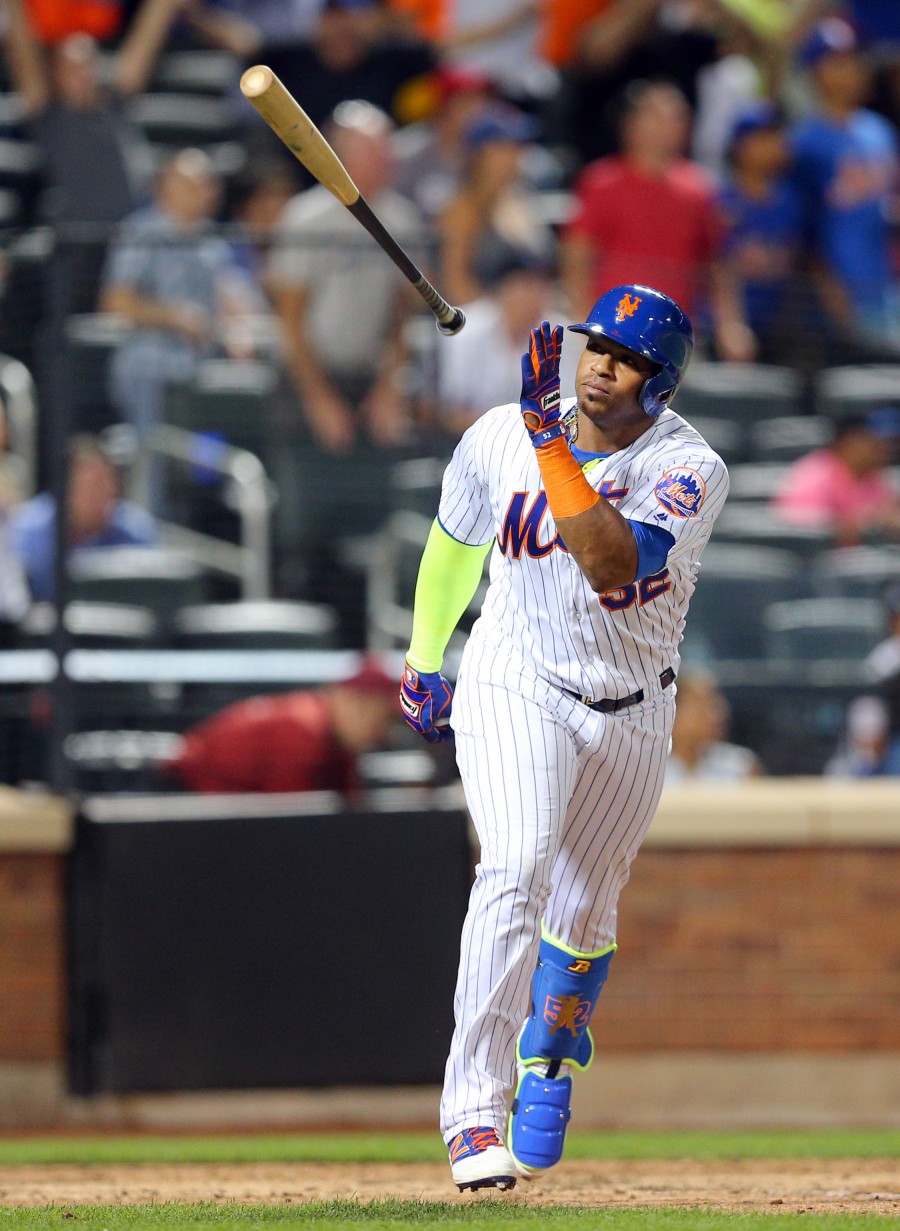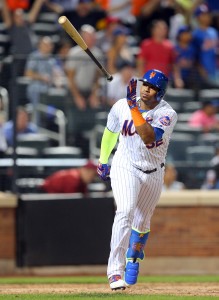 Unlike last year, when Cespedes sat on the open market until late January, a deal came together quickly this offseason for the Cuban-born star. It didn't help Cespedes' cause a year ago that he had to compete with other highly touted free agent outfielders in Jason Heyward, Justin Upton, Chris Davis (primarily a first baseman) and Alex Gordon, the first three of whom landed contracts richer than his three-year, $75MM pact.
In addition to guaranteeing a $27.5MM salary for 2016, the Mets retained Cespedes 13-plus months ago by including an opt-out for this past offseason. The latter factor appealed to Cespedes, who took advantage of his ability to void the deal this year in order to test free agency again.
Considering he was widely regarded as the foremost player set to hit the market, it's no surprise that Cespedes ended up with easily the richest contract in the 2017 class. However, that still didn't require an overly long commitment from the Mets, who re-upped Cespedes in late November on a four-year, $110MM accord. That was reportedly the max to which the Mets were willing to go, and their proposal ultimately defeated several other suitors'.  It also stopped the Mets from taking other routes, including signing another big-name free agent like center fielder Dexter Fowler or right fielder Jose Bautista. New York showed interest in both as potential contingency plans, though it seems Fowler would've made a better fit than Bautista for a team with a logjam of corner outfielders.
With Cespedes now under their control for the long haul, the Mets are left to hope he ages gracefully into his mid-30s. Now entering his age-31 season, Cespedes is coming off two of the best offensive campaigns of his five-year career, having combined for a .286/.340/.537 line with 66 home runs in 1,219 PAs. He also saw his walk rate rise dramatically in 2016 (9.4 percent – up from 6.1 percent from 2012-15), which was the product of chasing fewer pitches out of the zone. If Cespedes' plate discipline gains stick, that would obviously help justify the Mets' investment, as would bouncing back from the quad injury that slowed him last season. Cespedes had both his worst baserunning and defensive year as he contended with that issue, and it also hurt his cause that he had to help pick up the slack in center. In 495 innings there, he logged woeful numbers (minus-seven DRS, minus-20.6 UZR/150); conversely, he was stellar across 550 innings in left (four DRS, 9.0 UZR/150), where he has usually thrived.
Overview
It's easy to imagine 2017 going awry for the Mets if injuries persist, though last year's team certainly overcame plenty of misfortune to finish among the NL's top five clubs. With Cespedes and Walker still around to complement what could again be an elite pitching staff, the Mets should push for a playoff spot and perhaps compete for a World Series. Indeed, the club is "all in" on pursuing its first title since 1986, according to Alderson, who has put together the most expensive season-opening roster in franchise history. Should the need arise, Alderson will be ready to add reinforcements during the summer, and he may have to if the Mets are going to overtake the reigning NL East champion Nationals for the division.
What's your take on the Mets' winter? (Link to poll for mobile app users …)
Photos courtesy of USA Today Sports Images.