Check out all the published entries in our Offseason in Review series here.
After finishing among the American League's bottom three teams in both wins (69) and run differential (minus-108) in 2016, the low-payroll Athletics tried to make a splash in free agency. Oakland's attempt to land first baseman/designated hitter Edwin Encarnacion went for naught, though, and the club ultimately emerged from the offseason having made several modestly priced signings.
Major League Signings
Trades And Claims
Notable Minor League Signings
Extensions
Notable Losses
Oakland Athletics Depth Chart; Oakland Athletics Payroll Information
Needs Addressed
The offseason didn't unfold the way many thought it would for Encarnacion, whose five-year run in Toronto as an elite hitter didn't lead to the nine-figure contract that seemed attainable at the outset of free agency. Encarnacion went without a deal for nearly two months before agreeing to join the Indians on a three-year contract with $60MM in guarantees. It was surprising that Encarnacion landed with the Tribe, but it was more of an eye-opener that the A's were Cleveland's main competition. After all, the richest contract on the A's belongs to reliever Ryan Madson, who's on the second season of a three-year pact worth $22MM. Encarnacion would have averaged $25MM per annum, likely over two years, had he taken the A's offer. Reeling in the slugger would have been a boon for Oakland, which scored the fewest runs in the AL last season and has a starting first baseman, Yonder Alonso, who brings almost no offensive punch to the table.
"We knew we'd face some headwinds going in," executive vice president Billy Beane said after losing the Encarnacion sweepstakes. "But again, we saw this as a unique player. … [W]e thought was that type of player who would have served as a real good anchor point with our young pitching and some of our other young players."
Nearly a month before Encarnacion made his decision, the A's partially addressed their offensive issues by awarding a two-year, $11MM guarantee to free agent outfielder Matt Joyce. That commitment has a chance to go down as one of the offseason's biggest bargains, as the lefty-swinging Joyce has typically been a quality hitter and is coming off a career year. Then with the Pirates, Joyce slashed a terrific .242/.403/.463 in 293 plate appearances. The 32-year-old led all batters with at least 250 PAs in walk rate (20.1 percent, a notable improvement over his career 12.5 percent), which was the product of being far more selective than ever. Between 2008, his rookie campaign, and 2015, Joyce hadn't swung at under 24.7 percent of pitches outside the zone in any individual season. Last year, though, he offered at only 18.2 percent of such pitches. He also showed some of the best power of his career, having logged his highest ISO (.221) since 2010.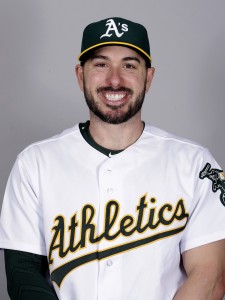 It's fair to be skeptical of Joyce going forward – he slashed a ghastly .174/.272/.291 in 284 PAs with the Angels only two years ago, and he's a lifetime .185/.265/.310 hitter against lefties. However, as FanGraphs' Jeff Sullivan wrote in November, Joyce made intriguing adjustments last season, including lowering his hands and becoming less reliant on pulling the ball. Even if those gains don't stick, though, the A's should at least have a capable, reasonably priced platoon right fielder on their hands in Joyce, who has batted .252/.353/.449 in 2,686 career plate trips against righties.
Another newcomer, 36-year-old center fielder Rajai Davis, will join Joyce and primary left fielder Khris Davis to comprise the A's main alignment in the grass. This isn't the first go-around in Oakland for Davis, who was previously with the team from 2008-10. As an Indian last season, Davis wasn't significantly better offensively than either of the A's top two center fielders, Coco Crisp and Jake Smolinski, but he is a weapon when he gets on base. Davis is coming off a year in which he racked up an American League-high 43 steals – just seven fewer than the A's 26th-ranked team total (50). He also finished second in the majors to Billy Hamilton in FanGraphs' BsR metric, a stat in which Oakland ranked dead last. And while Davis was a mixed bag in center last season (minus-five Defensive Runs Saved, 3.6 UZR/150 in 595 innings), he has typically been passable there and should at least be a clear upgrade over Crisp, who registered minus-11 DRS and a minus-37.7 UZR/150 in 290 innings.
After adding Joyce and Davis to their outfield, the A's sought to upgrade their infield and came away with third baseman Trevor Plouffe and utilityman Adam Rosales on one-year accords. A careerlong Twin until they outrighted him in November, Plouffe isn't far removed from combining for a .251/.317/.429 line and 6.0 fWAR in 1,214 PAs from 2014-15. That type of production would be welcome for Oakland, though Plouffe struggled in the other five seasons of his career, having registered minus-0.8 fWAR largely because of subpar defensive metrics. That includes last season, when Plouffe was a negative at third (minus-four DRS, minus-17.1 UZR/150 in 519 innings) and hit a below-average .260/.303/.420 in 344 PAs. The 30-year-old does deserve some benefit of the doubt for his latest output, however, as he endured an injury-riddled campaign that featured three trips to the disabled list.
Healthy again, Plouffe will serve as the A's No. 1 option at the hot corner, meaning Ryon Healy will mostly divide his time between designated hitter and first base. As a rookie last season, Healy played all 72 of his games at third, where he posted Plouffe-like numbers (minus-two DRS, minus-17.5 UZR/150) over 637 innings. Those struggles took away somewhat from the offensive excellence displayed by Healy, who put together a .305/.337/.524 mark in his 283-PA debut.
Rosales, meanwhile, will back up Plouffe, Healy and the rest of the A's infielders, and he could be especially useful at second base. Starter Jed Lowrie has dealt with injury troubles throughout his career, including a left foot issue that limited him to 87 games last year, and hasn't stood out offensively since a career year in 2013. Rosales, who was with the A's from 2010-13, is coming off his own personal-best season. A Padre in 2016, the 33-year-old journeyman was a radically different hitter than he had been from 2008-15. Along with his best-ever batting line, .229/.319/.495 (in 248 PAs), the right-hander accrued highs in home runs (13), ISO (.266, up from a career .140), walk rate (11.7 percent) and hard contact rate (36.9 percent, far above his lifetime 26.4 percent figure). As evidenced by those numbers, not to mention a career-high fly ball rate (46.2 percent) and a bloated strikeout percentage (35.5), it's clear Rosales sold out for gains in the power department last year. Even if his 2016 proves to be a mirage, Rosales should still give the A's both a usable option against southpaws (.241/.318/.395 in 644 PAs) and, if Lowrie goes down again, a credible defensive second baseman (13 DRS, 6.6 UZR in 1,007 lifetime innings).
Click to continue…
Questions Remaining
Both Oakland's low-cost pickups in free agency and better luck in the health department (the team used the DL a franchise-record 27 times last year) should lead to an improved club this season. However, the A's are still chock full of question marks. Offensively, runs may still prove hard to come by, as there's little of intrigue in place after Khris Davis, Healy, a potential Joyce/Mark Canha platoon and slugging shortstop Marcus Semien. Further, although Rajai Davis is now in the fold, Oakland still lacks in the baserunning department. The only other likely starter on the roster who should be any kind of a threat on the bases is Semien, who stole 10 bags last season. At the same time, catcher Stephen Vogt, Khris Davis, Healy, Joyce, Lowrie, Plouffe and Alonso combined for a paltry six.
Speaking of Alonso, it's certainly conceivable the A's could have upgraded over him during the offseason; instead, they kept the historically light-hitting first baseman for $4MM. They'll now hope Alonso's new fly ball-first approach, which FanGraphs' Eno Sarris recently covered, will lead to a breakout for the soon-to-be 30-year-old and former top prospect. If not, Beane and general manager David Forst might end up sorry that they didn't jettison Alonso in favor of an affordable free agent like Steve Pearce, Luis Valbuena, Chris Carter or Brandon Moss (the latter two are former A's). They also could have retained corner infielder Danny Valencia, who slashed .288/.346/.477 in Oakland over the previous two seasons. There have been behind-the-scenes issues with Valencia, however, which would explain why the A's got rid of the 32-year-old and why dealing him only returned right-handed pitcher Paul Blackburn, who barely cracks the club's top 30 prospects list on MLB.com.
Defensively, the A's didn't markedly upgrade a unit that placed last in both DRS and UZR in 2016. None of the A's offseason signings are aces in the field, though it's possible replacing Valencia with Plouffe at third will go a long way toward bettering their defense (Valencia recorded a woeful minus-18 DRS and an even worse minus-25.6 UZR/150 at the hot corner last year). A bounce-back campaign from Alonso would also help Oakland's cause. Alonso had been a terrific defender from 2010-15 (29 DRS, 11.2 UZR), but he went backward in 2016 (minus-3 DRS, minus-1.1 UZR).
A better defense would obviously assist the A's rotation, which features no shortage of uncertainty even as the front office continues to express confidence in the group it has assembled. The questions start at the top, where Sonny Gray, a bona fide ace from 2014-15, went on the DL twice last season and posted a 5.69 ERA and 4.67 FIP in 117 innings. Now battling a lat strain that could keep him out for all of April, Gray's guaranteed another injury-shortened year. Aside from Gray, back-end starter Kendall Graveman and second-year man Sean Manaea, who certainly encouraged as a rookie, no other season-opening rotation candidate saw much major league action in 2016. Jharel Cotton and Andrew Triggs clearly possess plenty of promise, though, and the out-of-options Raul Alcantara, 24, dominated across 45 2/3 Triple-A frames a year ago. And then there's Jesse Hahn, who had been an effective big leaguer prior to a miserable 2016 spent between Oakland and Triple-A Nashville. Over 170 innings with the Padres and A's from 2014-15, Hahn paired a 3.23 ERA with a 51.7 percent ground-ball rate.
While the A's starters are largely unproven, their bullpen is loaded with experience. Madson, Santiago Casilla, Sean Doolittle and John Axford are all over the age of 30, and each has vast closing experience. All four have also been lights-out in the past, but those days seem gone in the cases of Madson and Axford. The still-effective Casilla is coming off his worst year since 2010 (more on him in a bit), while the good-when-healthy Doolittle only combined for 52 2/3 innings over the previous two seasons. Still, with Liam Hendriks and Ryan Dull joining those four as the A's top relief options, their bullpen looks solid on paper. It's potentially concerning that the group is almost exclusively right-handed (Doolittle is the exception), though only Casilla was particularly vulnerable against left-handed hitters last season.
Deal Of Note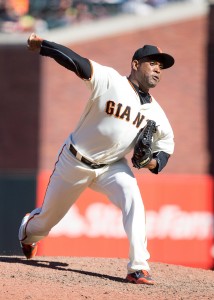 Santiago Casilla" width="214″ height="300″ />
The 36-year-old Casilla began his professional career with the A's in 2000, when he signed as an international free agent who went by the name Jairo Garcia, and stayed with the franchise through the 2009 season. Casilla remained in the Bay Area with the Giants over the past seven years, and he could be in position to finish in Oakland and bring his career full circle. Casilla stands as the only pitcher to whom the A's handed a major league deal during the winter, and his $11MM guarantee ties Joyce's deal as the richest they doled out.
In 336 2/3 innings between his first and second A's tenures, Casilla compiled a 2.42 ERA, 8.3 K/9, 3.5 BB/9 and a 51.7 percent ground-ball rate. He also saved 123 games as a Giant, though he wasn't exactly a shutdown closer in San Francisco. Manager Bruce Bochy stripped Casilla of the role last year, when he totaled a league-worst nine blown saves and recorded his highest ERA (3.57) since 2009. Given his age, it's possible Casilla is amid a steep decline, but there are still reasons for his optimism. For instance, Casilla did notch a career-best strikeout percentage (27.0) and his second-best walk percentage (7.9) in 2016. He also exceeded 50 innings for the seventh straight year (58), recorded a respectable grounder rate (47.6 percent) and didn't experience a drop in velocity.
While Casilla didn't come at a prohibitive cost, the A's took a risk in giving a multiyear contract to an aging reliever. Taking that same tack a year ago with Madson and Axford didn't work out great in either case last season. It's also worth noting that Casilla's pact seems rich relative to the ones given to fellow right-handed, over-35 setup men in ex-Giants teammate Sergio Romo (one year, $3MM; Dodgers), former Athletic Joe Blanton (one year, $4MM; Nationals) and Koji Uehara (one year, $6MM; Cubs). In fairness to both the A's and Casilla, though, he arguably represents the most appealing investment (in terms of recent performance and durability) among the four.
Overview
The Athletics appear to have improved over the winter, but the same can be said for the majority of their AL West rivals. With that in mind, the A's are likely to have difficulty avoiding a third straight last-place finish in the division. Still, there is quality youth on hand and more potentially on the way. Prospects such as middle infielder Franklin Barreto and third baseman Matt Chapman could overtake the likes of Lowrie and Plouffe sometime this season, which would immediately make the A's a far more interesting team to watch. More importantly, their introductions could help lay the groundwork for an eventual contender – something the A's haven't been since 2014.
What's your take on the Athletics' winter?  (Link for app users.)
Photos courtesy of USA Today Sports Images.