Put on a scouting director hat and ask yourself this question: Do you want your team to do poorly so you can have the maximum number of opportunities to select a premium draft pick, or do you want your team to win – knowing all the supposed "top of the line" talent will already have been taken?
The question is purely rhetorical. For the person directing the draft and all the scouts out scouring for talent in the smallest of towns, the ring is the thing.
But that doesn't mean you can't win and have fun on the scouting side, too.
In 2004, the Boston Red Sox – down 3 games to 0 in the American League Championship Series against the New York Yankees – rallied to win their final eight postseason games in eliminating the Yankees and sweeping the St. Louis Cardinals. In the process, they won their first World Series since 1918.
On paper, if no free agents switched clubs, the Red Sox would have picked 28th overall in the ensuing 2005 amateur draft – with a second pick coming in at No. 58. But baseball isn't played on paper. After the annual free agent signing frenzy, the world champs lost Orlando Cabrera, Derek Lowe and Pedro Martinez, and now – thanks to compensation selections and supplemental picks – found themselves with six draft choices from No. 23 to No. 57.
So … to the victors did go the spoils.
Oh, there's just one thing. They were about to restock with a first-time scouting director.
– – –
In November 2002, Theo Epstein – just 28 years of age at the time – was named general manager of the Red Sox. Earlier that year, he had joined the organization as the assistant GM after coming over from the San Diego Padres.
During his time in San Diego, Epstein struck up a friendship with Jason McLeod, a former minor league pitcher who began his Padres career as a Community Relations intern in 1994 – before moving over to Stadium Operations that winter and to the Baseball Operations Department in the fall of 1995 (Epstein had joined the team earlier that year). McLeod's time with the Padres later included three years as a minor league coach, a return to the front office as the assistant director of scouting and player development, and two years as an area scout in Southern California.
Epstein brought McLeod to Boston as an associate scouting director in the fall of 2003, assisting David Chadd. After the Red Sox won the 2004 Fall Classic, Chadd moved on to Detroit to become the Tigers' vice president of amateur scouting – and McLeod was promoted into the scouting leadership position. Epstein wasn't concerned about inserting his former Padres cohort into that role despite McLeod's relative lack of experience in the draft room.
"Jason and I grew up together in the Padres organization," Epstein said in an email, "so I knew he could really evaluate and was a great leader.
"It was a seamless transition because Jason had worked with us in 2004. The entire organization was focused on the draft with all the picks we had, and Jason did a great job as always leading the department. We had a lot of fun all scouting season and in the draft meetings."
McLeod acknowledges that he didn't have a boatload of experience from a draft-day perspective when he took over.
"In '04, I was instilling and re-doing the processes of it," McLeod says. "David was absolutely the scouting director; he was pounding it out on the road. But from the front office side of things, we were kind of co-directing that department that year.
"During my time in San Diego, I had sat in on many draft meetings, but I hadn't been in the director's seat or calling the shots or instituting processes or things like that until I got to Boston."
The Red Sox had broken the curse. Now, just a few months later at their January scouting meetings, McLeod was presiding over the group and putting a game plan into place.
"There was a lot of excitement, obviously, coming off the World Series year," he says. "For those of us in amateur scouting, we were just as excited knowing that we had two first-round picks and three sandwich picks. We felt that we were going to get a couple impact players with the volume of picks that we had. And coming out of the prior summer – after scouting the Cape, scouting the Team USA juniors – we knew that it was going to be a really good draft.
"We told our guys, 'Let's get after it and go crush it and find as much impact and upside as we can.'"
– – –
The top tier of the 2005 draft was considered to be very deep, and the results continue to speak for themselves.
Eight of the first 12 selections have appeared in the All-Star Game. Five of the first seven – Justin Upton, Alex Gordon, Ryan Zimmerman, Ryan Braun and Troy Tulowitzki – have career WAR above 25.0.
The Red Sox knew they had no chance of landing any of those five – or high school outfielders/future all-stars Andrew McCutchen and Jay Bruce, who went 11-12. But there was still a lot of talent out there to be had. Boston had the No. 23 and No. 26 selections in the first round – along with the Nos. 42, 45 and 47 slots in the supplemental round. The team's second-round pick was No. 57 overall.
The key was to be prepared for anything and everything. Back in 2005, the draft was conducted via a conference call – and there was very little time between picks.
"At that time, we did a lot of mock drafts," explains McLeod, who is now the Cubs' senior vice president of scouting/player development. "We would run a mock draft where different scenarios were happening. I think at that time we maybe had 30 seconds before the next pick. So we ran a lot of simulations in the room. Theo liked to try to set up scenarios where … there were 12 of us in the room, and he'd set up scenarios and go worst case. I'm sitting there watching the board, and he'd set it up and say, 'Now this guy and that guy are gone. Where are you going here?' And he put you on a timeclock. We probably did that about five or six different times where we ran those simulations.
"We felt good about the information that we had. We felt good about the performance metrics we were looking at, and about how we had the board stacked. So at that point, let's run the simulations. 'Now, he's gone. Now these two guys are gone.' We also ran some where we knew there would be no way the board would fall that way, but if it all blew up, 'Now where are you going? Why are you doing that?' So you do those things prior to draft day. You trust the process and you trust the preparation.
"At the same time, just like every draft year … as the pick is getting close, there is some anxiety and anticipation that you feel. But again, you just trust your process. You do all the work to be prepared for every situation."
– – –
By draft day, the Red Sox had narrowed their focus to three collegians for the No. 23 selection – Oregon State outfielder Jacoby Ellsbury, Arizona outfielder Trevor Crowe and Texas A&M shortstop Cliff Pennington.
"We spent so much time talking about those three players in particular, because we were really hopeful that one of them got to us," McLeod said. "We spent an inordinate amount of time in the weeks leading up to the draft meetings on them. We kept stacking them and stacking them and talking about their strengths and weaknesses.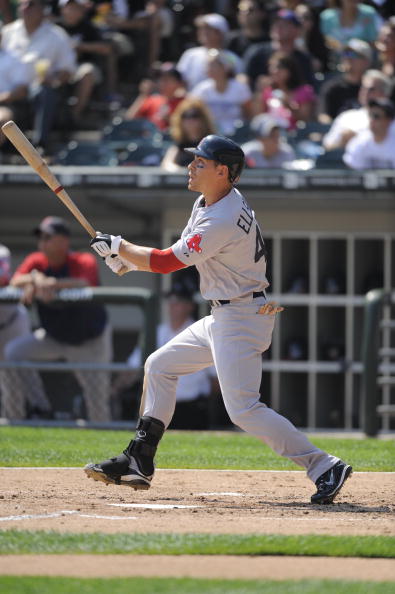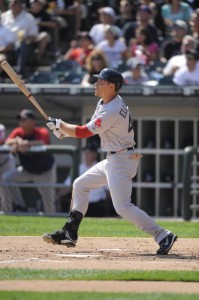 "The funny thing about Jacoby … that year, he had such a great year, and I saw four or five of his games – and he probably had his worst games when I was there. I actually took Theo to a game at the University of Washington when the Red Sox were in Seattle. Of course, Jacoby's first two at-bats, he was 0-for-2 – and Theo was like, 'Jason, you're not allowed to watch his next at-bat. You're bad luck. Please, turn around or something.' So I literally turned around and heard the crack of the bat; I turned back and the ball was in the gap. Theo and I are standing down the third-base line, and I remember watching this kid round second turning on the afterburners as he's coming into third. It was just something. You watch a lot of games and see a lot of fast guys, but then you see stuff that makes you say 'Wow.' That was one of those moments, just watching this guy fly around the bases. So I knew I wasn't totally bad luck. I was in the ballpark. I didn't see the contact, but at least I heard it.
"I literally saw him go 2-for-15 in a year that he hit over .400 and had an on-base of almost .500. But our scouts were so convicted on him – from the area guy (John Booher) to the regional guy (West Coast cross-checker Fred Peterson) to our national cross-checker (Dave Finley). They were all like, 'This is our guy. This is it.'
"He was already doing the things that we were looking for … the ability to get on base … the fact that he was an outstanding athlete who was going to play in center field … he had a low K (strikeout) rate. My question was just going to be the strength. I remember seeing him in the Cape, and I was worried a little bit about how the ball was going to come off the bat.
"But there's a really good story from that year. Oregon State was down at the University of San Diego, and it was one of the only days in the history of the University of San Diego that they actually had a rainout. San Diego's coach, Rich Hill – who we had a really good relationship with – was gracious enough to let us work out Jacoby. So a couple of our scouts got to see him hit in the cage. Then they took him up to the Jenny Craig Pavilion, and there's Jacoby Ellsbury throwing down gorilla dunks for our scouts – showing them his explosiveness and his athleticism. I wasn't at that workout, but our cross-checker just called me and was blown away with the explosiveness in Jacoby's body. He was like, 'You will not believe what Jacoby just did.'
"If you looked at his performance, all the makeup we got on him, the fact that we felt that he was going to be ultra-disruptive on the bases … we thought he was going to be a shutdown center fielder. All of that aligned with someone that we absolutely wanted to bring into the organization. That's why we liked Pennington. That's why we liked Crowe. They were all these dynamic athletes that played in the middle of the field."
Crowe went No. 14 to Cleveland. Pennington was chosen at No. 21 by Oakland. The Marlins, drafting after the Athletics and before the Red Sox, selected high school second baseman Aaron Thompson – and Ellsbury was Boston-bound.
McLeod literally had about 30 seconds to breathe. Houston was on the clock (selecting Brian Bogusevic), then came Minnesota (Matt Garza). It was now time to make another decision.
– – –
In the days and weeks leading up to the draft, there had been a lot of discussion in the Red Sox draft room – oftentimes heated – about hard-throwing Angelina College right-hander Clay Buchholz.
"Clay was someone I had to have," McLeod says. "I was just in love with the ability and the athleticism."
As has been documented, Buchholz was pitching for a community college team in Lufkin, Texas, for a reason.
"It's out there … when he was at McNeese State, he and his friend did a stupid thing. They broke into a school and stole some computers from a computer lab," McLeod recalls. "Obviously, we had to dig deep into (A) what happened here and (B) is this something that's going to be problematic going forward.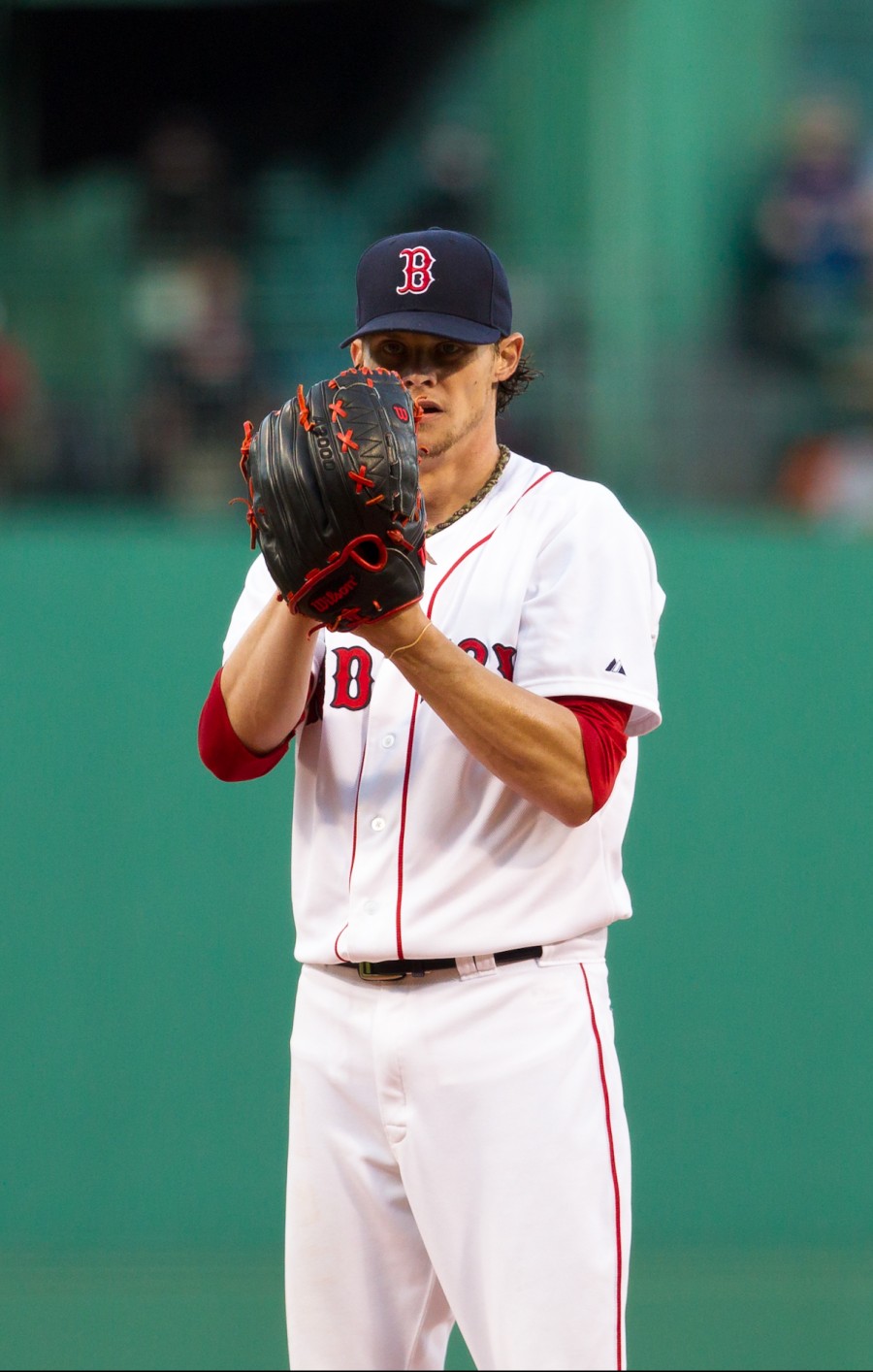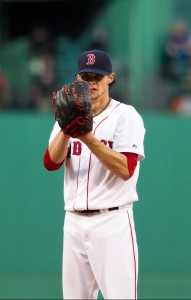 "Clay was very upfront when we talked to him about it. Jimmy Robinson, the area scout, did a tremendous job on the background and getting to the bottom of that story – and getting to know the player himself. I met with Clay in Texas. Theo and I had a big discussion with him in Boston at our pre-draft workout. We had a long conversation with him out in the bullpen during batting practice one day and talked about it. 'What's important to you? How do you want to be remembered by your family when you're done playing this game?' We hit him with some pretty personal questions.
"Let's put it this way … I made it very evident that he was someone I had to have in that draft. There were some arguments in there. There was a time when Theo definitely challenged my conviction on the player, and we had a pretty heated debate about it in the room. Theo, in so many words, said 'Jase, this is your first year running a draft as a scouting director solo. Are you going to put your name on this guy?' I stood up and said, 'Yes, I am.'
"At the end of the day, we were obviously aware of his past. It wasn't ideal, but I personally felt confident enough to push for him in the first round. I can tell you we didn't make his selection with any 'Hold your breath, let's hope this kid doesn't get into trouble' thoughts. We genuinely felt like he made a mistake and atoned for it."
Ultimately, putting a first-round tag on Buchholz was a little too rich for Boston's collective taste to select him at No. 26. That – and the fact that a reliever the team thought should have gone off the board much earlier was sliding.
St. John's University closer Craig Hansen had dominated Big East Conference competition that spring, striking out 85 batters in 64 1/3 innings and recording 14 saves. McLeod thought a team that wanted a quick-to-the-majors reliever that could potentially pitch in the back end of games relatively soon would have jumped on him.
"We didn't think Hansen was going to be there, because coming off the Cape that prior summer and going into the year, he was just so dominant," McLeod said. "He wasn't a priority type coverage guy for us, because we thought somebody else would grab him before pick 23."
While Hansen was available, he was not an option for the Red Sox at No. 23; that pick was earmarked for a college hitter. The last-second conversation at No. 26 reverted to Buchholz.
"The bigger discussion for me on the Hansen selection was … we had done a lot of work on Buchholz, and I thought the Dodgers were going to take him at 40," McLeod says. "I knew Logan White liked him. I knew he was there to see his last start. My fear was that we were going to miss him. I just had to leave that draft with Buchholz. He was the gut-feel guy who I really wanted.
"So there were some discussions about him at 26. That would have been a stretch for the rest of the room and for a lot of our guys, but that's just how much conviction I had in Clay's ability. And then the conversation obviously went back to Hansen – a big, college, 'get there quick' guy. We knew what he was and we knew he had power stuff. So the decision was made to take Craig. We took him – and he got to the big leagues later that year."
Although he did pitch in four games for Boston that summer, Hansen struggled as a major leaguer, seeing action in 95 games for the Red Sox and Pirates. He saw his last minor league action in 2012. "Unfortunately for us and for Craig, he didn't have the career that we all thought he would," says McLeod. (Boston did still get some value from that selection, as Hansen was part of a three-team blockbuster that netted outfielder Jason Bay, who had one and a half outstanding seasons with the Sox.)
With Hansen on board, all McLeod could do was wait impatiently for Los Angeles to make its supplemental round selection.
"I sat there and held my breath," he remembers fondly. "I know now, having talked to other teams over the years, it was basically us and the Dodgers that were in on Clay. Logan White is a good friend – and obviously his track record is pretty stellar with the draft, and we've had fun talking about Clay over the years. But we sent one cross-checker to this tournament in south Texas, and I think it was the opening day of the college conference tournaments – and Logan happened to be there. It says a lot when the scouting director, instead of being at the SEC tourney or day one of the Big 12, is seeing a junior college guy down in Nowhere, Texas.
"When the Dodgers were about to announce their pick, I literally was like, 'They're going to take Buchholz. They're going to take Buchholz' (laughing). And then they took Luke Hochevar."
After Atlanta drafted high school left-hander Beau Jones at No. 41, McLeod got his guy.
"There was a big exhale … relief. Anyone who worked with me at the time would echo the sentiment," he says. "As a scouting director, he was the guy I had to have in that draft."
Fast forward to two years later, and Buchholz threw a no-hitter in his second major league start.
Rewind to draft day, and McLeod had about 60 seconds until his next pick at No. 45.
"We had stacked the board with some college hitters that we liked, so I was already feeling confident about our next pick," recalls McLeod. "There were a few guys we really liked: Jed Lowrie (Stanford) … Stephen Head, a kid from Ole Miss … Chase Headley (Tennessee). I knew we were getting one of those guys."
Sure enough, the Cardinals and Marlins picked pitchers.
"Jed Lowrie fell right into our laps – a guy who played the middle of the field with that kind of performance in college. Nowadays, he'd never get to No. 45. For us, it was a no-brainer. This kid was coming off a sophomore year where he almost won the Triple Crown in the Pac 10. He had a little bit of a down junior year, which allowed him to slide down into that selection for us."
Then, two picks later, the Red Sox went the prep route, selecting Michael Bowden – a pitcher out of Waubonsie Valley High School in Aurora, Ill.
"Michael Bowden was a kid that we spent a lot of time with," McLeod says. "He was one of those guys we got a lot of looks at. Our area scout was ultra-convinced on the makeup of the kid. We got to know him pretty well … the way he competed … blue collar … all of that.
"We really thought we got a mid-rotation guy with that selection. And the way his career started, we were really pumped. He was a workhorse, he threw a ton of strikes, and he had great stuff. After his first couple of years, we were like, 'Wow, we got a really good pick here.' In 2008 at Double-A, he sat on a low 2.30 ERA with a 25 percent punch rate. We thought this guy was going to sit in the middle of our rotation for a long time. He had a decent Triple-A year when we moved him up, he got to the big leagues, but he kind of plateaued out. He never had the career that we thought he would."
Bowden saw action in parts of six big league seasons with the Red Sox and Cubs, appearing in 103 games from 2008-2013.
The flurry of activity concluded a little while later with Boston's second-round pick – the No. 57 overall selection. And the rationale behind the player chosen – Jonathan Egan, a catcher out of Cross Creek (Ga.) High School – still bothers McLeod.
"I think every scouting director … if you would change things and do them over, we all would. This is one that sticks out with me," McLeod admits. "We liked Jon Egan quite a bit. I was shooting for upside. We thought this kid had tremendous power. We thought he'd be able to catch. And when you went to watch him, it was a really beautiful swing.
"But what I regret here is that there was another college player sitting there right in our lap. There was a lot of discussion in the room that we should consider him, but my thought process was, 'We just took Jed Lowrie. That was the safe college guy who performed. Let's really shoot for some upside here.' So we ended up passing on Chase Headley and took Egan. That's one of those that I still to this day look back at. My reasoning did not go with the process. I was shooting for upside when we had Headley sitting right there for us on top of our board."
Egan played three minor league seasons, peaking at Class-A Greenville in the South Atlantic League. Headley, who went to the Padres at No. 66, entered this year having been a major league starting third baseman since 2008.
While Headley was a miss for McLeod, Pedro Alvarez was the one who got away. A 14th-round pick out of Horace Mann High School in New York, Alvarez opted to bypass the Red Sox's offer and go to Vanderbilt – and later was the second overall pick in the 2008 draft (by Pittsburgh).
"Missing out on him, we didn't like that taste – especially seeing what he became," McLeod says of Alvarez – who entered this year with 153 homers during his seven-year big league career. "It made us want to be even more aggressive going forward in trying to sign those types of players.
"We really loved the kid's power. We loved the bat speed. He came to our workout that year and really put on a show. We made a serious run at him. I was on the phone a lot with the kid, trying to get him signed.
"Under the old system, the day they show up for class, they're done. So I'm on the phone with him that morning, and I made a significant offer. Remember, this was the 14th round, and we already had spent a ton of money on the guys at the top. We had our last conversation, and he said, 'Sorry, Mr. McLeod, I'm here at school now – and I'm getting ready to go to class.' So we don't sign him."
McLeod later found out that Derek Johnson – who was Vanderbilt's pitching coach at the time and now the Milwaukee Brewers' pitching coach – was standing next to Alvarez when the prized freshman was having his final conversation with the Red Sox. Johnson was the Cubs' minor league pitching coordinator in 2013-2015, and his boss was McLeod.
"We were swapping stories about Pedro Alvarez after (Johnson) joined the Cubs, and he says to me, 'I walked him to class to make sure he got there and that no Red Sox employees were jumping out of the bushes trying to sign him.'"
Looking back at his first draft, McLeod talked about the need to be aggressive and wanting players who could provide impact and upside.
"We knew having all those picks early … we had the ability to diversify the portfolio, so to speak, where you could take some high-impact riskier high school kids, college performers that you felt really good about with athletic upside, and a junior college guy like Clay Buchholz," McLeod says.
"As history has borne out, it's probably one of the best drafts of all-time. I'm not talking about the Red Sox. That '05 draft class was ridiculous in the first round."
– – –
Chuck Wasserstrom spent 25 years in the Chicago Cubs' front office – 16 in Media Relations and nine in Baseball Operations. Now a freelance writer, his behind-the-scenes stories of his time in a big league front office can be found on www.chuckblogerstrom.com.