Last fall, it came as something of a surprise when the Athletics elected to tender a contract to first baseman Yonder Alonso. Though it cost the club just $4MM, that seemed a fairly hefty sum for a player who had contributed so little in the preceding season.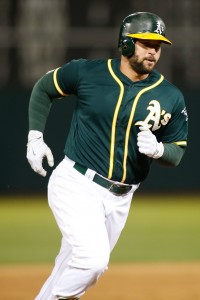 At the time, Alonso was coming off of a 2016 campaign in which he slashed just .253/.316/.367 over 532 plate appearances. While he continued to post low strikeout rates — 13.9% on the year — Alonso hit only seven home runs and also rated poorly with the glove.
Still, the A's maintained faith. Oakland had parted with what turned out to be a significant asset — lefty Drew Pomeranz — to acquire Alonso, and clearly believed there was more to be found in his bat. What he has done thus far, though, has probably still come as a surprise.
Over his first 125 trips to the plate thus far in 2017, Alonso has been a revelation. He's striking out more than ever, with a 21.6% K rate, but is also walking at a career-best 12.0% rate. And the former top prospect has finally tapped into his power potential, with a dozen long balls — matching his cumulative tally over the prior two seasons and 934 plate appearances. All said, he's currently carrying a .291/.376/.664 batting line.
That remarkable turnaround has come despite a pedestrian .282 BABIP, so there's obviously more at play than batted-ball fortune. Clearly, Alonso has employed some fundamental changes to his approach. At present, he's hitting fly balls at a 54.2% clip while putting it on the ground just 24.1% of the time. That's a stark reversal of his career rates of 33.6% flies and 44.4% grounders. As Eno Sarris of Fangraphs explored this spring in a remarkably prescient piece, it's part of a dedicated plan.
We'll obviously need to see how pitchers respond, and Alonso replies, before making any final assessments. But the early returns are obviously quite promising. And it's fair to say that the opposition has taken notice. Remarkably, Alonso is seeing first-pitch strikes at only a 44.8% clip — a precipitous dive from his 58.7% career rate.
Alonso has accomplished the breakout not by swinging more, but by swinging more aggressively. In fact, he's currently carrying a career-low 42.4% swing rate while chasing out of the zone at a career-low 23.5% rate. But he's swinging through pitches 9.0% of the time, a fair bit above his typical levels (7.9%), which has led to the bump in strikeouts. Obviously, though, the contact has been much better when he does make it. Alonso's exit velocity is over 91 mph, comfortably above league average, and his launch angle of 22.10 degrees is nearly double that of the field (12.89 degrees).
So, what's it all mean? As noted already, Alonso will need to demonstrate that this is sustainable, even as the league adjusts. And there'll surely be some regression, as his current 26.7% homer-per-flyball ratio likely will dip. (For his career, it's just 8.1%.) There's also the question of platoon splits. Alonso has historically struggled badly against left-handed pitching, with a lifetime .240/.307/.353 batting line. He has popped three dingers off of opposing southpaws thus far, but has only one other hit to go with two walks in his 23 plate appearances without the platoon advantage. And metrics have continued to see a decline in Alonso's once-excellent defensive work at first. Still, his profile has clearly changed for the better, and that also means he's now looking at bigger earnings when he hits the open market after the season.
It's way too soon to put hard numbers down for contract expectations. And it's worth bearing in mind that many accomplished sluggers failed to find the money they expected last winter, so the upside is perhaps limited. Despite swatting 47 home runs, Mark Trumbo took down just three years and $37.5MM, while even Edwin Encarnacion couldn't find a fourth year. There'll be competition next year, too, with more established sluggers like J.D. Martinez, Carlos Gonzalez, Jay Bruce, Todd Frazier, Carlos Santana, and perhaps Justin Upton also slated to hit the open market. At first base, Alonso will need to contend with Eric Hosmer, as well. It's perhaps also now conceivable that Alonso could do enough damage that he's worthy of a qualifying offer — though that possibility could well be foreclosed by a mid-season trade.
Alonso only just turned 30 years of age, so his representatives at MVP Sports can rightly tout that he's a relatively youthful free agent. And that list of free-agent competitors hasn't exactly gotten off to a compelling start, as a whole. If Alonso can stay healthy and productive, he could find himself among the top bats available next winter. He has already turned the A's $4MM investment into a bargain, and that could look like a pittance when he signs his next contract. As things stand, it seems reasonable to believe that Alonso could command a three or four-year guarantee when he puts pen to paper next winter.
Photo courtesy of USA Today Sports Images.