6:16pm: Kansas City will pay for Wood both this year and next, per Dennis Lin of the San Diego Union-Tribune (via Twitter). The buyout will be split in half if it is paid, MLB.com's AJ Cassavell adds on Twitter.
5:24pm: The Royals have announced an interesting trade with the Padres involving a whole host of pitchers, as Robert Murray of Fan Rag has first reported on Twitter. Kansas City will add starter Trevor Cahill, righty reliever Brandon Maurer, and southpaw Ryan Buchter. In exchange, the Pads will pick up southpaws Matt Strahm and Travis Wood along with infield prospect Esteury Ruiz.
For Kansas City, the move represents an effort to bolster the team's pitching staff down the stretch — and confirms that the club isn't planning on dealing away its pending free agents before the deadline. The Royals designated Al Alburquerque and Luke Farrell to open roster space, while lefty Brian Flynn was recalled to the active roster while the team awaits its new hurlers.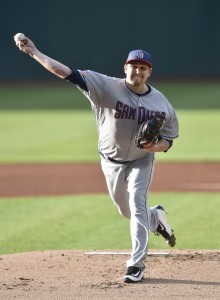 The rotation was clearly in need of improvement, and Cahill has tantalized this year with a career-high 12.8% swinging-strike rate while working exclusively from the rotation. While he has thrown just 61 innings over 11 starts, owing to a DL stint for a shoulder injury, Cahill owns a 3.69 ERA with 10.6 K/9 against 3.5 BB/9 along with an excellent 56.8% groundball rate.
Whether Cahill can maintain that kind of production down the stretch is anyone's guess. But with relatively few appealing rental starters available, there weren't many other places to turn. And Cahill is making just $1.75MM on the year, so he's as affordable as rental players come.
Both of the Royals' new bullpen pieces are also affordable — and, in their cases, controllable. Maurer, 27, is earning $1.9MM this year with two more arb campaigns yet to go. While the results haven't been there for him in some time, he is carrying impressive peripherals this year (8.7 K/9 against 1.8 BB/9) to go with his upper-nineties fastball.
Buchter is arguably the most valuable asset going to K.C. He is already thirty years old, but can be controlled all the way through 2021. The southpaw carries a 2.93 ERA since landing in San Diego, with 11.1 K/9 on the basis of a swinging-strike rate that's up to 11.1% this year. While he issues too many walks (4.4 BB/9 overall) and has been a bit homer-prone (1.64 per nine) this year, Buchter looks to be a quality pen piece at a bargain price.
On the other side of the ledger, the Friars have evidently gotten an early start on their winter shopping by adding Wood. Like Cahill (along with current Padre southpaw Clayton Richard), Wood is a recent Cubs hurler who can work out of the rotation or the pen. The results haven't been there this year — he carries a 6.91 ERA with 6.3 K/9 and 4.3 BB/9 — but there's some obvious bounceback potential. While Wood's contract ($4MM this year, $6.5MM next, and a $1MM buyout on a $8MM mutual option for the 2019 season) was under water, Kansas City will be picking up the tab through the end of 2018.
Clearly, then, the focus for San Diego was on the other two players added today. Strahm is out for the year after surgery for a torn patellar tendon and didn't produce great results this year when healthy, but he was generally viewed as the Royals' top prospect entering the season. The Padres have shown a willingness to take on injury risks in the past, and probably aren't overly concerned with Strahm's knee injury. He could open the 2018 season in the rotation or be utilized as a replacement for Buchter in the bullpen.
And then there's the true wild card, the 18-year-old Ruiz, whose inclusion perhaps best explains this swap from the Padres' perspective. As Ben Badler of Baseball America wrote earlier this year (subscription required and recommended), the middle infield has shown flashes of real potential of late, blossoming after his unheralded international signing. He has mashed in the Arizona League in 2017, slashing .419/.440/.779 (albeit with twenty strikeouts and just four walks) over 91 plate appearances.
Photo courtesy of USA Today Sports Images.