With the 2017 Major League Baseball season three-quarters of the way over, we've seen no shortage of rookies* burst on the scene as potential long-term building blocks for their respective teams. Here, we'll take a look at those who have enjoyed the finest introductions to the big leagues thus far.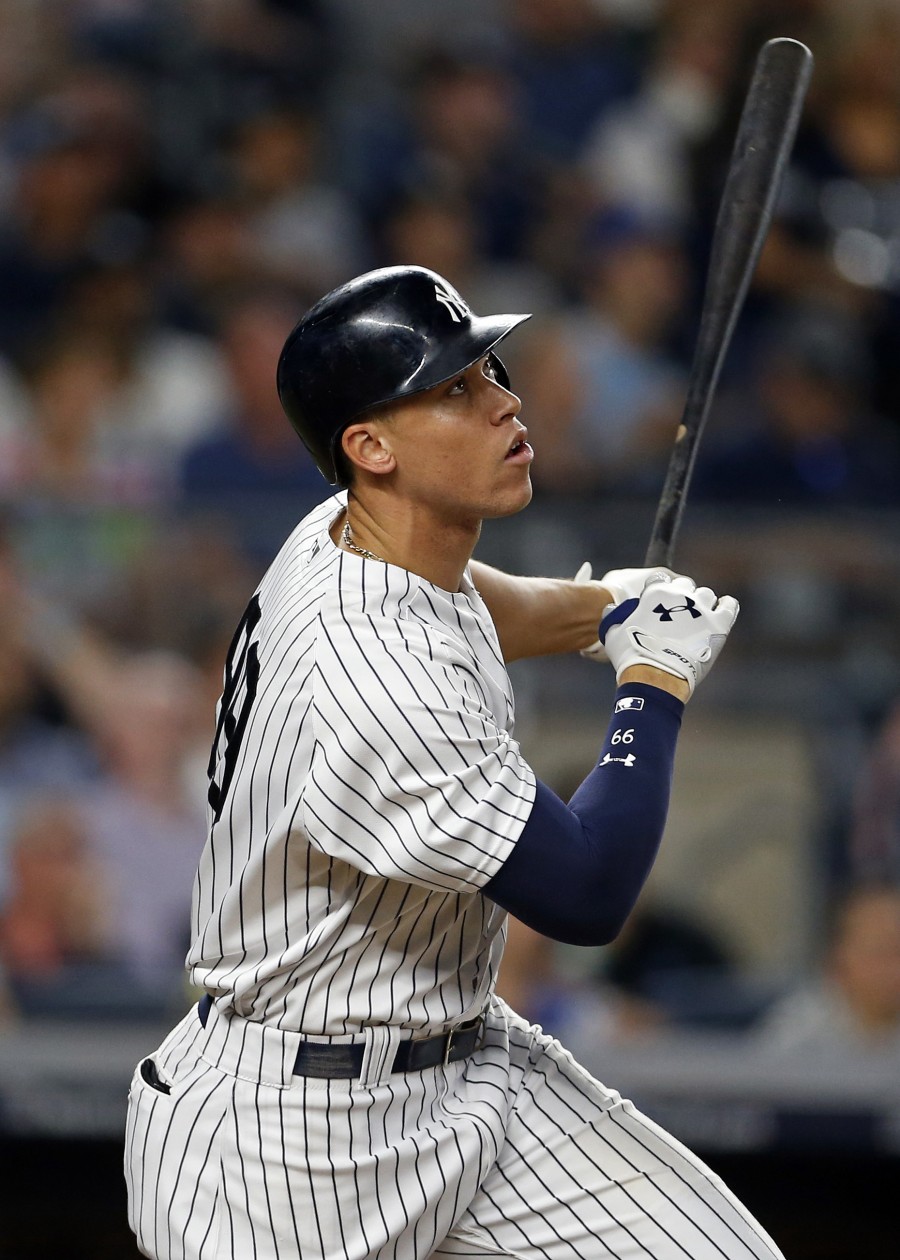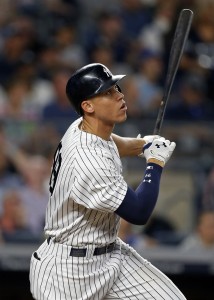 1.) Aaron Judge, RF, Yankees: All rise for the American League home run leader (37) and the shoo-in AL Rookie of the Year winner. While the 25-year-old Judge has batted just .185/.346/.398 since the All-Star break and done significant damage to his MVP hopes in the process, the overall production this season has been awe-inspiring. After a rough, strikeout-laden debut in 2016, Judge has rebounded this season to slash a magnificent .291/.420/.614 in 502 plate appearances. Strikeouts remain a problem, though his 31.5 percent rate isn't crippling when you pair it with the majors' second-best walk rate (17.5). When Judge has made contact, he has punished the ball. The 6-foot-7, 275-pound monster ranks fourth in the game in isolated power (.323), and his expected weighted on-base average (.432) is right in line with his actual wOBA (.437, via Statcast and Baseball Savant).
While offensive brilliance has put Judge on the map, the advanced defensive metrics have thought enough of his work in right field to help give him a 6.2 fWAR – which ties him with Jose Altuve for first among all position players. Judge, Altuve and others will spend the next month and a half continuing to vie for the AL MVP, but the newest face of the Yankees has top rookie honors sewn up.
2.) Cody Bellinger, 1B/OF, Dodgers: Just as Judge has lapped the AL rookie field, Bellinger has emerged as the Secretariat of the NL race. Bellinger hasn't quite matched his AL counterpart's production, but the numbers have still been absolutely remarkable – especially considering he just turned 22 last month and didn't debut until the end of April. The lefty-swinging Dodger has belted nearly as many homers as Judge (34) in 90 fewer PAs (412), posted a .277/.357/.621 line and logged the majors' third-best ISO (.343, behind only Joey Votto and Giancarlo Stanton). In the process, Bellinger has given the dream team known as the Dodgers yet another star to build around for the long haul. He's a lock to follow teammate Corey Seager as the club's second consecutive NL ROY winner.
3.) Paul DeJong, SS, Cardinals: This is the second straight year in which a Cardinals shortstop has served as one of baseball's most productive rookies. It was Aledmys Diaz in 2016, but his breakout hasn't stuck, and he's currently amid a woeful Triple-A season after beginning the year poorly in the majors. DeJong, 24, may not follow that path in 2018 – he and the Cardinals hope not, anyway – but a 30.9 strikeout rate against a paltry 3.7 percent walk means he's carrying the second-worst BB/K ratio (.12) among hitters with at least 200 PAs. That will have to change if DeJong's going to be a viable major league regular for the long haul. In the meantime, give DeJong credit for a .300/.327/.576 batting line through 269 trips to the plate. And even though DeJong didn't reach the majors until the end of May, he trails only Judge and Bellinger among rookies in homers (18). He also tops all league shortstops in ISO (.276).
Between the offensive output and his plus defense, DeJong has accounted for 2.1 fWAR – putting him just in front of a prominent fellow shortstop, Boston's Xander Bogaerts, who has been worth 2.0 fWAR in 220 more PAs. Whether DeJong can keep this up is highly debatable, but it's inarguable that the 24-year-old's work this season has helped the Redbirds stay in the playoff hunt.
4.) Austin Barnes, C/2B, Dodgers: The Dodgers are 85-34, so it's not particularly surprising that they're loaded with outstanding players. Barnes has flown under the radar, though – perhaps because he's a 27-year-old rookie who has only amassed 180 PAs this season (after logging 37 apiece in the prior two seasons). The former Marlins prospect has taken advantage of his limited playing time, however, having hit a marvelous .293/.411/.513 with six homers and a .220 ISO. Barnes has combined that quality power with elite-level plate discipline, evidenced primarily by the fact that he has nearly as many walks (27) as strikeouts (30). League-average walk and strikeout rates sit at 8.5 percent and 21.6 percent, respectively, and Barnes is comfortably above the mean in each category (15.0 and 16.7). He also happens to own an even higher xwOBA than Bellinger (.379 to .372). It's worth pointing out, too, that Baseball Prospectus regards Barnes as one of the majors' preeminent pitch-framing backstops. The hype may not be there for Barnes, yet he's clearly among the reasons the Dodgers are able to form Voltron on what seems like a nightly basis.
5.) German Marquez, SP, Rockies: As we've seen time and again, pitching in Colorado is no easy task. The 22-year-old Marquez has handled Coors Field with aplomb, though, and managed a 4.13 ERA with 8.5 K/9, 2.94 BB/9 and a 41.6 percent ground-ball rate across 113 1/3 innings in his rookie campaign. The run prevention isn't eye-popping, but the hard-throwing right-hander's 3.79 FIP, .319 wOBA/.312 xwOBA allowed and 2.5 fWAR all jump off the page. In a year in which the potentially playoff-bound Rockies have seen three other rookie starters eat up innings (Kyle Freeland, Antonio Senzatela and Jeff Hoffman), Marquez has stood out the most among their new class of hurlers.
6.) Jordan Montgomery, SP, Yankees: The left-handed Montgomery has registered strikingly similar numbers to Marquez (3.94 ERA, 3.92 FIP, 8.55 K/9, 2.83 BB/9, 41.1 percent-grounder, .301 wOBA/.297 xwOBA against, 2.3 fWAR) through 121 frames. While extra credit goes to Marquez for surviving Colorado so far, Montgomery doesn't exactly call a pitcher-friendly venue home.
7.) Trey Mancini, OF/1B, Orioles: In a season without Judge, it's possible Mancini's offensive output would make him the AL ROY front-runner. The 25-year-old has smashed 21 HRs, trailing only Judge, Bellinger and Matt Davidson among first-year pros, and has put together an appealing overall line (.290/.341/.517 in 411 PAs, with a .227 ISO). Granted, there are some red flags – including a subpar BB/K ratio (.25; league average is .39), a .342 batting average on balls in play that won't hold and a decent-sized wOBA/xwOBA gap (.368 to .341).
8.) Andrew Benintendi, LF, Red Sox: Benintendi hasn't been a force of nature this year like Judge or Bellinger, but it's even more obvious than it was at the beginning of the season that he's a long-term keeper for the Red Sox. Thanks in part to his three-homer series against Judge and the Yankees last weekend, the 23-year-old Benintendi has racked up 17 long balls, which ranks fourth among rookies. He also leads first-year men in stolen bases (14) and sits fourth in on-base percentage (.361).
9.) Matt Chapman, 3B, Athletics: Chapman, like Barnes, hasn't seen a ton of big league action this year, having walked to the plate only 166 times. But the production is also very difficult to ignore in Chapman's case. The 24-year-old has already been worth 1.4 fWAR since his mid-June promotion, thanks largely to otherworldly glove work. Chapman has recorded an extremely impressive 13 Defensive Runs Saved, which trails only Nolan Arenado and Jedd Gyorko among those manning the hot corner, to accompany a third basemen-leading UZR/150 (22.0). As Dave Cameron of FanGraphs wrote last week, that type of world-class defense plus Chapman's brand of acceptable offense (.230/.301/.514) would make him a star-level contributor for the long term. Of course, whether Chapman can continue hitting at this type of clip is somewhat in question. Chapman's strikeout rate (33.7 percent) drowns out a passable walk rate (9.0 percent), and his .301 xwOBA pales in comparison to his .343 wOBA.
10.) Chad Green, RP, Yankees: Rounding out the list is a third Yankee, Green, who may get lost in the shuffle as part of a bullpen that features Aroldis Chapman, Dellin Betances, David Robertson, Tommy Kahnle and Adam Warren. And yet the 26-year-old Green has stood on his own as one of the premier relievers in baseball this season. Through 48 2/3 innings out of the bullpen, the former starter places seventh among relievers in ERA (1.66), fifth in strikeout percentage (40.1) and fourth in strikeout-walk percentage (33.3). The only other relievers who rank top seven in each of those categories are Craig Kimbrel and Kenley Jansen. Decent company.
*For determining rookie status, we're looking at players with less than 130 plate appearances or 50 innings pitched entering the season.
Photo courtesy of USA Today Sports Images.