Click here to read previous entries in MLBTR's Three Needs series.
Despite another losing season, the rebuilding Padres have been better than most would've expected in 2017. At worst, they'll lose 92 games — they sit at 70-89 heading into a weekend series against the last-place Giants — and they're only four games under .500 since May 20th. The tone was set last offseason when the team signed four veteran pitchers — Trevor Cahill, Jhoulys Chacin, Clayton Richard and Craig Stammen — who went on to produce well beyond the $6.15MM it cost the team to sign each to a one-year contract.
Chacin and Richard have been positive clubhouse influences on a young team and combined for 63 starts.  (Chacin is scheduled to make his 32nd start of the season on Saturday and will likely push the duo over 375 innings on the season)  Cahill was on the disabled list twice, but he was very effective in his 11 starts as a Padre and ended up being part of a six-player pre-deadline trade with the Royals that netted San Diego a high-upside pitching prospect and one of the best hitters in the Arizona Rookie League. Stammen, who missed most of 2015 and all of 2016 due to injuries, came back strong with a 3.06 ERA in 59 appearances.
This offseason, expect the Padres to try this same strategy of adding inexpensive pitchers who can eat innings and possibly be flipped prior to the trade deadline.  The club could have some money to spend after clearing most of their payroll during the rebuild and they also have plenty of trade chips, both in the farm system and with an abundance of second/third base and outfield candidates.
[Related: San Diego Padres Depth Chart and Payroll Outlook]
1. Add two starting pitchers—one who can be penciled into the top of the rotation.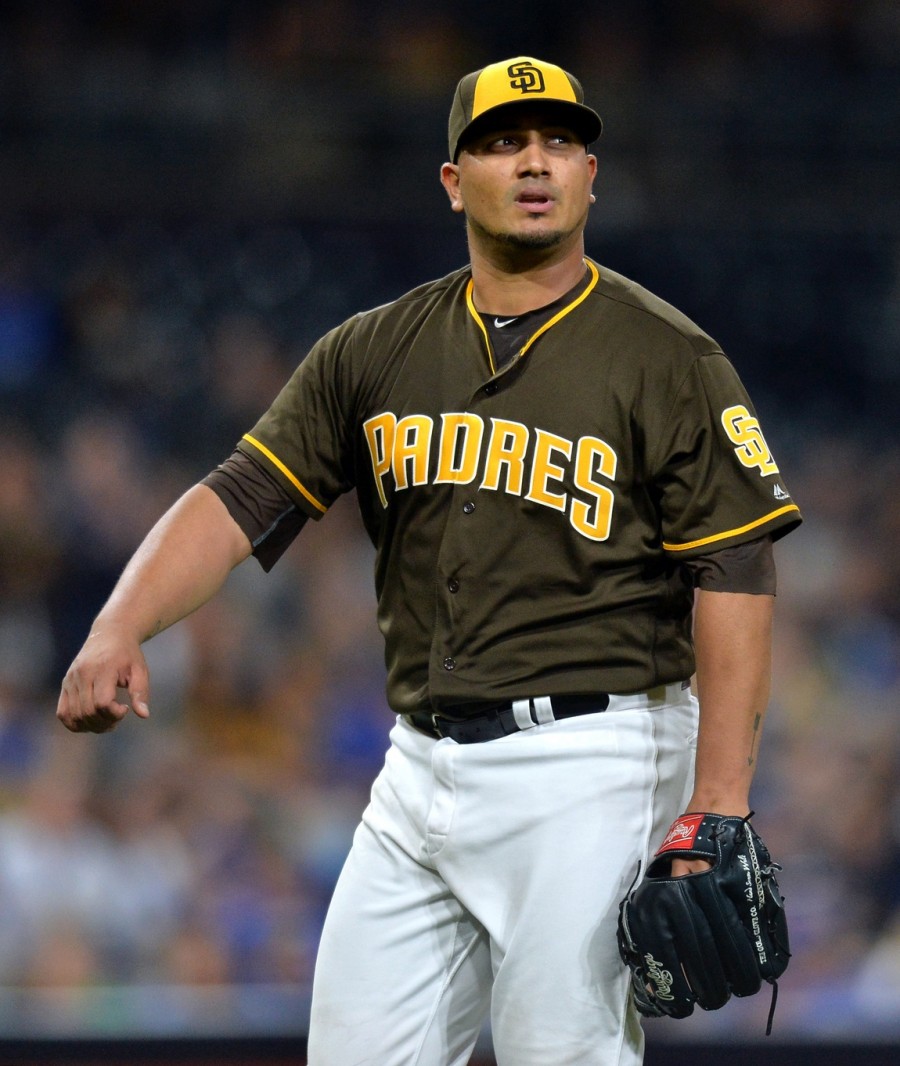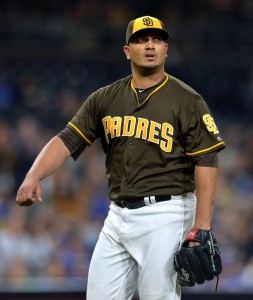 Richard has already been re-signed to an extension that runs through the 2019 season.  Dinelson Lamet and Luis Perdomo will come to camp with an edge over a long list of rotation candidates that will include Travis Wood, Matt Strahm, and several others who missed the 2017 season due to injury, including Robbie Erlin, Christian Friedrich and Colin Rea. Adding a few veterans to the mix should be a priority, with at least one that can be penciled into the front of the rotation.
Re-signing Chacin (pictured) would make a lot of sense, considering that he has been one of the better pitchers at home in 2017 (9-3, 1.79 ERA, 5.4 H/9). The 29-year-old might have priced himself out of San Diego, however, and could command a deal that is well above what the Padres are willing to offer at this point. Cahill, considering how well he pitched with the Padres when healthy, would presumably welcome a return to his hometown Padres.
While Petco Park is no longer considered an extreme pitcher-friendly ballpark, pitchers who are looking for an opportunity to rebuild their value are still likely to place San Diego high on their list of potential destinations.  Several hurlers have "figured things out" under Darren Balsley's tutelage, which is why he's been the team's pitching coach for 15 seasons and counting. Clay Buchholz, Derek Holland, Ubaldo Jimenez and former Padres ace Tyson Ross could all be on the team's radar as inexpensive bounce-back candidates.
2. Find a stop-gap shortstop who is better than Erick Aybar, Alexei Ramirez and Clint Barmes. 
Filling the shortstop void has been a recurring offseason priority for this team since they traded away Khalil Greene following the 2008 season. Everth Cabrera was an NL All-Star in 2013, but he was never able to lock down the job because of inconsistency, injuries and off-the-field troubles. Thus, the team has continued to kick the can down the road in hopes that someone would eventually come along and solidify the position, which simply hasn't happened.  Short-term answers like Aybar, Ramirez and Barmes have not produced, and no prospects have emerged as the clear shortstop of the future…until now, which makes this offseason slightly different.
Whoever is written into the lineup card as the starting shortstop on Opening Day 2018 will be keeping the spot warm for highly-regarded 18-year-old prospect Fernando Tatis Jr., who some evaluators believe could reach the big leagues by 2019. Alcides Escobar, Danny Espinosa and J.J. Hardy, all coming off of bad offensive seasons, will likely be in the mix for one-year deals. The trade market for shortstops doesn't appear to offer many options, but the Rays' Adeiny Hechavarria, under contract through 2018, would be a possibility while the Rangers' Jurickson Profar would fill the team's need for at least the next two seasons—he does not appear to have accrued enough MLB service time in 2017 to reach four years—while Tatis continues to develop in the upper minors.  (Though Profar, himself not far removed from being the game's top prospect, could be seen as a long-term asset at another position.)
Corrections: Hechavarria is under contract through 2018. The article had initially stated that was under contract through 2019. Profar appears to have fallen short of 4.000 years of MLB service time, which keeps him under club control through 2020 instead of 2019.
3. Acquire a late-inning reliever who can step in as the closer if Brad Hand is traded.
With Stammen headed for free agency and Brandon Maurer and Ryan Buchter dealt to Kansas City at midseason, the Padres will likely be shopping around for late-inning bullpen help. They also have to plan around a potential trade of Hand, who received a lot of interest at the deadline.
General manager A.J. Preller held on to Hand since, presumably, teams were unwilling to meet his high asking price, and Preller isn't likely to lower that price this offseason.  If anything, Hand's value increased after he posted a 2.22 ERA with 18 saves, six walks and 38 strikeouts in 28.1 IP after taking over as the closer in late July. With only two years of club control remaining, the 27-year-old lefty has more value with a playoff contender in 2018. In other words, there is still a high probability that Hand is traded this winter and the Padres will have a new closer heading into the season.
Kirby Yates and Phil Maton would be the top internal candidates to close if Hand is dealt. If San Diego was to add a third option with closing experience from the free agent market, Matt Belisle, Tyler Clippard, Bud Norris and Huston Street would fit the bill. Brandon Morrow, who pitched for the Padres in 2015 and 2016, would be an intriguing option to return. An impressive, injury-free season with the Dodgers, however, means that he'll likely have plenty of interest around the league.
Photo courtesy of USA Today Sports Images