MLBTR is publishing Offseason Outlooks for all 30 teams.  Click here for the other entries in this series.
With the No. 1 pick in next year's draft locked up following an aggressive summer fire sale, the Tigers are set for an offseason unlike any Detroit has seen in the past decade — one of a rebuilding team looking toward the future rather than looking toward next season's playoff race.
Guaranteed Contracts
Arbitration-Eligible Players (projections via MLBTR contributor Matt Swartz)
Option Decisions
Other Financial Obligations
Free Agents
[Detroit Tigers Depth Chart | Detroit Tigers Payroll Outlook]
One calendar year ago, the question facing the Tigers was whether they'd embark on a rebuild or whether they'd take aim at contending with an aging core one more time. The trade of Cameron Maybin on the first day of the 2016-17 offseason pointed toward the former of those two options, but it wasn't until this past July that the Tigers emphatically made their organizational overhaul a reality. From July 18 through Aug. 31, Detroit traded the likes of J.D. Martinez, Justin Wilson, Alex Avila, Justin Upton and franchise icon Justin Verlander for young players and salary relief.
Ian Kinsler, Miguel Cabrera and Victor Martinez are the remaining core pieces of the Tigers' most recent AL Central title in 2014, but that's not likely to be the case for long. While Cabrera's albatross contract, significant dip in productivity and pair of herniated disks in his back make him an immovable trade asset, Kinsler will enter the offseason as perhaps the likeliest player in all of baseball to be traded. While he had a down year at the plate, the 35-year-old is affordable in 2018, plays premium defense at second base and brings a wealth of postseason experience to hopeful contenders.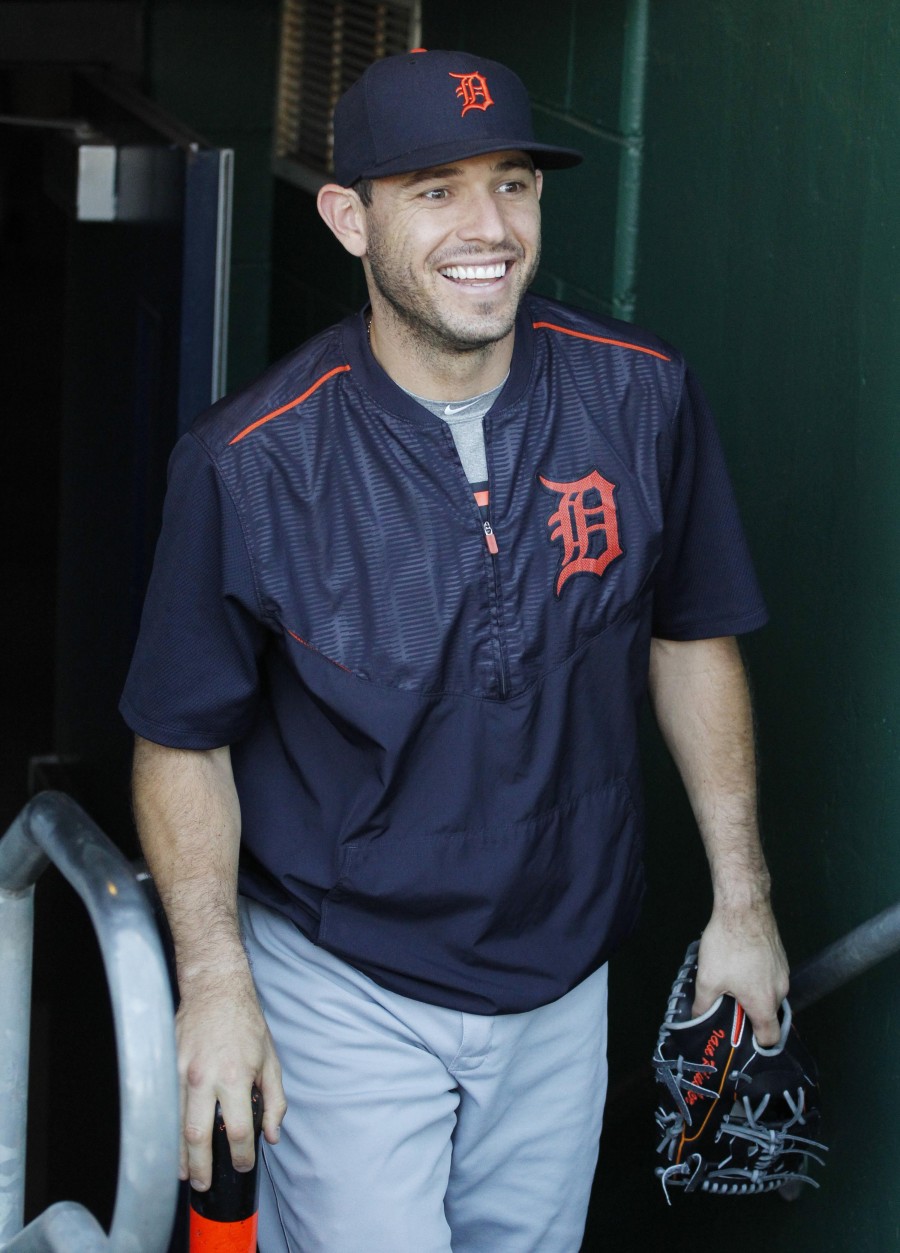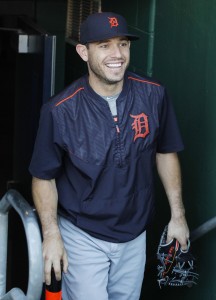 The Angels and Brewers both reportedly had interest in him prior to the non-waiver deadline, and neither is especially settled at second base at present. Other speculative fits include the Blue Jays, Dodgers and Mets. Regardless of the destination, Kinsler seems likely to move for some younger pieces. While the Tigers would love to trade Jordan Zimmermann and Victor Martinez to clear payroll and make room for younger options, both of those contracts seem entirely immovable. Martinez may even simply be a release candidate, per Evan Woodbery of MLive.com.
Aside from Kinsler, the Tigers still possess a few intriguing trade options. Nicholas Castellanos showed interesting power and some upside in his batted-ball profile, but his defense was a disaster both at third base and especially in right field. With a fairly sizable bump in his salary projected, some clubs may not see that much surplus value; certainly a contending team would have reservations about plugging him into third base or right field, though perhaps a team like the Braves that is more on the fringes and still hunting for upside would roll the dice.
Other candidates to be moved include Jose Iglesias and breakout reliever Shane Greene. Iglesias only has a year to go on his deal and hasn't hit much in the past two seasons, but he's an affordable superlative defender at a premium position. Contenders in need of infield defense should at least kick the tires. There's no rush to move Greene, who finished the year as the closer in Detroit, but controllable relief arms are always of interest on the trade market. Greene posted a 2.66 ERA with 9.7 K/9 and a 47.4 percent ground-ball rate in 67 2/3 innings this season, but teams may be wary of his 4.52 BB/9 rate and an 8.6 percent swinging-strike rate that doesn't gel with his more impressive K/9 mark. He's a lock to be tendered and could be shopped next summer if he's not moved in the offseason.
One name that fans of other teams will dream on is 2016 Rookie of the Year Michael Fulmer, whose name was frequently speculated upon prior to the non-waiver trade deadline. However, a trade of Fulmer strikes me as decidedly unlikely for a number of reasons, with last month's elbow surgery chief among them. Impressive as Fulmer's first two seasons were, teams are going to be reluctant to give maximum value for a player that hasn't taken the mound since undergoing surgery to reposition his ulnar nerve.
Beyond that, Fulmer is controllable for five more seasons and won't even reach arbitration eligibility until next winter. The Tigers shouldn't feel any urgent rush to take the best offer currently presented, and three months of a healthy Fulmer would significantly up his trade stock for next summer's trading season. Make no mistake about it, Fulmer's name will pop up on the rumor circuit this winter, but it seems difficult to envision the Tigers and another club reaching the nexus of "fair value" in Detroit's eyes and a slightly discounted return from a team that will feel it is taking on at least some degree of injury risk.
Turning to what the Tigers could look to actually acquire this offseason, the team is set at a variety of positions. Jeimer Candelario, who came to the Tigers in the return for Wilson and Avila, will get every opportunity to cement himself as a slugging third baseman and one of the future faces of the franchise in 2018. Cabrera will return at first base or designated hitter (depending on what's done with Martinez), and the club seems likely to go with James McCann and John Hicks again behind the plate rather than invest dollars or prospects in acquiring a new catcher.
Mikie Mahtook performed well enough in center field to earn another look next year, and the team could play Castellanos in the outfield if he's retained. Still, the Tigers ran out a rather uninspiring group of corner options this winter, so they could look at their unsettled corner situation as a means of catching lightning in a bottle as they did with they signed J.D. Martinez in the first place. Certainly, that's easier said than done, but looking to the trade market for blocked outfielders (the Cardinals, for instance, have a surplus there) or adding a once-well-regarded player with some youth seem like a better avenue than a veteran stopgap in the Seth Smith or Melky Cabrera mold. Alternatively, the corner outfield opening represents a reasonable spot for the Tigers to take aim with the top pick in this December's Rule 5 Draft.
Overall, the group of position players leaves some clear and obvious holes: at least one corner outfielder will need to be brought into the mix, and the Tigers look like a team that will eventually acquire some affordable up-the-middle stopgaps in the infield. Dixon Machado could be called upon to man shortstop in the event of an Iglesias trade, but given his lack of track record, at least one infielder (possibly two) that can play shortstop and second base with a bit more offensive upside than Andrew Romine would prove to be useful pursuits. The free-agent market is admittedly somewhat barren, though myriad trade opportunities will present themselves, with Jurickson Profar and Aledmys Diaz among the controllable infield candidates to change hands this winter.
Turning to the pitching staff, Detroit will have Fulmer, Zimmermann, Daniel Norris and Matt Boyd all returning in 2018 (barring trades), but finding a veteran to step into the fifth slot in hopes of eating some innings and eventually turning into a summer trade piece seems prudent. The Tigers could play it safe and look for a fairly reliable source of innings with limited upside (e.g. Ricky Nolasco, Miguel Gonzalez), but they'd be better served to pursue a more boom-or-bust option that could bring back more in a trade (e.g. Chris Tillman). They're also one of several non-contending teams that could promise righty Miles Mikolas a rotation spot as he looks to return from a strong run in Japan — a move that won't come with excessive financial risk but could produce a useful trade chip. We haven't seen this team in this position before, though, so it's tough to predict exactly which avenue(s) the front office will pursue in rounding out the rotation.
The Tigers' bullpen is an even larger question mark. Greene is currently the closer, and it's safe to expect Alex Wilson and probably Daniel Stumpf to return. But Bruce Rondon and Blaine Hardy are likely non-tenders. Drew VerHagen is out of options and could be an offseason 40-man casualty. Top prospect Joe Jimenez looked wildly overmatched in his first season of MLB experience, but he'll get another crack at some point in 2018. That said, the Tigers have room to add multiple free-agent relievers, and while they'll probably cast a wide net in adding several rebound candidates on minor league deals, it'd be a surprise if they didn't bring in at least one arm on a big league deal.
Detroit won't, and shouldn't, pay top dollar for any bullpen upgrades, but their complete lack of certainty among the relief corps should give Avila and his staff the ability to be opportunistic late in the winter. With the Tigers unlikely to spend too heavily elsewhere, they could snatch up a few of the relievers who see their markets fall out from underneath them and take lower-than-expected deals in January and February. As with whoever the Tigers settle on for a fifth starter, those free-agent relief acquisitions could very well become trade commodities down the line. If not, they're unlikely to be expensive and can be cut loose to give opportunities to younger arms.
A year ago at this time, my outlook on the Tigers' offseason focused on how they could trim payroll while still keeping enough pieces around to contend in 2017. That approach won't be necessary this winter, and it shouldn't be a surprise to hear virtually anyone on the Tigers' active roster surface in trade talks over the next five-plus months. Moves that we haven't typically associated with the Tigers in the past, such as selecting one or more players in the Rule 5 Draft, buying low on rebound candidates in free agency and trading for change-of-scenery candidates (as they successfully did with Mahtook last offseason) could all be on the table this time around.
It's a new era in Detroit as the team gears toward a youth movement with the top picks in both the Rule 5 Draft and next June's amateur draft. The Tigers have already cut the sum of their guaranteed contracts owed in 2018 from $138.1MM this time last year to $97MM at present (not including projected arbitration salaries). That number figures to dip further if and when Kinsler is traded, but that should be just one of many moves in an active offseason for Avila and his staff.
Photo courtesy of USA Today Sports Images.