MLBTR is publishing Offseason Outlooks for all 30 teams.  Click here for the other entries in this series.
The Pirates stumbled in 2017, but can bring back much the same core group of talent that was expected to support a contender.
Guaranteed Contracts
Contract Options
Arbitration-Eligible Players (service time in parentheses; projections via MLBTR & Matt Swartz)
Free Agents
[Pirates Depth Chart; Pirates Payroll Information]
The spending complaints constantly nagging Pirates owner Bob Nutting are unlikely ever really to go away. They reached new heights in a disappointing 2017 campaign, amidst a few eyebrow raising decisions, and will once again feature over the winter.
That said, the Pittsburgh franchise's well-established financial approach gives us a pretty clear idea of what it has to work with in the offseason to come. The Bucs have not yet topped $100MM in Opening Day salaries, landing just shy of that figure in each of the past two seasons. In all likelihood, that'll be the general target for 2018.
If that's the case, GM Neal Huntington — who was extended along with skipper Clint Hurdle at the end of the season — is going to have to get creative to bring in any significant outside additions. With around $60MM in guaranteed money, $20MM in expected arbitration commitments, and $14.5MM to pick up Andrew McCutchen's option, the team is already pushing last year's Opening Day payroll without accounting for the rest of the roster.
Of course, it may be that the Pirates won't pursue any major changes in their roster composition. And the team surely feels it already made some allotments for 2018 and beyond with the midseason additions of Sean Rodriguez and George Kontos.
But that's not to say there aren't any areas in need of improvement, or paths to changing the team's composition. As ever, the chief question is utterly simple and endlessly complex: will this be the stage when the Pirates finally trade their franchise icon?
Dealing McCutchen would remove a key player and major gate draw. It could well stir up a hornet's nest of controversy. But it also represents a potential opportunity to open significant payroll space and acquire quality young talent in one fell swoop.
Cutch only just turned 31 years of age. While he's clearly no longer the mega-star he once was, he also just wrapped up a strong season in which he put to rest some of the worst fears after a tepid 2016. McCutchen slashed .279/.363/.486 and launched 28 long balls while playing in over 150 games for the seventh time in eight seasons. He did not exactly excel defensively after moving back to center field, but did improve in the eyes of Defensive Runs Saved and Ultimate Zone Rating. Most rivals would likely consider him a target to fill a corner spot.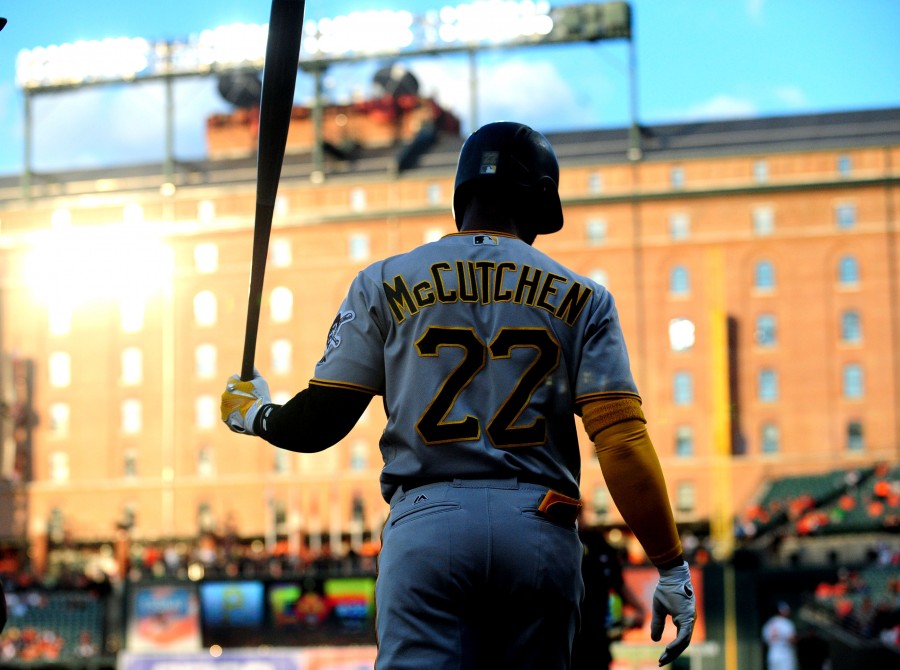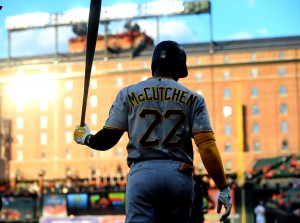 It's as difficult as ever to guess at McCutchen's value. He's a pure rental now, so it can only be so great. But the appeal is obvious, too: he's not that old, is a highly respected player with a huge established ceiling, and represents a short-term alternative to an always-risky foray into the long-term contracts of the open market. Huntington & Co. will need to ponder whether there's a particular combination of cost savings and assets received that will improve the team's long-term outlook without harming the immediate product too badly. A return centered on lower-level prospects might offer the greatest future value, but could be a difficult move to make with the Pirates having some compelling young talent already playing at the major league level.
If the Pirates seriously consider moving McCutchen, that'd open questions about the outfield mix. Austin Meadows has yet to force his way into the MLB mix, though perhaps the club will anticipate a mid-season arrival from him. Jose Osuna will likely continue to factor, though he'll need to improve, and the presence of versatile players such as Rodriguez and Adam Frazier will help with a hypothetical transition. Still, it stands to reason that the team would look to add another outfield piece, if not in the deal itself then through a value-seeking free-agent signing.
Otherwise, the position-player mix could largely carry forward in its present state. There could be some excess infielders if Jung Ho Kang finds his way back, though there's no expectation of that as of yet. Even if he doesn't, there's loads of upper-level depth, so the club could even entertain a deal involving Josh Harrison, though that would make for a tough sell and an unfortunate loss of versatility. Some fiddling with the bench is always possible, especially if the Pirates see an interesting name lingering on the open market as Spring Training nears. Mostly, though, the Pirates simply need to hope that Starling Marte and Gregory Polanco restore their trajectories; that Josh Bell expands upon a promising season; that Francisco Cervelli gets healthy; and that the variety of other pieces on hand combine to fill in the gaps.
If there's one obvious way to attempt to improve on the position-player side, though, it's likely at short. Jordy Mercer is no longer all that cheap and has not really delivered as a regular at the position in recent years. Pittsburgh could conceivably seek to take advantage of a lack of demand at the position to land Zack Cozart, though he comes with a spotty health record and will be more expensive (and over a longer term) than is Mercer. Buy-low trade targets with future control remaining include Jurickson Profar of the Rangers, Jonathan Villar of the Brewers, and Aledmys Diaz of the Cardinals, though the Pirates have their own rising talents in Kevin Newman and Cole Tucker and therefore might focus mostly on 2018. The Bucs could also conceivably serve as a landing spot for Jose Iglesias or Adeiny Hechavarria, though both figure to cost nearly as much as Mercer. Pittsburgh could instead seek greater value in free agency, which features a variety of veterans — J.J. Hardy and Alcides Escobar among them — that will likely end up settling for affordable deals.
Less likely, but also hypothetically plausible, would be a move to reduce costs behind the dish. The catching position is thin enough leaguewide that some other teams might be willing to take on Cervelli's contract, even though he has been a below-average offensive producer over the past two years and managed only 81 games in an injury-plagued 2017 season. The Bucs would have alternatives, including giving more time to Elias Diaz, picking up the cheap option over Chris Stewart, and signing one of the many veteran free agents that seem likely to settle for relatively marginal guarantees on short-term deals.
Beyond the ever-present Cutch question, though, perhaps the most intriguing trade possibilities surround righty Gerrit Cole. Though the 27-year-old power pitcher stumbled to a career-worst 4.26 ERA, due largely to a big jump in homers (31), he still carries an ace's arsenal and a history of quality results. Plus, Cole took the ball for 33 starts and 203 innings last year.
Outside interest will be robust, and could even be strong enough to pique the Pirates' interest, though moving Cole would arguably create an even tougher hole to patch than any such action regarding McCutchen. Pittsburgh's rotation produced more hand-wringing than its middle-of-the-pack performance might suggest, and there's plenty of talent in the mix, but there's also no question that removing Cole would slice away a good bit of the staff's upside and floor. Unless Huntington can engineer a slam-dunk deal to acquire a quality and controllable position player who'd step into everyday duties, it's tough to see how such a transaction could make sense for the Pirates (or any hypothetical trade partners).
Otherwise, the rotation seems likely to closely resemble its 2017 form. Ivan Nova continues to look like a strong value. Jameson Taillon will hope to line up his results with his peripherals after putting testicular cancer in the rear-view mirror. Chad Kuhl and Trevor Williams were each useful through over 150 frames in 2017; while their outlooks aren't crystal clear, both at least profile as affordable sources of innings. And there are other interesting arms pressing for longer looks. Tyler Glasnow leads a list that also includes Steven Brault and Nick Kingham. That's quite a lot of affordable and flexible (i.e., optionable) depth, even if most of the hurlers have yet to establish themselves fully (or at all) in the majors.
If the Pirates are to look for veteran pitching reclamation projects this winter, Tyler Chatwood has the features (velocity, groundball production) that has held appeal to the team in the past. But he will likely also draw attention from other organizations and will perhaps be more costly than the Pirates prefer given their existing slate of options. But there's no shortage of other notable players that will be looking for an opportunity — ranging from Chris Tillman to hurlers such as Hector Santiago, Tyson Ross, and Ubaldo Jimenez — and will likely be available for quite a bit less. Should the team find an appealing target at a good price, it's even possible that it could market one of its controllable starters to address another need.
Generally, though, the front office's focus could land more on finding relief arms than on bolstering the rotation. The Bucs oversaw the full emergence last year of Felipe Rivero, but otherwise face quite a few questions in the relief corps. Daniel Hudson will hope to improve in the second year of his deal. Kontos gives the team another established arm at a reasonable price. A.J. Schugel produced excellent results, though they outstripped his peripherals, while the club also worked in younger pitchers such as Johnny Barbato and Dovydas Neverauskas. Still, with late-inning stalwarts Juan Nicasio and Tony Watson now out of the picture, there's clearly room for additions. Just how much cash the Pirates have to dole out will no doubt depend upon how the team decides to proceed in the areas discussed above.
Fan scrutiny of the Pirates is plenty understandable. But those faithful to the Jolly Roger shouldn't lose hope prematurely, as there's still the makings of a quality core in place in Pittsburgh. While uncertainty still weighs on the club's 2018 outlook, it's also not difficult to imagine several paths to fielding a quality outfit once again.
Photo courtesy of USA Today Sports Images.