TUESDAY: The Cubs have announced the deal.
It breaks down as follows, per Bob Nightengale of USA Today (via Twitter): $25MM in 2018, $20MM in 2019, $22MM apiece in 2020 and 2021, $19MM in 2022, and $18MM in 2023. That allocation means that Darvish will face at least a four-year, $81MM decision (depending upon escalators) when his opt-out opportunity arises.
Per Nightengale, also, the full no-trade protection extends through the first four years of the contract.
SUNDAY, 4:05pm: Darvish has a full no-trade clause for part of the deal, then it switches to a 12-team list, per Jon Heyman of FanRag (Twitter link).

1:50pm: Darvish has the ability to block a trade to nearly every team, Bob Nightengale of USA Today tweets. Additionally, in any year of the contract, he could earn $2MM extra with a Cy Young Award or $1MM if he finishes second to fifth in the voting.
SATURDAY, 6:02pm: Darvish's opt-out comes after the 2019 season, Jeff Passan of Yahoo Sports tweets.
5:17pm: The Cubs and Yu Darvish have agreed to terms on a contract that will bring the righty to Chicago, Ken Rosenthal of The Athletic reports on Twitter. The deal guarantees the Wasserman client $126MM over six years (though the total value can reportedly reach $150MM via escalators), and is pending a physical. ESPN's Jerry Crasnick tweets that the contract also includes both an opt-out clause "earlier than three years into his contract" and no-trade protection (Twitter link).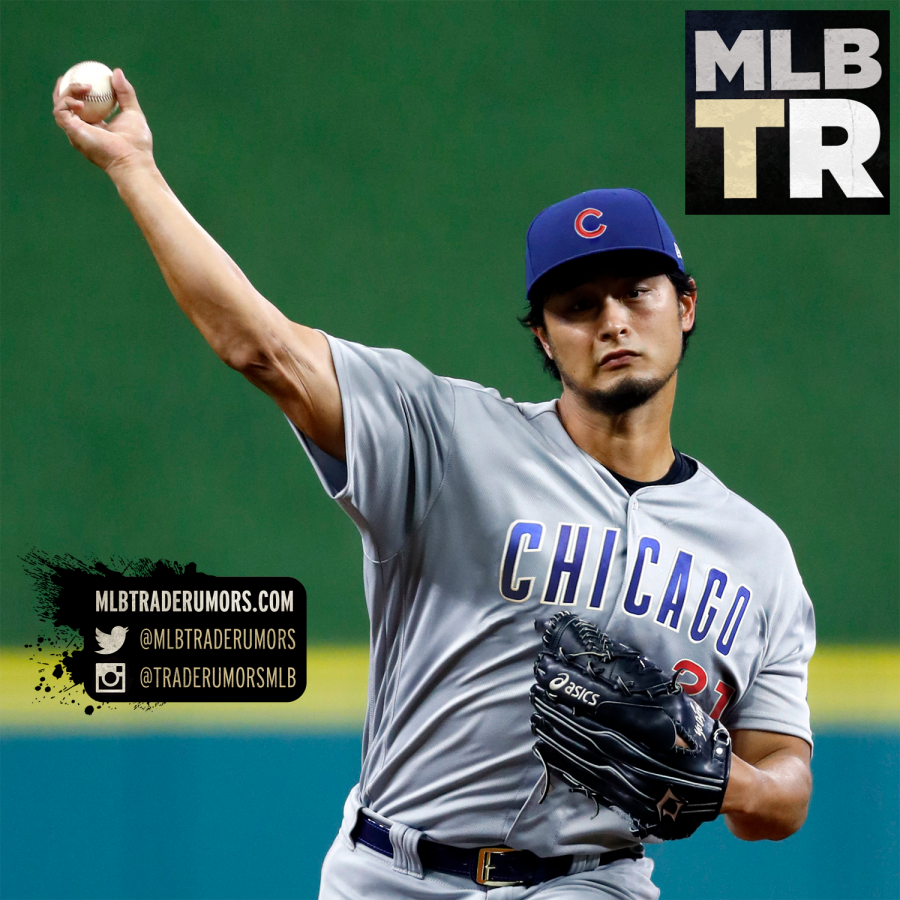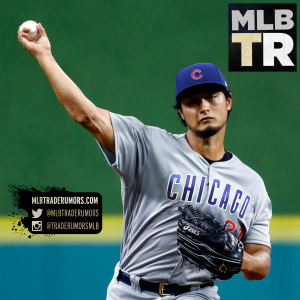 With Darvish in the fold alongside Jon Lester, Jose Quintana, Kyle Hendricks and Tyler Chatwood, the reigning NL Central champs will have one of the more complete (and formidable) rotations in all of baseball. Thanks in part to that group, they should enter the upcoming season as the favorites to win the division again, despite the aggressive moves the rival Brewers have made this winter.
In Darvish, who divided last year between the Rangers and Dodgers, the Cubs are getting a hurler who in 2017 ranked as the majors' 16th-best pitcher by fWAR (3.5) and 12th-best in terms of strikeouts per nine innings (10.08). He also racked up 186 2/3 innings, his most since 2013, and pitched to a 3.86 ERA/3.83 FIP. He figures to replace Jake Arrieta near the front of the Cubs' rotation. Because Darvish was part of a midseason trade, the Dodgers could not issue him a qualifying offer to begin the winter. Consequently, reeling him in won't cost Chicago any draft-pick compensation or international bonus pool money.
Of course, the impact of this signing sends ripples far beyond the NL Central alone. MLBTR had ranked Darvish as the best available free agent among our top 50 (Tim Dierkes & Co. actually predicted he'd end up with the Cubs). This deal could well mean that many other free agent dominoes will begin to fall soon. In particular, many have theorized that teams may have been waiting for Darvish to sign before moving onto lesser free agents such as Arrieta, Alex Cobb and Lance Lynn. The Dodgers, Twins, and Brewers had all reportedly made serious offers for Darvish; they'll now have to set their sights on other options.
The contract itself is by far the largest ever given to a free agent in February. Although the total guarantee is significantly south of the $160MM we predicted he'd receive back in November, the deal itself could perhaps ease some of the ongoing tension between the players union and MLB, which has escalated to a boiling point in recent weeks due to teams' unwillingness to meet the asking prices of many top free agents. There has perhaps been as much focus on the glacial pace of the offseason as there has been on the free agents themselves, and the Darvish signing is certainly a step in the right direction.
On the other hand, the top four remaining free agents are now J.D. Martinez, Eric Hosmer, Jake Arrieta and Mike Moustakas – all of whom are clients of Scott Boras. With the super-agent firmly in control of the top of the market, there's no guarantee that other pieces will fall into place any time soon.
[RELATED: Updated Cubs Depth Chart/Team Payroll]
Darvish's major league career started out in spectacular fashion. After the Rangers spent over $100MM between salary guarantees and posting fees in order to sign him out of Japan prior to 2012, he rewarded them by delivering two consecutive seasons of at least 4.5 fWAR. The talented righty was on his way to another fantastic campaign in 2014, but had to be shut down in August due to elbow issues. Those issues ultimately led to a Tommy John surgery in March of the following year, meaning the ace didn't take the mound for the Rangers for nearly two years.
When Darvish made his return on May 28, 2016, he picked up right where he left off. In 287 innings since that date, all Darvish has done is strike out 341 hitters while walking just 89. His 3.70 ERA and 3.49 xFIP during that span are among the best marks in the major leagues, and he's posted the 14th-best soft contact rate in the major leagues during that span.
Of course, Darvish's solid 2017 season was unfortunately covered in shadow by his dreadful World Series performance with the Dodgers. He faced 22 Astros hitters across his two starts while recording just 10 outs and allowing eight earned runs. Darvish was saddled with the loss for both of those games, one of which was the seventh and final game of the series.
However, while his bellyflop is perhaps the most prominent impression left in the minds of Dodgers fans, there are a number of important factors to consider. The first and perhaps most obvious is that 3 1/3 innings is an incredibly small sample size, particularly against a juggernaut Astros offense that also tore through pitchers like Chris Sale in the same postseason. Another is that many Astros hitters went on record saying that Darvish was tipping his pitches in Game Seven; they could tell whether he was going to throw a cutter or a breaking ball by watching whether he adjusted his grip on the ball before bringing it to his glove. Finally, the two World Series starts were Darvish's 36th and 37th of the season, which is especially notable because he hadn't pitched a more than 150 innings in a season since 2013.
Darvish's pitch arsenal is one of his most unique assets. According to Brooks Baseball, he threw a four-seamer, slider, sinker, curve, cutter, change-up and splitter during the 2017 season. While the sinker and change-up were each utilized less than 2% of the time, such an expansive repertoire sets Darvish apart from other MLB aces. Fortunately for him, he'll once again be reunited with catcher Chris Gimenez. The two played together during their years with the Rangers, where Gimenez had great success working with Darvish and his arsenal. The Cubs signed Gimenez to a minor-league deal about three weeks ago, though whether that factor had any impact at all on Davish's decision is a guessing game at this point.
While there's a chance Darvish will pitch to Gimenez in 2018, it seems likely most of his work will come with starting catcher Willson Contreras. The 25-year-old expressed excitement about the Darvish deal on Twitter, noting that he "can't wait to catch" the four-time All-Star.
Photo courtesy of USA Today Sports Images.