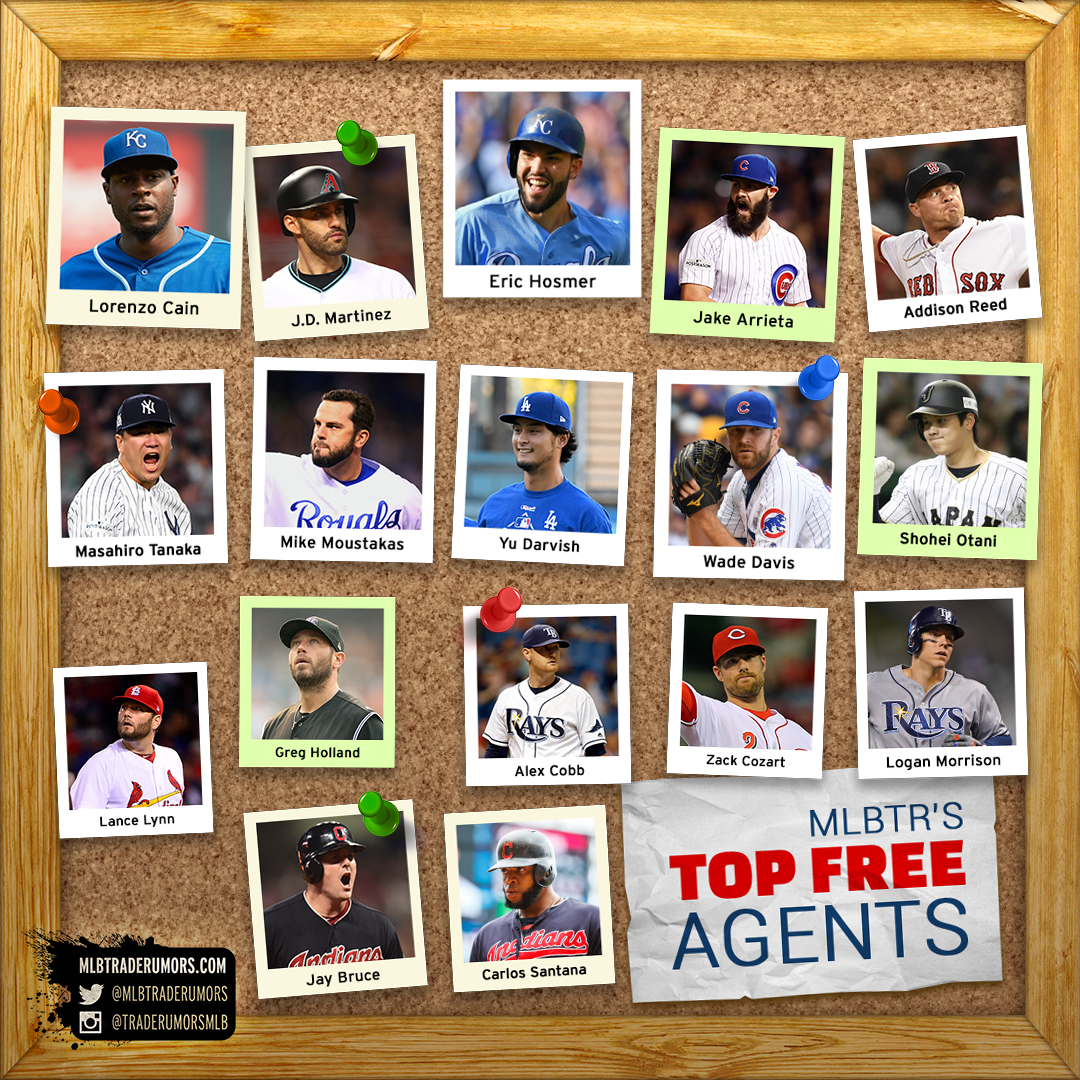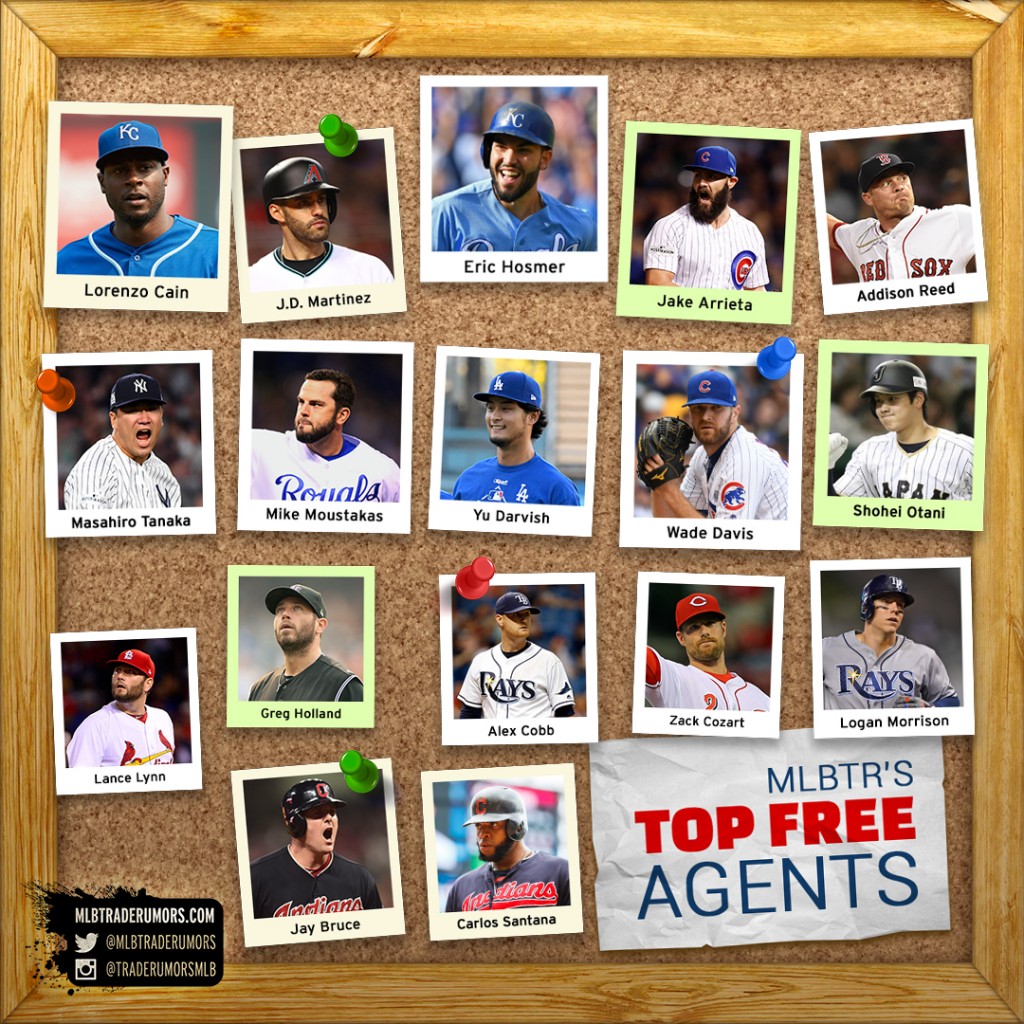 MLB Trade Rumors is proud to present our 12th annual Top 50 Free Agents list! The entire list of available free agents can be found here, and you can filter by position, signing team, and qualifying offer status with our mobile-friendly free agent tracker here.
New to MLBTR? You can follow us on Twitter, like us on Facebook, follow us on Instagram, and download our free app for iOS and Android.
MLBTR writers Steve Adams, Jeff Todd, and Jason Martinez joined me in this collaboration, debating free agent contracts and destinations for many hours. We vetted these as much as possible, but with 50 predictions and a volatile free agent and trade marketplace, we know we'll be off on some. Let us know what you think in the comment section!
Looking for Shohei Otani?  Scroll to the bottom of the post for information on Japan's Babe Ruth, whose free agency is a special case.  On to our Top 50 free agents:
1.  Yu Darvish – Cubs.  Six years, $160MM.  Let's start by addressing the elephant in the room.  Darvish recorded a mere ten outs in his two brutal World Series starts for the Dodgers.  With those ugly outings fresh in our minds, projecting him to receive the winter's largest contract creates cognitive dissonance.  However, Darvish remains what he was a week ago: a very good starting pitcher and the best in this free agent class.
Darvish spent the first seven years of his career in Japan starring for the Nippon Ham Fighters.  The Fighters made Darvish available to MLB teams in December 2011, at a time when there was no limit on bidding for the exclusive right to negotiate with the player.  The Rangers beat out the Blue Jays, Yankees, and Cubs with a $51.7MM bid and signed Darvish to a six-year, $56MM deal on top of that.  Darvish's fine Rangers career included 782 2/3 innings of 3.42 ERA ball with a 11.0 K/9, plus four All-Star appearances and a second-place Cy Young finish.  He was traded to the Dodgers in July, making him ineligible for a $17.4MM qualifying offer.  While with the Rangers, Darvish went about 22 months between starts due to Tommy John surgery.  He's been injury-free this year and nudged his way past the 200-inning plateau in his brief start last night.  The 31-year-old righty should have no problem setting a new free agent record for a Tommy John survivor, passing Jordan Zimmermann's five-year, $110MM deal.  Seven-year contracts have historically been reserved for slightly younger pitchers without elbow surgery on their resume, so we're expecting six years for Darvish.  Free agent starters have exceeded a $25MM salary four different times, and we're projecting Darvish to become the fifth.  If the Dodgers decide to move on, the Cubs, Phillies, Nationals, Cardinals, Astros, and Twins could be potential suitors.  There's a shortage of obvious big-market players here, allowing for dark horses to enter the mix.
Signed with Cubs for six years, $126MM.  Deal includes opt-out clause after second year.
2.  J.D. Martinez – Red Sox.  Six years, $150MM.  Martinez came up through the Astros' farm system but struggled through 975 plate appearances in the Majors and was released in March 2014.  The Astros didn't understand the impact of his recently-overhauled swing.  The Tigers scooped Martinez up on a minor league deal, and he went on to rake at a .300/.361/.551 pace with 99 home runs in 1,886 plate appearances for them from 2014-17.  A trade to the Diamondbacks this past July removed the possibility of a qualifying offer and boosted Martinez's stock further as he went nuts with 29 home runs in 62 games.  He finished with a career-high 45 bombs on the season.  The biggest knock on Martinez is his right field defense, which has been a clear negative for the last two years.  He also missed significant time with an elbow fracture in 2016 and a foot sprain to begin this year.  Still, Martinez's right-handed power will make him the most coveted bat on the market, enough that teams without corner outfield openings could trade someone to create a spot.  The Diamondbacks may not have the payroll space to retain Martinez, leaving the Cardinals, Red Sox, and Giants as top suitors.
Signed with Red Sox for five years, $110MM.  Deal includes opt-out clauses after second, third, and fourth years.
3.  Eric Hosmer – Royals.  Six years, $132MM.  Every year one free agent is particularly polarizing, and this winter it's Hosmer.  The first baseman did solid work for the Royals over seven seasons, with a well-timed career-best batting line of .318/.385/.498 in 671 plate appearances this year.  He just turned 28 and will be looking for at least six years — quite likely more.  However, defensive metrics rate his glove poorly (a 2017 Gold Glove nomination notwithstanding), and off years with the bat resulted in replacement level seasons in 2014 and '16.  A case will be made for a $200MM contract, but it's not a very good case.  Teams seeking a first baseman have free-agent alternatives such as Carlos Santana, Logan Morrison, and Yonder Alonso, as well as trade candidate Jose Abreu.  If Hosmer gets a huge contract, it probably won't be from the game's more analytical teams.  The Royals seem likely to make a spirited effort to retain Hosmer as the face of their franchise, while the Red Sox, Cardinals, Mariners, and Rockies could enter the market to varying degrees.  Hosmer is a lock to receive and reject a qualifying offer.
Signed with Padres for eight years, $144MM.  Deal includes opt-out clause after fifth year.
4.  Jake Arrieta – Brewers.  Four years, $100MM.  A July 2013 trade from the Orioles to the Cubs rebooted Arrieta's career, which peaked with the NL Cy Young Award in 2015.  Arrieta's star has dimmed since then, as he's become more prone to walks, home runs, and hits and stopped pitching deep into games.  He still provided value to the 2017 Cubs, with 30 starts of 3.53 ERA ball.  Though he turns 32 in March, Arrieta's case for a long-term deal is boosted by excellent physical conditioning.  We expect him to come out looking for a six-year deal, but land at four or five.  Arrieta appears likely to move on from the Cubs, with whom he was unable to agree to an extension in the past few years.  However, it's possible Arrieta could circle back to the Cubs later in the offseason if his market disappoints.  We don't see a clear favorite to sign him, so we've chosen a dark horse pick in the Brewers.  The Cardinals, Nationals, Astros, Rangers, Phillies, Yankees, Angels, Mariners, Braves, Twins, and Dodgers could be in the mix depending on the price.
Signed with Phillies for three years, $75MM.  Deal includes opt-out clause after second year, which Phillies can void with two-year extension.
5.  Masahiro Tanaka – Phillies.  Five years, $100MM.  Tanaka, 29 this month, is coming off his fourth and perhaps worst MLB season.  He posted a 4.74 ERA in 30 regular season starts, with a ridiculous 21.2% of his flyballs allowed becoming home runs.  It wasn't a Yankee Stadium problem, as Tanaka was even more homer-prone on the road.  On the bright side, Tanaka put up a career-best strikeout rate, a 3.77 ERA in the second half, and three excellent, homer-free postseason starts.  Back in January 2014, Tanaka joined the Yankees via the Japanese baseball posting system after pitching seven years for the Rakuten Golden Eagles.  With the posting fee capped at $20MM, the Yankees won the bidding over the Cubs, White Sox, Dodgers, and Diamondbacks with a seven-year, $155MM deal that included an opt-out that comes due at midnight on Saturday.  The biggest wrinkle in Tanaka's long-term prospects may be the partially torn UCL in his right elbow, which surfaced more than three years ago.  Tanaka went the rehab route instead of undergoing Tommy John surgery.  In 2015 Tanaka missed time with a forearm strain and had arthroscopic elbow surgery in the offseason.  This year, he had a DL stint for shoulder fatigue.  If Tanaka opts out, he will be walking away from three years and $67MM left on his Yankees contract.  Ervin Santana was able to land a four-year deal with a rehabbed and healed UCL, and it seems that opting out is the right call for Tanaka.  The Yankees could be in a position to lower their luxury tax hit by adding a year or two and reducing the average annual value of his contract.  If Tanaka moves on from the Yankees, the Cubs, Nationals, Astros, Cardinals, Dodgers, Angels, Phillies, Twins, Mariners, Rangers, and Brewers could be possibilities.  If he does opt out, the Yankees will assuredly issue a qualifying offer in order to collect draft-pick compensation.
Elected to remain with Yankees, forgoing opt-out clause and free agency.
6.  Mike Moustakas – Braves.  Five years, $85MM.  Moustakas, 29, set a Royals franchise record with 38 home runs this year.  The second overall draft pick in 2007, Moustakas didn't click as a hitter until 2015.  The third baseman suffered an ACL tear in May 2016, ending that season early, but exhibited no health problems in his return this year.  The biggest flaw in Moose's game is his low 5.7% walk rate this year, resulting in a .314 OBP that drove down his overall value as a hitter despite the power.  Defensive metrics were also down on his once well-regarded glovework this year, though teams may be willing to chalk that up to rust coming off his knee injury.  Regardless, he should do well in free agency.  If the Royals move on, the Angels, Braves, and Cardinals could be options.  Like Hosmer, Moustakas is going to receive and reject a qualifying offer.
Re-signed with Royals for one year, $6.5MM.
7.  Lorenzo Cain – Giants.  Four years, $70MM.  Yet another Royals free agent, Cain adds value with his hitting, baserunning, and glove as a center fielder.  He's a speedy, well-rounded player who was worth more than four wins above replacement this year.  Dexter Fowler's five-year, $82.5MM deal with the Cardinals will be a likely model, though Cain is a year older than Fowler was.  Cain is the only plus defensive center fielder on the market who also carries an above-average bat, which should create plenty of demand.  If the Royals don't retain him, the Giants, Mariners, Blue Jays, and Rangers could be matches.  The Royals have reportedly yet to decide on a qualifying offer for Cain, but it'd be a big surprise if he doesn't get one.
Signed with Brewers for five years, $80MM.
8.  Wade Davis – Astros.  Four years, $60MM.  Davis, 32, came up as a starter in the Rays system and was traded with James Shields to the Royals in a December 2012 blockbuster.  2013 was a tumultuous year for Davis – his wife had a baby, he lost his stepbrother unexpectedly, and he pitched his way out of the rotation by August.  He began 2014 as the Royals' setup man and never looked back, garnering Cy Young votes in a dominant season.  He moved into the team's closer role when Greg Holland got hurt the following year and will forever be remembered flinging his glove into the air after punching out Wilmer Flores looking to end the 2015 World Series.  Davis missed time late in 2016 with a flexor strain in his pitching elbow, but the Cubs were not deterred in deftly trading Jorge Soler for him last offseason.  Davis had a fine year as the Cubs' closer, though he walked more than five batters per nine innings in the second half and that trend continued as manager Joe Maddon pushed him into multi-inning postseason stints.  Despite a few warts, Davis is the best closer available and will likely be targeting Mark Melancon's four-year, $62MM deal from last winter.  The Cubs shied away from big-money closers last winter, but it's still possible they could pony up for Davis.  If the Cubs look elsewhere, the Astros, Cardinals, Rangers, Nationals, Twins, Braves, and Rockies could be fits.  Davis is another slam-dunk recipient of the qualifying offer and will reject in search of a long-term deal.
Signed with Rockies for three years, $51MM.
9.  Lance Lynn – Rangers.  Four years, $56MM.  Lynn, a 30-year-old righty, kicks off the second tier of free-agent starting pitching.  He made 161 starts for the Cardinals in his career, regularly topping 30 per year.  Lynn went under the knife for Tommy John surgery in November 2015.  He missed all of 2016, as expected, but was one of only 12 pitchers to reach 33 regular season starts in 2017.  While Lynn was never a big control guy, his 3.8 walks per nine innings was the second-worst mark of all qualified MLB starters.  His strikeout and home run rates were also career worsts, so his 3.43 ERA can be attributed largely to a .241 batting average on balls in play.  If Lynn's BABIP regresses and other rates hold steady, his ERA could easily jump past the mid-4.00s.  Still, Lynn takes the ball every fifth day and has had a lot of big league success since 2012.  The righty's reported asking price of $100MM+ over five years seems unattainable, but half of baseball is seeking rotation help.  That includes the Rangers, Orioles, Twins, Mariners, Phillies, Cubs, and Brewers.  Given the expected demand for Lynn, the Cardinals are likely to make a qualifying offer, and he's likely to reject.
Signed with Twins for one year, $12MM.
10.  Greg Holland – Cardinals.  Four years, $50MM.  Holland ascended to the Royals' closer job when they traded Jonathan Broxton at the 2012 trade deadline.  He established his dominance in 2013-14 with a 1.32 ERA and 13.4 K/9 in 129 1/3 regular season innings, earning Cy Young Votes and All-Star nods in each season.  Holland apparently tore his elbow ligament late in the 2014 season, pitching through the injury in 2015 before succumbing to Tommy John surgery shortly before his team began its World Series run.  He spent 2016 as a rehabbing free agent and landed a one-year contract with the Rockies in January of this year.  A $15MM player option for 2018 vested in that contract, which he will reportedly decline in search of a multiyear deal.  Holland was healthy in 2017 and was one of the best relievers in baseball for the first two months of the season.  He endured a brutal eight-game stretch in August before rebounding with a strong finish in his final 11 regular-season appearances.   Holland will have a market similar to that of his former setup man, Wade Davis.  Considering the fact that he's turning down a $15MM player option, Holland is a lock to also reject a one-year, $17.4MM qualifying offer.
Signed with Cardinals for one year, $14MM.
11.  Alex Cobb – Twins.  Four years, $48MM.  Cobb, 30, came up through the Rays system and posted a stellar 3.21 ERA over his first 81 starts across four seasons.  The righty went down for Tommy John surgery in May 2015, returning to the Majors in September of the following year without much success.  The Cobb we saw in 2017 wasn't quite at pre-surgery form, but he did stay healthy and posted a 3.66 ERA in a career-high 179 1/3 innings.  Cobb had a 3.07 ERA over his final 17 starts and exhibited the best control of his career.  He hasn't been able to match his pre-surgery strikeout rate, so as with Lynn, there is concern that his ERA isn't sustainable with the present skills.  Cobb should pair with Lynn to form the second tier of starting pitching, and their markets will likely have plenty of overlap.  A qualifying offer is a risk for the payroll-conscious Rays, but they're reportedly leaning that way with Cobb, which seems like the right call to make.
Signed with Orioles for four years, $57MM.
12.  Carlos Santana – Indians.  Three years, $45MM.  Santana is the best first base option after Hosmer.  32 in April, the switch-hitter came up as a catcher in the Dodgers' system and was traded to the Indians in the July 2008 Casey Blake deal.  By 2014, he was mainly a first baseman and designated hitter in Cleveland.  Santana draws tons of walks, hits for power and gets quality reviews for his glovework at first base.  He makes for a much more affordable Plan B to Hosmer and has a chance at landing four years on the open market.  If the Indians let him go, the Red Sox, Royals, Angels, Mariners, Cardinals, Astros, and Twins could be suitors.
Signed with Phillies for three years, $60MM.
13.  Zack Cozart – Padres.  Three years, $42MM.  Cozart, 32, has served as the Reds' starting shortstop since 2012.  His defense has always graded above average at the position.  Cozart started to show a little more with the bat in 2015-16 but broke out in a huge way with walks and power this year.  The total package was worth five wins above replacement, tops among free agents.  Cozart was one of the five best shortstops in the game this year, period, despite playing only 122 games due to multiple DL stints for quad strains.  The most serious injury on Cozart's resume came in June 2015, when he required season-ending knee surgery for a torn ligament.  Though he avoided the DL until September the following year, Cozart's knee and other injuries limited him to 121 games in 2016.  He hasn't played a full season since 2014.  The Reds entertained trade scenarios for Cozart over the years, nearly dealing him to the Mariners at the 2016 deadline, but were unable to find a match.  While Cozart's play would justify a four-year deal, only a handful of teams like the Royals, Marlins, Cardinals, and Padres might be seeking a shortstop.  The Nationals could get creative and move Trea Turner to center field, or Cozart could expand his options by being open to playing second or third base.  That could add teams like the Blue Jays, Angels, and Mets to the mix.  The Reds are reportedly leaning against a $17.4MM qualifying offer for Cozart, though we're of the general belief that it's a risk worth taking.
Signed with Angels for three years, $38MM.
14.  Jay Bruce – Blue Jays.  Three years, $39MM.  Bruce reached the Majors at age 21 with the Reds and hit 216 home runs in nine seasons before he was traded to the Mets at last year's deadline.  While with the Reds in 2010, Bruce signed a six-year, $51MM extension that included a club option for '17.  The Mets exercised that club option last winter, and ended up trading Bruce to the Indians in August.  The left-handed slugger has endured ups and downs as a hitter, but he posted a 115 wRC+ with 69 home runs over the last two seasons despite a .317 OBP.  Bruce has struggled against left-handed pitching, a weakness that has been exploited by opposing managers who have forced him to face a disproportionate amount of southpaws.  Bruce has not generally been lauded for his right field defense since undergoing knee surgery a few years ago, but his metrics bounced back and were above average this year.  Bruce turns 31 in April and has a shot at a four-year deal in the Josh Reddick vicinity.  The Blue Jays, Orioles, Royals, Rockies, Cardinals, and Giants could be options if the Indians let him leave.
Signed with Mets for three years, $39MM.
15.  Logan Morrison – Red Sox.  Three years, $36MM.  Morrison broke in with the Marlins in 2010 after ranking as a consensus Top 100 prospect and looked like an above average hitter early in his career.  His bat went downhill, however, and the first baseman was traded to the Mariners in 2013, later joining the Rays as a free agent.  This year for Tampa Bay, Morrison finally broke out with 38 home runs and a 13.5% walk rate.  A left-handed batter, LoMo's platoon issues have come and gone over the years, but he's been fine against southpaws lately.  Morrison is only 30 years old and should be a relatively cost-effective power bat with a market similar to that of Santana.  His more limited track record and inferior (but still solid) defensive metrics caused us to rank him a bit lower, but a four-year deal isn't out of the question.
Signed with Twins for one year, $6.5MM.
16.  Addison Reed – Cubs.  Four years, $36MM.  Reed has a chance to follow in the footsteps of Andrew Miller, Darren O'Day, and Brett Cecil to land a four-year deal as reliever who won't necessarily serve as a closer.  Reed did rack up saves for the White Sox and Diamondbacks from 2012-14, but stood out with the Mets as a dominant setup man in 2016.  He began this season as the Mets' stopper due to Jeurys Familia's suspension.  A blood clot put Familia on the DL in May, and Reed regained closing duties until a July trade to Boston, where he set up Craig Kimbrel.  Over the last two years, Reed has a 2.40 ERA, 9.8 K/9, and 1.6 BB/9 in 153 2/3 innings, showing remarkable control for a reliever.  He doesn't turn 29 until December and will be a popular target for teams unwilling to meet the demands of Wade Davis and Greg Holland.  The Cubs, Astros, Cardinals, Twins, Rangers, Braves, Rockies, and Dodgers are among the potential suitors.
Signed with Twins for two years, $16.75MM.
17.  Todd Frazier – Mets.  Three years, $33MM.  Frazier, 32 in February, is a quality option at the hot corner who won't break the bank.  He's been an above-average but unremarkable hitter for the White Sox and Yankees over the last two years, hitting .220/.322/.448 with 67 home runs.  Combined with mostly above-average defense at third base and a strong clubhouse reputation, Frazier is a quietly valuable player.  He's the cheaper alternative to Mike Moustakas and could fit with the Mets, Royals, Angels, Braves, Cardinals, or Yankees.
Signed with Mets for two years, $17MM.
18.  Mike Minor – Dodgers.  Four years, $28MM.  Minor came up through the Braves' system and had several strong years as a starting pitcher.  He started experiencing shoulder problems in 2014, eventually having surgery in May 2015.  The Braves chose to non-tender him, leading to a two-year, $7.25MM deal with the Royals in February 2016.  Minor's shoulder would not cooperate, and the lefty was not able to make it back to a big league mound in 2016, ultimately returning this year as a reliever.  The Royals brought him along carefully and were rewarded with a dominant season in relief: a 2.55 ERA, 10.2 K/9, and 2.5 BB/9 in 77 2/3 innings.  He should be a popular target as a late-inning reliever who can go more than one inning.  The three-year deals given to Mike Dunn and Tony Sipp could serve as a baseline, while enough competition could force something closer to Brett Cecil's four-year deal.  Minor could also get escalators for starting, though he'd leave too much money on the table by requiring a return to his old role.  Frankly, given the always-high level of demand for shutdown left-handed relievers, the number of teams interested in Minor should outweigh the number of teams that don't have interest.
Signed with Rangers for three years, $28MM.
19.  Brandon Morrow – Rockies.  Three years, $24MM.  Morrow followed an interesting path to becoming Kenley Jansen's wingman for the Dodgers in the World Series.  Drafted fifth overall by the Mariners in 2006, the hard-throwing righty and Type 1 diabetic skipped the minors and spent his Mariners career being almost comically jerked in and out of late inning relief and starting roles, battling injuries along the way.  Then the Blue Jays traded for him and committed to a starting role, eventually buying out a free agent year and getting mixed results and a ton of time missed due to injuries from 2010-14.  Morrow later landed with the Padres on a cheap free agent deal, making only five starts before a shoulder injury ended his season.  Coming off shoulder surgery, he took a minor league deal to stay with the Padres in 2016.  That was followed by a minor league deal with the Dodgers in January 2017, along with a full commitment to a relief role.  Morrow didn't get up with the Dodgers for good until late June.  He wound up posting a 2.06 ERA, 10.3 K/9, and 1.9 BB/9 with no home runs allowed in 43 2/3 innings, with that excellence continuing into the postseason.  The Dodgers rode him hard, using Morrow in all seven World Series games.  As Andrew Stoeten wrote for Vice Sports, Morrow is easy to root for after all he's been through.  Though a three-year deal might not seem rational for a pitcher with Morrow's injury history, it wasn't for Ryan Madson either.  We expect that to be the cost of doing business to acquire Morrow and his 98 mile per hour heater.
Signed with Cubs for two years, $21MM.
20.  Jonathan Lucroy – Rockies.  Two years, $24MM.  Lucroy, a 31-year-old catcher, has fallen far from the talk of a $100MM free agent deal.  He still has a shot at three years, but a terrible start to the season with the Rangers killed much of his value.  Lucroy spent many years as one of the game's best-hitting catchers and one of the best pitch framers.  Unfortunately, he dropped from 24 home runs last year to just six this year, and his framing numbers plummeted as well.  Lucroy's bat did bounce back somewhat in 46 games with the Rockies after a trade.  One big issue is that there aren't many teams seeking a catcher this winter.  The Rockies would like to retain Lucroy but may not face much competition.  The Diamondbacks, Athletics, and White Sox are plausible fits on paper as well.  Lucroy may be well-served with a deal similar to Matt Wieters, with a player option for the second year.
Signed with Athletics for one year, $6.5MM.
21.  CC Sabathia – Yankees.  Two years, $24MM.  Sabathia is in the twilight of what could become a Hall of Fame career.  Now 37, the big lefty has five top-five Cy Young finishes.  He had a monster peak from 2006-12, winning the Cy Young award in '07.  The Yankees signed him to a record seven-year, $161MM deal in December 2008, later adding a year plus a vesting option to make it nine years in the Bronx.  Sabathia posted a 3.81 ERA over 57 starts in the last two seasons, though his peripheral stats have moved in the wrong direction.  He'd like to stay with the Yankees, which could mean settling for a one-year deal despite the possibility of two elsewhere.  The Angels could be a good Plan B for Sabathia.
Re-signed with Yankees for one year, $10MM.
22.  Yonder Alonso – Angels.  Two years, $22MM.  Alonso was drafted by the Reds in 2008, who traded him to the Padres as a major part of the 2011 Mat Latos trade.  He was an underpowered first baseman for his entire Padres career, failing to reach 10 home runs in a season.  A trade to Oakland didn't change much initially, but this spring Alonso began a concerted effort to hit the ball hard in the air.  He mashed for about two months, hitting .291/.391/.657 with 14 home runs in 156 plate appearances.  Since June, though, Alonso hit .256/.353/.435 with 14 home runs in 365 plate appearances.  Still a decent hitter, but not a star.  Alonso struggles against left-handed pitching, and was kept in a strict platoon after an August trade to Seattle.  Set to turn 31 in April, Alonso had a strong 2017 season overall but may be greeted with skepticism in a crowded first-base market.  Still, he presents a potential bargain if he settles in as a 120 wRC+ guy, which is what Eric Hosmer has been over the last three years.
Signed with Indians for two years, $16MM.
23.  Carlos Gomez – Royals.  Two years, $22MM.  Gomez was a superstar for the 2013-14 Brewers.  After that he battled injuries and tanked after a 2015 trade to Houston.  He's since become useful again, hitting .262/.345/.481 in his 556 plate appearances with the Rangers.  Gomez is able to play an average center field as he approaches his 32nd birthday, but he continues to have trouble with injuries.  He can still help a team like the Royals, Mariners, Orioles, Blue Jays, Indians, Athletics, or Giants.
Signed with Rays for one year, $4MM.
24.  Juan Nicasio – Twins.  Three years, $21MM.  Nicasio never had much success as a starter with the Rockies.  After a stop with the Dodgers, the Pirates signed Nicasio as a free agent, and the righty earned a rotation spot with a dominant spring in 2016.  He pitched his way back into the bullpen that summer and remained with the Pirates for '17 as an arbitration eligible player.  Nicasio did strong work through 65 games, but was then surprisingly put on outright waivers in August in a penny-pinching move by the Bucs.  The Phillies grabbed him, dealing him to the Cardinals in a rare September trade a week later.  Nicasio wound up serving as the Cardinals' closer, despite ineligibility for the playoffs had the Cards made it.  It was an odd series of transactions for Nicasio, who has discussed a contract with the Cardinals.  The 31-year-old posted a 2.61 ERA, 9.0 K/9, and 2.5 BB/9 on the season overall and might be able to snag a three-year deal on the open market.
Signed with Mariners for two years, $17MM.
25.  Bryan Shaw – Red Sox.  Three years, $21MM.  Shaw has been a mainstay in the Indians' bullpen since joining them as a piece in the 2012 Shin-Soo Choo three-way trade.  From 2013-17, no one has appeared in more MLB games than Shaw's 442.  He's never been on the disabled list.  Shaw doesn't have amazing control or a dominant strikeout rate, but he's never posted an ERA above this year's 3.52.  He'll turn 30 in November and figures to seek a three-year deal.
Signed with Rockies for three years, $27MM.
26.  Michael Brantley – White Sox.  Two years, $20MM.  There's a decent chance the Indians will exercise their $12MM club option on Brantley, but we're including him here in case they don't.  Brantley has been with the Indians since coming up in 2009, peaking with a 2014 campaign that earned him third place in the AL MVP voting.  He endured shoulder surgery in November 2015 and played only 11 games in '16.  He bounced back with a healthy All-Star first half in 2017 but ended up missing over two months with an ankle injury.  Brantley had ankle surgery in late October and has a 4-5 month expected recovery period.  While Brantley should be able to get more than the $12MM option price on the open market, the Indians still have to decide whether they want to allocate that money to Brantley right now — a potentially tough call for a team with a tight budget.  If he does reach the open market, he could try for a player option on a second year.  The White Sox, Tigers, Blue Jays, Twins, and Mariners are a few speculative suitors.
Indians exercised $12MM club option.
27.  Andrew Cashner – Athletics.  Two years, $20MM.  Cashner may be best known as the guy the Cubs traded to get Anthony Rizzo in 2012.  The 31-year-old has long had a tantalizing arm, though his average fastball velocity has dipped to the 93 mph range.  He's battled myriad injuries in his career but received a one-year, $10MM deal from the Rangers based on his upside.  Cashner began the year on the DL with a shoulder injury, starting his Rangers career on April 15th.  He had another DL stint in June with an oblique strain, but still managed to make 28 starts for just the second time in his career.  Like fellow free agent starters Lynn, Cobb, and Jhoulys Chacin, Cashner pitched worse than his 3.40 ERA would suggest.  At 4.6 per nine, he had the second-lowest strikeout rate of all qualified starting pitchers.  Plus, he gave out ample free passes with a 3.5 BB/9 mark.  The "upside" tag may be slipping away as Cashner becomes a back of the rotation pitcher, but he will still have appeal to multiple teams.
Signed with Orioles for two years, $16MM.
28.  Neil Walker – Brewers.  Two years, $20MM.  A year ago, Walker chose to accept the hefty $17.2MM salary that came with the Mets' qualifying offer rather than hit the market with a draft pick cost attached.  He then engaged in multiyear extension talks with the Mets, but nothing came to fruition.  This summer, the second baseman missed over a month with a hamstring injury and was traded to the Brewers in August.  Walker continued his career-long run as an above-average hitter in 2017.  However, the 32-year-old has averaged 112 games over the last two years and may be hard-pressed to find a three-year deal in free agency.  There aren't a ton of teams seeking a second baseman, with the Angels, Blue Jays, Mets and perhaps Red Sox as possibilities if the Brewers don't bring Walker back.
Signed with Yankees for one year, $4MM.
29.  Tyler Chatwood – Phillies.  Three years, $20MM.  About six years ago, Chatwood was traded by the Angels to the Rockies straight up for catcher Chris Iannetta.  He posted a decent 2013 season for Colorado, but went down with Tommy John surgery in July of 2014.  After missing all of 2015, Chatwood posted his best season with 27 starts of 3.87 ERA ball in 2016.  This year, he went down with a calf strain in July and spent time in the bullpen before returning to the Rockies' rotation.  On the surface, Chatwood is a low-strikeout pitcher with a walk problem.  However, he'll be just 28 in December, brandishes a 58% groundball rate, and averaged nearly 95 miles per hour on his fastball this year.  Outside of Colorado, he could become an interesting pitcher.
Signed with Cubs for three years, $38MM.
30.  Jake McGee – Cubs.  Three years, $18MM.  McGee, a 31-year-old southpaw reliever, was utterly dominant for several years with the Rays.  He was dealt to Colorado in the January 2016 Corey Dickerson deal.  McGee scuffled in his first year in Colorado but bounced back with a 3.61 ERA, 9.1 K/9, and 2.5 BB/9 in 57 1/3 innings this year with a fastball averaging almost 95 miles per hour.  He had Tommy John surgery before he reached the Majors, in 2008.  McGee later had arthroscopic elbow surgery in December 2014 and knee surgery the following year.  He hasn't dealt with any arm injuries in recent years and will be popular with teams seeking left-handed relief.  A three-year deal is possible, if not likely.
Re-signed with Rockies for three years, $27MM.
31.  Jaime Garcia – Royals.  Two years, $16MM.  Garcia, a 31-year-old southpaw, can fill some innings at the back of a team's rotation.  He was traded twice within a week's time this summer, tallying a 4.41 ERA, 7.4 K/9, and 3.7 BB/9 in 157 innings for the Braves, Twins, and Yankees.  Garcia is a longtime Cardinal who had a nice run earlier in his career but missed significant time due to injuries, including thoracic outlet syndrome surgery, in 2012-15.  His poor finish with the Yankees won't help his cause, but he's a left-handed groundball machine who won't turn 32 until next July.
Signed with Blue Jays for one year, $10MM.
32.  Alex Avila – Yankees.  Two years, $16MM.  Avila is the son of Tigers GM Al Avila.  Alex spent the first seven years of his big league career with the Tigers, then played one year for the White Sox before returning to Detroit.  The Cubs acquired him via trade this summer, and he served as Willson Contreras' backup.  Avila has shown an excellent bat at times, including this year as well as his banner 2011 season.  He managed only 124 games from 2015-16 due to injury, but was able to avoid the DL this year.  It's eye-opening to see that among players with 300 plate appearances in 2017, the only one who posted a higher hard-contact rate than Avila's 48.7 percent was former teammate J.D. Martinez. Avila, 31 in January, will likely join fellow catcher Welington Castillo in seeking a multiyear deal and regular playing time.
Signed with Diamondbacks for two years, $8.5MM.
33.  Jhoulys Chacin – Reds.  Two years, $14MM.  Chacin admirably ate up 180 innings for the Padres after they signed him to a $1.75MM deal in December.  While Chacin posted a 3.89 ERA in 32 starts, he also had the game's third-worst walk rate and led all of baseball in hit-by-pitches.  Chacin had success earlier in his career with the Rockies with his high-wire act of a high walk rate and low strikeout rate and can attempt the same at the back of someone's rotation in 2018.
Signed with Brewers for two years, $15.5MM.
34.  Welington Castillo – Athletics.  Two years, $14MM.  Castillo came up through the Cubs' system and finally got his chance at age 25 in 2012 when the team traded Geovany Soto.  He served as the Cubs' starter from 2013-14 but was marginalized the following winter when the club acquired Miguel Montero and David Ross.  Castillo was shipped to Seattle in May 2015, and then on to Arizona a few weeks later.  He spent 2016 as the Diamondbacks' starting catcher before first-year GM Mike Hazen surprisingly non-tendered Castillo.  Castillo signed a new contract with the Orioles that included a $7MM player option for 2018, which we expect him to decline in search of a two or three-year deal.  He's been an above average hitter at times, including this year with 20 home runs in just 365 plate appearances.  Castillo has also battled injuries and has never exceeded 113 games played or 956 innings caught in a season.  He's shown to be a below-average pitch framer, but improved in that regard this year while also pacing all of MLB with a 49% caught-stealing rate.  He can definitely help a team behind the plate but may have to settle for a timeshare given the lack of teams looking for a starting catcher.
Signed with White Sox for two years, $15MM.
35.  Eduardo Nunez – Blue Jays.  Two years, $14MM.  Nunez has long served as a multi-position bench piece, backing up big names for the Yankees for the first four years of his career.  The Twins picked him up in 2014, and he worked his way into regular playing time in 2016.  That earned a summer trade to the Giants, where he settled in at third base and played a career-high 141 games.  The Giants shipped him to Boston last July, where he got most of his playing time at second base.  Nunez carries a reputation as a subpar defender, possibly because he's never been allowed to settle in at one position.  He's also proven fairly injury-prone, with DL stints nearly every year.  Still, he's a useful super-utility player who has hit .296/.332/.443 in his past 1,290 PAs.  The 30-year-old should be able to find a two or even three-year deal.
Signed with Red Sox for two years, $8MM (second year is a player option).
36.  Anthony Swarzak – Brewers.  Two years, $14MM.  Swarzak had some previous success in his big league career, including a solid 2013 campaign as the Twins' long man.  He bounced around after five seasons in Minnesota, landing a minor league deal with the White Sox last January.  The righty surprisingly dominated for the White Sox and Brewers, with a 2.33 ERA, 10.6 K/9, and 2.6 BB/9 in 77 1/3 innings.  He's set up to land the first multiyear deal of his career, with three years a possibility.
Signed with Mets for two years, $14MM.
37.  Steve Cishek – Rangers.  Two years, $14MM.  Cishek came of age as the Marlins' closer in 2012-14 before being traded to the Cardinals in July 2015.  The Cards non-tendered him in light of a rising arbitration salary, leading to a two-year, $10MM deal with Seattle.  He had hip surgery a year ago, delaying his 2017 debut until mid-May.  Cishek did quality work for the Mariners before being traded to the Rays this summer.  He was lights-out with Tampa Bay, allowing just three runs in 24 2/3 innings.
Signed with Cubs for two years, $13MM.
38.  Brandon Kintzler – Nationals.  Two years, $14MM.  Kintzler might have the best story of any player on this list, with a journey from working at a Cold Stone Creamery to closing for a Major League team.  The 33-year-old has found success through pitching to contact, which isn't always the best formula for a late-inning reliever.  Still, he's gotten the job done for a couple of years now and should find a multiyear deal.
Re-signed with Nationals for two years, $10MM.
39.  Jon Jay – Rangers.  Two years, $14MM.  Jay did a fine job as a semi-regular for the Cubs, playing all three outfield positions and posting a .296/.374/.375 line.  He's a left-handed batter who doesn't carry a platoon split but also has just five home runs in 1,052 plate appearances over the past three seasons.  Jay is an eight-year veteran with 67 games of postseason experience, including a ring with the Cardinals in 2011.
Signed with Royals for one year, $3MM.
40.  Carlos Gonzalez – Orioles.  One year, $12MM.  Gonzalez, 32, played nine years with the Rockies.  He hit 211 home runs, finished third in the MVP voting in 2010, made three All-Star teams, and won three Gold Gloves.  CarGo is an accomplished former star, and he's managed to shake some of his injury-prone reputation by playing 439 games over the last three years.  As recently as 2015-16, he was still an above average hitter, but this year he dipped to .262/.339/.423 in 534 plate appearances (good for an 87 wRC+).  Gonzalez is unable to hit left-handed pitching, and he's been much worse away from Coors Field.  Over the past three years on the road against right-handed pitching, Gonzalez has hit .271/.338/.454 with a 108 wRC+, which seems like a good baseline for what he might be able to do for a new team.
Re-signed with Rockies for one year, $5MM.
41.  Tommy Hunter – Braves.  Two years, $12MM.  Hunter hopes to follow in the footsteps of Joaquin Benoit and Fernando Rodney, who resurrected their careers with the Rays and found lucrative free agent contracts.  Hunter, 31, employed a 96 mile per hour fastball to put up a 2.61 ERA, 9.8 K/9, and 2.1 BB/9 in 58 2/3 innings, unlocking a strikeout ability he did not previously possess in nine seasons for the Rangers, Orioles, Cubs, and Indians.
Signed with Phillies for two years, $18MM.
42.  Jarrod Dyson – Pirates.  Two years, $12MM.  The speedy Dyson served as a part-time center fielder for the Royals for seven seasons before they traded him to the Mariners for Nate Karns in January this year.  Just with baserunning and defense, Dyson can be a two-win player, as he was in 111 games for the Mariners this year.  He'll require a platoon partner (career .215/.293/.259 against lefties) but can bring plenty of value to a team as a fourth outfielder or a platoon option at any outfield spot.
Signed with Diamondbacks for two years, $7.5MM.
43.  Pat Neshek – Mariners.  Two years, $12MM.  Neshek, a veteran sidearming righty reliever, was the Phillies' lone All-Star representative this summer before they traded him to the Rockies.  The 37-year-old dominated to the tune of a 1.59 ERA, 10.0 K/9, and 0.9 BB/9 in 62 1/3 innings this year.  Though he's not always a great choice against left-handed batters, Neshek kept them at bay this year.
Signed with Phillies for two years, $16.25MM.
44.  Tony Watson – Blue Jays.  Two years, $12MM.  Watson, a 32-year-old lefty, is behind only Bryan Shaw in total games pitched from 2012-17.  He spent his entire career with the Pirates before being traded to the Dodgers this year at the deadline.  Since his rookie season, Watson has never posted an ERA over 3.38, despite middling peripheral stats.  Though he hasn't always been used as such, Watson is best deployed as a left-handed specialist.
Signed with Giants for three years, $9MM.
45.  Howie Kendrick – Giants.  Two years, $12MM.  Kendrick spent the first nine years of his career as the Angels' second baseman, putting up steady value with peaks in 2011 and '14.  After a few years with the Dodgers, he spent this season as a quality bench piece for the Phillies and Nationals.  Kendrick can play around the infield as well as in left field, making the 34-year-old a popular part-time target.  He's somewhat similar to Steve Pearce last offseason, but with less power, greater defensive versatility, and better health.
Re-signed with Nationals for two years, $7MM.
46.  Jason Vargas – Orioles.  One year, $10MM.  Vargas, a veteran lefty starter, signed a four-year, $32MM deal with the Royals in November 2013.  He managed only 12 starts from 2015-16 due to Tommy John surgery.  After the first three months of the 2017 season, Vargas' ERA sat at an unexpected 2.22 after 101 1/3 innings.  The correction was brutal after that, as Vargas posted a 6.66 ERA over his final 16 starts.  Vargas turns 35 in February, and between his age and rough finish, he might struggle to find a two-year deal despite decent overall numbers.
Signed with Mets for two years, $16MM.
47.  Chris Tillman – Tigers.  One year, $10MM.  Tillman was a key piece (alongside Adam Jones) received by the Orioles in the 2008 trade that sent Erik Bedard to the Mariners.  However, he wasn't able to crack the Orioles' rotation for good until 2013, when he was out of minor league options.  He made the All-Star team that year and racked up 128 starts for the club from 2013-16.  Shoulder issues from late 2016 lingered into this year, and he didn't pitch for the big league club until May 7th.  Tillman went on to post an 8.15 ERA over 15 starts, getting clobbered for 102 hits (including 16 home runs) and 34 walks in 66 2/3 innings.  He was moved to the bullpen for the first time in his career in August, though he later made some additional starts.  To say 2017 was a lost year for Tillman would be an understatement.  However, he doesn't turn 30 until April, and he had more than four years of big league success as a starter.  Assuming a clean bill of health, Tillman could be an interesting reclamation project for a new team, though he's also been linked to a reunion with the O's.
Re-signed with Orioles for one year, $3MM.
48.  Lucas Duda – Mariners.  One year, $6MM.  Duda, 32 in February, spent his entire career with the Mets before being traded to the Rays last July.  He's a powerful first baseman/designated hitter, with at least 27 home runs in three of the last four seasons.  However, he has struggled mightily against left-handed pitching outside of the 2015 season.  Duda missed several weeks with an elbow injury this year, and was limited to 47 games last year due to a stress fracture in his lower back.
Signed with Royals for one year, $3.5MM.
49.  Michael Pineda – Rays.  Two years, $6MM.  Earlier this year, Pineda looked like a potential top ten free agent despite his continued problems allowing home runs.  However, he went down for Tommy John surgery in July, and likely won't be much of a factor in 2018.  Pineda, just 29 in January, put up big strikeout rates and strong control in his Yankees career and makes for a nice upside play if he's willing to sign a two-year deal.
Signed with Twins for two years, $10MM.
50.  Miles Mikolas – Padres.  Two years, $10MM.  There's a decent chance that this reading is the first you've ever heard Mikolas' name.  The 29-year-old righty struggled through parts of three seasons with the Padres and Rangers earlier in his career, unable to capitalize on the promise he showed in the upper minors.  Mikolas' strong control and the quality results in Triple-A piqued the interest of Japan's Yomiuri Giants, and he went on to spend three seasons dominating hitters in the second-best professional league on the planet.  Mikolas posted a 2.18 ERA through 424 1/3 innings in Japan, and averaged a ridiculous 9.0 K/9 against 1.1 BB/9 in his final season there.  It's difficult to gauge exactly what type of contract he can command, but the righty's terrific results there should lead to Major League offers as clubs hope to catch lightning in a bottle to fill out the back half of their rotations.
Signed with Cardinals for two years, $15.5MM.
Honorable mentions:
Cameron Maybin – signed with Marlins for one year, $3.25MM.
John Lackey
Jose Bautista
Brandon Phillips
Jeremy Hellickson – signed with Nationals on minor league deal.
Curtis Granderson – signed with Blue Jays for one year, $5MM.
Wade Miley – signed with Brewers on minor league deal.
Mitch Moreland – re-signed with Red Sox for two years, $13MM.
Mark Reynolds
Joe Smith – signed with Astros for two years, $15MM.
Melky Cabrera
Miguel Gonzalez – re-signed with White Sox for one year, $4.75MM.
Fernando Rodney – signed with Twins for one year, $4.5MM.
Notable deals for unlisted players:
Luke Gregerson – signed with Cardinals for two years, $11MM.
Yusmeiro Petit – signed with Athletics for two years, $10MM.
Drew Smyly – signed with Cubs for two years, $10MM.
A list of the most intriguing free agents of the offseason would feel incomplete without Japanese sensation Shohei Otani. The 23-year-old has established himself as one of the most dominant arms in the recent history of NPB and remarkably as one of the top sluggers in Japan as well.  Were Otani eligible to sign a Major League contract this winter, he'd be at the top of this list — well ahead of Darvish and the $160MM at which we project Otani's countryman.  That's not the case for Otani, so we've chosen not to rank him but will still explore his free agency here.
Due to his age, Otani is still considered an amateur under Major League Baseball's collective bargaining agreement, meaning he's subject to international bonus pools.  In short, he'll have to sign a minor league contract with an absolute maximum signing bonus of $10,062,500.  Not all teams are even capable of offering that amount; Major League Baseball allots bonus pools ranging from $4.75MM to $5.75MM (dependent on market size and revenue sharing) and allows teams to trade for up to 75 percent of their initial bonus pool.  A team could only offer that theoretical maximum if it received the top-level allotment, traded for the maximum amount possible and chose not to sign any other additional international amateurs.  No team has done so.  Furthermore, 12 teams are capped at $300K due to exceeding their bonus pools previously.
If he does indeed become available, which is now in question, Otani will be able to negotiate with any MLB team.  According to Joel Sherman of the New York Post, the current issue is that Otani's NPB team, the Nippon Ham Fighters, wants the pitcher grandfathered into a now-expired system that allowed MLB teams to pay up to $20MM for the right to sign the player.  MLB would allow that exception, but the MLB players' union has taken issue with the idea of the Fighters receiving so much more than Otani.
There's widespread speculation that if Otani comes to MLB now and leaves hundreds of millions of dollars on the table, he may not necessarily sign with the highest bidder.  His free agency will be surrounded by intrigue, and it's possible all 30 teams will make an effort to woo a potentially generational talent.  Otani may prefer to sign with an American League club so that he can serve as a designated hitter on some of the days that he is not scheduled to pitch, but at this juncture it's extraordinarily difficult to project where he might land, given the unprecedented nature of his free agency.  We're of the genuine belief that all 30 teams will make some effort to sign Otani, and the limited amount for which he can sign creates a truly wide-open playing field.