2:51pm: The contract includes a $1.5MM signing bonus, per Gelb, who also has the yearly breakdown. Kingery will earn $750K this year, $1.25MM in 2019, $1.5MM in 2020, $4MM in 2021, $6MM in 2022 and $8MM in 2023. Additionally, there's a $1MM buyout for the first option, $500K for the second, and $250K for the third, per Jon Heyman of Fan Rag (via Twitter).
2:14pm: The Phillies have signed second base prospect Scott Kingery to a six-year contract through the 2023 campaign, according to a team announcement. It's worth $24MM in guarantees, Jon Heyman of FanRag tweets. The pact also features club options for the 2024, '25 and '26 seasons, meaning it could cancel out three of Kingery's free-agent years. Those options are worth $13MM, $14MM and $15MM, Jerry Crasnick of ESPN reports. Kingery is a client of PSI Sports Management.
Kingery's payday is a record-breaking amount for a player who has never appeared in the majors, easily beating out the five-year, $10MM guarantee the Astros gave first baseman Jon Singleton (an ex-Phillies prospect) back in 2014. Kingery and Singleton are the only two players to ever receive long-term deals before debuting in the majors. The Singleton contract hasn't worked out at all for the Astros, but the Phillies weren't going to let that deter them from wrapping up Kingery for the long haul.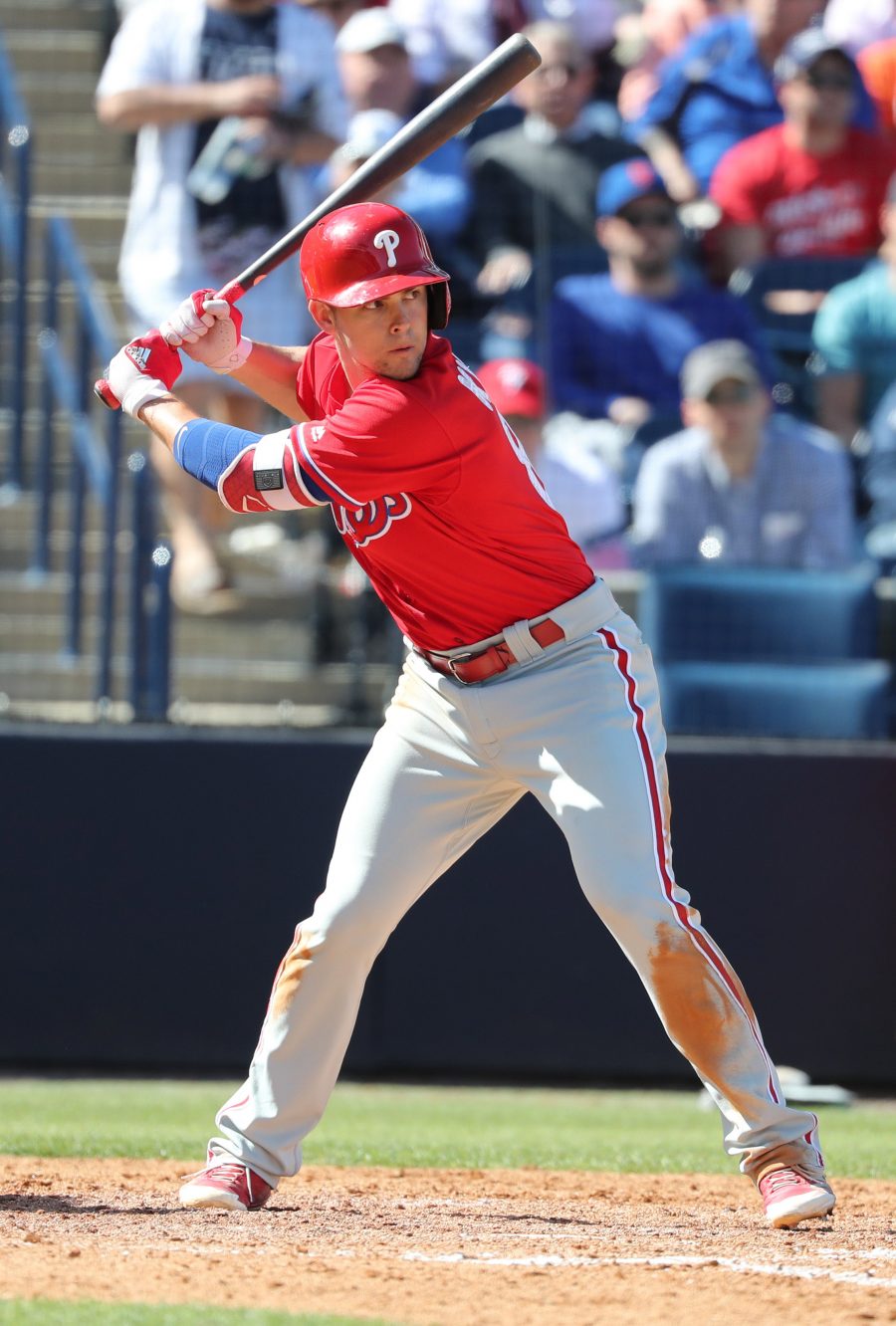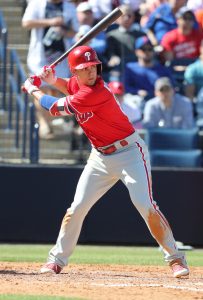 The news of the 23-year-old Kingery's accord comes on the heels of his first big league promotion, which was reported earlier Sunday. Service time looked to be a concern prior to the announcement of the deal, but that obviously won't be an issue now for the Phillies, who expect Kingery to emerge as an important major leaguer this season.
Kingery, who joined the Phillies in Round 2 of the 2015 draft, saw his stock soar last year after slashing .313/.379/.608 (166 wRC+) with 18 home runs and 19 stolen bases in 317 Double-A plate appearances. The righty-swinger earned a promotion to Triple-A as a result of that production and also performed well at that level, where he batted .294/.337/.449 (117 wRC+) with eight homers and 10 steals in 286 PAs.
Thanks to his breakout 2017 showing, Kingery ranks as MLB.com's 35th-best prospect. The outlet lauds his "advanced approach" at the plate and "plus speed," noting that he has the upside of an everyday second baseman. The Phillies already have a quality second baseman in Cesar Hernandez, who accounted for 7.6 fWAR from 2016-17, so it's unclear how often Kingery will play there in the near term.
Even if Hernandez continues to hold down the keystone for the time being, Kingery could factor in elsewhere. Although nearly all of Kingery's minor league action came at second, manager Gabe Kapler suggested earlier this spring that the player could fill a super-utility role in the majors (via Matt Gelb of The Athletic; subscription required).
"He can play in the big leagues at many different positions," Kapler said. "He can play second base, he can play shortstop, he can play centerfield. There's no doubt in my mind that he can handle third base. He can handle both corners. In theory, that's an exciting role for Scott."
For the most part, the Phillies look well positioned in the infield (depth chart), where big-money first baseman Carlos Santana and touted shortstop prospect J.P. Crawford will join Hernandez in starting roles. Third baseman Maikel Franco has been a disappointment, however, and could cede his spot to Kingery if he continues to struggle this year. The Phillies are also talented in the outfield, where slugger Rhys Hoskins will play left and Odubel Herrera will continue to handle center. Right field's less certain, although both Nick Williams and Aaron Altherr impressed last season.
Regardless of where Kingery lines up in 2018 and beyond, it's obvious the Phillies regard him as an integral core piece and someone who can help them return to relevance. Philadelphia is mired in a six-year playoff drought and hasn't finished .500 or better since 2012. The franchise looks to be on the upswing, though, in part because of Kingery's potential.
Along with Kingery and the rest of the Phillies' previously mentioned talent on the position player side, they made a bold strike in free agency in signing former Cubs ace Jake Arrieta to a three-year, $75MM contract. They also have budding star righty Aaron Nola under control through 2021. Plus, given that the Phillies have the capability to spend among the league's top teams (as seen with the Santana and Arrieta signings), they should be in play for other established free agents in future offseasons.
Jim Salisbury of NBC Sports Philadelphia first reported the news. Photo courtesy of USA Today Sports Images.