The 2018 debut of "Knocking Down The Door" is here!
Over the next four months, I will be identifying Minor Leaguers who I believe are putting themselves in position to earn a big league call-up in the near future. Walker Buehler and Gleyber Torres would've gotten serious consideration had they not already been promoted. Many others who make this list will get never get the call. Ask Chance Adams, who made this list in 2016 and 2017.
Here's a look at five Minor Leaguers who are currently "Knocking Down The Door" to the Major Leagues.
Willy Adames, INF, Rays (Triple-A Durham) | Rays Depth Chart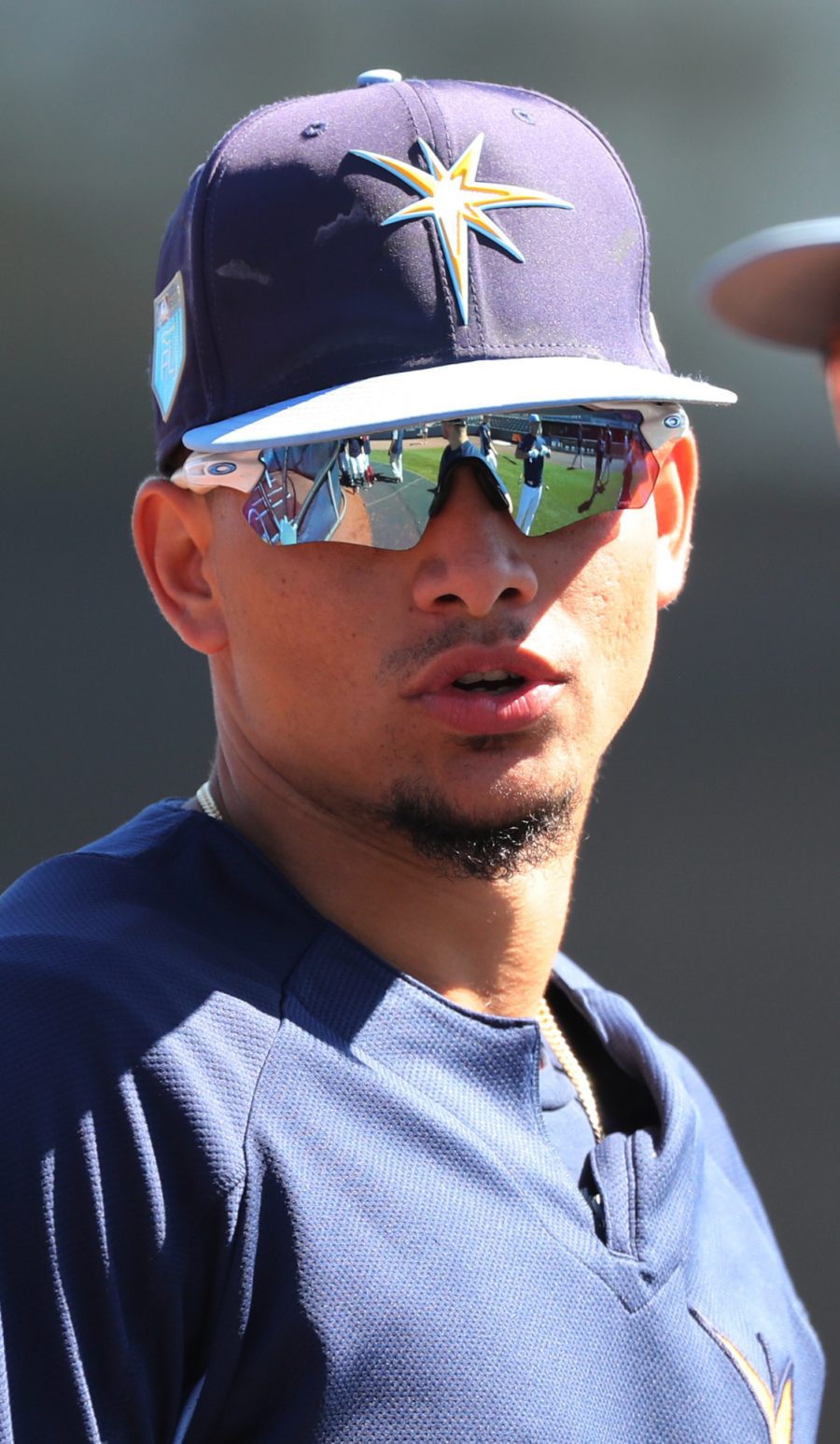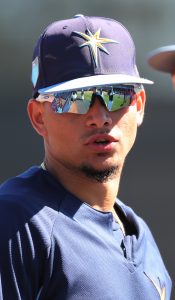 The Rays didn't get a great immediate return from the trade that sent away one of the best pitchers in baseball, David Price, nearly four years ago. Nick Franklin never panned out, and Drew Smyly made 49 starts in two and a half seasons before being flipped for outfielder Mallex Smith and lefty Ryan Yarbrough. Smith and Yarbrough are both on the roster now and controllable for years, and the trade could soon pay additional dividends with the 22-year-old Adames closing in on the Majors.
After hitting for the cycle Monday, Adames is slashing .345/.441/.582 in the first 16 games of his second Triple-A season. Year one wasn't overly spectacular, though Adames was one of the league's younger players at 21 years of age, and did have some very productive stretches. His strong start to year two, however, has to have the Rays' infielders on notice. A current 10-for-22 hot streak could help the light-hitting Adeiny Hechavarria deflect any current thoughts of Adames taking his starting shortstop job. Second baseman Joey Wendle (.867 OPS) and fill-in third baseman Daniel Robertson, who went 4-for-4 on Sunday, are also doing what they can to extend Adames' Triple-A tenure.
In all likelihood, Adames will be in the Majors very soon. The only question is where he'll play. While he should be able to make a quick transition to second base, he's played all but 21 games in his career at shortstop (10 games at third base in the Dominican Summer League and 11 games at second base in '17). With Hechavarria in the last year of his contract and the Rays unlikely to compete for a playoff spot, Tampa Bay could look to trade him or move him into a part-time role where he could help mentor Adames.
—
Drew Ferguson, OF, Astros (Triple-A Fresno) | Astros Depth Chart
The combination of Derek Fisher, Marwin Gonzalez and Jake Marisnick appeared to be a sufficient stopgap for top prospect Kyle Tucker, who would presumably need at least a few months in Triple-A before taking over as the team's starting left fielder. But despite a strong start by the Astros, they've gotten very little production out of the Fisher-Gonzalez-Marisnick trio. While Tucker is doing just fine early on in his first Triple-A season (.270/.360/.392) and Tony Kemp continues to be productive (.324/.427/.405), it's the 25-year-old Ferguson who is making the most noise.
The former 19th-round pick is slashing .362/.457/.580 with two homers, five doubles and nine multi-hit games. He might not be the long-term answer in left field, but he could certainly give a spark to the Houston offense, particularly the bottom third of the order.
—
Nick Kingham, SP, Pirates (Triple-A Indianapolis) | Pirates Depth Chart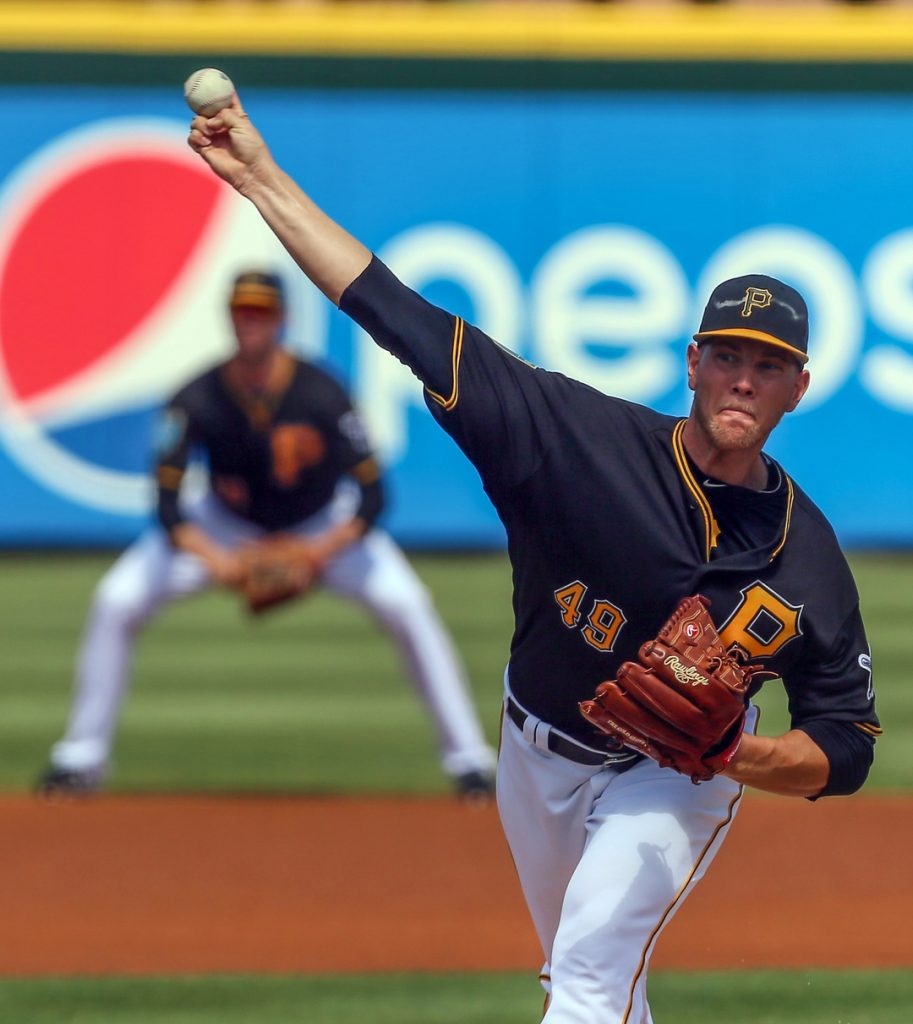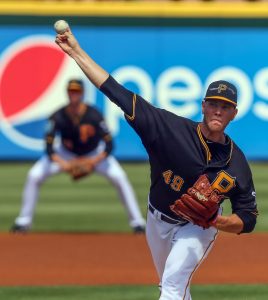 It was three years ago that Kingham was closing in on an MLB rotation spot. After allowing one run through five innings in an early May start at theTriple-A level and striking out the leadoff man in the sixth, though, he exited the game with elbow discomfort.
Kingham underwent Tommy John surgery a few weeks later and didn't return until late in the 2016 season. Despite making 19 starts in Triple-A last year, he never quite made a push for a big league call-up. But after four starts into what is his fourth season in the International League, it appears he's finally back on track. The 26-year-old pitched five shutout innings with 10 strikeouts in his 2018 debut, followed it up with back-to-back quality starts and another strong outing on Sunday (5 2/3 IP, ER, 6 K).
While Steven Brault has done a decent job filling in as the No. 5 starter, he could possibly give the Pirates a bigger boost as a multi-inning lefty out of the 'pen. The same could be said for Joe Musgrove, a setup man with the World Champion Astros, who was slated to the be the team's No. 5 starter before landing on the disabled list with a shoulder injury. But that all depends on whether Kingham can lock down a rotation spot once he's given a chance. And he deserves a chance.
—
Michael Kopech, SP, White Sox (Triple-A Charlotte) | White Sox Depth Chart
A prospect of Kopech's caliber isn't necessarily waiting for a big league spot to open for him. When he's ready, the White Sox will make room soon thereafter. But the need for a spot starter in Saturday's double-header and an injury to Miguel Gonzalez—his spot is being filled by Chris Volstad on Tuesday and will come up again on Sunday—could at least force them to decide if the 21-year-old is ready now.
One of the best pitching prospects in the game, Kopech has a 4.4 BB/9 and 11.6 K/9 since being drafted by the Red Sox with 33rd pick in the 2014 draft. But in six Triple-A starts (three at the end of '17 and three in '18), he's shown more control (3.0 BB/9) while maintaining his high strikeout rate. In his most recent start, the right-hander walked one and struck out 10 in five innings of work. He's yet to reach 100 pitches in any of his three starts—he surpassed that total five times in '17—but as long as he continues to throw strikes consistently, he should be able to navigate past the fifth inning on a regular basis against MLB hitters.
—
Colin Poche, RP,  Dbacks (Double-A Jackson) | Diamondbacks Depth Chart
There is "dominant," and then there's whatever Poche has done in his first eight innings in Double-A. The 24-year-old lefty has allowed just one hit and one walk. Of the 24 batters he's retired, he's struck out 19. Left-handed hitters have yet to put a ball in play against him. He's struck out all seven.
Keep in mind that another Diamondbacks lefty, Gabriel Moya, also had great success in Double-A last season (0.82 ERA, 14.2 K/9 in 43.2 IP). But instead of getting the call-up for Arizona's playoff run, he was traded to the Twins in July for backup catcher John Ryan Murphy. In other words, the front office wasn't all that impressed with Moya despite him making this list a month earlier. Still, it's impossible to ignore what Poche has done thus far. He should be able to help the D-backs at some point in 2018.

"Knocking Down the Door" is a weekly feature that identifies minor leaguers who are making a case for a big league promotion.
Photos courtesy of USA Today Sports Images.