"Knocking Down the Door" is a regular feature that identifies minor leaguers who are making a case for a big league promotion.
Sandy Alcantara, SP, Marlins (Triple-A New Orleans) | Marlins Depth Chart
In this rebuilding season, the Marlins are taking the opportunity to evaluate several young starting pitchers at the Major League level. Dillon Peters and Trevor Richards are back in Triple-A after getting an extended look. Jarlin Garcia made six starts before being moved to the bullpen. He was replaced in the rotation by Rule 5 pick Elieser Hernandez. Triple-A starters Zac Gallen and Ben Meyer have both been good enough to warrant a promotion, and 22-year-old Pablo Lopez (1 ER in 31 2/3 IP) has been one of the best pitchers at the Double-A level. Next in line, though, should be Alcantara, the prized prospect acquired from the Cardinals in the offseason trade of Marcell Ozuna.
After tossing eight shutout innings in his latest start, the 22-year-old right-hander's debut with the Marlins has to be on the horizon. Alcantara doesn't have the high strikeout rate that you'd expect from a top prospect, but he throws in the mid-to-high 90s—he averaged 98 MPH in eight relief appearances last season—and has been a strike-throwing machine as of late. Since walking 16 batters over his first six starts, Alcantara has been in control over his last three outings with only one walk in 20 innings, including back-to-back starts without issuing a free pass. As a comparison, he walked a batter in all but one of his 22 Double-A starts last season.
If the Marlins hold off and give Alcantara two more Triple-A starts, he could make his '18 debut when they face his former team in St. Louis between June 5th-June 7th.
—
Enyel De Los Santos, SP, Phillies (Triple-A Lehigh Valley) | Phillies Depth Chart
The Phillies' rotation is on a roll—they have the sixth-lowest ERA in the Majors and the third most quality starts—and currently have no weak link in their five-man rotation. But despite lacking a clear path to the Majors, De Los Santos is making it obvious that he's ready when needed.
After allowing a run in each of his first three Triple-A starts, the 6'3″ right-hander stepped it up a notch with three consecutive scoreless outings, a quality start on May 16th (6 IP, 3 ER) and another gem yesterday (7 IP, ER, BB, 5 K). At just 22 years of age, De Los Santos is dominating at the Triple-A level (1.39 ERA, 3.0 BB/9 and 9.7 K/9) and also has a 150-inning season under his belt at the Double-A level. With the Phillies primed for a playoff run, it's almost certain that the young workhorse will figure into their plans at some point.
—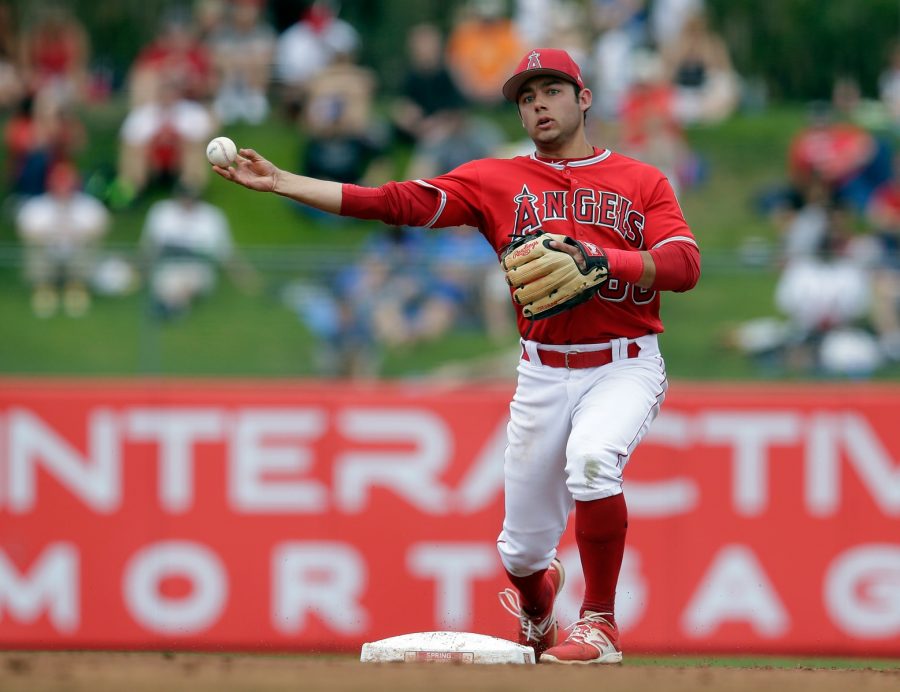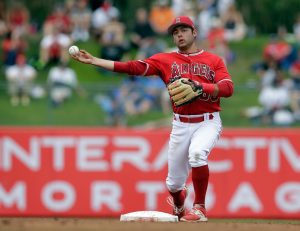 David Fletcher, INF, Angels (Triple-A Salt Lake) | Angels Depth Chart 
Replacing an accomplished 12-year veteran who is struggling mightily at the plate with an unproven prospect who is putting up huge numbers in Triple-A is not an easy decision. While the 35-year-old Ian Kinsler is no longer the hitter who slashed .288/.348/.484 with 28 homers back in 2016, he's probably not as bad as he's looked through his first 149 plate appearances of 2018, either (.197/.275/.288). Regardless, the Angels have to at least be considering whether it's time to give the 23-year-old Fletcher a chance.
After a subpar performance during his first full season in the upper minors in 2017 (.655 OPS in 111 games between Triple-A and Double-A), the former sixth-round draft pick has taken a huge step forward in 2018. He already has 20 multi-hit games and 28 extra-base hits—he had 24 total extra-base hits in 2017—while striking out just 13 times in 193 trips to the plate. A rare 0-fer on Tuesday has his slash line down to .356/.401/.599 in 192 plate appearances. Capable of playing second base, third base and shortstop, Fletcher could be used in a utility role while taking at-bats away from Kinsler, who is currently in a 5-for-34 rut.
—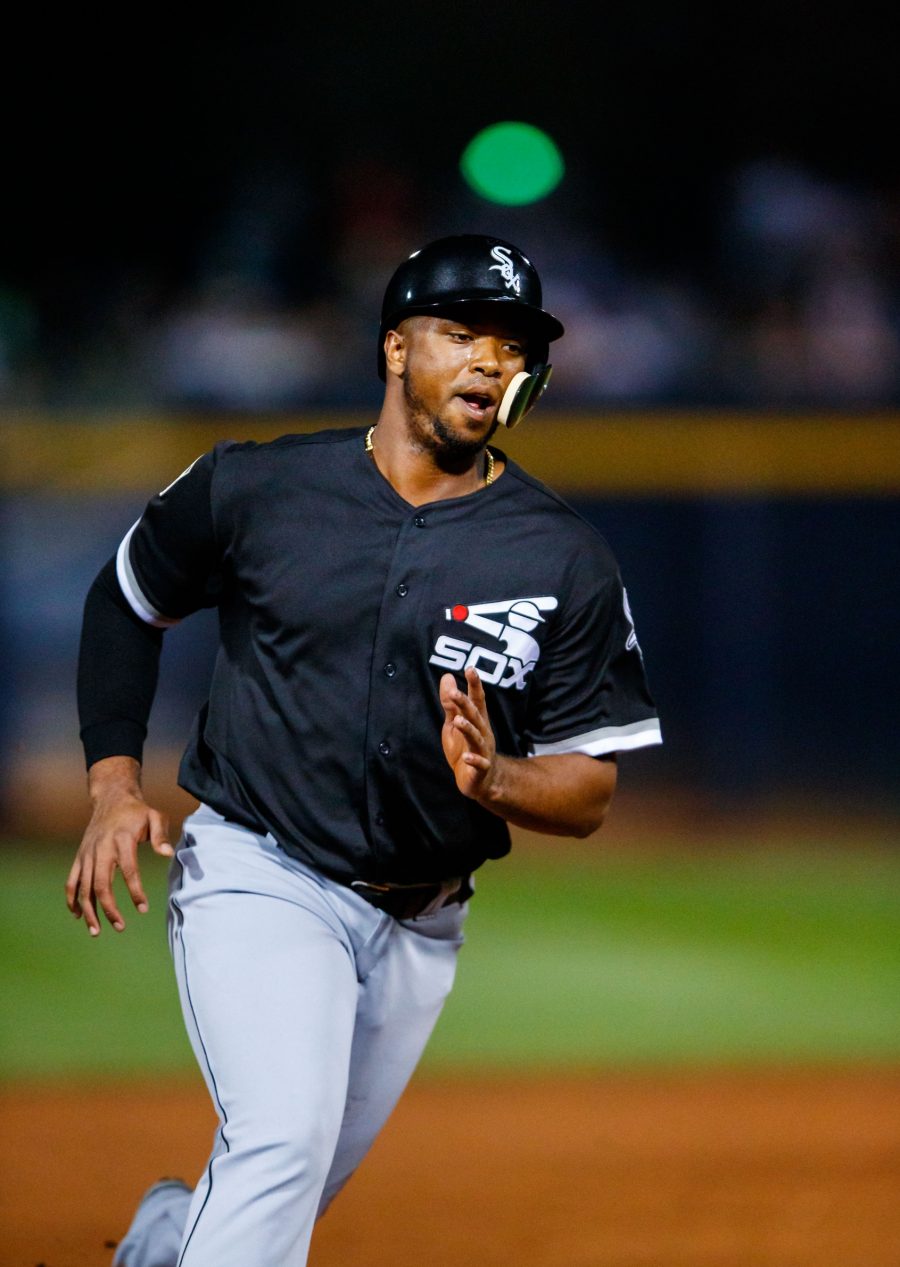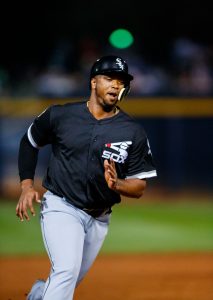 Eloy Jimenez, OF, White Sox (Double-A Birmingham) | White Sox Depth Chart
It's not surprising that 19-year-old Vladimir Guerrero Jr. has been the most impressive and most talked-about prospect in Double-A since the start of the season. But Jimenez, who began the season on the disabled list with a strained pectoral muscle, is quickly making up for lost time. The 21-year-old debuted on April 19th and, after going hitless in his first 11 at-bats, is now hitting .328/.360/.608 with eight homers and 11 doubles.
While he doesn't have the plate discipline of Guerrero or Juan Soto, another impressive 19-year-old who made his MLB debut with the Nationals this past weekend, Jimenez doesn't strike out a ton. He has 21 total strikeouts (a 15.9 percent clip) and has gone without a strikeout in 15 of his 31 games. When he does put the ball in play, it's often very loud. There's also a clear path to the Majors on a rebuilding White Sox team with one of the least-productive group of outfielders in baseball.
—
Dennis Santana, SP, Dodgers (Triple-A Oklahoma City) | Dodgers Depth Chart
Digging deep into their starting pitching depth is nothing new for the Dodgers. They've been doing it for years and, for the most part, their second wave of starting pitching has done an excellent job. This year has been no exception with Clayton Kershaw, Rich Hill and Hyun-Jin Ryu on the disabled list and Walker Buehler (2.38 ERA in six starts), Ross Stripling (3.26 ERA in four starts) and Brock Stewart (one run in four innings in his lone spot start) doing their part to hold down the fort. Next in line could be the 22-year-old Santana, who threw six shutout innings with only three singles allowed and 11 strikeouts in his Triple-A debut over the weekend.
After he struggled badly in seven Double-A starts last season (5.51 ERA, 6.3 BB/9), an MLB debut in 2018 did not appear to be in the cards despite being added to the 40-man roster over the offseason. But that's changed after eight impressive Double-A starts (2.56 ERA, 3.3 BB/9, 11.9 K/9) and, probably even more so, after whiffing 11 hitters without issuing a walk over six shutout innings in his Triple-A debut. Like Kenley Jansen and Pedro Baez, Santana started his professional career as a position player—he was a shortstop for one season after signing in 2013—so he should feel at home in the Dodgers' clubhouse.
Photos courtesy of USA Today Sports Images.