This is the latest entry in MLBTR's 2017-18 Offseason In Review series. Click here to read the other completed reviews from around the league.
Milwaukee's rebuild reaped significant benefits faster than most anticipated in 2017, setting the stage for an active but also puzzling offseason from GM David Stearns & Co.
Major League Signings
Lorenzo Cain, OF: Five years, $80MM
Jhoulys Chacin, RHP: Two years, $15.5MM
Matt Albers, RHP: Two years, $5MM
Boone Logan, LHP: One year, $2.5MM
Eric Sogard, 2B: One year, $2.4MM
Yovani Gallardo, RHP: One year, $2MM (base salary was only partially guaranteed, and Gallardo was paid $500K upon being cut late in Spring Training)
Dan Jennings, LHP: One year, $750K
Total Spend: $106.65MM
Trades and Claims
Notable Minor League Signings
Extensions
Chase Anderson, RHP: Two years, $11.75MM plus club options for 2020 ($8.5MM) and 2021 ($9.5MM)
Notable Losses
Needs Addressed
Milwaukee's needs on the pitching staff received the lion's share of attention headed into the offseason, which was understandable following staff ace Jimmy Nelson's shoulder surgery. But the Brew Crew also had some fairly notable needs on the offensive end of the spectrum as well. The Brewers did hit the seventh-most homers in MLB last year, but they nonetheless ranked 20th in the Majors in runs scored. Their collective output against lefties (.248/.321/.413, 89 wRC+) ranked 24th in the Majors, while their production against right-handers (.250/.323/.434, 94 wRC+) wasn't dramatically better.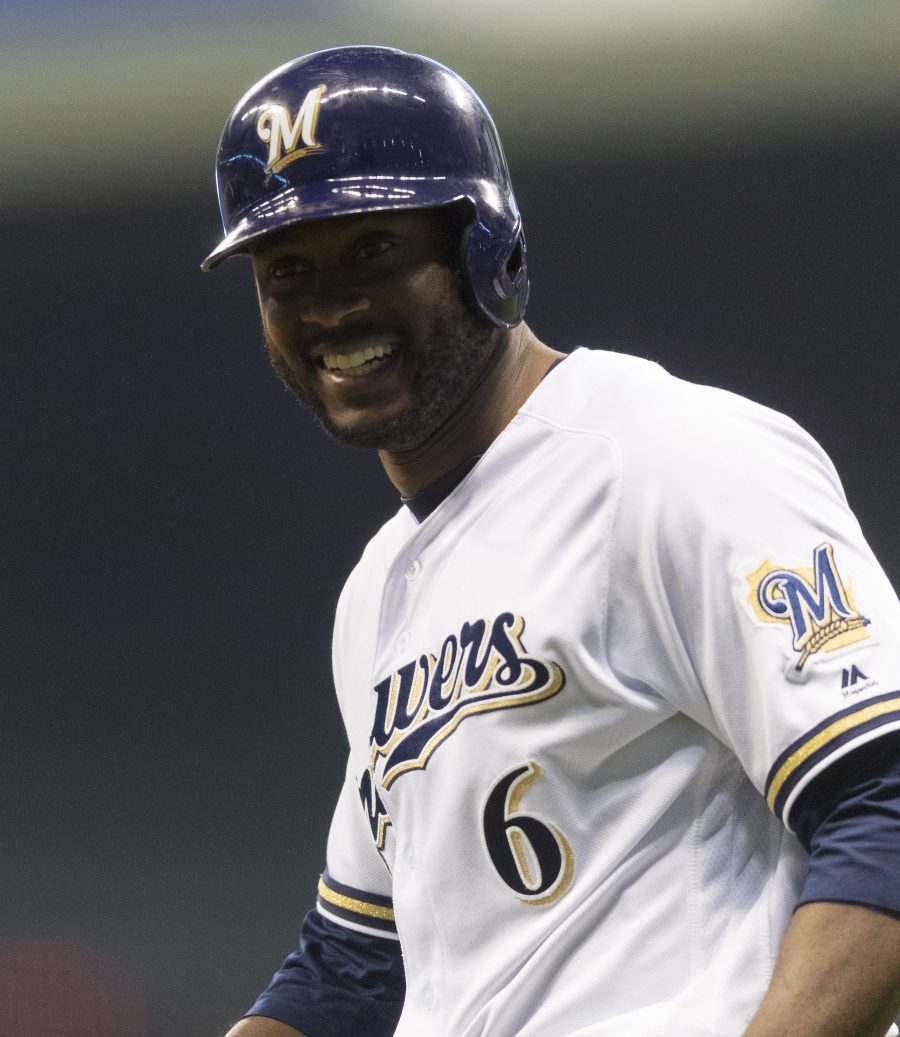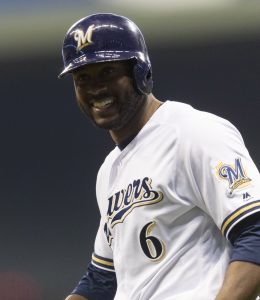 The Brewers' primary means of bolstering the offense came in effectively swapping out Keon Broxton for Lorenzo Cain, who inked the third-largest contract of any position player this offseason and the fourth-largest overall at five years and $80MM. Milwaukee also shipped out a four-player package headlined by Lewis Brinson and Monte Harrison to acquire a whopping five seasons of Christian Yelich — all of which figure to be prime years.
The outfield, of course, didn't look like a huge need for the Brewers on paper, and it's arguable that it wasn't a need at all. However, manager Craig Counsell should have around 2600 to 2700 plate appearances to divide up primarily between Cain, Yelich, Domingo Santana, Ryan Braun and Eric Thames in a rotation of players in the outfield at at first base (where Braun and Thames will factor most prominently).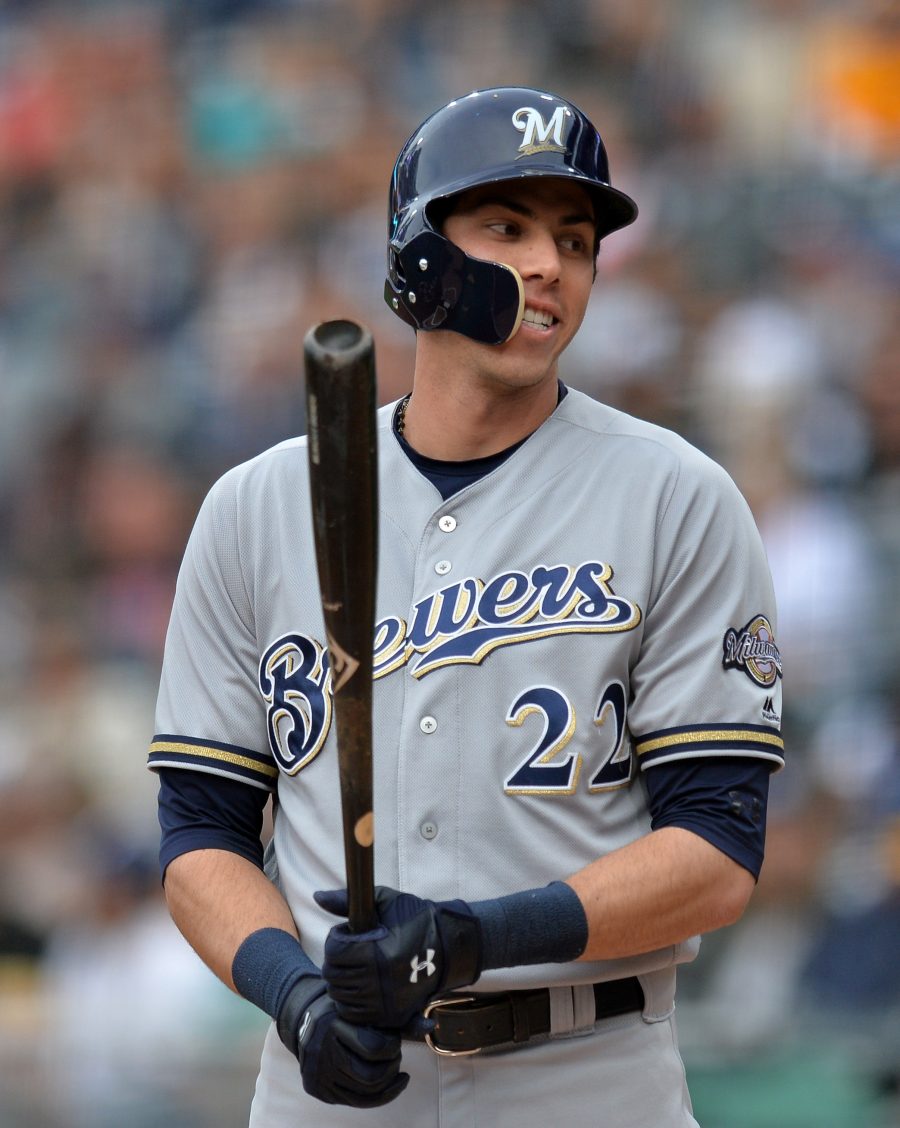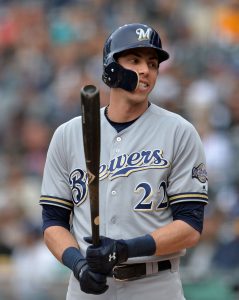 The depth allows Thames (.182/.270/.394 vs. lefties in 2017) to be platooned, and the group of Cain, Braun, Santana and occasional first baseman Jesus Aguilar gives Counsell plenty of possibilities versus lefties. The club has also held onto righty-swinging first bagger Ji-Man Choi after his eye-opening spring, though he's currently on optional assignment. Plus, Broxton and Brett Phillips are both still on hand as outfield options should injuries necessitate. That level of depth is hard to find throughout the league.
That's not to say, either, that the Brewers didn't address their pitching staff at all. Jhoulys Chacin has quietly been a quality arm for the Angels and Padres over the past two seasons. It's a bit too rudimentary to say Chacin needs to prove he can pitch outside of San Diego — his home/road splits were pronounced with the Halos as well — but he'll certainly hope to pitch more consistently than over the past two seasons. The bottom-line results for Chacin have tended to even out in the end, though, and he'll provide a veteran source of innings to an otherwise inexperienced rotation.
In the 'pen, the Brewers added quantity but did not join in on the Winter Meetings' relief craze. With premium annual values and multi-year deals for setup men en vogue — the Rockies led the way with more than $100MM worth of bullpen spending — the Brewers went the opposite route. Matt Albers was a late sign at a more traditionally expected rate and will look to prove to his doubters that last year's brilliant season with the Nats was no fluke. Dan Jennings was a late-Spring steal at $750K, and he'll pair with veteran Boone Logan (once healthy) and exciting youngster Josh Hader to give Counsell the left-handed depth he sorely lacked in 2017. (Yovani Gallardo was also signed to a non-guaranteed deal, but he didn't make the cut out of Spring Training.)
Questions Remaining
The common belief once the Brewers acquired Yelich and Cain within mere hours of one another was that the front office would use its newfound outfield depth to trade for a rotation upgrade. Rumors persisted throughout the offseason, and Milwaukee remained connected to the likes of Yu Darvish, Jake Arrieta, Lance Lynn and Alex Cobb throughout their respective time on the open market. In the end, though, Chacin was the lone rotation addition outside of a minor league deal for Wade Miley, who figures to get some starts for the Brewers once he recovers from a groin injury after showing well this spring.
With Nelson out until midseason, then, Milwaukee's rotation will consist of Chase Anderson, Zach Davies, Chacin and a combination of Brent Suter, Junior Guerra, Brandon Woodruff and, eventually, Miley. Clearly, it's a group that is rife with uncertainty. Anderson and Davies impressed in 2017, and Chacin should be serviceable, but the rest of the group is less certain. Guerra had a nightmarish 2017 season, while Suter and Woodruff lack much in the way of a big league track record. Miley pitched poorly enough in 2016-17 that he had to settle for a minor league deal despite a history of durability.
Brewers fans and onlookers wondered for the final several months of the winter when Stearns and his staff were going to make some kind of splash on the pitching market, but in retrospect, perhaps the opportunity for a meaningful upgrade on the trade front never materialized. Corner outfielders aren't exactly in high demand these days, as both the trade and free-agent markets in the past couple of seasons have made abundantly clear.
Santana had a nice season, to be sure, but being a 30-homer bat in a season that saw 74 players swat 25+ big flies doesn't hold the same appeal as being a 30-homer bat would've been even three years prior. Add in a 31 percent career strikeout rate, and it's plenty plausible that the offers for him simply didn't include a rotation piece of note. Broxton and Phillips both have significant strikeout issues, and Phillips' big year was at least somewhat fueled by BABIPs north of .400 in the Majors and the minors. The Brewers undoubtedly could've added some depth via trade, but if they felt that the best the market had to offer was arms with similar uncertainty to the ones they already possessed, then the lack of a deal is more justifiable.
As far as free agency goes, a match with any of the big four starters seemed plenty plausible on paper, even as far back as November. Milwaukee never seemed keen on beating the market for one of the top arms, however, with the possible exception of Darvish, who instead went to the Cubs on what would've been a record deal for the Brewers.
It's somewhat of a surprise that Milwaukee seemingly didn't play for Lynn, even when his market dipped to the point where he could be had on a one-year deal. The Brewers, after all, would've only been required to punt a third-round pick to sign Lynn, as they'd already surrendered a second-round pick in order to sign Cain earlier in the winter. Lynn's strikeout, walk and home-run rates in 2017 were all questionable in 2017, but the Milwaukee rotation would still look more solid with him penciled into the middle.
Elsewhere on the diamond, the Brewers looked to be a quality landing spot for Neil Walker, who thrived in Milwaukee following a trade from the Mets last season. There were longstanding rumors connecting the Crew to Ian Kinsler as well, but he went to the Angels while Walker landed on a one-year, $4MM deal with the Yankees. Milwaukee had already re-signed Eric Sogard, but they'll now lean on the same mix of Sogard, Jonathan Villar and Hernan Perez that was shaky enough to prompt last August's trade for Walker in the first place. If 2016 Villar resurfaces, all will be fine. But for a team that stockpiled depth so substantially in the outfield, it's curious that the Brewers wouldn't bring Walker back into the fold at a fairly minimal cost. It won't be a surprise if they're on the hunt for second base help again in two months' time.
Overview
Milwaukee's offense, defense and overall outfield depth should be drastically improved with the additions of Cain and Yelich on long-term commitments. Those two acquisitions should help to deepen the lineup and create a more complete offense than last year's deceptively home-run-dependent unit. It's fair to wonder how Cain will hold up into his age-36 campaign, but those questions exist with any long-term deal for a position player. Though second base could eventually be an issue for the club, that's a position that'll be fairly easy to address on the trade market if the past couple of years are any indication.
For the 2018 Brewers, the rotation will be the main focus of fans and critics alike. Pundits widely opined that the team was making a misstep by not making further additions. I'm of the mind that, except for a late one-year deal for Lynn that would've made some sense, the Brewers' lack of activity was largely justifiable given that the supply of available outfielders dampened the value of their potential trade chips and given the prices for the other top free agents. But if the group they have in place right now falters and/or Nelson takes longer than anticipated to return, the Brewers will be in the market for rotation help this summer and forced to field questions as to why that need wasn't more thoroughly addressed in the winter.
How would you grade the Brewers' offseason? (Link to poll for Trade Rumors app users.)
Photos courtesy of USA Today Sports Images.