This is the latest entry in MLBTR's 2017-18 Offseason In Review series. Click here to read the other completed reviews from around the league.
The Yankees managed to go from July 2016 sellers to the 2017 ALCS, coming within one game of a World Series appearance in a remarkable turnaround. Their offseason was reflective of the fact that any "rebuild" in the Bronx has already come and gone.
Major League Signings
Trades and Claims
Notable Minor League Signings
Notable Losses
Needs Addressed
As one would expect of a club that came within a game of the World Series and retained the majority of its roster, the Yankees weren't exactly teeming with clear needs entering the offseason. GM Brian Cashman and his lieutenants completed a good portion of their offseason shopping back in July, in fact, acquiring not only Sonny Gray but also David Robertson and Tommy Kahnle, thus bolstering the pitching staff for the foreseeable future in the course of adding reinforcements down the stretch.
For the Yankees, the 2017-18 offseason was much more about being opportunistic and reinforcing existing areas of strength than it was about addressing glaring weaknesses. Rather than acquire a specific skill set or a player at a certain position, the team's top priority seemed to be resetting its luxury tax penalty by dipping back beneath the $197MM tax threshold.
To that end, the team seemed to be primed for a spirited pursuit of young phenom Shohei Ohtani, whose signing bonus wouldn't have counted against that tax calculation and who could pitch several seasons near the league minimum. The former Nippon Professional Baseball superstar seemingly shocked the Yankees, however, when he informed them that they would not even be one of the seven finalists with whom he sat down for an in-person interview.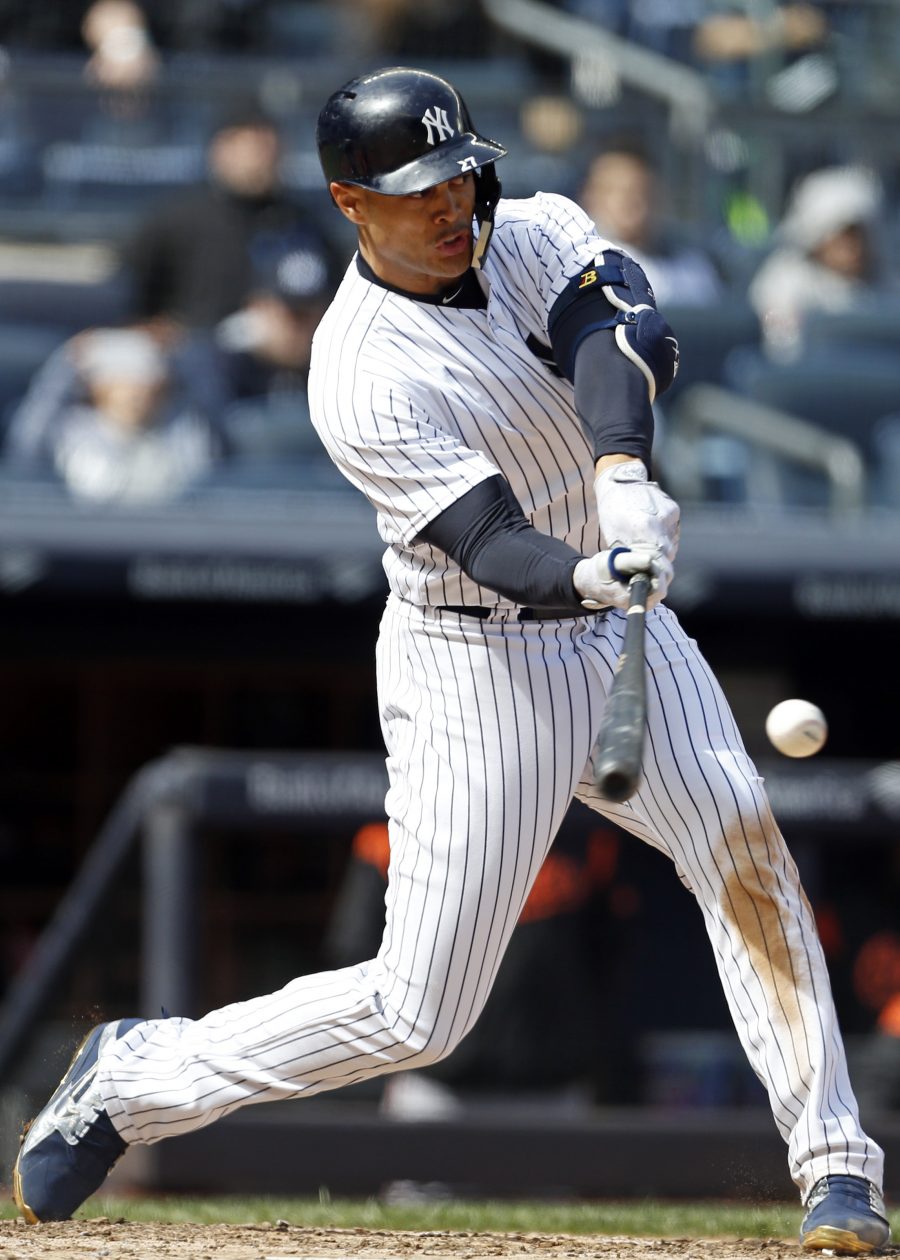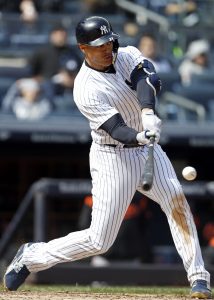 Cashman & Co. evidently subscribe to the belief, however, that when one door closes another opens elsewhere. With the DH spot in the lineup no longer earmarked for Ohtani on his non-pitching days, the Yankees circled back to the Marlins, who'd previously contacted them to gauge their interest in Giancarlo Stanton. To that point, trade talks surrounding the reigning NL MVP had focused on the Giants and Cardinals — a pair of clubs that weren't on Stanton's list of desired trade destinations. Stanton kept an open mind in meeting with each organization, but the Yankees' miss on Ohtani created a new opportunity with a team that Stanton had expressed a desire to land with.
Roughly a week later, the two sides had agreed to arguably the biggest deal of the offseason. Stanton was introduced to the media as the newest Yankee at this year's Winter Meetings. In exchange for taking on the vast majority of his contract, the Yankees only were required to part with a pair of mid-range prospects and Castro, whose own $22MM commitment helped to offset some of Stanton's deal.
Stanton's massive contract, of course, came with plenty of luxury tax concern, which made the inclusion of Castro's deal important and made the subsequent trade of Chase Headley back to the Padres all the more critical. The Yankees agreed to part with young pitcher Bryan Mitchell and received Jabari Blash in return — a 28-year-old outfielder whom they later designated for assignment. The Headley trade, as far as the Yankees were concerned, was all about shedding the vast majority of his $13MM annual luxury hit. Surrendering four years of club control over Mitchell at an affordable rate was the cost of doing business.
Missing out on Ohtani, though, left the Yankees with at least a modicum of uncertainty in their rotation scene. CC Sabathia and Michael Pineda were no longer in the fold, leaving Luis Severino, Gray, Jordan Montgomery and Masahiro Tanaka (who surprised many by forgoing his opt-out clause) as the top four options in the Bronx. While prospects Chance Adams and Justus Sheffield loom in the upper minors, the Yanks struck a one-year, $10MM deal to put Sabathia back in pinstripes as means of deepening the rotation and ensuring that their prized young arms wouldn't need to be rushed to the big leagues.
That Castro and Headley were now on new clubs left the Yankees with a pair of openings around the infield. Those vacancies left many Yankees fans eagerly envisioning a high-upside infield of Miguel Andujar at third base, Didi Gregorius at short, Gleyber Torres at second base and Greg Bird at first base. That alignment may very well be the future in New York, but the Yankees understandably had some trepidation about turning the infield over to three inexperienced players. Andujar and Torres had scarcely played above the Double-A level.
In March, Neil Walker told the New York Times that he thought he'd been close to an agreement with the Yankees before they swung a three-team deal with the D-backs and Rays that sent Swiss Army knife Brandon Drury to the Bronx instead. That deal seemed to prolong a surprisingly tepid market for Walker, but in the end, the Yankees came away with both players. As they did with Stanton, the Yanks parted with a pair of mid-range prospects in order to install Drury into their infield mix for the next four seasons, and they later added Walker for just a $4MM guarantee despite his steady track record as a decidedly above-average bat and ability to handle multiple positions.
Questions Remaining
Despite the team's quick turnaround and Joe Girardi's general success over a decade-long run at the helm for the Yankees, Girardi was not offered a contract to return for the 2018 season. Rather, the Yankees conducted a search of surprisingly inexperienced managerial candidates and ultimately settled on the least-experienced option interviewed by any of the five clubs who hired new managers this past offseason.
Former Yankee and ESPN broadcaster-turned-manager Aaron Boone has been thrown directly into the fire with the Yankees, managing a club with World Series aspirations, plenty of star power and also a number of key young talents who figure to make their MLB debuts this season. Boone will juggle all of that in the nation's largest media market while dealing with one of the game's most vocal fanbases. It'd be a daunting task even for an experienced skipper, and there'll probably be some bumps along the way.
Most of the other questions facing the Yankees pertain more to their health and finances than the on-field product. Namely, after spending the entire offseason unsuccessfully trying to find a taker for Jacoby Ellsbury, they've now watched as a concussion, hip issue and plantar fasciitis have all combined to prevent Ellsbury from taking the field in 2018. Ellsbury was owed more than $68MM with a full no-trade clause even before that slate of injuries, and the possibility of shedding his contract looks increasingly remote.
While many Yankees fans have clamored for the club to simply release him, though, Ellsbury was a perfectly serviceable piece when healthy in 2017. His .264/.348/.402 slash (clearly) wasn't worth the near-$22MM salary the Yankees are paying him, but he's also not devoid of on-field value. That'll be a situation on which Cashman and his charges will have to deliberate at length; at some point, perhaps they'll simply cut bait, but in doing so they'd be committing to fully paying his luxury tax hit for the next three seasons. If the front office still feels that a healthy Ellsbury can contribute on the field or eventually be moved for some salary relief, then an unconditional release is an understandably unpalatable course of action.
At first base, meanwhile, Bird has already undergone ankle surgery, further raising questions about his ability to remain healthy in the long term. The 25-year-old has legitimate power (16 homers, .250 ISO through 348 MLB plate appearances), but this will be the third straight surgery-shortened season for him. He's previously had shoulder surgery (2016) and a separate ankle surgery (2017). Walker and Tyler Austin present alternatives (Walker's poor start notwithstanding), but the 2018 season will be critical for Bird as he looks to establish himself as an infield fixture.
If there's one area the Yankees are lacking, it's left-handed relief, with Chasen Shreve and closer Aroldis Chapman constituting the lone southpaw options on the 40-man roster. Oliver Perez is in the organization as a potential veteran option, though, while righties Chad Green and David Robertson have actually dominated lefty opponents more than same-handed hitters.
The rest of the roster looks to be largely set, at least for the coming season. Perhaps if Bird's ankle injuries linger or if Andujar and/or Torres struggle for a prolonged stretch, they'll seek additional depth. But the acquisitions of Walker and Drury already offer some measure of contingency plan. Austin Romine's career .266 on-base percentage is an eyesore, but the Yanks seem content with his defense and were never rumored to be in the market for an upgrade over him as the backup to Gary Sanchez.
Any deadline needs that pop up for the Yankees figure to be driven by injuries and/or underperformance rather than area of weakness heading into the season. On paper, the club looks stacked, and while dismal starts from Stanton and Sanchez, in particular, have caused some angst, the Yankees look like a potential juggernaut once their bats wake up.
Overview
If Plan A for the Yankees was to land Ohtani, their Plan B of Stanton plus a series of quality depth additions is no small consolation. By midseason, it's possible that the Yankees' lineup will feature Stanton, Sanchez, Gregorius, Aaron Judge, Torres, Andujar, Bird, Aaron Hicks and Brett Gardner — a collection of veterans and high-upside talents that could form one of the most productive units in all of baseball. With an exceedingly deep bullpen and a quality rotation backed by prospects like Adams and Sheffield, there should be similar optimism for the pitching staff. Prospect trade chips abound. And because the front office succeeded in not only resetting the luxury tax but dropping beneath the penalty line by roughly $16MM, there's ample room for the Yankees to upgrade as necessary this summer.
The expectation level has quickly been raised in the Bronx, though, and it stands to reason that anything shy of a deep postseason run will be considered a disappointment.
How would you grade the Yankees' offseason? (Link to poll for Trade Rumors app users.)
Photo courtesy of USA Today Sports Images.