SUNDAY: Torres is starting at second on Sunday for the Yankees, who optioned Wade to Triple-A in a corresponding move.
SATURDAY: The Yankees are set to promote their best prospect, infielder Gleyber Torres, Jack Curry of the YES Network reports. Torres will join the Yankees for their game against the Blue Jays on Sunday. He's already on the Yankees' 40-man roster, so they won't need to jettison anyone in order to make room for him.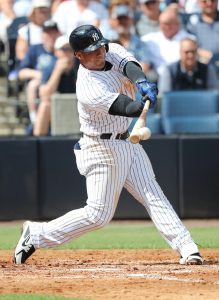 The 21-year-old Torres is in his second full season with the Yankees, who acquired him in a deal with the Cubs centering on closer Aroldis Chapman in July 2016. It's fair to say the trade has worked out for both teams, given that Chapman helped pitch the Cubs to a World Series that year and then returned to the Yankees as a free agent in the ensuing offseason, and Torres has turned into an elite prospect.
MLB.com is among many outlets with a high opinion of Torres, ranking him as the game's No. 5 prospect while lauding his offensive and defensive potential. The right-handed-hitting Torres has shown plenty of upside with the bat since his promotion to Triple-A in 2017, having slashed .331/.409/.488 in 149 plate appearances at the minors' highest level. Torres' season was cut short in 2017 on account of a left elbow injury that required Tommy John surgery, but he returned this year to post a .370/.415/.543 line in 53 PAs prior to his promotion to New York.
Originally a shortstop, Torres also brings minor league experience at second and third base. He's unlikely to make an impact at short for the Yankees, who have breakout star Didi Gregorius there, but could play either of the other two positions. Of course, fellow highly touted prospect Miguel Andujar has impressed lately at third, where he has been filling in for the injured Brandon Drury (on the DL since April 7 with migraines). On the other hand, New York hasn't gotten much production at second from accomplished veteran Neil Walker or youngster Tyler Wade, so Torres could be a factor there for a 10-9 club that's lagging well behind the incredibly hot Red Sox (17-2) in the AL East early in the season.
Regardless of where Torres primarily lines up, or if this just proves to be a cup of coffee until Drury returns, the Yankees will be able to control him through the 2024 campaign.
Photo courtesy of USA Today Sports Images.