2:37pm: The Cubs and Yankees have each formally announced the trade. Warren will join the Yankees' Major League roster, while McKinney will head to Double-A Trenton. Torres and Crawford are each bound for Class-A Tampa.
11:03am: After months of being linked to a hard-throwing left-hander for their bullpen, the Cubs have reportedly acquired the hardest-throwing pitcher in all of Major League Baseball, reaching an agreement with the Yankees that will send Aroldis Chapman from New York to Chicago in exchange for shortstop prospect Gleyber Torres, right-hander Adam Warren and minor league outfielders Billy McKinney and Rashad Crawford.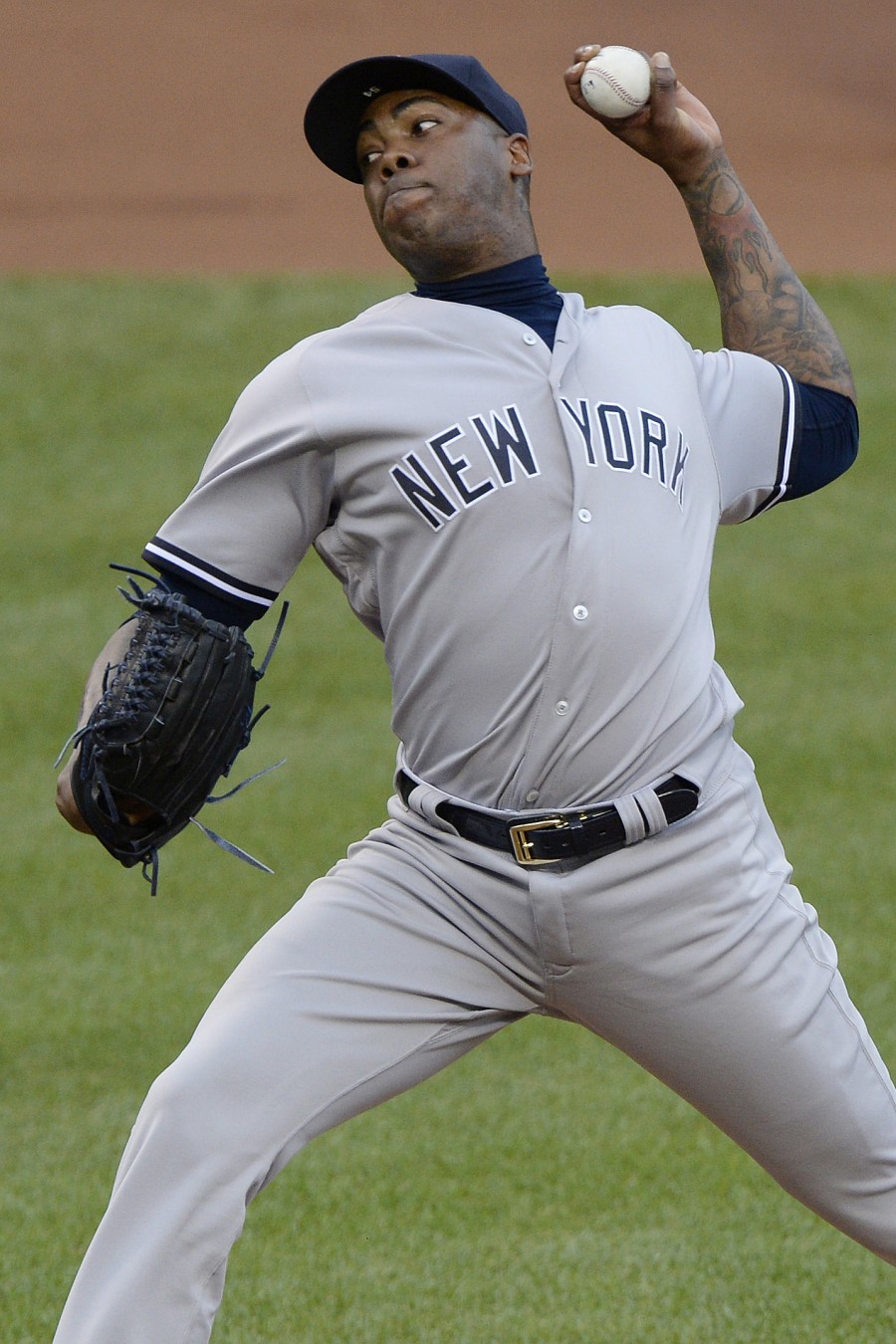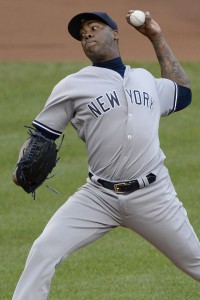 The Cubs have been linked to Chapman and fellow lefty Andrew Miller for months, but the Yankees seemingly never wavered from their asking price of Kyle Schwarber in exchange for Miller, and the Cubs never budged on their refusal to discuss the injured slugger. Instead, the Cubs will pick up Chapman — long one of the best closers in all of baseball but also a free agent at season's end, making the four-player package headlined by Torres a steep price to pay. However, the Cubs have more wins than any team in Major League Baseball and are making a clear effort to deepen their roster not just to get to the postseason but to thrive upon arriving there. The structure of the postseason schedule allows clubs to more heavily rely on their bullpen arms due to the frequency of off-days in the schedule, making Chapman that much more valuable in a five- or seven-game series.
The 2016 season has seen Chapman continue his on-field excellence,  posting a pristine 2.01 ERA with 12.6 K/9, a career-best 2.3 BB/9 and a 37.3 percent ground-ball rate. Chapman's fastball has averaged a staggering 100.1 mph this season, which is a strong driving factor behind an 18.2 percent swinging-strike rate that is the fourth-highest in MLB. Since taking over as the Cincinnati closer back in 2012, Chapman has compiled a 1.91 ERA with 165 saves and a ridiculous 500-to-117 K/BB ratio in 287 innings of relief work. He's earning $11.325MM this year and has about $4.33MM remaining on his salary through season's end.
Chapman becomes the second hard-throwing lefty to join the Cubs' bullpen in the past week, as Chicago also picked up lefty Mike Montgomery from the Mariners in a trade that sent slugging (and blocked) minor league first baseman Dan Vogelbach to Seattle. Chapman figures to supplant Hector Rondon as the Chicago closer, pushing Pedro Strop to the seventh inning. Montgomery and right-hander Carl Edwards Jr. will mix in as well, as will right-hander Justin Grimm and veteran right-hander Joe Nathan, who was just brought to the Majors over the weekend after completing rehab from Tommy John surgery. Travis Wood has pitched to a 2.88 ERA this season and is second among Chicago relievers in terms of innings pitched, so he's likely to become the third lefty in manager Joe Maddon's bullpen. As such, the acquisition of Chapman could push left-hander Clayton Richard, who has a 6.43 ERA in 14 innings this year, out of the picture.
[Related: Updated Chicago Cubs and New York Yankees Depth Charts]
Chapman's time with the Yankees will ultimately prove to be brief in nature, as he spent just a few months in the organization and only a bit more than two months on the active roster due to a 30-game suspension under Major League Baseball's domestic violence policy. Chapman was investigated by the league this offseason following allegations of assaulting his girlfriend at a party and later discharging a handgun in his garage, though he was never arrested nor were any charges filed. While the moral and ethical implications of acquiring a player associated with that investigation can be debated to no end, from a pure baseball perspective, the investigation drastically lowered the price for the Yankees to acquire Chapman this winter. They'll now swap out Eric Jagielo, Rookie Davis, Caleb Cotham and Tony Renda for a significantly more talented package of talent, headlined by Torres and McKinney.
Warren will return to the Bronx with two and a half years of service time, and he'll be a familiar face for the Yankees, who just this offseason traded him to the Cubs in order to acquire Starlin Castro. However, Chicago proved to be a struggle for Warren, who pitched to a 5.91 ERA in 35 innings with the Cubs. Considering the strong work that Warren did from 2013-15 with the Yankees — 3.23 ERA, 7.7 K/9, 2.9 BB/9, 45.3 percent ground-ball rate — the extent of his struggles was fairly surprising. The primary culprits for Warren were a dramatic spike in his walk rate (4.9 BB/9) and a massive increase in homers. A fluky 16.7 percent homer-to-flyball ratio undoubtedly impacted his 1.8 HR/9 rate, but Warren's general problems with locating his pitches actually led to a greater percentage of pitches in the strike zone, particularly when behind in the count.
Torres, 19, is the most highly regarded prospect joining the Yankees' ranks. One of the prizes of the Cubs' pool-shattering international spending spree three summers ago, the shortstop entered the season as a consensus Top 50 prospect around the league and has only continued to boost his stock. Torres is hitting .275/.359/.433 with nine homers and 19 stolen bases in 409 plate appearances while playing against considerably older competition. ESPN's Keith Law rated Torres 26th on his midseason list of the game's top prospects, and Baseball America pegged him 27th. Law noted that Torres has put on weight and filled out a bit, making it less certain that he'll stick at shortstop but adding to the power output he's delivered in a pitcher-friendly home park as one of three teenagers receiving regular at-bats in the Carolina League this year. BA notes that he's recovered from a dreadfully low start — indeed, he's hitting .302/.379/.468 since May 1 — and has shown enough added pop to profile at second or third base even if he has to move off of shortstop.
The 21-year-old McKinney was a Top 100 prospect entering the season but has seen his stock dip a bit, part of which BA attributes to adding "some bad weight" and slowing down both in terms of foot speed and bat speed. In 349 plate appearances at the Double-A level this season, McKinney is hitting .252/.355/.322 with just one home run. However, he's quite young for the level and is just a year removed from hitting .300/.371/.454 as a 20-year-old between Class-A Advanced and Double-A, so there's certainly room for a rebound. And, as evidenced by McKinney's 47 walks (13.5 percent) against 68 strikeouts (19.4 percent), he still possesses strong discipline at the plate that should play into his favor as he continues to develop. The Yankees will be the third organization for McKinney, who was selected 24th overall by the A's in 2013 but traded to the Cubs alongside Addison Russell in the Jeff Samardzija/Jason Hammel blockbuster back in 2014.
As for Crawford, the 22-year-old was an 11th-round pick out of high school by the Cubs back in 2012 and is in his first season at Class-A Advanced. He's hitting .255/.327/.386 with three homers and 22 steals in 28 tries through his first 370 trips to the plate. Crawford didn't land on any top 30 lists for the Cubs, but BA's J.J. Cooper tweets that as a toolsy center fielder with plus speed and plus defense, Crawford is the "perfect" fourth player/lottery ticket to add some further upside to the deal for the Yankees.
Jon Heyman of FanRag Sports was the first to report that the two were talking about a trade involving Chapman and Torres and also the first to say a deal was in place (via Twitter). Joel Sherman of the New York Post first reported Warren's inclusion (links to Twitter). Sahadev Sharma of TheAthletic.com first reported that McKinney was in the deal (also via Twitter). Patrick Mooney of CSN Chicago reported that Crawford was the fourth player (Twitter link).
Photo courtesy of USA Today Sports Images.