With Major League Baseball's regular season winding down, we're drawing closer to the playoffs and the opening of the free-agent market soon after that. There are plenty of hitters scheduled to reach free agency in a few months, including a pair of in-their-prime superstars, and here we'll identify which members of the group have helped their causes during platform seasons. Each of these players has racked up at least 150 plate appearances this year, so we'll use that number as an arbitrary cutoff…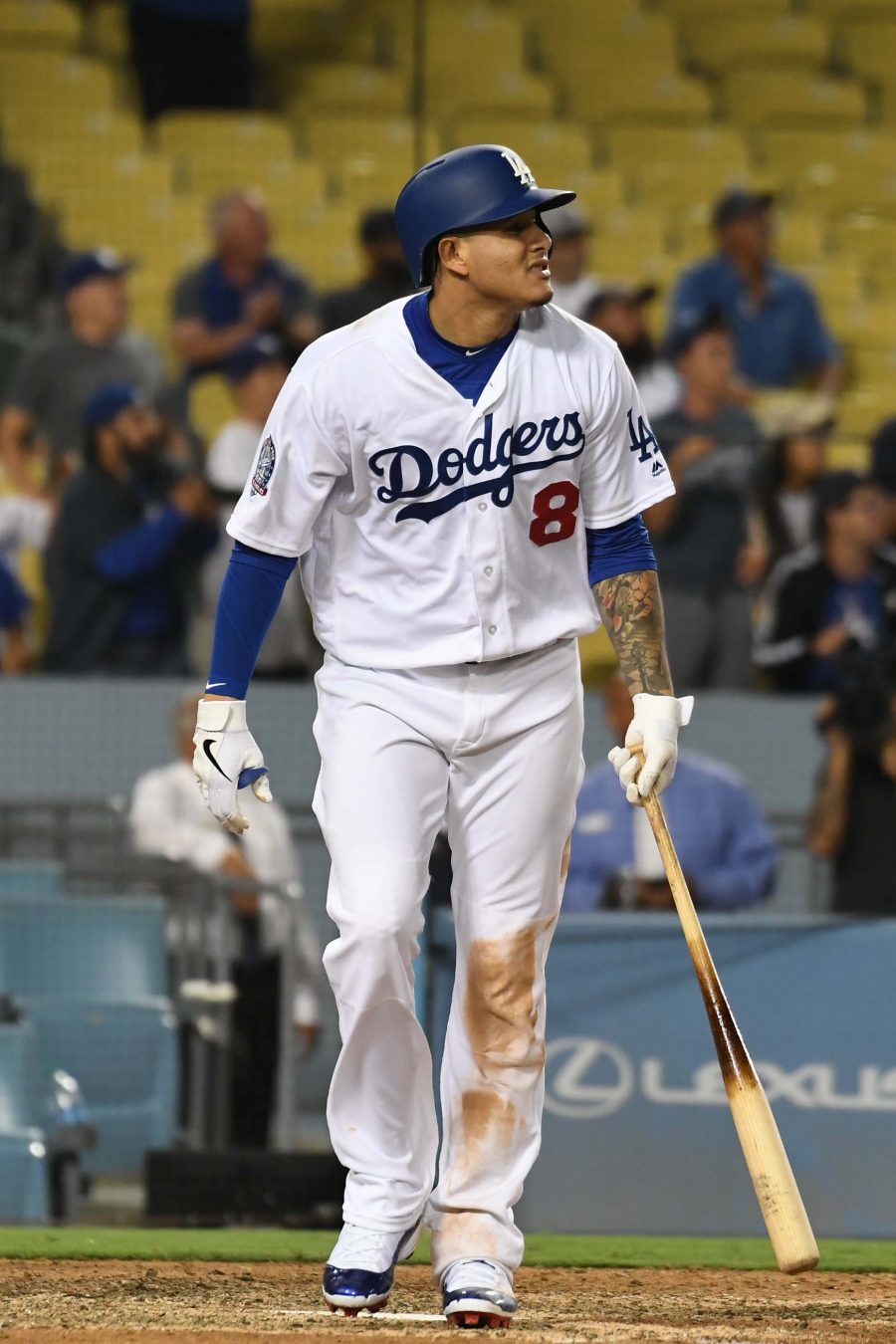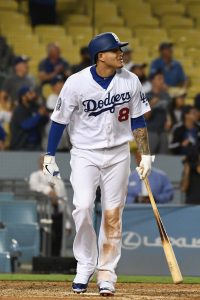 Manny Machado, SS/3B, Dodgers: Entering 2018, Machado was a soon-to-be 26-year-old with three seasons of at least 5.0 fWAR under his belt since his first full campaign in 2013. Machado's stock was already sky high with a trip to free agency looming, then, yet he has managed to raise it in the season's first four-plus months. A .279/.329/.476 hitter (115 wRC+) in 3,365 PAs from 2012-17, Machado is on pace for his top offensive year with a .308/.383/.547 line (147 wRC+), a personal-high walk rate (11.0 percent, up from 6.7 between 2012-17) and a career-best-tying ISO (.239). Moreover, with 26 home runs, he's set to eclipse the 30-HR mark for the fourth straight year, and he has also reached double-digit steals (10 on 11 tries) for the second time.
If there's one criticism of Machado, it's that he has been brutal at shortstop, his preferred position, with minus-17 Defensive Runs Saved and a minus-6.6 Ultimate Zone Rating. An all-world defender at third base with the Orioles from 2012-17, Machado has spent some time at the hot corner since the Dodgers acquired him last month and has once again thrived at the position. It may be better for Machado's earning power if he's willing to move back to third on a full-time basis, but regardless, he's in for a massive payday.
Bryce Harper, OF, Nationals: Admittedly, whether Harper has upped his stock this year to a noticeable degree is debatable. After all, the lefty-swinger hasn't come close to rivaling his otherworldly offensive seasons of 2015 and '17. But a .235/.379/.500 showing (130 wRC+) isn't to be taken lightly, nor are 28 homers, a .265 ISO and an 18 percent walk rate. And it's worth noting that Harper has appeared in nearly all of the Nationals games' (113 of 116) after missing 51 contests with injuries a year ago. Set to turn 26 in October, Harper – like Machado – is a Hall of Fame-type talent on a collision course with an enormous contract.
Yasmani Grandal, C, Dodgers: Grandal has been generally outstanding since 2015, his first year with the Dodgers, but it did look as if backup Austin Barnes was beginning to take hold of the starting catcher job in LA last season. During the NL pennant winners' run through the playoffs in 2017, Barnes picked up 52 PAs to Grandal's 11. That trend hasn't continued into this year, though, with Grandal having nearly doubled Barnes' playing time to this point (379 PAs to 190). Along the way, Grandal has put up a personal-best wRC+ (131) on the strength of a .252/.354/.492 line and 20 homers, giving him three straight seasons with at least that many. The 29-year-old switch-hitter also leads qualified catchers in ISO (.240) and has seen his expected weighted on-base average rise from .299 in 2017 to .373 this year. Adding to Grandal's immense appeal, he has been the game's second-best pitch-framing backstop in 2018, according to Baseball Prospectus.
A.J. Pollock, CF, Diamondbacks: Pollock was one of baseball's rising stars before missing nearly the entire 2016 campaign on account of fractured right elbow. Two years later, he looks back to form, though a fractured thumb did cost the soon-to-be 31-year-old significant time earlier this season. As a result of that injury, Pollock has only appeared in 71 games thus far, but he has made a major impact in the process. Pollock has been worth 2.3 fWAR on the strength of a .283/.344/.539 (133 wRC+) slash at the plate, and has added 15 homers, 10 steals on 12 tries and a .256 ISO.
Eduardo Escobar, 3B/SS, Diamondbacks: Escobar's numbers have dipped since he went from the Twins to the D-backs in a trade last month, but the overall production is still worthy of praise. Thanks in large part to a .278/.338/.505 line (121 wRC+) in 456 PAs, Escobar has already logged 2.6 fWAR, matching the career-high figure he totaled in 2014. The switch-hitting 29-year-old also has 15 homers, putting him on pace for his second straight 20-HR season, to go with a personal-best .227 ISO (notably, Escobar began hitting more fly balls in 2017 and has continued that trend this year). As left-side infielders go, Escobar's no Machado, but it still seems he'll do well for himself in free agency.
Nelson Cruz, DH, Mariners: Two important factors that will hamper Cruz's value in free agency: 1. He's 38. 2. He can't play defense. If a team needs an offensive boost at DH, though, you won't find many hitters who are more imposing. Cruz has essentially been as excellent as ever this year, having slashed .268/.353/.556 (148 wRC+) with 30 long balls in 416 PAs. He's also a Statcast favorite, ranking second in the majors in average exit velocity (94.4 mph), sixth in xwOBA (.422, which blows away his real-world .383 wOBA) and 10th in barrels per plate appearance (9.6 percent).
Nick Markakis, OF, Braves: As with Cruz, Markakis' age (35 in November) will work against him on the market. Fortunately for Markakis, though, he has found another gear at the plate in 2018. After serving as a league-average or slightly worse hitter over the previous several seasons, Markakis has batted .326/.390/.505 (138 wRC+, tying his career-high mark from 2008) with 14 homers and a .179 ISO (his highest since '08) in 500 PAs. Signs it's not a fluke: Markakis has amassed roughly as many walks (50) as strikeouts (54), and his xwOBA (.383) and actual wOBA (.378) nearly match. He'a also defying the aging curve in the outfield, having accounted for five DRS, three Outs Above Average and a 2.1 UZR.
Steve Pearce, 1B/OF, Red Sox: Some of the names at the absolute top of the xwOBA leaderboard include – to no one's surprise – Mookie Betts, J.D. Martinez, Mike Trout, Matt Carpenter, Joey Votto … and Pearce, who has outdone all of them except Betts. Granted, Pearce's ridiculous .465 xwOBA has come over a mere 164 PAs, though both his Statcast numbers and his .301/.384/.566 line (156 wRC+) continue a recent history of quality offense from the late-blooming journeyman – one who has played for every AL East team since 2012. Considering Pearce will turn 36 next April and has never even accumulated 400 PAs in an individual season, it's fair to say he's not going to break the bank over the winter. Nevertheless, the right-handed hitter has emerged as an important piece for the seemingly unstoppable Red Sox and will continue to make his case for a nice payday into the fall.
Jed Lowrie, 2B, Athletics: Lowrie will turn 35 next April, making him yet another player on this list whose age will damage his financial aspirations. Still, the switch-hitter's in the second straight season of a late-career resurgence and has been among the A's premier players this year in a shockingly great campaign for the club. Injuries have held back Lowrie for the majority of his time in the majors, but not lately – he appeared in 153 of the A's games in 2017 and has taken the field 113 times out a possible 116 this year. Lowrie's now amid a season in which he has smacked a career-high 17 HRs and hit .265/.344/.451 (120 wRC+) in 485 PAs.
Matt Adams, 1B, Nationals: The Nats' signing of Adams to a one-year, $4MM deal last winter didn't elicit much excitement at the time, but it now looks like one of the best buys of last offseason. While the lefty-hitting Adams, 29, has continued to struggle against same-handed pitchers, he has mashed righties en route to an overall line of .270/.347/.536 (134 wRC+) with 18 dingers and a .266 ISO in 265 PAs. Statcast suggests the production hasn't been smoke and mirrors, evidenced by the minuscule gap between Adams' wOBA (.374) and xwOBA (.375). And for what it's worth, Adams has continued to show off a solid glove at first, where DRS has graded him as a plus defender in all but one season since debuting in 2012.
Mark Reynolds, 1B, Nationals: Like Adams, Reynolds has been a steal for Washington, which added him on a minor league pact in early April. Since then, all the 35-year-old Reynolds has done is record a .272/.361/.537 line (137 wRC+) with 11 homers and a .265 ISO through 158 PAs. As Jeff Todd noted earlier this week, defensive and baserunning limitations detract from Reynolds' value. However, after settling for minors deals in 2017 and '18, perhaps the well-traveled power hitter has impressed enough as a part-time player for the Nationals to earn a major league contract during the upcoming winter.
Asdrubal Cabrera, INF, Phillies: The switch-hitting Cabrera, 32, has been a respectable offensive player throughout his career, and he hasn't fallen off at all in 2018. This has been among Cabrera's most productive years yet, in fact, as he has batted .272/.324/.480 (118 wRC+) with 20 homers and a .208 ISO in 454 PAs. That's terrific output from someone who can line up around the infield, though with a disastrous minus-16 DRS, Cabrera has been a butcher at second base – his primary position.
Daniel Descalso, 2B/3B, Diamondbacks: The third D-back on this list, the 31-year-old Descalso has saved his best offensive season for the right time as free agency awaits. A below-average offensive producer in each season from 2010-17, Descalso has registered an appealing 123 wRC+ this year while hitting .256/.377/.450 with nine homers, a .195 ISO and a 16.4 percent walk rate. And with a .362 xwOBA, that production hasn't been a fluke. On the other hand, Descalso hasn't been nearly that effective as a defender at third, where he has notched minus-seven DRS in 240 innings.
Honorable mention: Indians outfielder Michael Brantley, who has finally stayed healthy this year after missing a combined 223 games from 2016-17. Through 103 games/454 PAs in 2018, Brantley has hit .293/.345/.455 (116 wRC+) with 12 HRs and almost as many walks (32) as strikeouts (38). However, the 31-year-old's Brantley's numbers have gone downhill to a substantial degree since a red-hot first two months, and his work in left field has drawn poor reviews (minus-nine DRS, minus-six Outs Above Average, minus-4.4 UZR).
Photo courtesy of USA Today Sports Images.