The Nationals will again look to bounce back from a bitterly disappointing season, but they'll again do so with significant resources and reason for optimism.
Guaranteed Contracts
Arbitration-Eligible Players (projections via MLBTR contributor Matt Swartz)
Option Decisions
Free Agents
[Washington Nationals Depth Chart | Washington Nationals Payroll Outlook]
Despite their overall sustained excellence, the Mike Rizzo-era Nationals have yet to end a season in a pleasing manner. Unlike the 2016 and 2017 clubs, which washed out of divisional series in thrilling fashion, the 2018 Nats ground to a halt in something of a slow-motion breakdown.
In years past, Nats disappointments — of all their varying flavors — have not really changed the organization's trajectory. And for good reason: there have been seven consecutive winning seasons. Sure, it's possible to interpret a few moves as direct responses to the developments of the season prior (Rafael Soriano, anyone?), but that's only natural for any team.
Broadly, the march has continued, with Rizzo and co. rather notably managing to transition quite seamlessly from one high-end core to another. It seems foolish to expect anything but the same this winter, with the Nats once again poised to add finishing pieces to a quality existing roster, all while hoping that this time it'll come together when it matters most.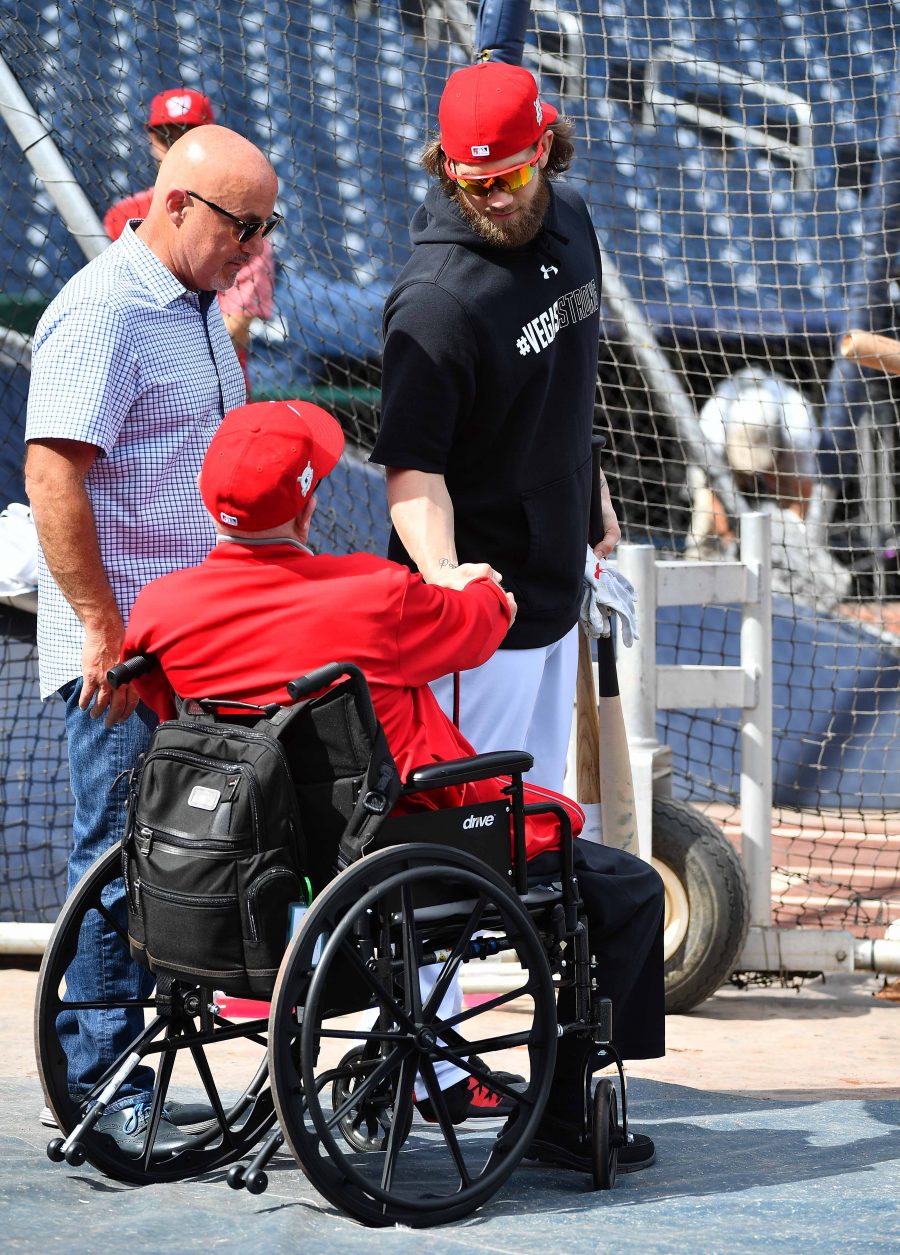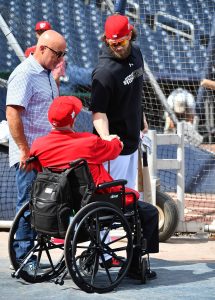 It's quite remarkable that this feels in large part like any other offseason for the Nationals. After all, one of the team's true constants — superstar outfielder Bryce Harper — was due to disembark as the train limped into the station at season's end. Yet his free agency came as a creeping inevitability — not just because it always seemed a fait accompli that he'd test the open market, but because the Washington organization improbably found a new version of Harper himself in the form of phenom Juan Soto, a 19-year-old, left-handed-hitting corner outfielder who somehow exceeded Harper's own preternatural blend of pitch recognition, patience, and the ability to drive the ball all over the field.
It remains to be seen (and may never be fully known) whether Soto's rise will play a significant role in Harper's ultimate destination. The Nats, no doubt, have signaled they have serious interest in retaining Harper. They held onto him (at the trade deadline and in August) even while conceding more generally and then made a big offer late in the season. It's obvious that the club did not expect that bid to lead to a deal, but it did set down a marker: the D.C. club will be a factor in Harper's market, and any other clubs with interest will need to beat that not-insignificant $300MM starting point.
At the same time, the presence of Soto lessens the urgency to retain a player of Harper's ilk. Every team would love to have that bat, but it's possible the ultimate victor of the free-agent auction will be one that stands to gain more over its existing in-house alternatives. The Nats can plausibly line up an affordable, controllable, and potentially quite excellent outfield of Soto, Adam Eaton, and Victor Robles — with support from Michael Taylor, Howie Kendrick, and perhaps others — while wishing Harper the best and collecting some draft compensation on his way out the door.
Indeed, a departure is arguably the simpler outcome. Signing Harper would almost certainly require further movement. He and Soto would presumably be penciled in for nearly all of the plate appearances at two of the outfield spots. Robles and Eaton could share time, to be sure, but that'd be a questionable allocation of resources. The former needs to be playing every day at his stage of development, particularly after missing significant time due to injury in 2018. And the latter is too good a player (at least when at full health) to be left picking up playing time scraps.
Resolving that tension is possible, though it isn't particularly straightforward. It'd be possible to make space with a trade, but parting with Robles would mean giving up a player who many believe is ready to be a core contributor. Selling Eaton, who still hasn't shown he's fully recovered from a series of leg injuries, would mean moving him at an inopportune moment. It's theoretically possible that Harper or Soto could be considered a candidate to share time at first base with Ryan Zimmerman — if not even help replace him after the '19 campaign — but that is a speculative and perhaps somewhat risky scenario. Were Robles to be made available in trade following a successful pursuit of Harper he'd almost certainly be the biggest prospect available this winter, perhaps giving the Nats the inside track to land another key piece. But it's also fair to note that Robles is still eligible to be optioned, which isn't an entirely unlikely scenario at all to open the season.
Whether or not Harper is retained is a massive question for the Nats. Somewhat incongruously, though, it doesn't really change what the club's key needs are so much as their means of addressing them. If Harper leaves, it seems much likelier that Robles stays; if Harper goes, then Robles is more expendable and the purse strings will surely be tighter.
In years past, the Nationals have proven willing both to send out prospects and plunk down cash to get their targets for the MLB roster. So — how much cash could the team spend? Some big salaries have come clear of the books, it's true, but there are also raises to consider. With their current projected roster, the Nats are slated to have roughly $165MM on the books in 2019. That said, this year's nominal balance sheet includes balloon payments for Max Scherzer and Stephen Strasburg, when in actuality much of the money is owed on a deferred schedule. Moreover, the average annual values of those deals are significantly lower. In calculating the luxury tax — which smooths out any annual changes in long-term deals but does include other costs — the Nats are still something like $50MM shy of the $207MM threshold.
In other words, even if the organization decides to keep Roark, it could in theory add upwards of $50MM in 2019 salary while still remaining south of the tax barrier, a reputed goal of the organization. A forthcoming arbitration hearing regarding the seemingly never-ending MASN TV rights fees dispute could also have an impact, both by settling expectations for a major income source and potentially opening the door to some real cash flow in the relative near future. Really, it's anyone's guess just how much money the Lerner family will green-light to spend, but the means are likely there if the club feels it needs to inflate the payroll to add necessary pieces.
Regardless of what blend of assets — prospects and cold hard cash — is utilized, the organization will set out with a fairly obvious set of priorities. First and foremost, the Nats need to acquire a primary catcher and at least one quality starting pitcher. They'll surely also look to boost their pitching depth while perhaps remaining open to acting opportunistically if a quality player can be had at a value. Finally, the organization will also no doubt consider the acquisition of a second baseman — even if it's not a top priority — while exploring bench upgrades.
Rizzo has made clear his desire not just to get another piece behind the dish, but to make it a significant one. The position has been a black hole for the past two years, making an upgrade over the departing Matt Wieters a top priority. It's already known that the Nats have tried for some time to pry J.T. Realmuto loose from the Marlins, but they haven't been able to do so this point (despite reportedly dangling Robles). Perhaps the Pirates will show some willingness to discuss Francisco Cervelli, though that doesn't seem particularly likely to result in a deal. Otherwise, the Nationals may need to go onto the open market to find a player worthy of regular action. Yasmani Grandal seems to be a good fit, with old friend Wilson Ramos also representing a possibility. If they succeed in adding one of those pieces, the Nats could go open the reserve job for competition among Spencer Kieboom, Pedro Severino, Raudy Read, and perhaps some minor-league veteran signee(s). If the organization can't figure a way to a top-end catcher, it'd arguably be preferable to add two new players who could deliver good production in a timeshare.
There are quite a few more possibilities on the pitching market. With the steady Gio Gonzalez traded away and now a free agent, the Nats will likely push to land a hurler who's capable of joining Max Scherzer and Stephen Strasburg at the top of the staff. Trade possibilities are somewhat murky, but it is certainly possible to imagine some matches — and it's worth recalling that Rizzo has made use of this route for a fair number of quality complementary pieces in the past.
The Nats have had previous interest in Zack Greinke and might be willing to take over some salary, while seeing some appeal in the fact that his contract is only three years in length. Lefties James Paxton and Robbie Ray (the latter a Rizzo draftee) could be of interest. And there's little doubt that the team would be in on the Indians' excellent trio of tantalizing potential rotation trade pieces. (It's fair to note, too, that Robles would be a perfect fit in Cleveland.) Free agency offers some possibilities, too. Patrick Corbin figures to be the top prize on the market, but there's no reason the Nats wouldn't at least check in. Fellow southpaw Dallas Keuchel is somewhat older, but that will also mean he likely won't require so lengthy a commitment. That goes all the more for veteran J.A. Happ. Nathan Eovaldi, meanwhile, is going to draw a close look from all pitching-needy contenders.
Boosting the pitching depth beyond that will also be necessary, especially if the Nationals decide to move on from Roark. There has been no clear indication of that as of yet, but he has not been in top form and could either be traded (it's possible a deal could involve another relatively expensive MLB asset coming back) or non-tendered so that his salary can be utilized in another manner. He'd otherwise round out a back-of-the-rotation mix that includes quite a lot of uncertainty. Joe Ross only just returned from Tommy John surgery while former first-rounder Erick Fedde has not yet established himself in the majors. Austin Voth, Jefry Rodriguez, and Kyle McGowin are also available for depth but hardly seem like clear options to take a rotation job out of camp. Last year, the Nats made a late move to add Jeremy Hellickson, then carefully avoided over-exposing him to opposing lineups. That worked out rather well and could be tried again with Hellickson or some other veteran hurler. Possibilities abound.
The bullpen has already been the recipient of two live new arms, as the Nationals dealt for Kyle Barraclough and inked an incentive-laden contract with Trevor Rosenthal. At their best, both are hard-to-hit flamethrowers who could combine to form a potent late-inning trio with excellent (albeit oft-injured) closer Sean Doolittle. A pessimist would add that both of these recently acquired hurlers also have trouble staying in the strike zone at times. Needless to say, neither is a sure thing.
Justin Miller, Koda Glover, and Wander Suero lead the remaining relief options from the right side, with the aforementioned back-of-the-rotation candidates also representing long relief candidates. There are several other righties on the 40-man, any of whom could conceivably make the Opening Day roster with a big spring — or be jettisoned beforehand if there's a need for a 40-man spot. On the left side, Matt Grace is coming off of a strong season; Sammy Solis is not and is a non-tender candidate. If the Nats chase a higher-end reliever, it could make sense for it to be a lefty, though the team may also just wait and see whether an appealing opportunity presents itself. There certainly seems to be room for one or two more arms here, though it's not a priority to the same extent as adding at catcher and in the rotation.
If there is another area to address, it's at second base. The Nats say they're happy to roll with a combination of Kendrick and Wilmer Difo, but that seems suboptimal and largely unnecessary given the glut of players available at the position in both trade and free agency. It's at least theoretically possible the Nats could pursue Whit Merrifield of the Royals, who's perhaps the most valuable potential trade target. Otherwise, there are a variety of veteran options. Roark and Taylor both represent MLB assets that could be moved to the right club in a deal for a second bagger (or, for that matter, a pitcher). It's also plausible that the Nats could take on a bigger salary (e.g. Jason Kipnis, Dee Gordon) in a deal primarily targeted at acquiring a pitcher. Otherwise, free agents include Jed Lowrie, Brian Dozier, DJ LeMahieu, Josh Harrison, and old friends Asdrubal Cabrera and Daniel Murphy.
It's possible the Nationals will look to add a regular at second. But the team could also prioritize a player who'd work in the mix there and elsewhere, with Kendrick spending time at second and in a corner outfield spot while Difo (or Adrian Sanchez or some outside acquisition) works as a true utility infielder. It's interesting to consider whether the team could pursue a reunion with Murphy, who could also share time with Zimmerman at first. Switch-hitting Neil Walker is coming off of a rough season but could function in a similar capacity. Or poor-defending, sweet-swinging Marlins utilityman Derek Dietrich could make some sense. Otherwise, the club may again go searching for some big lefty pop to function in a bench role. Rizzo has employed numerous players of this ilk over the years, most recently Matt Adams. He'll again be a possibility, with Justin Bour (recently waived by the Phillies), Lucas Duda, and Logan Morrison also looking to be options. Whether a roster spot is again utilized on such a piece may depend upon the more important machinations covered above.
Photo courtesy of USA Today Sports Images.