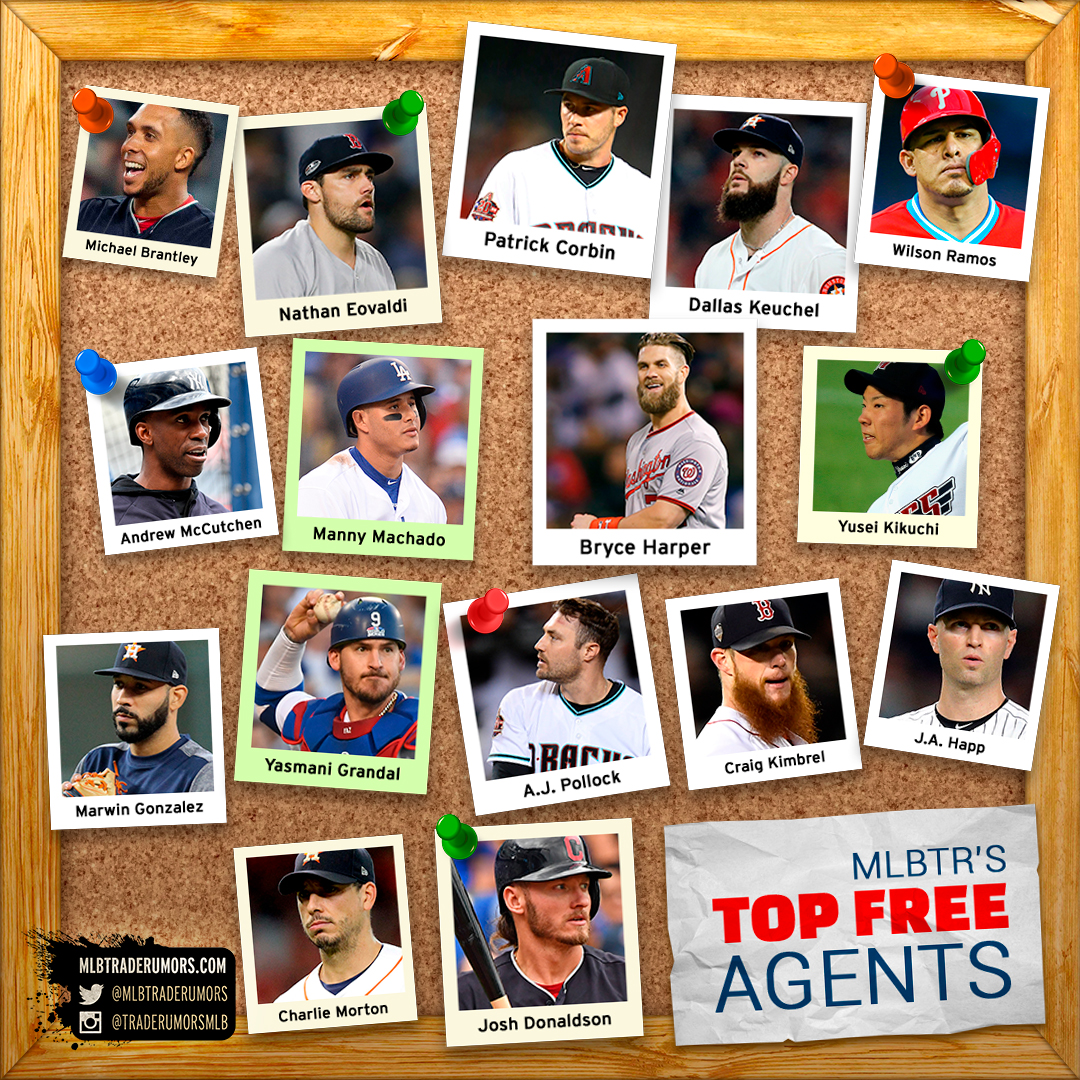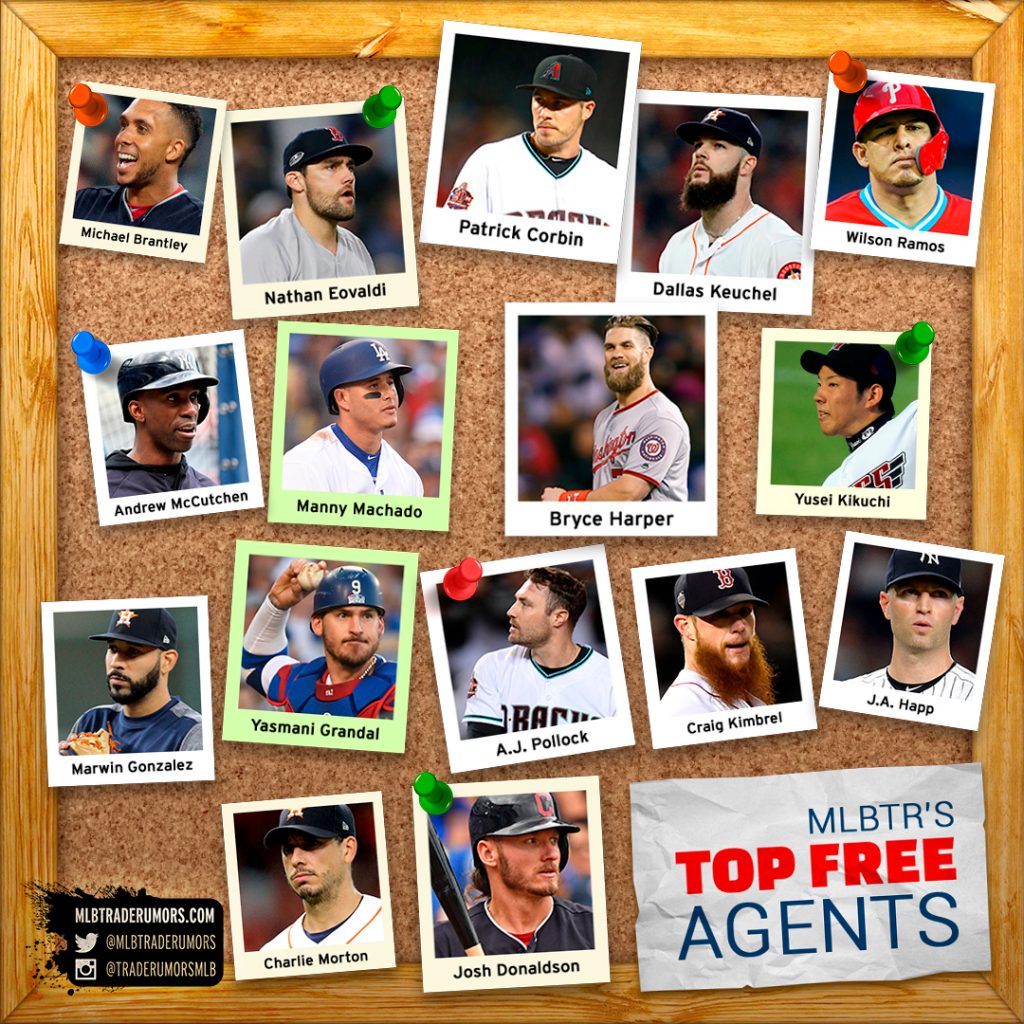 MLB Trade Rumors is proud to present our 13th annual Top 50 Free Agents list!  For the entire list of free agents, plus the ability to filter by signing status, position, signing team, and qualifying offer status, check out our mobile-friendly free agent tracker here.
New to MLBTR? You can follow us on Twitter, like us on Facebook, follow us on Instagram, and download our free app for iOS and Android.
MLBTR writers Steve Adams and Jeff Todd joined me in this collaboration, debating free agent contracts and destinations for many hours. We vetted these as much as possible, but with 50 predictions and a volatile free agent and trade marketplace, we know we'll be off on some. Let us know what you think in the comment section!  On to our Top 50 free agents:
1.  Bryce Harper – Dodgers.  Fourteen years, $420MM.  Labeled a baseball prodigy at age 16, Harper was so good he chose to leave high school after two years and enroll in a junior college, fast-tracking him into the 2010 MLB draft.  He went first overall to the Nationals and made his MLB debut as a 19-year-old, winning Rookie of the Year in 2012.  In his seven seasons with the Nats, Harper made six All-Star teams and won the NL MVP in 2015.
Harper was easily the best hitter in baseball in 2015, though his only other top 10 finish in wRC+ was in 2017.  As absurd as it sounds, it feels like Harper should have accomplished more in his seven seasons with the Nationals.  A typical three-year look back (inconvenient given the timing of Harper's monster year) places him just 34th among position players in FanGraphs Wins Above Replacement.  Though he's faced three significant injuries at different points in his career, Harper has mostly quieted health concerns by playing in at least 147 games in three of the last four seasons.  A right fielder by nature, Harper has also dabbled at the other outfield positions during his Nationals career.
The Mike Trout-Bryce Harper debate has been settled, but Harper can reasonably be considered one of the 15 best hitters in baseball.  He's a middle of the order left-handed bat with the ability to hit 35-40 home runs and draw 120 walks.  He also has a limitless ceiling, as evidenced by his MVP campaign.  That brings us to his long-anticipated free agency.  Given his unique path to the Majors and choice not to sign an extension with the Nationals, Harper reaches free agency having just celebrated his 26th birthday.  There's some similarity to Alex Rodriguez's epic free agency, in which A-Rod signed a 10-year, $252MM deal with the Rangers and made his debut with them several months before turning 26.  Though Harper is not as accomplished as Rodriguez was, he's still in position to sign the largest contract in baseball history.  Harper comes with a qualifying offer, though that won't deter his suitors.
The current contract record belongs to Giancarlo Stanton, who signed a 13-year, $325MM extension with the Marlins four years ago — two years before the slugger was slated to reach free agency.  The free agent contract records both belong to A-Rod, who topped his own $252MM benchmark by signing for $275MM after the 2007 season.  Those three contracts and many other megadeals included opt-out clauses, which have become de rigueur for marquee players.  Harper is represented by Scott Boras, outspoken negotiator of many of the game's largest free agent contracts.  We're predicting that Harper may take a page from the Stanton contract, and set aside average annual value records in search of maximum total dollars.  Strange as it sounds, an unheard-of 14-year term could benefit both sides, pushing Harper up past the coveted $400MM mark but limiting his luxury tax hit to a relatively reasonable $30MM per year.  A well-placed opt-out clause or two would have immense value to the player as well.
The Nationals may yet make a play to retain Harper, but otherwise, more teams can afford him than you might think.  We see the Dodgers, Cubs, Phillies, Yankees, Giants, and Cardinals as the most likely suitors.  The Cubs were the pick here until the very end, and they are still a good match, but payroll concerns pushed us to switch to the Dodgers.  The Braves are a long shot for Harper, but we should note that they have the means to sign him and an opening in right field.  While it may seem hard to fathom, it is also worth noting that there are a few rebuilding teams, such as the Tigers, that could afford Harper (or Machado). Whether or not any will seriously consider such a bold move is unknown, but you can bet that Boras will pitch them on the idea in order to build up the market. And it is worth bearing in mind that he ended up placing Eric Hosmer on the Padres last winter.
Signed with Phillies for thirteen years, $330MM.
2.  Manny Machado – Phillies.  Thirteen years, $390MM.  As generational as Harper's free agency may be, Machado's case is just as compelling.  Machado, only 102 days older than Harper, draws significant value from his ability to play on the left side of the infield.  A shortstop by choice, Machado spent the bulk of his career as a Gold Glove defensive third baseman with the Orioles.  He was derailed with knee injuries in 2013-14 but averaged 159 games in the following four seasons.  The Orioles (and eventually Dodgers) gave Machado his preferred shortstop position in his contract year, and results were mixed.  Machado's defense at shortstop seemingly improved after leaving Baltimore, but there's not much data to go on.  It's unclear whether Machado will force the issue and demand to play shortstop for his next team, or if he'll be open to returning to third base.  Machado comes free of a qualifying offer by virtue of his midseason trade.
Beginning in 2015, Machado blossomed into an excellent hitter.  In fact, he hasn't been far off Harper's pace in recent years despite a down 2017.  Given his aforementioned defensive abilities, Machado compares favorably to Harper in WAR over the past three years.  Machado may indeed be one of the 10 best position players in baseball heading into 2019, a case which probably cannot be made for Harper.  Both players, interestingly, have been perceived as villains by fans in recent years.  Machado's reputation is perhaps more deserved based on recent actions, and the criticism is two-pronged: that he's a "dirty" player, and that he doesn't always hustle.  The latter charge, which has also been leveled at Harper at times, was worsened by a quote from Machado to The Athletic's Ken Rosenthal in October in which he admitted, "I'm not the type of player that's going to be 'Johnny Hustle."  Machado's full quote was far more nuanced, as he went on to acknowledge his mistake and expressed desire to improve.  Perhaps unsurprisingly, many chose only to focus on the more damning part of the quote — either not knowing or not caring that they weren't looking at his complete sentiments.  As to the "dirty" charge, everyone (teams and fans alike) will have to assess for themselves. These three plays provide evidence to critics, though they certainly aren't representative of Machado's daily interactions on the ballfield.  The postseason Machado narrative is overblown, as these things always are. But record-setting contracts are ownership-level decisions.  If Machado's current narrative reduces the motivation of even one owner of a potential suitor, as Jon Heyman of Fancred Sports has suggested, it would certainly impact his earning power.
Machado, who is represented by Dan Lozano of MVP Sports Group, projects to land a contract similar to that of Harper.  Both players should pass Stanton's $325MM record.  As for which of the two actually does better, we don't have a clear answer.  Machado's suitors could include the Yankees, Phillies, Cubs, Cardinals, and White Sox.
Signed with Padres for ten years, $300MM.
3.  Patrick Corbin – Yankees.  Six years, $129MM.  No player in recent memory has done more to increase his value in one season than Corbin.  The 29-year-old southpaw dominated in his 200 innings for the Diamondbacks this year, posting a 3.15 ERA, 11.1 K/9, and 2.2 BB/9 in 33 starts.  Corbin had a breakout year in 2013 for the D'Backs but went down for Tommy John surgery in March 2014.  He had some stumbles post-surgery, particularly in 2016, but progressed from solid in '17 to possibly one of the five best starting pitchers in baseball this year.  Corbin's velocity took a dip in May, setting off alarm bells, but it didn't seem to affect his performance and actually crept back up past 92 miles per hour in the second half.  Corbin ramped his slider usage up past 40 percent this year to great success.
Back in April, before Corbin seemed like a potential $100MM guy, the pitcher admitted to Bob Nightengale of USA Today that it would "definitely be great" to pitch for his childhood team, the Yankees.  The Yankees have the money and the need, but teams like the Astros, Braves, Phillies, Nationals, Dodgers, Giants, Angels, and Twins make sense too.  With age on his side, we foresee a bidding war taking Corbin up past Yu Darvish money.  He has been tagged with a qualifying offer by the Diamondbacks.
Signed with Nationals for six years, $140MM.
4.  Dallas Keuchel – Nationals.  Four years, $82MM.  Keuchel, 31 in January, won the AL Cy Young award in 2015 and has since settled in as a solid but not quite spectacular starting pitcher.  He and Corbin were two of only 13 pitchers this year to reach 200 innings.  Keuchel is not a big strikeout guy, but the lefty has good control and keeps the ball in the yard due to a ground-ball rate that perennially ranks among the league leaders.  His groundball rate actually rose as high as 66.8% in 2017, which was the best in baseball, though it fell back to 53.7% this year.  Keuchel's worm-burning tendencies pair with a sustained knack for limiting hard contact, helping him to limit home runs far better than the league-average pitcher.  In 2018, he trailed only Jacob deGrom, Max Scherzer and Zack Wheeler in terms of generating weak contact, and his opponents' hard-contact rate was the fifth-lowest of any qualified starter (as measured by Fangraphs).  That wasn't a fluke; Keuchel ranks among the best in the league in those regards on a yearly basis.
Keuchel may top out at four years but should command a premium average annual value despite coming with a qualifying offer.  His suitors should be similar to those of Corbin.
5.  Craig Kimbrel – Cardinals.  Four years, $70MM.  Kimbrel has been one of the best closers in baseball since taking the job for the Braves in 2011.  In his eight full seasons, he's made the All-Star team seven times and placed in the Cy Young voting five times.  Over the past three years, he's struck out 42.3% of batters faced, leading all MLB relievers.  He's third among relievers during that time with an average fastball of 97.6 miles per hour.  Like many closers, Kimbrel's control is not a strong suit, but he's so hard to hit that it generally doesn't matter.  We think Kimbrel is more likely to beat Wade Davis' average annual value record for relievers ($17.33MM) than he is to reach Aroldis Chapman's record-setting $86MM total.  Because Kimbrel signed an extension with the Braves in 2014, he reaches free agency more than a year older than Chapman and Kenley Jansen were when they hit the open market.  A return to Boston could be possible, or teams like the Cardinals, Angels, Cubs, Braves, Phillies, Mets, and Twins could get involved.  Kimbrel was issued a qualifying offer from the Red Sox.
6.  Yasmani Grandal – Nationals.  Four years, $64MM.  Grandal is the best available free agent catcher.  He turns 30 in November and his 116 wRC+ ranks fourth among all catchers from 2016-18.  He's second among all catchers with 73 home runs during that time.  Grandal is a switch-hitter and is above average against both righties and lefties.  Though Grandal took his lumps defensively in the postseason and does allow a lot of passed balls, he's one of the game's best pitch framers and has been above-average in terms of caught-stealing rate over the past four seasons.  Overall, Grandal is one of the better catchers in baseball, and he has a shot at the five-year contract standard reached by Brian McCann and Russell Martin.  While many teams will prefer trading for Marlins backstop J.T. Realmuto to signing Grandal, only one can get Realmuto and the prospect cost will be substantial. The Dodgers have issued Grandal a qualifying offer but could otherwise move on.  The Nationals, Rangers, Twins, Red Sox, Astros, Angels, Phillies, Mets, Braves, and Rockies could be suitors.
Signed with Brewers for one year, $18.25MM.
7.  Nathan Eovaldi – Red Sox.  Four years, $60MM.  Eovaldi, 29 in February, has long been one of the hardest-throwing starting pitchers in baseball.  He averaged 97.2 miles per hour on his fastball this year, second only to Luis Severino and Noah Syndergaard.  The key piece for the Marlins in the 2012 Hanley Ramirez trade with the Dodgers, Eovaldi moved on to the Yankees in a 2014 swap.  He went down for his second Tommy John surgery in August 2016 (his first one was in high school).  Eovaldi remained in the AL East this season, working for the Rays and Red Sox.  Despite the premium velocity, 2018 was the first season Eovaldi managed to strike out more than 20 percent of the batters he faced.  Even more than last year's early-market darling, Tyler Chatwood, Eovaldi is a tantalizing power arm with remaining unlocked potential and figures to be a popular free agent.  That popularity could push the bidding to four years despite the fact that a player with this lack of durability has never reached that plateau.  The Red Sox could try to bring him back, and otherwise the Astros, Rangers, Braves, Phillies, Nationals, Dodgers, Angels, Giants, and Yankees could be in the mix.
Signed with Red Sox for four years, $67.5MM.
8.  A.J. Pollock – Giants.  Four years, $60MM.  Like fellow free agents Bryce Harper, Manny Machado, Josh Donaldson, Andrew McCutchen, and Matt Harvey, Pollock was one of the best MLB players of 2015.  Unfortunately, that was the only time Pollock exceeded 113 games in the past five seasons.  His injuries have run the gamut: a broken hand, an elbow fracture, a groin strain, and this year a thumb fracture.  Pollock, 31 in December, just doesn't seem to have the durability to merit the five-year deals landed by Lorenzo Cain and Dexter Fowler, even if some of his injuries have been fluky in nature.  Nonetheless, he put up a healthy 110 wRC+ with the bat this year and reached 134 at his peak.  He also plays an acceptable center field in a free agent market where the only real alternative is Adam Jones.  The Giants, White Sox, Indians, and Phillies could be possibilities, though Pollock comes with a qualifying offer attached.
Signed with Dodgers for four years, $55MM.
9.  J.A. Happ – Angels.  Three years, $48MM.  Happ, 36, has emerged as one of the top starting pitchers in this free agent class.  The lefty experienced a career resurgence upon a 2015 trade to the Pirates, with success that largely continued throughout a subsequent three-year contract with Toronto.  Happ was dealt to the Yankees in July of this year and recorded a 2.69 ERA in 11 starts.  He can be prone to the long ball, but Happ put up a career-best strikeout rate this year and generally limits walks.  Rich Hill was signed through his age-39 season, so it's plausible Happ could be inked through age 38 on his own new three-year pact.  Quite a few contending teams could see value in installing the quality veteran, particularly those that fail to land or aren't enamored of higher-priced options.
Signed with Yankees for two years, $34MM.
10.  Michael Brantley – Braves.  Three years, $45MM.  Brantley, 32 in May, hit .305/.362/.459 over the last two seasons as the Indians' left fielder.  He has spent his entire Major League career in the organization following his inclusion in the 2008 CC Sabathia trade with Milwaukee.  The concern is Brantley's health, as he was limited to 101 games from 2016-17 due to shoulder, biceps, and ankle injuries, all of which involved surgery.  He still should have enough interest to land a three-year deal coming off a 143-game season in which he was typically excellent at the plate.  The Indians could bring him back if they can fit him into the budget, though they chose not to issue a qualifying offer. He'll otherwise have a similar market to McCutchen, though Brantley hits from the left side and has historically carried fairly notable platoon splits.
Signed with Astros for two years, $32MM.
11.  Andrew McCutchen – Cubs.  Three years, $45MM.  Aside from Harper, Brantley and McCutchen are the best corner outfielders on the free-agent market.  McCutchen, 32, is several years removed from his MVP-caliber stretch with the Pirates but remains a very good hitter.  After nine seasons as the Pirates' center fielder, McCutchen was traded to the Giants and switched to right field.  After hitting only three home runs in the season's first two months, Cutch went on to hit .259/.374/.447 in his final 452 plate appearances for the Giants and Yankees.  He could fit with the Cubs, Indians, Rays, Cardinals, Braves, White Sox, or Phillies.
Signed with Phillies for three years, $50MM.
12.  Yusei Kikuchi – Padres.  Six years, $42MM.  Kikuchi, a 27-year-old lefty starter, has pitched for Japan's Seibu Lions for the past eight years.   The Lions will reportedly honor Kikuchi's request to be posted this winter, thus freeing him to negotiate with any MLB team.  He battled shoulder issues this year and has only once exceeded this season's innings total of 163 2/3.  Kikuchi profiles as a mid-rotation arm in MLB.  He'll be the first player subject to the new NPB-MLB posting agreement, which should  serve to lower fees for MLB teams by tying the player's release fee to the size of his contract.  For example, a $42MM contract would result in a release fee of $7.975MM, placing the total commitment in this scenario around $50MM.  Kikuchi will draw interest from contenders and rebuilding clubs alike.
Signed with Mariners for four years, $56MM.
13.  Josh Donaldson – Cardinals.  One year, $20MM.  Donaldson, 33 in December, presents a potential impact bat on a short-term deal.  He's a late blooming third baseman who became a star for the A's in 2013 and won the AL MVP award in 2015 after a trade to the Blue Jays.  He missed significant time due to a calf injury in 2017, but went nuts with 22 home runs over the final two months that year.  Donaldson hit the DL this year in April with right shoulder inflammation and then went on the shelf again in late May for his calf.  That involved a 60-day DL stint, with Donaldson being traded to the Indians before he was activated.  Donaldson did make a brief but promising return to action late in 2018 and could land a multi-year deal on the strength of his offensive ability. That said, he's arguably better served to take a one-year pact and re-establish his health; we're guessing the famously competitive Donaldson will bet on himself. The Cardinals, Twins, Angels, Phillies, Braves, and White Sox could be options.
Signed with Braves for one year, $23MM.
14.  Charlie Morton – Phillies.  Two years, $32MM.  Morton, 35 in November, emerged as one of baseball's top dozen strikeout artists (among starters) over the past two years with the Astros.  Among those with 300 innings over that span, Morton ranks sixth with a 95.4 mile per hour average fastball velocity.  He's aged like a fine wine, adding velocity and changing his game from the ground-ball pitcher of his Pirates years.  Morton, a family man with four children, wasn't sure as of April whether he'd pitch in 2019.  More recently, he's said he will keep going, adding that he would like to re-sign with Houston.  The Astros surprisingly chose not to issue a qualifying offer, which could be an indication that they're thinking of moving on from Morton for some reason.  Morton will entertain many two- or even three-year offers on the open market, especially unencumbered by a QO.  If he doesn't return to the Astros, Morton has cited proximity to his wife's family in Delaware as a major factor.  That could put the Phillies and Nationals as frontrunners.
Signed with Rays for two years, $30MM.
15.  Wilson Ramos – Astros.  Three years, $36MM.  With just a week left in a breakout 2016 contract season, Ramos tore his right ACL — the same one he'd torn four years prior.  Dreams of a monster four or five-year deal evaporated, and Ramos took a two-year, $12.5MM guarantee with the Rays.  He rounded back into form this year, catching nearly 800 innings for the Rays and Phillies and leading all backstops with a 131 wRC+.  The 31-year-old seems primed for a solid three-year deal, perhaps with a team that can give his knees a break with some time at designated hitter.  The Astros, Red Sox, Athletics, Angels, Rockies, or Dodgers could work, as could a return to D.C.
Signed with Mets for two years, $19MM.
16.  Marwin Gonzalez – Twins.  Four years, $36MM.  Gonzalez, 30 in March, has been a valuable super utility player throughout his seven-year Astros career.  He's capable of playing all four infield positions, as well as left field, prompting agent Scott Boras to nickname him "Swiss G."  A switch-hitter, Gonzalez has been every bit as productive as McCutchen and Brantley over the last two years, though much of his success is concentrated in a breakout 2017 season.  Gonzalez was shockingly one of the dozen best hitters in baseball that year, but dropped back to a 104 wRC+ in 2018.  He did at least manage a stronger 122 mark from June onward.  Gonzalez has never reached 600 plate appearances in a season, nor has he tallied 700 innings at any one position.  Whether it's as a super utility player or a regular, Gonzalez is an easy fit onto more than half the rosters in baseball.  The Twins, Cubs, Angels, Brewers, Tigers, Blue Jays, Phillies, Nationals, and Rockies are among the many fits.
Signed with Twins for two years, $21MM.
17.  Jeurys Familia – Twins.  Three years, $33MM.  Familia, 29, excelled as the Mets' closer from 2015-16, posting a 2.20 ERA and 9.8 K/9 in 155 2/3 innings.  He was arrested on a domestic violence charge in November 2016, but the charge was dismissed the following month.  The following year, MLB gave a statement on the matter and suspended Familia for 15 games.  Early in the 2017 season, Familia was diagnosed with an arterial clot in his right shoulder, which resulted in surgery and more than three months on the DL.  This year, Familia hit the DL in June for shoulder soreness, though he missed the minimum 10 days.  He closed out his season in Oakland after a July trade to the A's.  Only a dozen relievers threw harder than Familia this year, and he could even be popular enough to warrant a four-year deal.
Signed with Mets for three years, $30MM.
18.  Zach Britton – Astros.  Three years, $33MM.  Britton might have been the best reliever in baseball upon the conclusion of his dominant 2016 season for the Orioles.  The lefty had allowed just four runs in 67 innings, generating ground-balls at a historic 80 percent rate — the highest mark since the stat began being tracked.  However, a strained forearm cropped up in April 2017, which quickly recurred after he was activated from the DL in May.  He missed two months after that and was also shut down early in September with a knee injury.  Worse yet, Britton ruptured an Achilles tendon in December 2017, delaying his 2018 debut until June 12th.  He joined the Yankees' elite bullpen in a July deal.  Despite a 3.00 ERA over the past two seasons, Britton's 7.3 K/9 and 4.5 BB/9 were unimpressive.  However, he's still throwing over 95 miles per hour from the left side, and he's still getting ground-balls more than 70 percent of the time.  Given Britton's three-year stretch of  dominance as the Orioles' closer from 2014-16, his market should be robust even if he's yet to return to form.  There might not be a better arm to dream on in the current class.  The Astros, Cubs, Red Sox, Twins, Angels, Cardinals, Mets, Phillies, and Dodgers could be involved.
Signed with Yankees for three years, $39MM.
19.  David Robertson – Mets.  Three years, $33MM.  Robertson, 34 in April, has been a paragon of durability, pitching 60+ relief innings in each of the past nine seasons.  He became the Yankees' closer in 2014, serving in that role for the White Sox as well until being traded back to New York in 2017.  Robertson is difficult to hit and continually puts up huge strikeout rates, getting the most out of a fastball in the 92 mile per hour range due to incredible extension.  Robertson has made the interesting choice to represent himself in free agency, and we think he has a good case for a three-year deal despite the fact that he's entering his mid-30s.  Robertson, Jeurys Familia, Zach Britton, and Adam Ottavino make up a second tier of relievers who should do quite well in free agency.
Signed with Phillies for two years, $23MM.
20.  Hyun-Jin Ryu – Dodgers.  Three years, $33MM.  After dominating the Korea Baseball Organization with the Hanwha Eagles from 2006-12, Ryu was posted for MLB teams, and the Dodgers won his negotiating rights.  The two sides hammered out a six-year deal, which went quite well for the first two seasons.  Unfortunately, the big lefty made just one big league start from 2015-16 due to shoulder and elbow injuries.  Those issues are in the rearview, but Ryu still only made 39 starts from 2017-18 due to hip, foot, and groin injuries.  That said, Ryu was excellent in his 82 1/3 regular season innings this year, posting a 1.97 ERA, 9.7 K/9, and 1.6 BB/9.  Given his injury history, teams may be reluctant to commit a third year to Ryu, who enters his age-32 season.  However, that might be the cost of doing business given his success when he does pitch.  He'll need a team willing to tolerate health risk, and a return to the Dodgers could make sense for both sides.  The Dodgers are obviously already rife with rotation options, but no team in the game has prioritized rotation depth — or shown a willingness to take health risks — like Los Angeles in recent seasons.  And, retaining Ryu could make it easier for them to explore trading from that depth as they pursue other upgrades.  The Dodgers' choice to issue Ryu a qualifying offer suggests they are indeed interested in a "Ryu-nion."  Sorry, had to do it.
Accepted one-year, $17.9MM qualifying offer from Dodgers.
21.  Adam Ottavino – Yankees.  Three years, $30MM.  Ottavino, 33 in November, will use an excellent contract year as a springboard to a strong contract.  Originally a Cardinals first-round draft pick, Ottavino had some success out of the Rockies' bullpen from 2012-14 before requiring Tommy John surgery in May 2015.  He came back strong for the second half of 2016 but hit the DL in May 2017 with shoulder inflammation.  That became a lost year in which Ottavino walked more than 16 percent of batters faced.  Then, as wonderfully detailed by Travis Sawchik for FanGraphs, Ottavino rebuilt himself out of a vacated Nine West shoe store during the 2017-18 offseason using advanced technology.  He went on to rank eighth among qualified relievers in strikeout percentage (36.1 percent) and should be able to land a three-year deal.
Signed with Yankees for three years, $27MM.
22.  Nelson Cruz – Twins.  Two years, $30MM.  Cruz, 38, has averaged 41 home runs per season over the past five years for the Orioles and Mariners.  Though he is easily one of the best available bats, he's strictly a designated hitter at this stage in his career.  The Mariners, who are tight on payroll space, might choose to let him leave.  American League contenders with fully open DH spots are hard to come by, but the Twins, Astros, White Sox, and Royals could be options.  Because Cruz has previously received a qualifying offer in his career, the Mariners aren't able to issue one when it would otherwise look likely.  That he is free of draft-pick compensation certainly doesn't hurt his case.
Signed with Twins for one year, $14.3MM.
23.  Jed Lowrie – Athletics.  Three years, $30MM.  Only two second basemen — Jose Ramirez and Jose Altuve — have been better than Lowrie by measure of WAR over the past two seasons.  Injury and performance issues had clouded Lowrie's outlook, but since the start of 2017 the switch-hitter boasts a 121 wRC+ and has appeared in 310 games. Lowrie will turn 35 next April, however, so he'll be fighting to land a third year on his contract.  There's mutual interest in a return to Oakland, while the Twins, Orioles, Blue Jays, Angels, Cubs, Brewers, Nationals, Rockies, and Dodgers could also be in the mix.  We think his value could max out at three years, but it's also possible he takes a slightly more team-friendly two-year pact with Oakland.
Signed with Mets for two years, $20MM.
24.  Andrew Miller – Red Sox.  Three years, $27MM.  Britton and Miller are the top lefty relief options on the market, and both should do well based more on past success than on their 2018 results.  Miller, 33, tallied a 4.24 ERA in 34 innings in a season that was shortened by a hamstring strain, knee inflammation, and a shoulder impingement.  He dominated from 2014-17, posting a 1.72 ERA, 14.5 K/9, and 2.3 BB/9 in 261 innings for the Red Sox, Orioles, Yankees, and Indians.  He'll likely have his pick of contending clubs from which to choose.
Signed with Cardinals for two years, $25MM.
25.  Joe Kelly – Angels.  Three years, $27MM.  With an average fastball velocity of 98.1 miles per hour, Kelly is one of the hardest-throwing relievers in baseball.  The 30-year-old has struggled to marry that velocity with results, with a problematic walk rate and fewer strikeouts than you might expect.  Still, Kelly left a great lasting impression by allowing just one run in 11 1/3 postseason innings for the Red Sox, with 13 strikeouts and no walks.  His upside should be tantalizing enough to net him a three-year deal.
Signed with Dodgers for three years, $25MM.
26.  Kelvin Herrera – Dodgers.  One year, $8MM.  Herrera was part of the Royals' vaunted bullpen trio of 2013-15, along with Greg Holland and Wade Davis.  Soon to be 29, the righty owns a 2.82 career ERA, flashing elite strikeout and walk rates at times but not consistently.  For example, he walked only two batters in 25 2/3 innings to start the season as the Royals' closer this year, but had a 3.9 BB/9 after being traded to the Nationals in June.  His strikeout rates have been as high as 11.4 per nine and as low as 7.6 per nine.  He's continued to pump 97-98 mile per hour gas all along and would have scored one of the largest relief contracts of the winter, but he went down in late August for surgery on the Lisfranc ligament in his left foot.  As of right now, Herrera's recovery timeline is a total unknown, at least to the public.  He's young enough that a one-year deal, once a timeline is established, will give him a nice opportunity to rebuild his stock in search of a big multi-year deal next winter.
Signed with White Sox for two years, $18MM.
27.  Gio Gonzalez – Athletics.  Two years, $24MM.  Gonzalez, a 33-year-old lefty, can offer stability to the back end of a team's rotation.  He's averaged 32 starts per year over the past four seasons, mostly with the Nationals.  Gonzalez has always had issues with control, but with the right defense and a bit of good fortune he's capable of a sub-4.00 ERA.  While his fastball velocity has fallen off sharply, landing at just over 90 miles per hour over the past two seasons, Gonzalez still gets as many swings and misses as ever. Teams like the A's, Angels, Reds, Braves, and Giants could be in the mix for a player with this type of stability.
Signed minor league deal with Yankees.
28.  Anibal Sanchez – Giants.  Two years, $22MM.  Sanchez, 35 in February, flourished early in his career with the Marlins and landed a five-year deal with the Tigers after the 2012 season.  He finished out that contract with a 5.67 ERA over the final three seasons.  The Twins inked him to a cheap, non-guaranteed, one-year deal in February this year and let him go when they signed Lance Lynn in March.  Sanchez hooked on with the Braves on a minor league deal.  He dealt with a hamstring injury in April but found his way into the Braves' rotation by late May.  Over the season's final four months, Sanchez posted a 2.81 ERA, 9.0 K/9, and 2.6 BB/9 in 21 starts.  By measure of ERA, only nine MLB starters were better, but his success runs much deeper than that.  Sanchez adopted a cutter that proved to be a dominant weapon.  Astonishingly, no starting pitcher in baseball allowed less hard contact or a lower average exit velocity, by measure of Statcast.  His turnaround was legitimately remarkable and could result in a multi-year deal.
Signed with Nationals for two years, $19MM.
29.  Matt Harvey – Reds.  Two years, $22MM.  Though it was interrupted by 2013 Tommy John surgery, Harvey's early Mets career consisted of 65 starts of 2.53 ERA ball, plus a high point of a dominant start in Game 5 of the 2015 World Series.  In 2016, the wheels started to fall off.  He hit the DL in July that year with thoracic outlet syndrome, resulting in season-ending surgery.  Harvey recovered in time for the 2017 campaign, though he was suspended by the Mets in May after failing to show up for a game.  Harvey then hit the DL in June 2017 due to a stress injury to the scapula bone in his right shoulder.  The Mets tendered Harvey a contract for 2018 despite the two lost seasons, but he was bumped to the bullpen in April for poor performance.  Soon after, he was designated for assignment and traded to the Reds for Devin Mesoraco.  Harvey's performance with the Reds — a 4.50 ERA, 7.8 K/9, 2.0 BB/9, 1.48 HR/9, and 42.6 percent ground-ball rate in 24 starts — wasn't great.  But he avoided the DL and brought his average fastball velocity up into the 95 mile per hour range.  At 30 years old in March, Harvey remains a starting pitcher a team can dream on.  The Reds declined to trade him this summer, suggesting they'd like to retain him, but some other clubs will also likely view him as a functional back-of-the-rotation arm as well as an upside play.
Signed with Angels for one year, $11MM.
30.  Trevor Cahill – Blue Jays.  Two years, $22MM.  Cahill, 31 in March, began his career with five solid seasons as a starting pitcher for the Athletics and Diamondbacks.  His career went sideways in 2014, and he rebooted with success out of the Cubs' bullpen.  Back in the rotation, Cahill showed flashes of brilliance for the Padres and A's over the past two years.  He also logged only 194 innings in that time due to a lower back strain, shoulder injuries, an elbow impingement, and an Achilles injury.  Given his 8.7 K/9 and 54 percent groundball rate over the past two seasons, teams might be willing to look past Cahill's injury history.  Pitchers who miss bats and keep the ball on the ground at that rate are hard to come by.
Signed with Angels for one year, $9MM.
31.  Daniel Murphy – Angels.  Two years, $20MM.  Murphy took his offense to another level with a ridiculous 2015 postseason, though his ensuing three-year contract with the Nationals never really lived up to the narrative that his October showing earned him millions.  Perhaps it should have, because the improvement was real, and the Nats reaped the benefits with over 10 WAR from 2016-17.  Murphy underwent knee surgery in October 2017, and Opening Day optimism disappeared as his recovery dragged out and resulted in a June 12th season debut.  After some early scuffling, Murphy posted a 126 wRC+ over the season's final three months, with the Cubs picking him up for the stretch drive.  He's a high-contact, professional hitter in today's high-strikeout world.  He also turns 34 in April and played a poor second base this year.  It's easy to see him landing in the AL, where he can moonlight at DH in addition to second base and perhaps first base.  The Angels and Twins were among the teams we considered when pondering a landing spot.
Signed with Rockies for two years, $24MM.
32.  Brian Dozier – Nationals.  One year, $10MM.  Looking at second basemen from 2014-17, only Jose Altuve was more valuable than Dozier.  He compiled nearly 19 WAR for the Twins, smacking 127 home runs in that span.  A solid four-year deal seemed possible for Dozier at one point, but his bat just died this year outside of July and August.  The Twins shipped him to the Dodgers in the middle of that decent run.  Now, the 31-year-old may be best-served looking for a one-year deal and prioritizing playing time as a way to rebuild value.
Signed with Nationals for one year, $9MM.
33. DJ LeMahieu – Tigers.  Two years, $18MM.  LeMahieu earned the Rockies' starting second base job in May 2013, keeping the gig by virtue of strong defense despite providing little value at the plate.  LeMahieu bumped up his offensive production starting in 2015, peaking with a batting title in '16.  Since then, he's managed a 90 wRC+, which will likely remain his level for the next few years.  The 30-year-old isn't an exciting option at second base, but he should provide a steady two wins above replacement.  LeMahieu has a chance at a three-year deal. If the Rockies let him go the Nationals, Tigers, and Twins could be options.
Signed with Yankees for two years, $24MM.
34.  Joakim Soria – Mets.  Two years, $18MM.  Soria, 34, continues to find success with his combination of a high strikeout and low walk rate.  He was able to avoid the long ball despite a precipitous drop in ground-ball rate this season, which he split between the White Sox and Brewers.  With a fastball under 93 miles per hour, Soria isn't a flashy choice, but he still provides plenty of value.
Signed with Athletics for two years, $15MM.
35.  Mike Moustakas – Royals.  Two years, $16MM.  After hitting a Royals-record 38 home runs in 2017, Moustakas' free agency went terribly awry.  Despite a qualifying offer, MLBTR predicted a five-year, $85MM contract.  Instead, the third baseman wound up back with the Royals on a one-year, $6.5MM deal.  Sam Mellinger, talking to two league sources, said Moustakas turned down approximately $45MM over three years from the Angels.  Agent Scott Boras told Mellinger, "There was never a multi-year contract offer made to Mike Moustakas by the Angels or any other major-league team."  Who you believe will color a prediction on what Moose can do this winter, after a slightly worse season but with no qualifying offer.  A multi-year contract is a possibility here, but it seems clear today's GMs don't value Moustakas' high-power, low-OBP profile as a premium skill set.
Signed with Brewers for one year, $10MM.
36.  Lance Lynn – Rays.  Two years, $16MM.  Like Moustakas, Lynn was one of the free agents who got body-slammed by the 2017-18 market freeze.  MLBTR projected a four-year, $56MM deal for Lynn coming off a solid season for the Cardinals, yet the righty fell to the Twins in March on a one-year, $12MM deal.  He struggled in 20 starts for Minnesota, as his already-high walk rate got out of hand.  The Twins sent him to the Yankees at the trade deadline.  Lynn wound up making nine starts for New York, with a 4.60 ERA but a 2.17 FIP, 3.03 xFIP, 10.0 K/9, and 2.5 BB/9.  Despite the small sample, those peripherals are intriguing and should land Lynn a rotation job — if not a two-year deal — somewhere.
Signed with Rangers for three years, $30MM.
37.  Cody Allen – Braves.  Two years, $16MM.  Allen dominated as the Indians' closer from 2014-17, posting a 2.62 ERA, 12.1 K/9, and 120 saves.  This year, an increase in home runs and walks allowed torched his value.  Just 30 in November, Allen shouldn't have a hard time finding a team willing to bet on a return to form.  Perhaps his camp even prefers a one-year deal with an eye on reentering the market next season, but multiple years should still be possible if the goal is to take max dollars now.
Signed with Angels for one year, $8.5MM.
38.  Nick Markakis – Phillies.  Two years, $16MM.  Markakis had a couple of excellent early-career years with the Orioles, eventually landing a four-year deal with Atlanta after the 2014 season.  The right fielder was a one-win type of player from 2015-17, but then for the first four months of 2018 Markakis unexpectedly posted a 129 wRC+.  In truth, he's probably a league average hitter, and he'll turn 35 in November.  Aging corner bats of this mold have not been valued highly on the free-agent or trade markets in recent years.
Signed with Braves for one year, $6MM.
39.  Derek Holland – Reds.  Two years, $15MM.  Holland, a 32-year-old southpaw starter, had a solid run in the Rangers' rotation from 2011-13 before injuries torpedoed his next few seasons.  Coming off a terrible year with the White Sox in 2017, Holland joined the Giants on a minor league deal in February.  Due to injuries to the Giants' veteran starters, Holland joined the rotation and wound up posting a 3.67 ERA and 8.5 K/9 in 30 starts.  His 3.87 FIP and 4.07 xFIP lend some credence to the notion that he's returned to his status as a viable starter, even if his ceiling seems limited.
Signed with Giants for one year, $7MM.
40.  Bud Norris – Indians.  Two years, $12MM.  Norris, 34 in March, has transitioned successfully from the rotation to the bullpen.  This year for the Cardinals, he managed a 3.59 ERA, 10.5 K/9, 3.3 BB/9, 1.25 HR/9, and 42.6 percent ground-ball rate in 57 2/3 innings, including 28 saves.  His ERA sat at 2.85 in August 28th and ballooned after a rough week in September.  Another factor to consider is that Norris is decidedly old school in the clubhouse, and was revealed as Mike Matheny's bullpen monitor in Mark Saxon's July story for The Athletic.  A two-year deal seems likely.
Signed minor league deal with Blue Jays.
41.  Brad Brach – Brewers.  Two years, $12MM.  Brach, 33 in April, had success out of the Orioles' bullpen with a 2.74 ERA and 9.5 K/9 from 2014-17.  He even earned an All-Star nod in 2016.  After a rough 39 innings to begin his 2018 campaign, Brach was traded to Atlanta.  The top line result — a 1.52 ERA — was strong, but Brach's peripheral stats didn't support it.  He remains a useful righty arm, but his stock took a hit in 2018.
Signed with Cubs for one year, at least $4.35MM.
42.  Wade Miley – Brewers.  Two years, $12MM.  Miley, 32 in November, had a decent run for the Diamondbacks and Red Sox from 2012-15.  His ERA jumped to 5.48 from 2016-17 for the Mariners and Orioles, which is why he settled for a minor league deal with the Brewers in February.  He sprained his groin in the spring but made his way to the big league club in May.  In his second start for the Brewers, Miley strained his oblique, knocking him out for over a month.  Once he returned on July 12th, Miley posted a 2.66 ERA, 5.6 K/9, 2.8 BB/9, 0.36 HR/9, and 53.3% ground-ball rate in 74 1/3 innings across 14 starts.  Miley had a .274 batting average on balls in play and a 5.7% home run per fly-ball rate during that time, neither of which seems sustainable.  It was a useful run for the Brewers, but it's not clear Miley is a different pitcher than he was before 2018.
Signed with Astros for one year, $4.5MM.
43.  Garrett Richards – Tigers.  Two years, $10MM.  Richards, 30, has spent his entire career with the Angels, with his best work coming in 2014-15.  He's made only 28 starts over the past three seasons after deciding to treat a torn UCL with a platelet-rich plasma injection.  He also endured a biceps strain in 2017 and a hamstring strain this year before succumbing to Tommy John surgery in July.  The 2019 season is out of the picture for Richards, who could sign a two-year deal in the vein of those inked by Drew Smyly and Michael Pineda.  A team would be paying entirely for Richards' 2020 season.  Just about any club that wants to plan ahead and has some payroll space and mild tolerance for risk could be a candidate.
Signed with Padres for two years, $15.5MM.
44.  Jesse Chavez – Cubs.  Two years, $10MM.  Chavez, 35, nearly saved the Cubs' beleaguered bullpen by posting a 1.15 ERA in 39 innings after coming over in a July trade with the Rangers.  Putting the Rays' Ryan Yarbrough aside, Chavez led MLB with 95 1/3 relief innings.  Among relievers with at least 60 innings, Chavez's 4.5% walk rate was third best.  He was much more hittable and homer prone before joining the Cubs, so there is reason to hesitate.  Chavez seems to want to return to Chicago, which would be a win for both sides.
Signed with Rangers for two years, $8MM.
45.  CC Sabathia – Angels.  One year, $8MM.  Sabathia is winding down a potential Hall of Fame career and aims to pitch one more season.  He's served the Yankees well for a decade, even as he's faded into a back-of-the-rotation starter.  The 38-year-old lefty could wind up near home on the West Coast if the Yankees move on, and the Angels (where former Yankees exec Billy Eppler is GM) had interest last winter.
Signed with Yankees for one year, $8MM.
46.  Adam Jones – Indians.  One year, $8MM.  Jones, 33, completed his 11th season in the Orioles' outfield.  He's well beyond his 2012-14 heyday, with his bat dropping to league average and his center field defense drawing extremely poor marks over the past three years.  Jones vetoed an August trade to the Phillies, as he did not want to move to right field and play part-time.  If playing time is the priority, Jones could look to join the Indians, a contender with plenty of outfield vacancy and previous interest in July.
Signed with Diamondbacks for one year, $3MM.
47.  Martin Maldonado – Rockies.  Two years, $8MM.  Maldonado, 32, spent five years as a part-time catcher in Milwaukee before being traded to the Angels in December 2016.  The Halos gave Maldonado regular playing time in 2017, resulting in an American League Gold Glove, but traded him to the Astros at this year's deadline.  With Maldonado, the value is entirely in his defense.  He's one of the game's better pitch framers and perhaps the very best at throwing out attempted thieves.  He should continue to find semi-regular playing time.
Signed with Royals for one year, $2.5MM.
48.  Kurt Suzuki – Brewers.  Two years, $8MM.  Suzuki, 35, has been in a job share with Tyler Flowers on the Braves the last two years.  Among catchers with at least 650 plate appearances during that time, Suzuki's 116 wRC+ is second only to Buster Posey and J.T. Realmuto.  Of course, those catchers played much more than Suzuki did.  Defensively, Suzuki is a below-average pitch framer and has struggled even more to stop the running game.  He's a bat-first option at catcher — one who can play as many as 100 games if necessary.
Signed with Nationals for two years, $10MM.
49.  Ervin Santana – Mariners.  One year, $6MM.  Santana, 36 in December, has served as a respectable innings eater throughout his 14-year career.  He underwent a surgical procedure on his right middle finger in February that wound up ruining his 2018 season.  He returned to the Twins for a five-start stint in July and August, but just wasn't himself with a massive drop in velocity.  It's impossible to guess the state of that finger for Opening Day 2019, but if Santana can get past the injury he could be a bargain buy.
Signed minor league deal with White Sox.
50.  Drew Pomeranz – Royals.  One year, $6MM.  Pomeranz had a fine year in 2016, when he made the All-Star team and authored a 3.32 ERA in 30 starts for the Padres and Red Sox.  After the trade, drama developed about the Padres' disclosure of medical information.  In 2017, Pomeranz overcame an early forearm flexor strain to make 32 starts for Boston, again posting a 3.32 ERA.  A left forearm flexor strain again surfaced in March of this year, resulting in an April 20th season debut.  Pomeranz was knocked around over an eight-start span before hitting the DL for biceps tendinitis.  That sidelined him out for the better part of two months, and after he returned he spent most of his time in the bullpen.  Pomeranz's lost season could not have come at a worse time, but on the cusp of his 30th birthday, he's an intriguing signing if he can stay healthy and recover some of his lost velocity.  He'll probably prioritize a clear path to innings in a big park over signing with a contender.
Signed with Giants for one year, $1.5MM

Honorable mentions:
Robinson Chirinos – signed with Astros for one year, $5.75MM
Justin Wilson – signed with Mets for two years, $10MM
Adrian Beltre – retired
Asdrubal Cabrera – signed with Rangers for one year, $3.5MM
Josh Harrison – signed with Tigers for one year, $2MM
Tyson Ross – signed with Tigers for one year, $5.75MM
Ryan Madson
Clay Buchholz – signed with Blue Jays for one year, $3MM
Jose Iglesias – signed minor league deal with Reds
Ian Kinsler – signed with Padres for two years, $8MM
Oliver Perez – signed with Indians for one year, $2.5MM
Adam Warren – signed with Padres for one year, $2.5MM
Tony Sipp – signed with Nationals for one year, $1.25MM
Notable deals for unlisted players:
Michael Fiers – re-signed with Athletics for two years, $14.1MM
We realize that a Top 50 Free Agents list with one set of specific team predictions will leave some fanbases dissatisfied.  A few notes on certain clubs:
Most teams will meet some needs through trades and free agents who fell short of this list.
The White Sox, Orioles, Pirates, Marlins, and Diamondbacks did not end up with any free agents from this list.  Certainly they might be in play on some of the more affordable names, at least, with the Chicago organization perhaps also potentially going after some more premium targets.
The Yankees have spending capacity well beyond the players we gave them here.  They could easily go bigger, and/or take on significant salary in trade.
For the first time in recent memory, the Rays appear to have decent spending capacity.  It's difficult to ignore precedent and project them to sign a bunch of top free agents, but it is more possible than it had been.
The Giants are particularly difficult to project, not knowing who their next GM will be.
The Angels, Nationals, and Cardinals might not have the spending capacity to sign all the players we listed for them, though we think each pick is reasonable on an individual level.  In general, teams have ways to clear payroll and we don't always know when payroll will be increased.