The Royals announced Wednesday evening that they've signed left-handed reliever Jake Diekman to a one-year contract with a mutual option for the 2020 season. Right-hander Jesse Hahn has been transferred to the 60-day injured list in a corresponding move. MLB.com's Jeffrey Flanagan reports that Diekman, a client of the Beverly Hills Sports Council, will earn a $2.25MM base salary in 2019, and there's a $500K buyout on next year's option, making for a $2.75MM guarantee (Twitter link).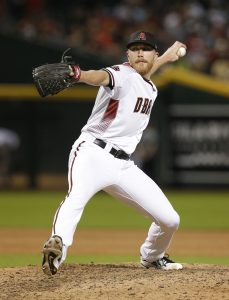 Diekman, 32, has long shown a penchant for missing bats at a lofty rate but also issuing far too many free passes. Dating back to the 2014 season, he's averaged an impressive 11.2 strikeouts against an unsightly 4.9 walks per nine innings pitched. In that time, Diekman owns a 3.91 ERA in 246 1/3 innings of relief between the Phillies, Rangers and Diamondbacks. He's handled both lefties (.255/.346/.346) and righties (.204/.320/.337) reasonably well outside of the obvious proclivity for issuing walks.
Last season, Diekman split the year between Texas and Arizona, working to a combined 4.73 ERA with 11.1 K/9, 5.2 BB/9, 0.68 HR/9 and a 47.8 percent ground-ball rate in 53 1/3 innings. That marked the lefty's first full season back after missing most of the 2017 campaign due to a colectomy procedure that stemmed from ulcerative colitis.
Diekman is the second veteran arm the Royals have added in the past week, joining right-hander Brad Boxberger (a teammate last year in Arizona) as a newcomer to manager Ned Yost's bullpen. He'll give Kansas City a much-needed, experienced lefty; prior to this addition, Brian Flynn and Tim Hill were the team's only southpaw relievers on the 40-man roster.
Diekman and Boxberger will be joined by holdovers Wily Peralta and Kevin McCarthy, at the very least, although the remainder of the relief corps' composition will be determined in Spring Training. There's even been talk of utilizing veteran starter Ian Kennedy in relief this season, which underscores the point that Spring Training will be of particular importance in assigning bullpen roles.
While Kansas City technically can control Diekman for the 2020 season, it seems quite likely that this'll be a pure one-year arrangement. Mutual options are exercised by both parties with the utmost rarity, and the Royals utilize that specific option type regularly as an accounting measure — effectively deferring a portion of free agents' salaries by a year in doing so.
Beyond that, there's a good chance that if Diekman pitches well in his new environs, he'll emerge as a trade chip this summer. Kansas City is fresh off a 58-104 season and has only made some marginal additions as the continue along in a rebuilding process. Diekman netted the Rangers a pair of minor league pitchers last summer and could once again be dangled to contending clubs this June or July if the signing goes according to plan.