In a spirited attempt to repair their position player group and snap a seven-year playoff drought, the Phillies added four new regulars to their lineup during the offseason. The big-ticket acquisitions of Bryce Harper, J.T. Realmuto, Andrew McCutchen and Jean Segura left the club with just four holdovers. Of the returning quartet, only first baseman Rhys Hoskins and second baseman Cesar Hernandez have produced in 2019. On the other hand, this has been a horrid year for third baseman Maikel Franco and Odubel Herrera, who didn't exactly comprise a confidence-inspiring pair entering the campaign.
The 26-year-old Franco broke into the league in earnest in 2015, when he looked like a long-term core piece in the making during an 80-game, 335-plate appearance debut. Since then, though, success has been hard to come by for Franco. He turned in an 0-for-4 performance in a loss to the Cardinals on Thursday, dropping his batting line to an inept .215/.281/.393 through 210 tries this year. Franco's 63 wRC+ ranks as the majors' eighth-worst mark among 167 qualifying hitters.
While 2019 has gone poorly for Franco, it has been even worse for Herrera. Not only has Herrera failed on the field, where he has hit .222/.268/.341 (67 wRC+) in 139 trips to the plate, but he's amid a troubling situation off it. The league placed Herrera on administrative leave Tuesday after he was arrested Monday on a charge of simple assault relating to a domestic violence incident.
It's too early to jump to conclusions on Herrera's arrest at this point, but we can judge him on what he has done between the lines. The fact is the 27-year-old's production has been a letdown since 2018. Before then, he was a quality player who earned a five-year, $30.5MM extension from the franchise in 2016.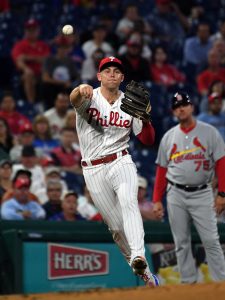 The Phillies have given Franco and Herrera plenty of rope so far in their careers, but they're looking less and less like answers at their respective positions. And Philadelphia is no longer a rebuilding team – it's in first place in the NL East, which figures to be a multi-team dogfight through September – meaning it must consider making moves to improve at third and in center. Luckily for the club, it may have an in-house solution for one of those spots in utility player Scott Kingery.
The 25-year-old Kingery opened the season as a reserve, but he has taken on a prominent role rotating between the hot corner and center since he returned from a month-long stay on the injured list. Going back to his May 19 activation, Kingery has started nine of the Phillies' 11 games. Now, if he proves capable of performing like a legit full-timer, he'd take some of the pressure off executives Matt Klentak and Andy MacPhail heading into the July 31 trade deadline.
Philadelphia believes in Kingery, evidenced by the six-year, $24MM guarantee it gave him in March 2018. Kingery was a top 100 prospect at that point, but he had never even taken a major league at-bat. That inexperience was on display during a rough rookie season for Kingery, who struggled to a .226/.267/.338 line (62 wRC+) with 126 strikeouts against 24 walks in 484 tries.
So far, the sophomore version of Kingery is trumping his Year 1 numbers through 72 PA. However, his .328/.375/.567 slash (148 wRC+) looks as if it's built on a house of cards. Having drawn a meager three walks against 20 strikeouts, Kingery is getting by on a sure-to-plummet .432 batting average on balls in play and a power surge that also looks unlikely to last. With three homers, Kingery's fly balls are leaving the yard at an 18.8 percent rate – a figure he only approached once in the minors (in 2017). As a Double-A player that season, Kingery recorded a .295 ISO. Coming into this year, that was the only time Kingery had even neared a .200 ISO, let alone blown by it. With that in mind, don't bet on Kingery maintaining his current ISO (.239).
Although there are reasons for pessimism regarding Kingery's hot start, that's not to say he can't be a valuable regular for the Phillies now or in the future. It would be a colossal boon for the club if it happened immediately, considering its remade offense has been closer to middle of the pack than great this season. That's largely because of Franco, Herrera and corner outfielder Nick Williams, who have combined for minus-1.1 fWAR in 414 PA. The Phillies can't count on those three – nor can they expect a breakthrough from unproven outfielder Roman Quinn, 26, or McCutchen to man his old stomping grounds in center consistently – leaving the onus on Kingery to assert himself in a full-time role. If Kingery falls on his face, the Phillies may have to deal with the burden of finding two new regulars leading up to the deadline.
Photo courtesy of USA Today Sports Images.