As the Orioles begin what will be a lengthy rebuilding process, it's fair to assume they're open to offers on virtually any player on their roster with a modicum of Major League experience.  This extends even to players like Trey Mancini, who under some circumstances would seem like a potential building block.
Mancini burst onto the scene with an impressive 2017 campaign before seeing his production drop to sub-replacement levels (-0.2 fWAR) in 2018.  Aside from minor improvements to his swinging strike rate and walk rate, Mancini's numbers dropped pretty much across the board in every major batting category from 2017 to 2018.  This could be attributed to an old-fashioned sophomore slump as pitchers got a book on a young hitter, or perhaps Mancini suffered from the added mental stress of being caught up in the Orioles' disastrous 115-loss season.
Perhaps the most telling number, however, was Mancini's .285 BABIP in 2018.  It marked a big decline from his .352 BABIP in 2017, which had a particularly deleterious effect on a player who had such extreme trouble keeping the ball off the ground.  Mancini's 52.9% ground-ball rate over the 2017-18 seasons was the sixth-highest total of any qualified player in that stretch, so when Mancini's grounders weren't sneaking through the infield with as much regularity, it had a significant impact on his production.  This issue wasn't a new one for Mancini, who also had high grounder rates throughout his minor league career.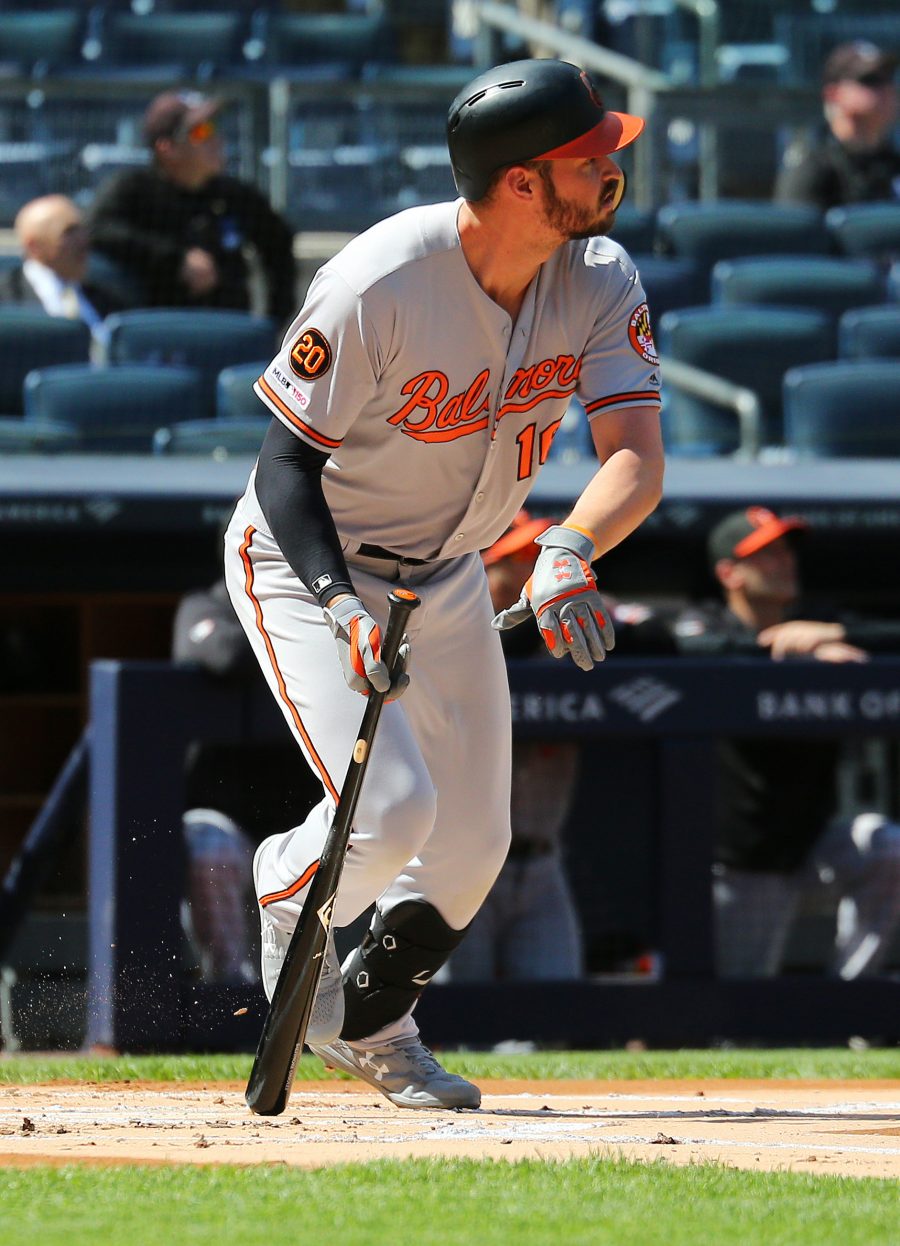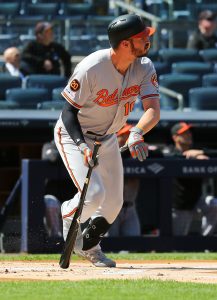 Almost two months into the 2019 season, however, Mancini has done a much better job of driving the ball through the air.  His grounder rate this season stands at only 38.3%, plus a .342 BABIP indicates that Mancini's lesser number of ground balls are sneaking through the infield.  Beyond just getting more good luck from the BABIP gods, Mancini's 25.3% line drive rate, 36.4% fly ball rate, and 37.7% hard-hit ball rates are all career bests, and his .365 xwOBA is a virtual match for his .369 wOBA.
These underlying factors are a big reason why the 2019 version of Mancini is looking like a more sustainably productive player than the the 2017 model.  The 27-year-old is hitting .295/.345/.529 with 10 home runs, a 128 wRC+ and 132 OPS + through 229 plate appearances.  With this production looking up, Baltimore could decide now is the time to sell high on what could be its best position-player trade chip.
It's worth noting, of course, that the Orioles are under no pressure to trade Mancini by July 31 — he isn't eligible for arbitration until this coming offseason, meaning that he is under team control through the 2022 season.  It also isn't totally out of the question that the O's hang onto Mancini altogether, though the club's timeline for a return to contention doesn't really fit Mancini's age and skillset.
Over his two-plus seasons in the big leagues, Mancini has played 793 innings as a first baseman and 1808 2/3 innings as a corner outfielder, despite being drafted as a first baseman out of Notre Dame in 2013 and never seeing any outfield action over his four minor league seasons.  With Chris Davis and Mark Trumbo holding down the first base/DH spots, the Orioles deployed Mancini in the outfield as a way of getting his bat into the lineup, with predictably subpar defensive results.
Mancini has a -12.9 UZR/150 and minus-20 Defensive Runs Saved as an outfielder, making him an ill fit at the position now, let alone in the future.  He has been seeing more time at first base recently with Davis on the IL, and there's really no reason for Baltimore to not continue playing Mancini at his original position going forward; he wouldn't be the first player to take his hitting to another level after being relieved from a troublesome defensive situation.
While Orioles GM Mike Elias surely hopes he can have the club on track in shorter order, the fact remains that the O's might still not be full-fledged contenders by the 2023 season, given the extensive nature of the team's rebuild.  At that point, Mancini will be in his age-31 season and in all likelihood a full-time first baseman/DH, making it a better bet that he will be starting into a decline phase just as the Orioles as a whole plan to be rising up.
Waiting for the winter to explore Mancini trades would theoretically expand Baltimore's market for the young slugger, since dealing him now would limit the O's to only contending teams….or would it?  Mancini's extra years of control make him an interesting option for teams who might be riding the fence between being a pure buyer or a pure seller.  Mancini could fit on a team like the White Sox, who aren't contenders this season but surely have an eye towards taking a step forward in 2020 (especially now that Tim Anderson, Yoan Moncada, and Lucas Giolito are all breaking out).
Holding off on a Mancini deal also carries risk beyond just the normal concerns of a potential dropoff.  As we've seen over the last two offseasons, teams are putting less and less value on defensively-limited players and first base/DH types, no matter how big a bat they might be swinging.  Nicholas Castellanos (a free agent this winter) has far less team control than Mancini, but is almost exactly the same age and a much more established MLB hitter, yet the Tigers have had no luck shopping Castellanos for over a year.
Plus, once the offseason hits and the free agent market opens, teams with a first base or corner outfield vacancy might prefer to just sign a productive veteran at a relatively low price rather than give up prospects to Baltimore for Mancini.  This could open the door to a more immediate trade, as the urgency of a pennant race might encourage teams to give up some solid minor league talent for a quality bat like Mancini, with his years of control as a significant bonus.
Looking at teams who could fit as trade partners for Mancini, I considered both contenders and non-contenders (who were planning to be competitive sooner rather than later) with both outfield/first base needs for 2019 and longer-term needs at first base going forward.  More teams could certainly emerge as injuries, slumps, and other factors impact this summer's deadline business, though a few clubs stand out as possible candidates at the moment.
Astros: Mancini would help them now, though Houston isn't exactly hurting for bats, and the Astros have several interesting young names (Yordan Alvarez, Kyle Tucker) waiting in the wings.
Red Sox: Mitch Moreland and Steve Pearce are pending free agents, and J.D. Martinez could join them if he chooses to opt out of the final three years and $62.5MM on his contract.  Boston's first base spot has been seen as a potential eventual landing spot for either Rafael Devers or Michael Chavis, though those two emerging stars may end up at third base and second base, and prospect Bobby Dalbec may be at least a year away.  A case can be made for the Red Sox to pursue Mancini at the deadline, though with JDM, Moreland, and Pearce all still in the fold, Boston is more likely to wait until the offseason to address its first base/DH situation.
Nationals: On paper, Washington fits since Ryan Zimmerman's $18MM club option isn't likely to be picked up for 2020.  In practice, all the bad blood between the Nationals and Orioles stemming from the ongoing legal dispute over broadcast rights makes any sort of trade between the two Beltway rivals next to impossible.
White Sox: As mentioned earlier, Mancini could fit nicely into an emerging White Sox lineup.  Yonder Alonso is unlikely to have his club option exercised, and Jose Abreu is slated for free agency at the moment (though the Sox certainly want to keep Abreu on the south side).  If Abreu does stay, he and Mancini would provide a lot of pop from the first base/DH positions.
Mariners: Something of a similar case to the White Sox, as Seattle also aren't contenders now, but their quest to "re-imagine" their roster wasn't seen as a long-term endeavor.  Edwin Encarnacion could himself be traded by the deadline, and if he does stay, the M's are more likely to buy out his 2020 option for $5MM than exercise it for $20MM.  The surprising Daniel Vogelbach has definitely slugged his way into Seattle's 2020 plans, so he could join Mancini splitting time between first base and designated hitter.  Jay Bruce is also likely to still be in the mix barring a trade, though Bruce's presence wouldn't stop GM Jerry Dipoto from picking up a player like Mancini.
Rangers: Between Shin-Soo Choo, Hunter Pence, and even top prospect Willie Calhoun, Texas already has multiple players who might be best suited for DH duty, and Ronald Guzman is still young and controllable at first base.  Texas also doesn't have a deep farm system, and might not be willing to meet Baltimore's asking price for Mancini, or maybe even any team's price tag on any notable midseason upgrade since the Rangers weren't fully committing to contending this year.  Nevertheless, the surprising Rangers are maybe an interesting outside-the-box candidate for Mancini since the team has stayed in the wild card race.  Acquiring Mancini is both a go-for-it type of move, while also serving as a long-term piece.  Mancini would also give Texas some much-needed right-handed lineup balance.
Brewers: Only two teams have received less bWAR from the first base position this season than Milwaukee, Jesus Aguilar's breakout 2018 season has given way to some major struggles this year, while Eric Thames' hot start has given way to an ice-cold May.  It would be a bold move to see the Brewers move on entirely from Aguilar less than a year after his big season, though the club doesn't have much margin for error in a tight NL Central race.  Like Texas, the Brew Crew also doesn't have a lot of minor league talent to spare in trades.
Photo courtesy of USA Today Sports Images