2:42pm: The deal has now been announced.
10:09am: Winkler agreed to a split Major League contract with a $750K salary in the Majors and a $200K salary in the minors, MLB Network's Jon Heyman reports (Twitter links). He can earn an additional $750K in the Majors via incentives.
8:20am: The Cubs and free-agent righty Dan Winkler are in agreement on a one-year, Major League contract, Robert Murray reports (via Twitter). The MVP Sports Group client elected free agency at season's end after being outrighted off the Giants' 40-man roster.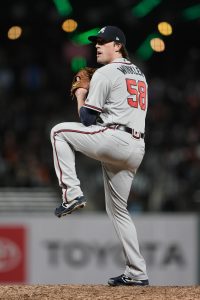 Winkler, 30 in February, was one of the players sent from Atlanta to San Francisco in the Mark Melancon salary dump. He lasted only a day on the Giants' 40-man roster, though, further underscoring that the trade was primarily a financially motivated transaction.
But while Winkler struggled through 21 2/3 innings at the MLB level in 2019 (4.98 ERA, 22-to-11 K/BB ratio), he was a very effective bullpen piece with the Braves just a year prior. In 2018, Winkler returned from a grueling injury absence to post 60 1/3 innings of 3.43 ERA ball with 10.3 K/9 against 3.0 BB/9.
Winkler had previously gone down to Tommy John surgery in 2014 and, upon returning to the mound in 2016, sustained another gut-wrenching injury when he (audibly) fractured his elbow while throwing a pitch. From 2015-17, he totaled just 41 1/3 innings between the big leagues and the minors thanks to those injuries, but the right-hander is seemingly healthy now. In addition to his work in the Majors last year, Winkler tossed 30 2/3 innings in Triple-A (with a 2.93 ERA, 29 strikeouts and a troubling 23 walks).
If Winkler is able to return to form with his new team, the Cubs will be able to control him through the 2021 season via arbitration. He also has minor league options remaining, so the Cubs can shuttle him back and forth between Triple-A Iowa and Chicago on an as-needed basis if he doesn't solidify his spot in the 'pen from the outset.