DECEMBER 9: This deal is now official, per a team announcement.
DECEMBER 4: The Phillies have made the biggest free-agent splash of the offseason to date, as they reached a reported five-year, $118MM agreement with free-agent right-hander Zack Wheeler on Wednesday afternoon. The contract is still pending a physical. Wheeler is represented by Jet Sports Management.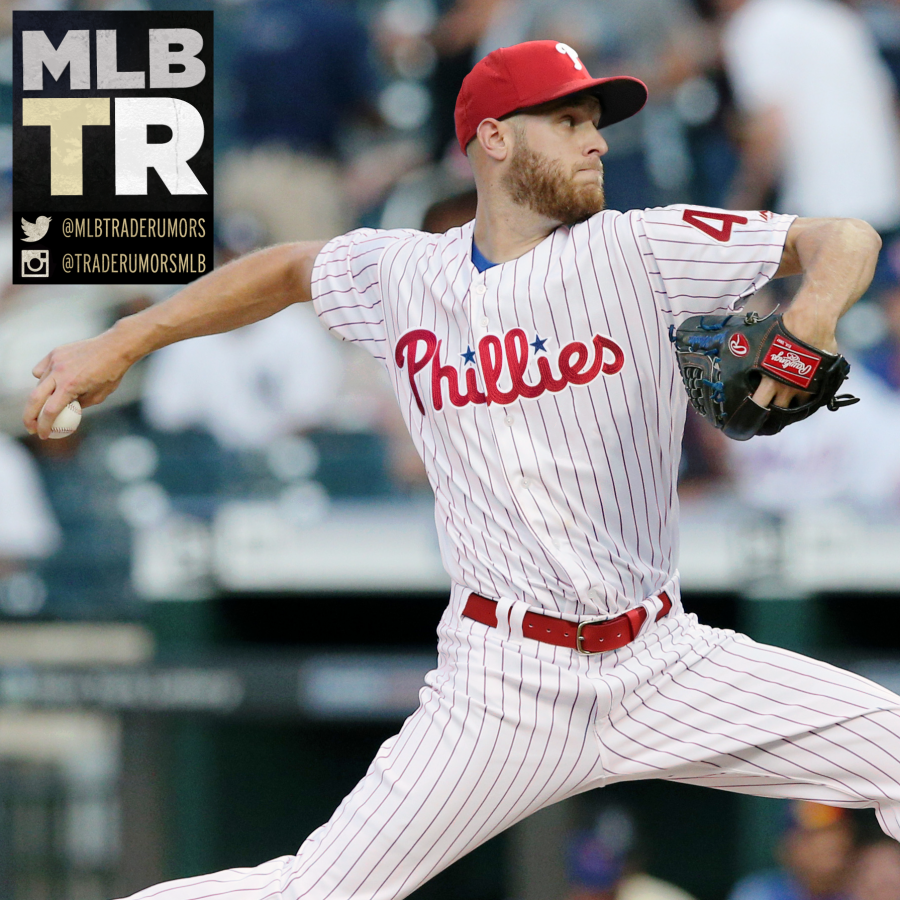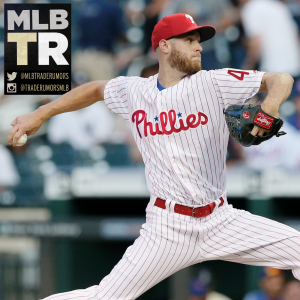 Wheeler, 29, has been arguably the most in-demand pitcher on the free agent market early in the offseason. While he's regarded as the third-best arm on the market behind Gerrit Cole and Stephen Strasburg, that duo's sky-high earning power priced out a number of pitching-needy teams from the outset. Wheeler, however, has been viewed as a more affordable pitcher with high-end stuff — one whom many believe can still take another step forward in the years to come.
Of course, that's not to say that the current iteration of Wheeler isn't a quality arm; he very much is. Over his past 55 Major League starts, the right-hander has worked to a 3.47 ERA (3.27 FIP) with 9.0 K/9, 2.4 BB/9, 0.82 HR/9 and a 43.1 percent ground-ball rate in 349 2/3 innings. He's distanced himself from Tommy John surgery and the ensuing complications that wiped out nearly two full seasons of his career, combining to make 60 starts dating back to Opening Day 2018.
Wheeler was also the second-hardest-throwing starter on the open market, with his career-best 96.7 mph average heater trailing only the aforementioned Cole. Beyond that, he possesses above-average spin on his heater and curveball, and he's excelled in terms of minimizing hard contact against him (90th percentile average exit-velocity among MLB starters, per Statcast). Given that he's played in front of one the worst defenses in the game over the past couple of seasons, there's a belief that he could excel with a change of scenery, although it's of course worth noting that the Philadelphia defense has had its own share of struggles over that same time.
Rotation help has been the clear top priority for the Phillies this winter, as their collective group of starters was a decidedly subpar group in 2019. Philadelphia entered the season with Aaron Nola and Jake Arrieta anchoring the starting staff. And, after a 2018-19 offseason that focused largely on augmenting the lineup, the Phils leaned heavily on younger, inexperienced arms like Zach Eflin, Nick Pivetta and Vince Velasquez to round out the rotation.
Of that trio, only Eflin yielded any real dividends, however. The 25-year-old proved a serviceable fourth starter with a 4.13 ERA over 28 starts (32 total appearances), while Pivetta and Velasquez combined for an ERA well north of 5.00. Meanwhile, Arrieta struggled through his worst performance since his breakout and ultimately underwent season-ending surgery to remove a bone spur from his elbow. Even Nola, who finished third in 2018 NL Cy Young voting, took a notable step back in 2019. The end result was a Phillies starting staff that finished 17th in ERA (4.64), 24th in FIP (4.91) and 16th in xFIP (4.59) last year.
Wheeler will now slot into the Phillies' rotation alongside Nola, Eflin and Arrieta — with the hope being that the removal of the bone spur through which Arrieta pitched in 2019 will help to bring about a rejuvenation of sorts. There's still room for another rotation addition, to be sure, and there's also room on the payroll to make that a reality. Before agreeing to terms with Wheeler, the Phils' payroll checked in a bit shy of $150MM (including projected arbitration salaries). They'll see Arrieta, David Robertson and the small portion of the Jay Bruce contract they're paying all come off the books next season, lending some long-term flexibility even in spite of substantial commitments to Wheeler, Bryce Harper and others.
Earlier this offseason, Philadelphia general manager Matt Klentak voiced a preference to eventually move away from signing players who've rejected qualifying offers, but it appears that was far from a mandate, as the Phillies will now do so for a third consecutive winter. Signing Wheeler will cost Philadelphia its second-round pick and $500K of international bonus allotments. The Mets, meanwhile, will pick up a compensatory draft pick after Competitive Balance Round B — likely in the 75 to 80 range of next year's draft. They'll also, of course, now be on the lookout for another starting pitcher — although they were never viewed as a serious player to re-sign Wheeler.
Geography played a pivotal role in Wheeler's decision to sign with Philadelphia, it seems. The Athletic's Marc Carig, who first broke the news, noted in his original report that Wheeler's fiancee is from nearby New Jersey, and Ken Rosenthal of The Athletic tweets that the White Sox' bid on Wheeler was actually higher than that of the Phillies. Meanwhile, Darren Wolfson of 1500 SKOR North in Minneapolis tweets that the Twins, too, made a five-year offer to Wheeler and that money wasn't the ultimate factor in rejecting that bid. Presumably, an offer that blew Philadelphia's out of the water could've swayed Wheeler to stray from the East Coast, but it seems that family considerations won the day when final bids wound up comparable.
In the end, Wheeler drew varying levels of interest from the White Sox, Twins, Reds, Astros, Rangers, Yankees and Blue Jays before his agreement with the Phils. That level of interest was largely foreseeable, and the fit with the Phillies has long been a particularly sensible one, as was predicted on MLBTR's Top 50 Free Agent list at the start of the offseason. The choice of destination proved to be spot on, but the considerable interest in Wheeler ultimately pushed his guarantee north of the five years and $100MM estimate put forth at that time.
Marc Carig of The Athletic broke news of the agreement (via Twitter). Bob Nightengale of USA Today, ESPN's Jeff Passan and Jim Salisbury of NBC Sports Philadelphia all reported financial details on the contract (all links to Twitter).