The Gerrit Cole sweepstakes has reached an end just over a month after the start of free agency. The Yankees have agreed to sign the ace right-hander to a nine-year, $324MM contract, Jon Heyman of MLB Network reports. It includes a full no-trade clause and an opt-out clause after the fifth year, per Jeff Passan of ESPN.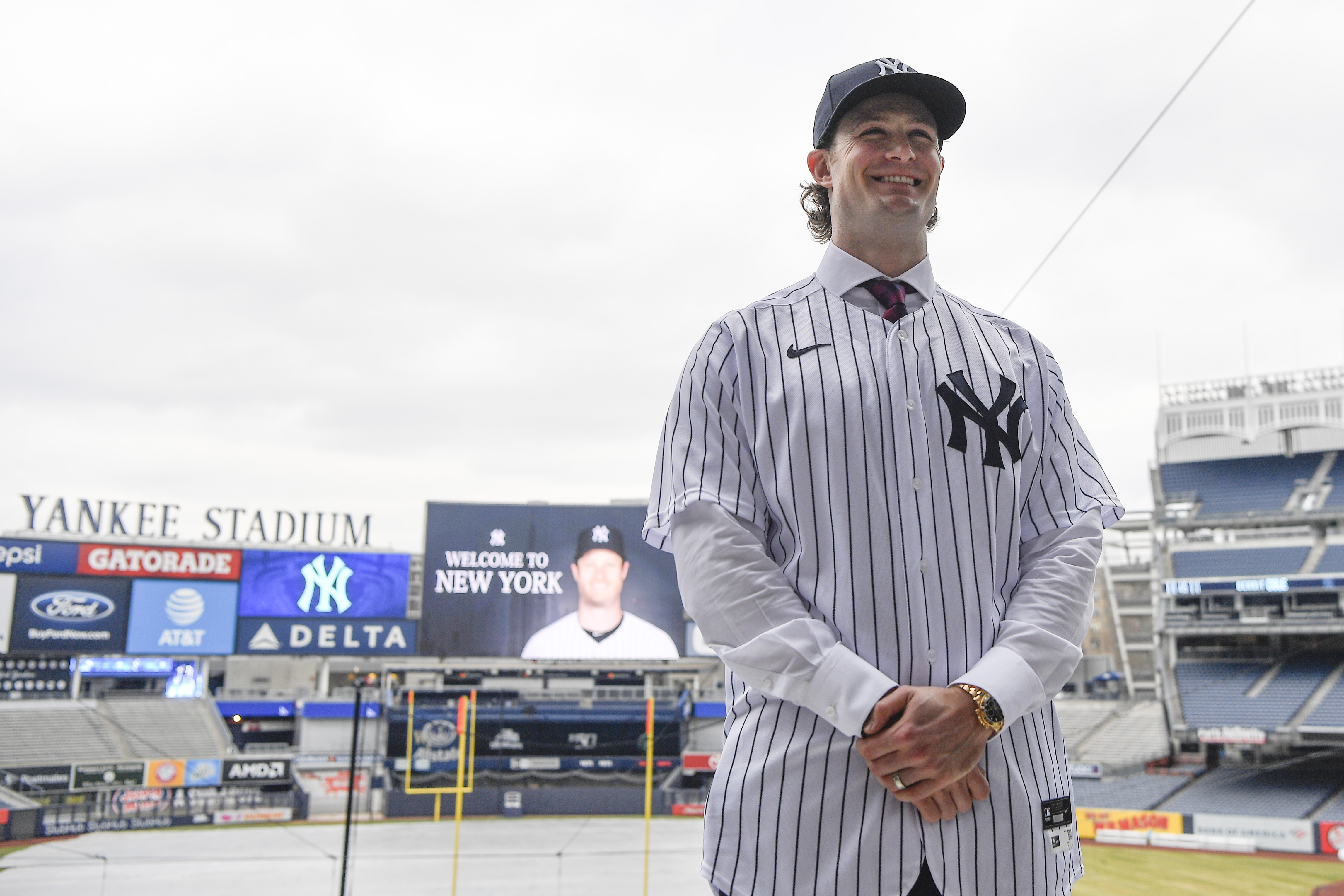 It's a historic pact for Cole, a Scott Boras client who has landed the largest deal ever for a pitcher and the second-greatest payday in the history of major league free agency. Cole has smashed the seven-year, $245MM contract righty Stephen Strasburg signed with the Nationals earlier this week, and he nearly matched the $330MM guarantee outfielder Bryce Harper received from the Phillies last offseason. But Harper's money will come in over 13 years, meaning Cole has easily eclipsed him in average annual value. Cole will take home a whopping $36MM per year.
For the Yankees and general manager Brian Cashman, the addition of Cole brings to an end a years-long pursuit of the Southern California native, who was a fan of the club growing up. The Yankees selected Cole in the first round of the 2008 draft, but he elected to attend UCLA instead. It proved to be a wise decision for Cole, who further improved his stock as a Bruin and wound up as the No. 1 overall pick of the Pirates in 2011.
Cole, who debuted in the majors in 2013, generally thrived in Pittsburgh through 2017. However, the Pirates knew they wouldn't be able to reach an extension with Cole, so they traded him to Houston prior to the 2018 campaign. The Yankees were among the teams the Astros upended to acquire Cole, which proved costly for New York. Thanks in large part to Cole, the Astros took down the Yankees in this fall's American League Championship Series, though Houston fell to Strasburg and the Nationals in the World Series.
The Yankees couldn't beat Cole, but he'll now join them after he found another gear in Texas. Cole became a truly elite pitcher as a member of the Astros, with whom the flamethrower posted back-to-back 200-inning seasons of sub-3.00 ERA ball. He was particularly amazing in 2019, when he amassed a jaw-dropping 326 strikeouts with a 2.50 ERA/2.64 FIP across 212 1/3 frames. That performance wasn't enough to defeat then-teammate Justin Verlander for AL Cy Young honors, but it was enough to help earn Cole an absolutely massive payday. This deal blows past the eight-year, $256MM that MLBTR predicted Cole would receive this offseason.
The Yankees now have a lights-out workhorse to accompany Luis Severino, James Paxton and Masahiro Tanaka as their top four starters, and the Cole signing indicates they and owner Hal Steinbrenner aren't concerned about paying the luxury tax going forward. With Cole's money factored in, Jason Martinez of Roster Resource estimates the Yankees are on track to spend just under $250MM in 2020, which is without having made any other additions. If that holds up, the Yankees will exceed the highest tax penalty of $248MM next season. Doing so would subject the Yankees to a 42.5 percent overage tax for outspending the threshold by $40MM or more. It's possible, however, that the Yankees will shave off some of their tax bill if they're able to trade $17MM left-hander J.A. Happ, a rumored candidate for a change of scenery who now looks all the more likely to exit now that Cole is in the fold.
The Cole pickup represents an act of free-agency aggression that late Yankees owner George Steinbrenner would have saluted. It's also a sign the Yankees are all-in toward returning to the top of the major league mountain for the first time since 2009. Not only does Cole look as if he'll greatly strengthen their roster, but it's a major blow to their biggest AL competition, the Astros. Undoubtedly, Cole's decision is also an enormous disappointment to both Los Angeles-based teams, who all along joined the Yankees as the most obvious-looking fits to sign him. Those two teams will now have to look elsewhere in a free-agent market that has moved much quicker than in recent years, and has already seen several of its best players sign in a matter of weeks.
While Cole should have a hugely positive effect on the Yankees' near-term chances, it's clear this deal presents a sizable risk for the club. Assuming Cole doesn't opt out after the fifth season, the 29-year-old will pitch almost the entirety of his 30s on this contract. The good news for the Yankees is that Cole has never had anything as major as Tommy John surgery. However, he did miss a large portion of 2016 with injuries, including to his elbow. Cole has since bounced back with three consecutive 200-inning seasons, though signing pitchers to long-term, big-money contracts is nonetheless risky, which will leave the Yankees to hope he continues to hold up as he ages.
Should Cole exercise his opt-out provision in the 2024-25 offseason, the Yankees will have the opportunity to void that decision by extending him for an additional year and $36MM, Ken Rosenthal of The Athletic reports (Twitter link).  Cole would need to be willing to walk away from four years and $144MM at age 34 for that clause to be relevant, and the Yankees would likewise need to be willing to pay him a total of $180MM for his age-34 through age-38 seasons to void the opt-out decision. It doesn't seem particularly likely that the clause will come into play, but in the event that it does, Cole would earn $360MM over a decade-long term with the Yankees.
While all free agents bring some level of concern, that hasn't stopped Boras from securing a windfall of cash for his clients this offseason. After helping get Harper his contract last year, Boras has seen Cole and Strasburg collect a combined $569MM this winter. He may help negotiate yet another $200MM-plus deal next for third baseman Anthony Rendon, who just took over as the No. 1 free agent available now that Cole's off to the Bronx.