8:45am: McHugh's deal comes with $3.625MM available via incentives, tweets Sean McAdam of the Boston Sports Journal. Heyman tweets that those incentives beginning at 30 innings pitched and run up through 115 innings pitched. McHugh's roster bonuses begin at 15 days on the active roster and range up through 90 days.
8:22am: McHugh's base salary will be $600K, tweets Alex Speier of the Boston Globe. He'll be able to boost that sum by unlocking bonuses based on innings pitched and days spent on the active roster.
8:15am: The Red Sox announced Thursday that they've signed right-hander Collin McHugh to a one-year, Major League contract. In order to open a spot on the roster for the Moye Sports client, Boston has designated righty Hector Velazquez for assignment.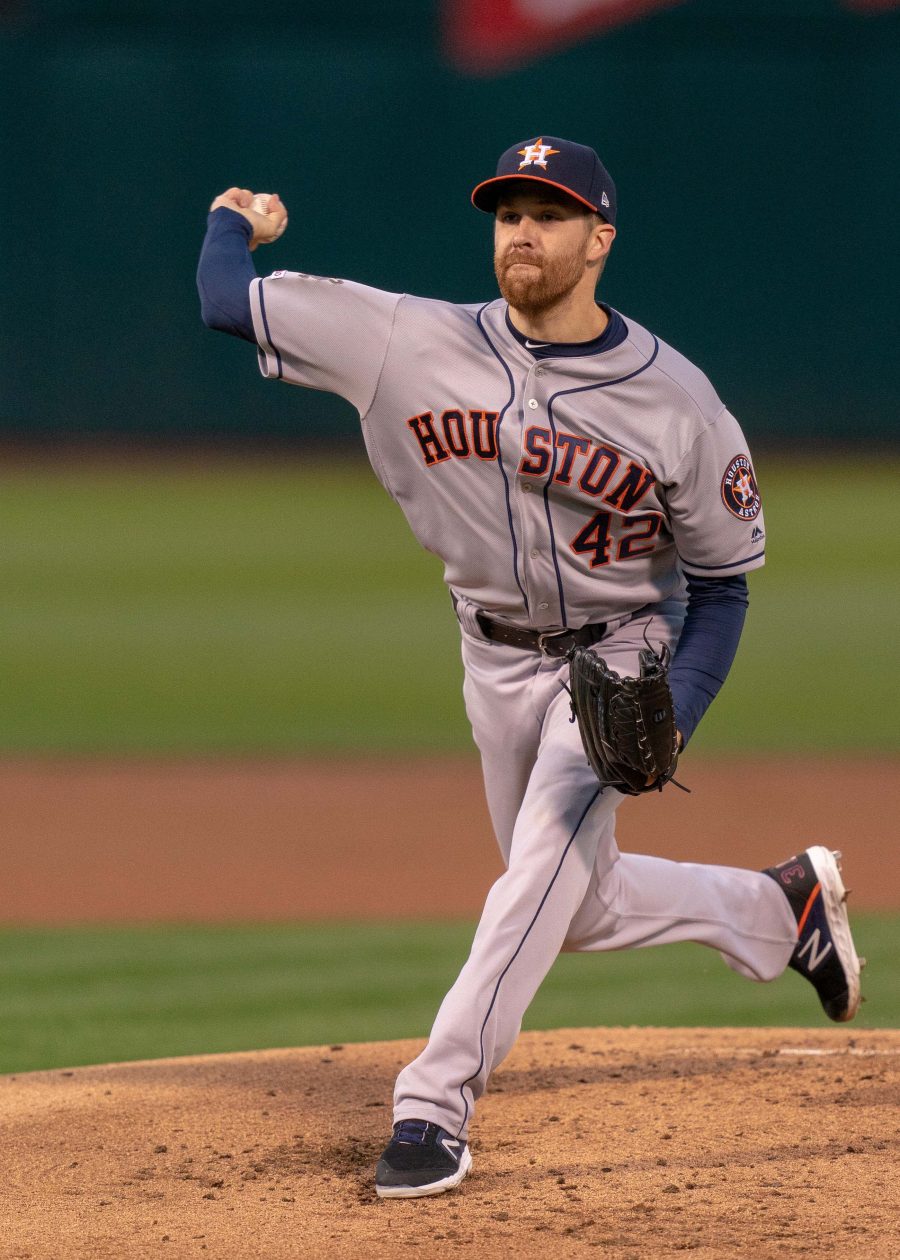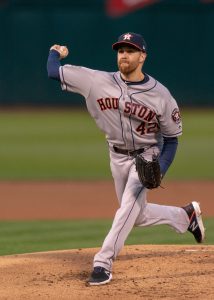 Boston's announcement on McHugh coalesces with growing uncertainty surrounding the status of ace Chris Sale, who this week underwent an MRI on a problematic right elbow that has since been assessed by some of the industry's leading surgeons. While Sale is reportedly expected to avoid going under the knife for the time being, he'll open the year on the injured list and be sidelined for a yet-to-be-determined period of time. Adding some depth in the form of McHugh is certainly a sensible approach and arguably would've been necessary even had Sale been healthy.
That said, McHugh himself isn't a lock to step right into the rotation and contribute as a starter. The 32-year-old missed about a third of the 2019 season due to elbow discomfort and finished out the year on the injured list. MLB Network's Jon Heyman reported last week that McHugh had been cleared to begin throwing after undergoing a non-surgical "tenex" procedure on his elbow over the winter. His exact timetable to get on a big league mound isn't yet clear, but he may have to begin the season on the injured list himself if he's only recently begun throwing.
McHugh made eight starts last year but spent the rest of the 2018-19 seasons in the Astros' bullpen. His 2019 effort was dragged down by those elbow troubles, which surely contributed to the downward trends in his velocity, swinging-strike rate, opponents' exit velocity and opponents' hard-hit rate. McHugh tossed 74 2/3 innings for the 'Stros last year but turned in a 4.70 ERA that was his highest mark since 2013.
In 2018, though, McHugh was utterly dominant out of the Houston 'pen. Through 72 1/3 frames, he recorded a stellar 1.99 ERA with averages of 11.7 strikeouts, 2.6 walks and 0.75 home runs per nine innings pitched. And prior to that he was a steady rotation piece, racking up 606 1/3 innings of 3.70 ERA ball (3.60 FIP) with 8.4 K/9 against 2.5 BB/9 from 2014-17.
The manner in which the Red Sox utilize McHugh has not yet come to light, though he could conceivably be deployed in a variety of roles. As noted, he has extensive experience both starting and relieving. With Sale sidelined, the Boston rotation currently has Eduardo Rodriguez, Nathan Eovaldi and Martin Perez locked into starting gigs. Boston has discussed utilizing one or even two openers in the remaining two slots, and manager Ron Roenicke recently revealed that the club will consider stretching left-hander Darwinzon Hernandez out to pitch in lengthier stints. McHugh could function as an opener, a bulk reliever who follows an opener or simply as a conventional starter, depending on the status of his elbow and on how the organization best believes his talents can be maximized.
For now, the Red Sox still appear likely to rely on a hodgepodge of journeymen and fringe prospects to round out their pitching staff, but the ability to eventually insert a health McHugh into the thick of that mix holds clear appeal.
As for Velazquez, he'll either be traded, run through outright waiver or released within the next seven days. The 31-year-old right-hander was knocked around to the tune of a 5.43 ERA through 56 1/3 innings in 2019. And although he notched a 3.12 ERA with 5.9 K/9, 2.7 BB/9 and a 47 percent grounder rate in 109 2/3 innings from 2017-18, Velazquez's secondary metrics are less encouraging than that earned run average. His 4.28 FIP was noticeably higher, and he ranked near the bottom of the league in terms of spin rates, hard-hit rates and opponents' exit velocity. He has a minor league option left and has worked as both a starter and reliever, so it's possible another club will take him on as a depth piece.